Question:
Is Bigo Live safe for kids? Is there a chance of my kid getting into trouble on Bigo Live? How to protect my kid on Bigo Live from strangers and scammers?
These are some of the common questions that parents have in their minds when they find their kid actively using Bigo Live. Parents are reluctant to let their kids be on Bigo Live because the level of the potential dangers is extremely high.
Bigo Live is based on the idea of live streaming your life to friends and strangers. Things can go terribly wrong in live streams, especially when it is being broadcast to strangers who can record the live streams and make them viral for all the wrong reasons.
In this article, we will do a thorough Bigo Live review, starting with the potential dangers of Bigo Live for your kids and how you can protect your kids on Bigo Live.
What Are the Features of Bigo Live?
Bigo Live app is available in over 150 countries, and there are 400 million registered users. Most users are teens, and here are the key features of Bigo Live that make the app popular among teens.
1. Variety Of Content
Bigo Live is not just a platform for online users but also professional video creators. Hence, there is no death of content and the variety and categories of content make Bigo Live unique and interesting.
Users can sort and select the types of video content they want to see, and it ranges from gaming, entertainment to education and music. Users can spend the entire day regularly consuming the variety of content that they have an interest in.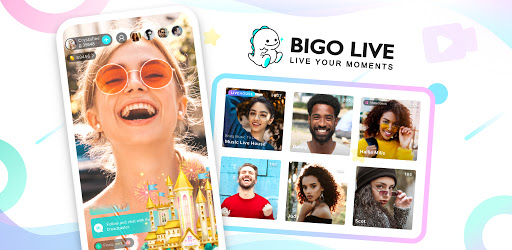 2. Rewards and Purchases
Bigo Live app offers daily login bonuses and rewards in terms of coins and XP. Users can use these coins to get noticed on any broadcast as well as get access to exclusive online events on the platforms. On the other hand, they can use XP to move to the next level of membership status.
Users can also go for in-app purchases to get rid of the ads and, most importantly, to purchase diamonds. Diamonds can be used for virtual gifting to any favorite broadcaster of the users. Broadcasters can cash these diamonds out.
Besides, diamonds can be used to get to a better level of VIP membership. The higher you go in the membership, the more features get unfolded. These features include different filters and effects to use on live streaming videos and much more.
3. Live Social Interactions
Bigo Live has taken social interaction to the next level with live video chat. Users can start one-to-one video chat as well as go for a group video chat with a maximum of 9 users. To spice video chat up, Big Live lets users add different filters and stickers.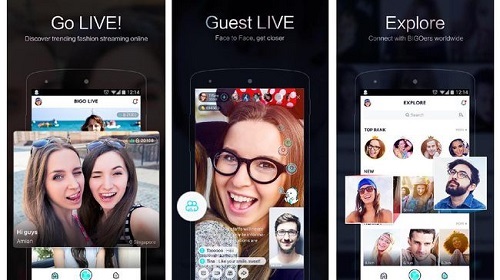 4. Guest Live and Fans
Fans and followers of a broadcaster can request the broadcaster for one-to-one video chat. It is up to the broadcast to decide whose request he wants to accept. Fans also get ranking such as Top Fan and VIP and this opens up various benefits to interact with their favorite broadcasters.
If broadcasters want, they can recruit top fans to manage chats and VIP fans get special status during broadcaster's live streams.
5. Competitions
Bigo allows two broadcasters to compete against one another and whoever gets the most points is declared the winner. It is actually a competition among the fans of broadcasters as the points earned by the broadcasters are donated by fans through diamonds.
Is Bigo Live Safe?
There are potential dangers for kids and even adults on Bigo Live which prevent anyone from concluding that Big Live is safe. Here are Bigo Live dangers and risks that you should be aware of.
1. Addiction and Adverse Effects
With a wide variety of content and different ways of social interactions, there is no dearth of interesting activities on Bigo Live. Besides, the lure of rewards on daily login and daily activities keep the users hooked. That is why users can spend an entire day on the app regularly, and eventually, being active on the app can become an addiction.
Naturally, this will affect a person's lifestyle and health as well as bring down his concentration and focus on important works. This is not only applicable for kids but also adults. Instead of spending time with the family, adults stay active on Bigo Live for interesting and fun activities.
2. Spending Unlimited Money
The in-app purchases on Bigo Live lure the users to get diamonds that they gift to strangers to get their attention. Once you fall into the trap of virtual gifting strangers, you will get addicted to gifting diamonds to strangers to interact with them. Besides, in-app purchases help you get higher up in VIP membership and everyone want to be at the top of the ladder.
Similarly, there is always a competition among followers of broadcasters to be a top fan and people keep shelling out their money and donating beans from their purchases. Even during competition events among broadcasters, it is up to the fans to donate beans to make their favorite broadcaster win the event.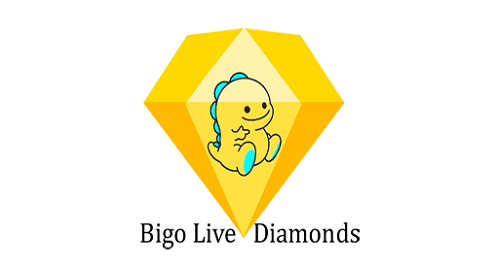 3. Dangers of Social Interaction
Bigo Live facilitates live interactions with strangers through video calls. However, some of these strangers can turn out to be evil stalkers and child predators. These strangers can gain the trust of kids and teens and turn the live interactions sexual. Thereafter, they record such adult interactions and blackmail the victims into extorting money.
As a matter of fact, such sexual interaction can move on from Bigo Live to real life, and this is more applicable for adults. This leads to infidelity, cheating on partners, break-ups in relationships, and even divorce. Therefore, live interactions with strangers on the platform can end up with dangerous outcomes.
4. Inappropriate Content
While there is a wide variety of entertaining and educational content available on Bigo Live app, there is no dearth of inappropriate content as well. Broadcasters post mature content to get traction from their fans who donate diamonds to encourage them to keep making such content.
While such mature and violent content could be suitable for adults, they are inappropriate for kids. That is why it is mentioned that the app is suitable for users of age 16 and above.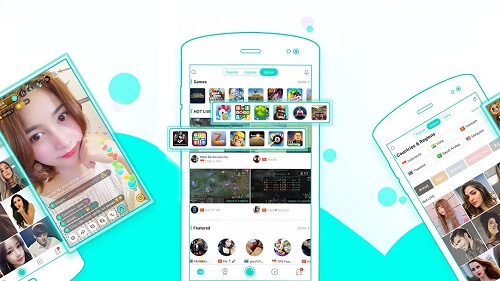 5. Scammers and Fraudsters
Scammers and fraudsters are very active on Bigo Live, and they set traps for kids and teens to fall into, and they extort money by blackmailing. Their approach is to gain the trust of the victims and extract personal information and financial data to hack their accounts.
Similarly, they get adult photos of and record live videos of their victims in compromising positions. Not just the kids, even adults get honey-trapped and become victims of scams.
What Do Users Say about Bigo Live?
Unfortunately, the Bigo Live review from genuine users is quite discouraging. Most of them are complaining about erotic content and scammers who are there for virtual gifts from users.
Here are some genuine reviews from Bigo Live users.
1. "On one hand is a great interactive platform but on the other the contents are between the entertaining and erotic." - Rodrigo Diaz
2. "Think of Bigo like a virtual strip club. They are for all intent and purposes amateur fraudsters." - Jelle Trice
3. "This app is garbage just meant for targeting your wallet. Girls trap and ask for virtual gifts" - Kapil Kumar
To sum Bigo review up, we can see that the responses from genuine Bigo Live users are mostly negative. Therefore, if your kid or your spouse or partner is on Bigo Live, you have to be watchful to prevent them from going astray and from scammers and fraudsters.
How to Protect Your Loved Ones from Bigo Live?
The only way to protect your loved ones from Bigo Live is to monitor their activities on their phone. Not just monitoring their activities on Bigo Live app, you should monitor every other activity on their phones.
For example, you should check their call logs and text messages to understand if they are in contact with strangers. Similarly, scammers on Bigo Live can trap your loved one to meet physically and gain trust for a bigger scam.
Therefore, you need to monitor their location history from time to time. If you find evidence that your loved one is going astray, you can take action accordingly.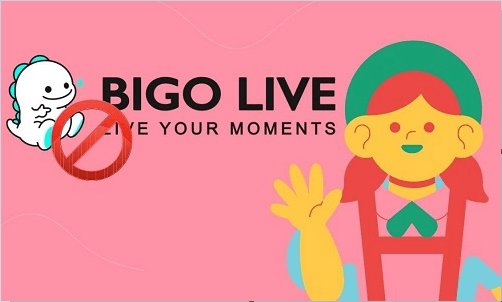 Safeguard Your Loved Ones with a Monitoring App
For remote monitoring your loved one's phone activities, you need a professional monitoring app. We recommend KidsGuard Pro series monitoring apps.
You can deploy the app on your loved one's phone and track all phone activities from your phone and computer any time you want.
NOTE:
KidsGuard Pro monitoring app supports Android and iOS devices. Here we will introduce KidsGuard Pro for Android in detail including its features and installation steps. If your loved one is an iOS user. You can click the "View Demo" button to know more features about KidsGuard Pro for iOS.
How KidsGuard Pro for Android Protect Your Loved Ones?
Here are the features of KidsGuard Pro for Android that help to protect your loved ones.
Checking Browsing History:
The main source of danger for your loved ones is their internet activities on their phones. KidsGuard Pro for Android lets you track the browser history of the target phone.
Therefore, you can easily see the type of websites the target person is visiting regularly and what he/she is searching for answers to. From there, you can easily conclude the target person's state of mind and take action to protect from major consequences.
Monitoring Social Media:
You have to constantly monitor your loved one's social media activities because social media platforms are where everyone comes in contact with strangers who may turn out to be scammers and fraudsters.
KidsGuard Pro allows you to check the target person's interaction with everyone on any installed social media apps such as WhatsApp, Facebook, Snapchat, Instagram, and even Tinder.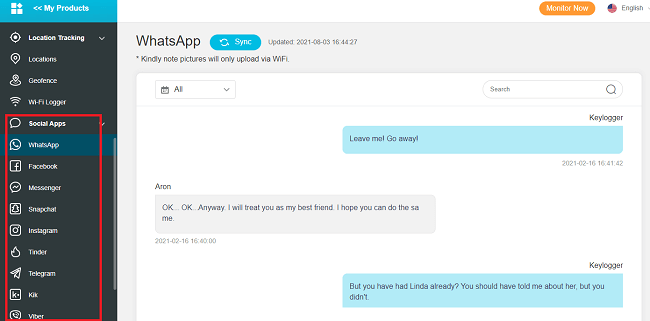 Read Text Messages:
To gain the trust of the targeted victim, strangers take their conversations out of Bigo Live. Your loved one and the stranger he/she has met on Bigo Live could exchange their contact number, and they have started texting one another.
However, with KidsGuard Pro installed on your loved one's phone, you can check all the text messages in proper format with the sender's name and number as well as timestamps.
View Call Logs and Record Phone Calls:
Apart from texting, they can start having conversations through calls and you can check the call logs remotely to confirm your suspicion. In fact, you can record every phone conversation and listen to them in your leisure time.
Even though it is a breach of privacy but for your loved one's safety, you have to do it and find out if any stranger is leading him/her into trouble by blackmailing, asking for adult photos, and likewise.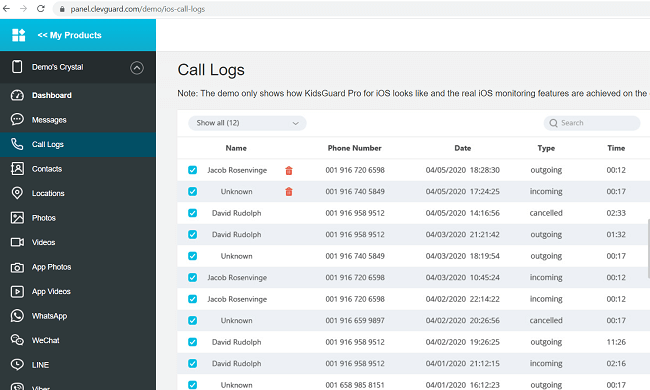 Track Location and Set Geofence:
There are times where strangers on Bigo Live can ask your loved one out for a date. There are reports of such dates turning into nightmares for innocent people. That is why you have to keep track of your loved ones, and KidsGuard Pro allows you to track their live locations.
Instead of always tracking location in real-time, you can set a Geofence and get alerts as soon as your loved ones cross that virtual fence of safety.
Capture Screenshots and Take Secret Pictures:
There are times when your loved one may try to delete secret conversations and adult photos they share with strangers on Bigo Live. KidsGuard Pro empowers you to take real-time screenshots of the target phone from your phone or computer so that you can check what your loved one is doing on his/her phone.
Similarly, if your loved one has gone out and has crossed the safe Geofence, you can remotely check who he/she is with by remotely accessing the phone camera and checking the surrounding.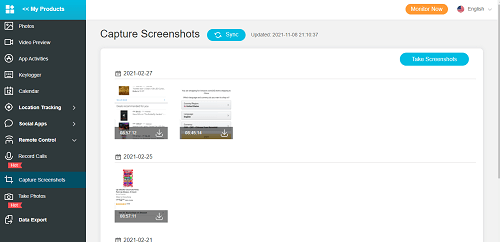 Keep Your Loved Ones Safe in 3 Steps
Monitoring someone using KidsGuard Pro is as easy as it can get. This means anyone who is not a tech-savvy person such as parents can deploy it and start tracking their kid's phone activities.
Step 1. Create KidsGuard Pro Account
First, you can tap on the "Sign Up" button below to register a KidsGuard Pro account with your email address. Thereafter, choose a suitable plan for your needs.
Step 2. Put KidsGuard Pro for Android on Your Loved One's Phone
Get physical access to your loved one's phone. Open its web browser and visitwww.clevgaurd.net.
Download and install KidsGuard Pro for Android app. Launch the app and log in with your KidsGuard Pro account credentials. Give the necessary app permissions and close the app.

Step 3. Start Protecting Your Loved Ones
Come back to your phone or computer. Visit KidsGuard Pro's web portal. Log into your account and go to Dashboard. You will see your loved one's device name.
Under Dashboard, you can start monitoring everything starting from call logs and text messages to social media activities and remote control options.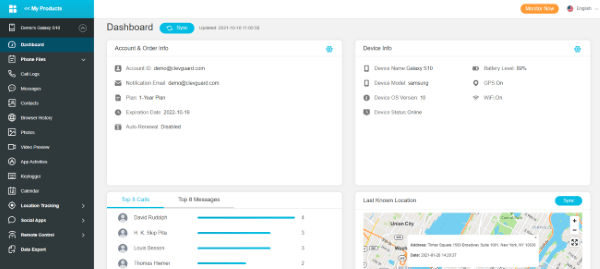 Conclusion
You have the answer to your question, "Is Bigo Live safe?" Since the reviews are mostly negative and there are chances of getting addicted, scammed, and ruining life, you have to take steps to protect your loved ones.
The best way out is to monitor your loved one's phone activities and take restrictive action whenever applicable. KidsGuard Pro for Android and iOS app is the best remote monitoring app to safeguard your loved ones.