Today, smartphones have become a part of our items. Our remote machine contains all our personal and private stuff that you don't want any outsider to see. However, you might have to hand over your smartphone to someone else in certain conditions, and you don't know what they are doing with your smartphone under the hood.
For those conditions, it's better to lock your media like photos and videos in a secure vault that no one except you can access. That's why in this article, we got you some of the best apps to hide photos and videos on iPhone and Android.
Best Apps to Hide Pictures and Videos on Android & iPhone
We've hand-picked and reviewed 10 of the best app vaults in which you can securely hide and secure your personal and private videos, photos, and audio files (in certain apps). So no one can break your privacy even if they get physically to your phone.
Continue reading the article:
1. Keep Safe Photo Vault
Keepsafe offers complete encryption for your video and images through their 32-bit encryption technology. The app allows you to easily import all your intimate, essential and personal pictures or videos into the secure vault of the Keepsafe so no one can access them except you.
The app also offers you a space saver feature that compresses your media in the background so you can have more space on your smartphone. Additionally, it supports Intruder selfies that take a picture from your front camera when someone enters the wrong password in your Keepsafe vault.
Features:
Intruder selfie
Cloud storage
Media compression
2. Secret Photos KYMS Free
The KYMS claims to offer military-grade protection that securely encrypts all your media files through their AES-grade encryption technology. The vault isn't only limited to video and image files and supports documents like PDF, DOCX, XLS, and ZIP.
Additionally, the KYMS offers a secure built-in browser in which you can browse any private content without getting tracked and recorded like other browsers.
Features
Built-in video player
Integrated browser
AES grade encryption
3. HiddenVault Secret Photo Album
The Secret Photo Album is dedicated to those who want to hide private videos and images without getting detected that they've hidden something in a vault. For that purpose, you can hide this vault under the hood of a fake gallery and can even customize its name and icon accordingly. Moreover, the app offers break-in alerts with intruder selfies and free cloud storage of 5 GB, but don't worry. The app will encrypt the data there.
Features:
Hide your vault under the hood of a fake gallery app.
5 GB free cloud storage
Break-in alerts
4. Locker: Photo Vault & App Lock
The Locker is an all-in-one files vault app that allows you to hide and secure almost all the files in your iPhone, including videos, images, audio, and other miscellaneous files. The application also supports biometrics like Face ID (and Touch ID if you have an old bezel one iPhone).
The best thing is that all the files on Locker are stored on your device only. The developers don't have access to your files stored in the app. Additionally, you can set up the fake app UI as well.
Features:
Biometric supported
Store any files you want.
All the files are only stored on your device.
5. Best Secret Folder
Best Secret Folder is one of the most simple-looking and clean apps that only focus on its purpose: a secure vault service. The app doesn't use any encryption, but still, it keeps all your media safe and protected from intruders. But still, it's not our recommendation because it lacks most security features like biometrics, dedicated encryption, and some other security factors.
Features:
6. 1Gallery
1Gallery is one of the best media vault applications for iPhone that we've seen so far. It's loaded with all the essential accessories that you need. It comes with AES-grade encryption iPhone's biometric authentication. Additionally, it offers a pre-loaded photo editor, dark or light theme, widgets, and intruder's selfie feature. Moreover, it's one media vault that even supports DSLR captured.RAW file formats.
Features:
AES encryption
Biometric supported
Cloud storage
7. LockMyPix Photo Vault
The LockMyPix is specifically made to protect your private media from your relatives, siblings, friends, and spouse without telling them that you've hidden something from them. The application is simple, clean, and the most stable one we've come across.
It offers a fake screen display, so no one will know that there's a vault under the hood of that phony screen. Plus, you can set up biometrics to enable intruders' selfies, and all the files in this vault are AES encrypted.
Features:
AES encryption
iPhone biometric support
Intruder's selfie  
8. Calculator by FishingNet
If you want to get too private and don't let anyone detect that you're hiding something in the vault application, then this calculator is made for you. It's a full-fledged vault application that works under the hood of a calculator. No one can identify that it's a vault under the regular stock android calculator except you. Additionally, it offers all the advanced to basic features as other vault applications.
Features:
A vault under the calculator. Even suitable for country secrets.
Highly secure and uses AES protection
Private browser
9. Hide Something
Hide something is one of the most straightforward and focuses on its purpose without adding fancy and stylish UI. The app's primary purpose is to offer you the most basic but highly secured and powerful vault system that takes significantly less space but offers military-grade security. The vault provides advanced features like biometric verification, intruder selfie, and file compression.
Features:
Most simple UI vault
Very small in size
All the advanced features that you can expect from a vault.
10. Safe Folder of Google Files
This app is 100% recommended if you look for a trusted developer and minimal UI. Google offers the app, the most trusted and reliable developer for your files.
It's a file manager that also offers a vault service for storing your files. However, we don't know if they use any encryption or not, but it'll do the job.
Features:
100% reliable developer: Google.
Most minimal UI
Easy to use
Bouns: Is There A Way of Viewing the Hidden Photos & Videos?
Yes, there's a way by which you can view someone's hidden and private media remotely from their smartphone, through the use of spyware software such as KidsGuard Pro for iPhone and KidsGuard Pro for Android.
KidsGuard Pro doesn't offer a complete solution for viewing the images in vault applications. Still, it allows you to monitor the user's smartphone media and activities they perform on their smartphone.
Features of KidsGuard Pro for Android:
Check Photos & Videos:
The KidsGuard Pro for Android allows you to monitor and view all the images stored in the user's smartphone before moving them to the vault.
In this way, you can easily view their personal and private media. As soon as the media lands on their smartphone's storage, KidsGuard Pro for Android will capture it and send it to your dashboard.
View Social Media:
KidsGuard Pro for Android also offers the social media tracking of more than ten social media apps such as Facebook, WhatsApp, KIK, QQ, Instagram, Tinder, and many other social media apps. It allows you to track the media and text messages made on those applications.
Track Location:
KidsGuard Pro for Android uses GPS to give you the PIN exact location of the user's smartphone. It works in real-time without delay and offers accurate location tracking, as you see in Google Maps.
Set Geofence:
Set the Geofence to restrict the user's smartphone from crossing that boundary. If they cross that boundary, KidsGuard Pro for Android will send you the notification, and it works in real-time through GPS.
Read Text Messages:
With the use of "SMS access storage" permission, KidsGuard Pro for Android can monitor and track all the sent and received messages on the user's smartphone with their contact number.
Check Call Logs & Record Calls:
Like SMS messages, KidsGuard Pro for Android monitors call logs made from the user's smartphone (both receive and outgoing calls). You can also record the phone conversations made or received on the user's smartphone.
View Contacts:
The contact feature allows you to track and view all the contacts stored in the user's device. However, it only monitors the contacts stored in the phone storage, not the SIM card, iCloud, and Google account contacts. You can even download the contacts in XML format for backup.
Track Browser History:
KidsGuard Pro for Android can monitor and track all the websites and webpages that the user visits from their smartphone's browser. The feature currently supports Chrome, Opera, Firefox, and other popular web browsers. It tracks the history of those browsers, so you'll know which websites your user visited in the past.
How to View Hidden Photos & Videos? - 3 Steps
Step 1: Click the "Sign Up" button below to create your account on KidsGuard Pro. For that, you'll need an active and valid email address for the sign-up and then create a strong password.
Then choose your plan: 1-month, 3-months, 1-year, and pay for the program accordingly.
Step 2: After signing up and choosing the plan, install the application on the smartphone that you want. Enable all the permissions that KidsGuard Pro requires by following the instructions.

Step 3: After the installation is done, open your dashboard and view all the hidden images and videos of that smartphone remotely before they get imported to the vault.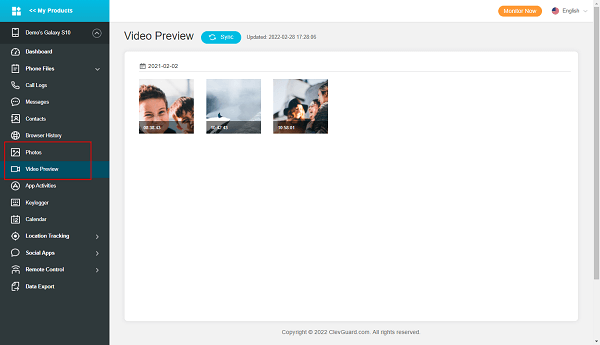 Why Need to Check Hidden Pictures & Videos
Here are the three reasons why you need to check hidden images and videos:
If it's a kid, it's compulsory to see what they are hiding from you. It may be possible that the media they're hiding from you may not be suitable for them, so it's better to keep a look at their personal and private media.
If it's your spouse, it's better to see what's going on in their vault to clear up the doubts. And you'll not be betrayed by them.
If it's your employee, you might want to check what they are hiding from your company. It may be a business secret or anything necessary for your business.
Conclusion
Today, smartphone privacy is one of the essential things that everyone deserves in their smartphone. However, in some instances, such as your kids, spouse, and employees, it becomes compulsory to break their privacy for the better of both.
That's why we brought you KidsGuard Pro, which allows you to view anyone's hidden images and videos remotely without notifying them that you're spying on them, so you will not harm your relationship.