Are you looking for a way to make an anonymous call? Do you want to conceal your contact number while making calls to strangers?
There are anonymous calling apps available that let you call anyone without revealing your identity. When you call someone with such an app, instead of your contact number, it may show as unknown or private numbers.
Therefore, the person you have called cannot call you back, and hence, it is highly useful in calling strangers whom you do not know personally. Even apps like Truecaller cannot trace your contact number and find out your name. We have compiled the list of best apps to make anonymous phone calls.
Table of Contents
Top 8 Anonymous Calling Apps
Here is the list of apps through which you can call people without revealing your contact number and you can choose the best anonymous calling app as per your preference.
1. Text Me Up
Text Me Up lets you enjoy free calling and text messaging to over 200 countries in the world. It supports HD voice and video calls. It is a free anonymous phone number calling app for US and Canada only. For the rest of the countries, you have to purchase and spend credits. You can call on any number even when the other person does not have Text Me Up app installed.
All you have to do is to share your phone number and invite them for free calling. The app also lets you add multiple numbers to one account, and you switch between the numbers as required. Text Me Up has enhanced text messaging features, and you can send messages globally. It even allows you to share videos and photos. You can access Text Me Up from phone, tablet, and the web as well.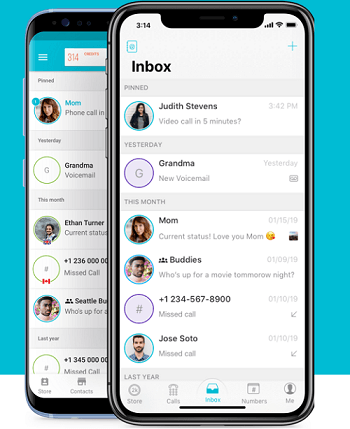 2. Line2
Line2 is an ideal app to make anonymous calls for businesses to potential customers. People reject phone calls from brands and companies as soon as they identify the number from the sales and support team.
With Line2, you can hide your identity and make calls so that people actually pick it up. You can make professional calls without revealing your personal number. It lets you add virtual business phone numbers and make calls from anywhere.
Not just that, you can even provide toll-free numbers to your customers. Line2 users can get free messaging and calling services across the USA and Canada. There is also the feature of auto-attendant which will guide the customers to stay in the queue.
Additionally, it does not require any cellular data as it relies on VoIP. You can even block unwanted calls with call screening.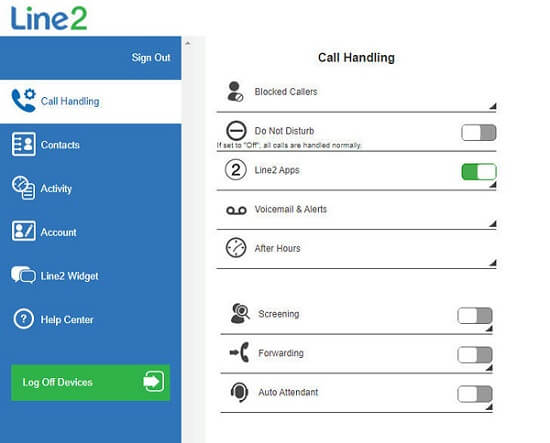 3. Sideline
Sideline can be a great app if you are looking to call someone anonymously. It keeps your personal number private by providing you with another number. Sideline works with the carrier network to provide quality calls. It looks just like any other number with ringtones, Caller IDs, and notifications. With different features of SMS, MMS, group messaging, you can have seamless communication without revealing your identity.
Furthermore, it even allows you to choose from VOIP and Wi-Fi calling. All you have to do is to pick your number and build your virtual identity. It is a free anonymous phone number calling app but you will see ads. You can subscribe to its premium plan to get rid of the advertisements.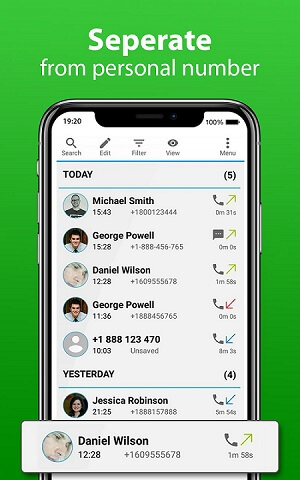 4. Burner
Burner enables you to create temporary disposable phone numbers. When someone calls you, Burner shows an alternative disposable phone number, and hence, it offers privacy for calling others and receiving calls. In fact, it is one of the most widely used apps to make anonymous phone calls in the US. The best part of the app is that you can use its virtual number to create online accounts.
You can even burn any number conveniently by just holding the Delete button. Burner helps to protect your personal information and provides you with a second phone number for your project. It is perfect for calling, texting, and sending voice mails. It can even send an auto-reply to texts. The app is available for a 7-day free trial and therefore, you have to purchase a premium plan.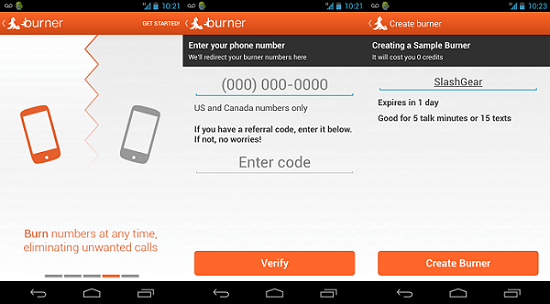 5. Hushed
Hushed enables you to make private calls and send texts anonymously. The app comes with local numbers from different codes in the United Kingdom, USA, and Canada. While making a call or text, it will send a dedicated second virtual number and will never use your personal phone number. You can use the number on multiple devices as well as sign up for online accounts.
You don't have to worry about any hassle or even signing up for verification. It can be great if you are traveling or want to make an international call. The app also lets you send texts and pictures. It provides a number with customizable greetings, auto-reply, and call routing. There is also a Wi-Fi calling feature available.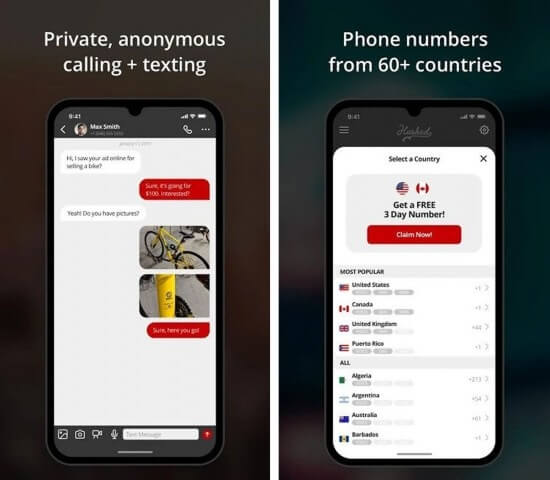 6. SilentCircle
By using SilentCircle, there will be encrypted voice calling and file sharing with your personal key. It can be great for private communication with landline and mobile numbers as well as make conference calls. SilentCircle lets you manage and deploy secure connections thanks to the security features.
It is a highly functional tool and provides clear HD calls without any distortion. There is also the feature of burn functionality that can protect text messages. With voice memos, there can be a perfect replacement for unprotected and traditional voicemails.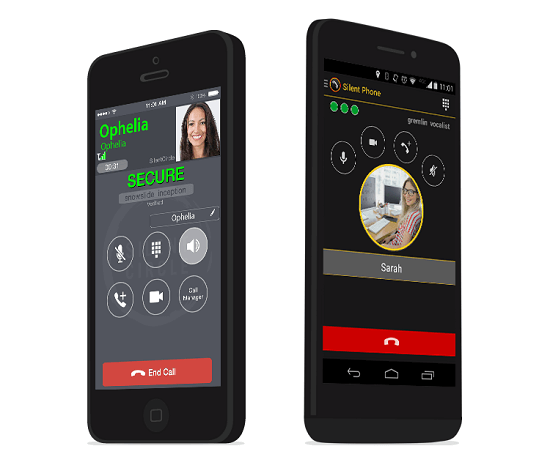 7. TrustCall
If you are looking for an app to make anonymous calls that rely on hardware encryption to hide phone numbers, TrustCall is designed for you. The app uses a MicroSD card for creating virtual identification of every phone. The app also lets users set up a relay server for proper encryption. It provides secure HD quality calling as well as text messaging. The app is also perfect for file sharing.
You can call or share files by using the internet on any type of device. Furthermore, it comes with end-to-end encryption so that there will be secure calls and texts. It helps to maximize call deliverability and you can even minimize unwanted calls. Additionally, it features daily reports and can provide real-time alerts.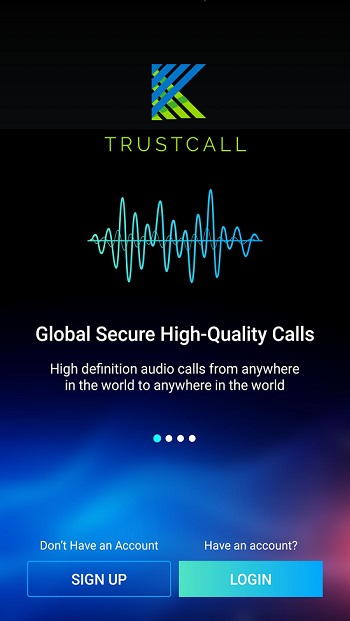 8. Google Voice
Google Voice will hide your actual phone number by providing you with a single virtual number that you can use across multiple devices. All you have to do is use your Gmail interface and start calling or receiving calls. It can be perfect for restricting your calls and blocking any spam calls. You can make international calls at a reasonable rate.
Most users consider it to be the most trusted and best anonymous calling app. It is straightforward to use because to the clear UI and simple navigation. Above all, you can even customize alerts and use them according to your requirements. Google Voice even allows sending text messages and can transcribe voicemails into emails.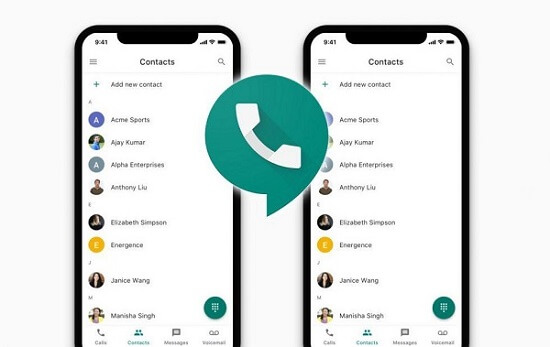 Bonus: How to Block Anonymous Calls?
Now that you know how to call someone anonymously, you can also get anonymous calls on your phone. In fact, there are people who misuse apps to make anonymous calls to disturb others as their identity and contact number are not revealed. These people could be from the sales department of different companies or child predators with wicked intentions.
You need an app to block such anonymous calls so that they cannot call back again. We recommend KidsGuard app to monitor your kid's phone activities and block anonymous calls.
In fact, you can filter calls so that only certain contacts can call on your kid's phone. On the other hand, you can also stop your kid from calling someone anonymously by blocking the anonymous calling apps.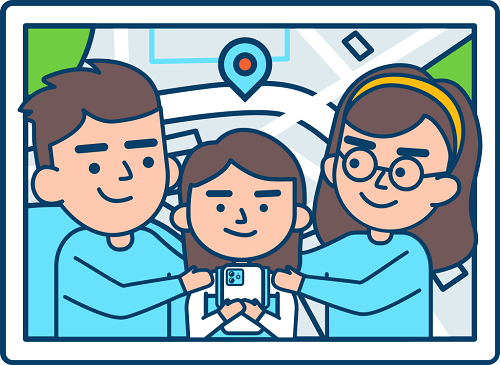 Key Features of KidsGuard
Block Unknown Calls:
KidsGuard comes with a call blocker whitelist where you can add only those contacts whom you want to allow to call you. This means no one except those contacts can call on the target phone number. Hence, all unknown and anonymous calls are automatically blocked. You can set the filter on your kid's phone remotely from your phone through the KidsGuard app.
Block Anonymous Calling Apps:
You can stop your kid from installing and using anonymous calling apps. We have listed the most commonly used best apps to make anonymous phone calls. You can explicitly block these apps so that your kid does not call strangers anonymously. Besides, you can use KidsGuard to restrict access time to certain installed apps if your kid is using them excessively.
Block Websites:
There are certain websites available that let online users call others anonymously and you can block those websites on the target phone by explicitly mentioning their URLs. Besides, there are web filters available that you can turn on to block websites with inappropriate content.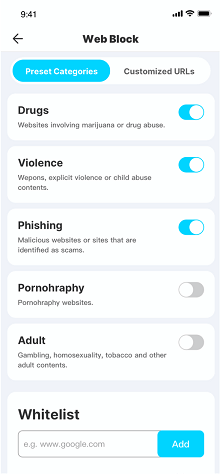 Capture and Lock Screen:
You get to check what your kid is doing at any moment by taking live screenshots. If you find out that he is doing something inappropriate, you can lock the screen down remotely in real-time.
Check Activity Report:
KidsGuard generates an activity report containing all the details about your kid's phone activities. These reports are generated daily, weekly, and monthly. Hence, you get to observe the progress and take proper action for better improvement.
Track Location:
KidsGuard lets you check the live location of your kid as well as check the location history. Moreover, you can set Geofence so that you can get Geofence alerts when your kid leaves or enters the virtual fence you have set.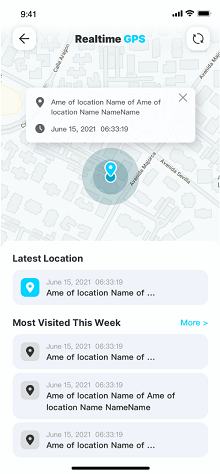 How to Use KidsGuard to Block Calls
Here are the steps you have to follow in order to block anonymous calls on the target phone.
Step 1: Click the button below to install KidsGuard app on your(parent) phone from Play Stores (Android) or App Store (iOS) as applicable.
Step 2: Launch the app and register an account and set up the app perfectly.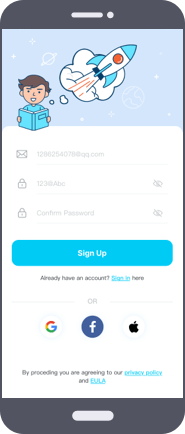 Step 3: On your kid (target) phone, install KidsGuard app from Play Stores (Android only). After installation, launch the app and set it up properly.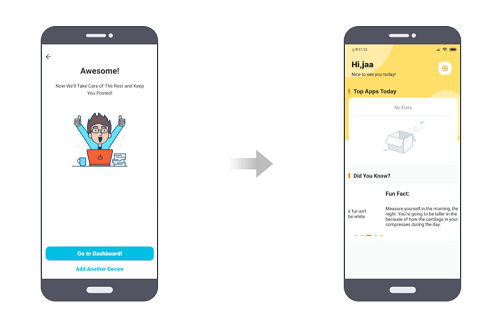 Step 4: On your (parent) device, go to Call Filter option from Dashboard. Under Call Filter, tap on Add From Contacts option to select those contacts who can call on the target phone.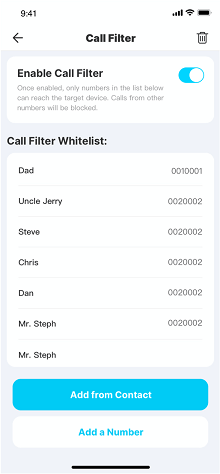 Conclusion
We have listed all the top paid and free anonymous phone number calling apps for you to choose from in order to hide your identity while calling on someone's phone number. However, someone can also call you or your family member anonymously and disturb you constantly. That is why we recommend you install the KidsGuard app to block anonymous calls.