There are lots of things available on the Internet which are not really suitable for your children, like games, books, movies, music, etc. If you are worried about the effects of the digital world on your kids, then a parental control app for mobile phones will be very useful.
It is easy to set up parental control on Android, and with some apps, you can even restrict screen time, monitor mobile phone activities, and track real-time location. In the following part, we will discuss more details about how to parental control Android with or without using apps.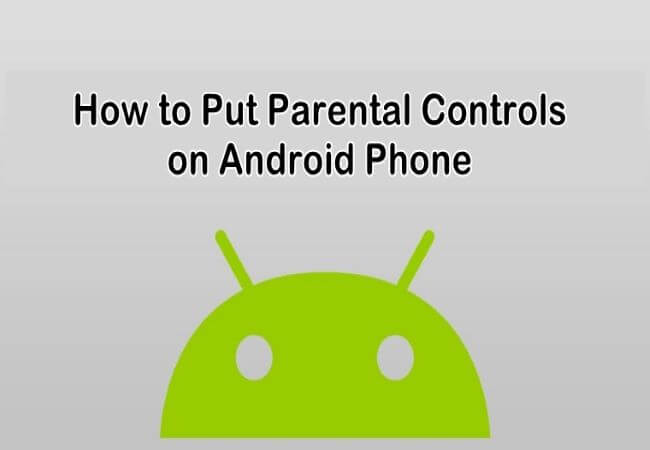 Table of Contents
How Parental Controls Work?
Parental controls are programs that allow parents to monitor and restrict their kids' online activity. With a parental control program, you can block websites or content those are inappropriate for your children. Thus, it keeps your kids safe while surfing the web.
These programs allow you to record activities on one's device to see how they spend time online such as browsing history and communications. Parental control on android phones can be easily set up to allow or deny access to different sites and programs.
When it comes time to choose the best program, several factors will come into play; some programs monitor keystrokes while others log chats that happen through WhatsApp apps like Facebook Messenger and Snapchat.
The Best 5 Parental Controls Apps on Android
The best parental control apps for Android needs to have a location tracker, geofencing feature, monitoring features, etc. In the given list of our 5 best parental control apps for Android, almost all of them provide social media management and online activity of the users. Let's discuss every app in detail.
KidsGuard Pro for Android is the No.1 ranked parental control app for Android. It is a multi-functional parental control that helps to view the activity of your staff and loved ones by simply monitoring social This app allows tracking their chat history, checking what apps they've been using, and seeing if they have any shared media files with you or not.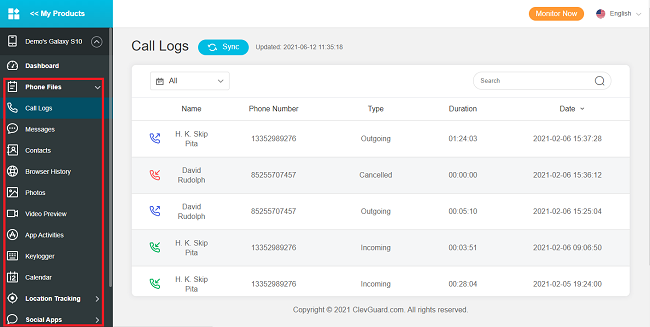 Why do parents love it?
This app got the approval of most of the parents because of the following interesting functions.
Monitor social media apps:
With KidsGuard Pro for Android, you can monitor more than 30 features on any android phone including Instagram, Facebook, WhatsApp, Snapchat, SMS messages, and calls. It also can remotely monitoring your kids without them knowing.
Track GPS location:
KidsGuard Pro for Android is the safest way to keep your kids safe. With this app on their phone, you can track them in real-time and know where they are at all times. Also, you can set Geofence for your kids, once your kids accross the boundary, you will get instant Geofence alerts.
View location history:
It is the real-time location tracker App. With this app, you can get instant access to someone's whereabouts in real-time and monitor their activity with a range of tools that are designed for safety purposes also.
Check internet browsing history:
KidsGuard Pro for Android lets you monitor the websites visited by your children. KidsGuard Pro for Android is a must-have for keeping your children safe from online dangers.
How to Use KidsGuard Pro for Android?
Step 1: At the beginning, you can click "Try it Now" button below to create an account with your email address and then choose plan based on your needs.
Step 2: Then on your kid's device, open a browser and enter www.clevguard.net to download KidsGuard Pro APK file. Don't rush to install now, as you will need to complete a few settings first.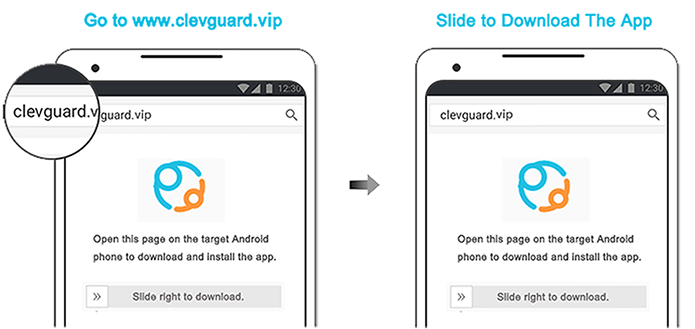 Step 3: Go to Settings of the target device and select Fingerprints & Security. After that, tap on Unknown Sources and toggle the switch. A pop-up window will appear immediately with Allow or OK options, tap on it.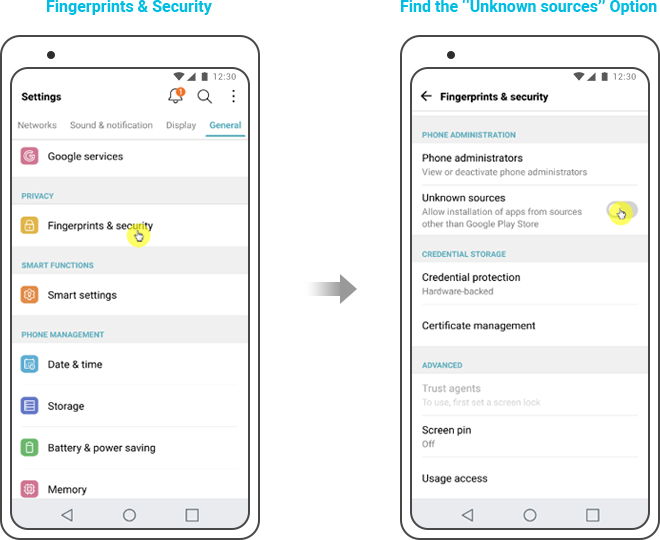 Step 4: If your kid's device is installed with Google Play, you also need to go to Settings >> Google Services (or Google) > Security > Google Play Protect and disable Scan device for security threats. Then go to Sound & Notification > Apps > Google Play Store and enable the Block option.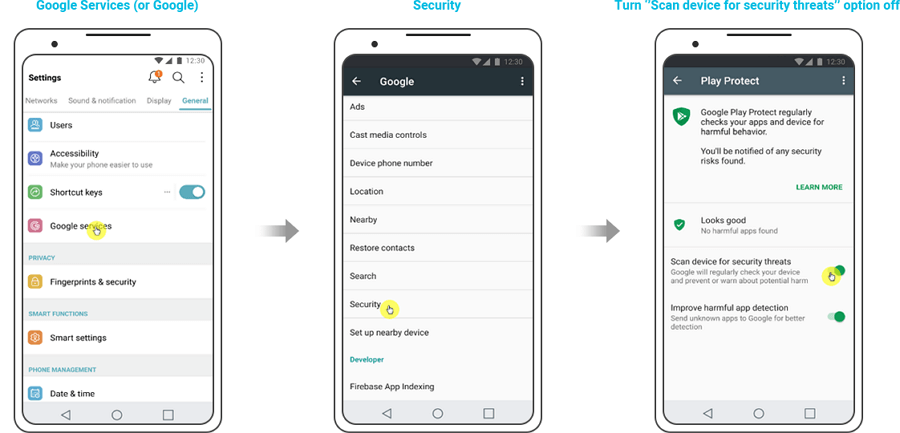 Step 5: Now, you can tap the APK file and finish the installation of KidsGuard Pro. After that, tap the app icon and complete the setup wizard. Then the app icon will become invisible.

To view all the activities of your child's phone, you just need to log in to the web control panel and all the data will be automatically uploaded to Dashboard.
Qustodio is the parental control software that allows you to monitor your child's activity and set rules from anywhere. The price may be high for some, but Qustodio also offers a variety of features. It offers the ability to block certain sites, send alerts when specific keywords are used in texts or chats, and protect against cyberbullies using its "Block & Talk" feature.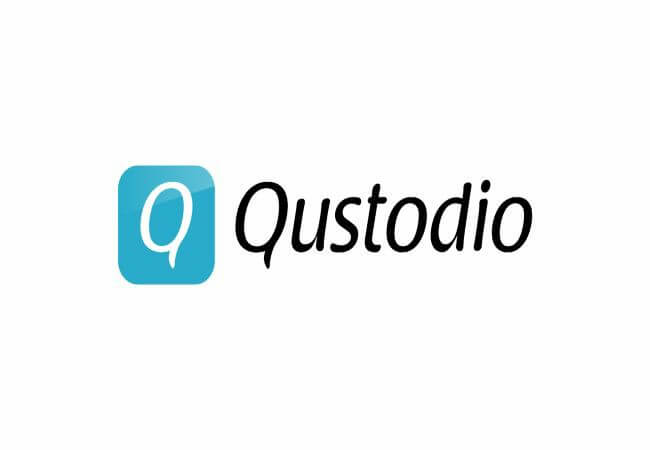 Why do parents love it?
Most of the parents love the Qustodio app for its amazing features:
Geofencing
With "My Places", parents set a geofence around any location on Earth that they want. When the child leaves or enters these areas of interest, Qustodio will send you notifications so that your family is always safe.
Panic button
Qustodio Panic Button is specifically designed to keep children safe in cases of emergency. When activated, the app will send a child's location and an alert text message with any other information that they provide if available.
App blocking and content filtering
This parental control on Android blocks websites. It helps parents stay on top of their children's activities with features like web content filtering, robust app blocking, and detailed activity logs for every device connected under the same account name.
Calls and texts monitoring
With Qustodio, parents can monitor their kids' communications and block incoming or outgoing calls. Parents are also able to choose which contacts they want their children to communicate with.
3. Find My Kids
Find My Kids is a GPS location tracker that works with child safety and parental control. You can install the app on your kid's phone to discreetly track your children's location. It is the ultimate safety app to keep your child safe. The features on this app make it so you can always be in contact with them, even when they aren't answering their phone or responding to you through text messages.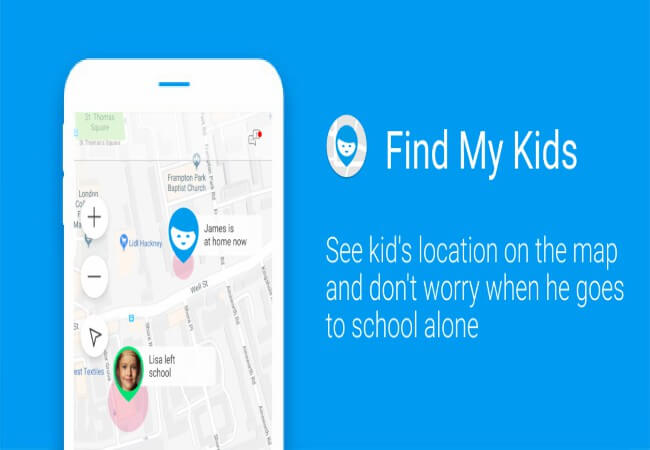 Why do parents love it?
This app got the love of most of the parents because of the following amazing functions.
Location tracking and Geofencing
"Find my kids" is a lifesaver for parents with children. The Find My Kids app has the geofencing function which notifies you when your child leaves or enters an area that you specify. It's easy to use and keeps up-to-date on their location in real-time.
Listen to child surroundings
The app helps you hear your child's surroundings when they don't answer your calls or are in bad company. The Listen features a noise filter that lets parents block out background noises and focus only on what is happening around their kids.
See mobile apps usage statistics
You can use the "find my kids app" to see how much time your child spends on their phone. The app also tells you what type of apps they like!
4. Google Family Link
Family Link is a new Android parental control app that lets you set digital ground rules remotely from your device. This way, as they learn, play, and explore online on their devices it can be under the watchful eye of adults who are supervising them at all times. For children under 13 (or applicable age in your country), Family Link also allows for creating an account with Google services like those created by parents or guardians.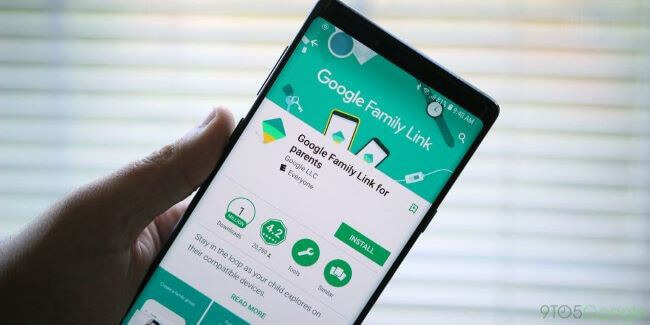 Why do parents love it?
This app got the recommendation of most of the parents because of the following amazing functions.
Location tracking
One of the best features of Google Family Links is that you will always know where your kid is. It is difficult to reach them when they don't answer their phone.
Time management
Google Family Link will help you enforce time limits and bedtimes. You can set a limit on how much screen time they have, specify when their device gets locked (say for study or dinner), and even remotely lock it.
App blocking
By using your parental control settings, you can block apps on your kids' phones. During the installation of apps, you will receive a notification so that you may either approve or reject its use.
mSpy is an app for parents who want to keep track of their children's every move. Once installed on your kids' phone, the powerful features of this app allow you to know where they are at all times. This software continuously runs on the child's phone, silently in the background. It sends updates to you so you can monitor what they're doing from any computer with an internet connection and your login account.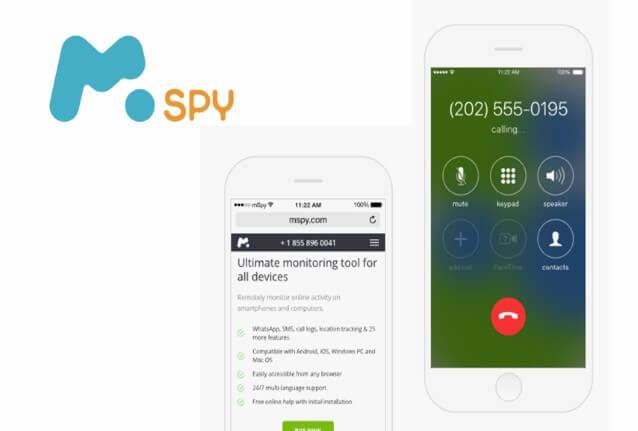 Why do parents love it?
Most parents love this app because of its wonderful features and its benefits. Let's discuss.
Monitor calls and messages
Once installed on a target device, mSpy lets you monitor their incoming and outgoing calls. You can also see who the person is texting with at any given moment to keep track of all things happening on that smartphone.
Track real-time location
The mSpy app allows you to monitor your kids in real-time, whether they are at home or away from it. It allows parents to view their kids' location constantly through GPS tracking in real-time.
Geofencing
Parents set up a geofence for alerts when their kids enter certain areas near their home or office. It allows setting custom alerts for the most important things that will help keep them safe and sound.
Access social media apps
Finally, it will allow you to access messages from Facebook Messenger, Instagram, and Snapchat so there's no need to worry about what's being hidden away because this app has got them covered.
Other Ways to Protect Your Kids Online
Except using the professional parental controls, here are also some methods (might not 100% work) that you can try to monitor the kids online.
1. Setting Data Limit
Setting a data limit is one of the most effective ways to control your child's phone use. You can set it by navigating to "Settings" and choosing "Network and Internet". Once you input the data limit, there will be no more apps that require internet access until their next allowance arrives.
2. Blocking Third-Party Installation
Blocking third-party installations is another way of limiting what applications are available for your children when using mobile devices like an Android phone. This safety feature blocks any new application from being installed unless authorized by you. With third-party installation blocked, your child will only be able to use the already approved apps you've set up in the Google Play store. To block third-party installation, open your "Settings menu" and look for a listing called "Security or Lock screen & security" once there tap on it.
3. Set Up Parental Control on Google Play
If your kid is using an Android device then you can set up a parental control from Google Play. You will be able to do it, only if you are managing your kid's account. This will help you to set a limitation to the number and type of games your kids will be using for entertainment. You can also control the flow of Music, Movies, TV, and Books. It is supported on Android devices. Unfortunately, you won't be able to track their location, keylogger, chats, and many other things.
So, here's how to put parental controls on Android phones from Google Play:
Before you get into the steps, you need to know that parental control works. Basically, if the kids are using their own account then you won't be able to do anything but if they are using the Family Link then you will be able to change the settings as per your restrictions.
Step 1: So, if you are managing your kid's account with the Family Link then you need to open the Family Link app.
Step 2: Choose the name of your kid and then tap on Manage Settings, followed by Controls on Google Play.
Step 3: Now, you need to type on the content you wish to filter and then select how to do it.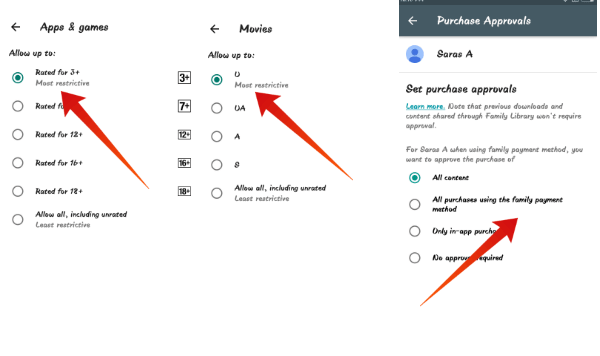 Well, it is very easy to implement but as stated before it is effective to filter web stuff but it does not track the location of your kid like the app.
4. Add Restricted Profile on Android
Now, the question is, can you add a Restricted Profile on an Android for parental control phone? Yes, you can but it comes with limitations. Parents can add another user with limited access to apps and content. So, parents can only set limits, and here's how to do it:
Step 1: Open the Android device and go to Settings.
Step 2: Go to Users & Accounts, followed by Users. Now, tap on Add user or profile.
Step 3: Now, tap on Restricted Profile. A list will be opened and you have to type a name and tap OK. Then, you have to which of the listed apps and features will be visible on the profile. You have to toggle the switches beside the options from the Settings.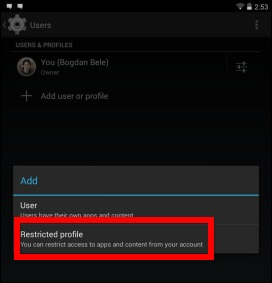 Step 4: Then, tap on Back Arrow and tap the New Profile.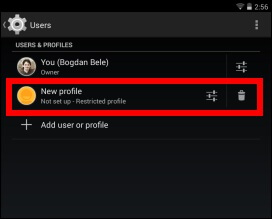 This way you will be able to add a restricted profile but you will have very limited access to its apps and contents. And as a parent, you will only be able to set limits.
Which App should I Choose?
Truly, there are many things that are not suitable for kids as they are getting access to the Internet at a very young age. So, if you ever feel the need to manage their internet usage via smartphone, a parental control app will be very useful. There are lots of parental control apps available. Using these apps you will be able to monitor smartphone usage, track their location, get a detailed report on smartphone usage, block inappropriate content, and more.
But not all the parental control apps are at par with the parent's demands, still, there are few like KidsGuard Pro. Any parent will find it interesting because of the vast array of services it provides. KidsGuard Pro for Android would be the best parental control for Android cell phones you will ever use.
Conclusion
Using Google Play restriction or adding a new restricted user account are excellent ways to restrict your kids from getting access to indecent content on the internet. But the features are very limited here, with the restricted account you will have very limited access. And the Google Play is good but it does not tell you the location. So, as it turns out, the best way to monitor and restrict your kid's activity on a smartphone is the KidsGuard Pro app and we highly recommend this stellar software.