TikTok has seen a meteoric rise in its popularity, despite having a tight demographic, as it is focused mostly on teenagers and young adults. In 2022, it became the most downloaded app around the world, surpassing both Instagram; Twitter. However, it is not without its ever-present harms, given the fact that it's mostly used by youngsters.
One of the most significant drawbacks of TikTok is youngsters waste their valuable time scrolling it mindlessly. Most of them are students who need to put their time and effort into their studies instead. This article will explain different ways how to limit the screen time of TikTok in a detailed manner, so keep reading till the end.
Why Set Time Limits on TikTok?
TikTok provides a lot of entertainment, but it can also prove to be fatal if its use is not managed properly. Here are some of the reasons why time limits are important while using TikTok.
Mental Health Issues
Social media, in general, can be highly addictive, given how it is designed. Major social media companies hire design professionals just to introduce new features and design their platforms in a way that keeps people hooked as much as possible. TikTok is even more engaging than other platforms, making it even more difficult to stop watching the content on your screen.
Research suggests that social media addiction can prove highly detrimental to individuals. The rate of depression has been growing in teens, which is even worse for teen girls. Psychologists have often pointed out how sticky and engaging TikTok's algorithms can be, which keep you glued to the screen for hours.
Productivity
It is not just the mental health that suffers from overusing TikTok, but also your productivity. Attention to something unimportant automatically takes your attention away from something important, and that is how TikTok works. Imagine a teenager who has to do their homework but keeps scrolling TikTok.
They'll miss the deadline or complete their work at the very last minute, compromising its quality. Add it all up, and you have a student that barely passes or fails their courses. Similarly, anyone who has a job but keeps watching videos on TikTok will hurt their productivity, compromising their quality of work.
Sleep
A good night's sleep is highly important for human health, but compromising it can hurt us in several ways, from lost focus to dwindling productivity. Given TikTok's appeal, it is no wonder that people are spending hours and hours at night watching videos and harming themselves in the process. They sleep late but have to wake up early, given their school or job schedule.

As a result, they are miserable throughout the day and cannot accomplish their daily goals. It slowly adds up, compromising their life goals too.
How to Set Time Limits on TikTok
TikTok screen time limit has been introduced under the Digital Wellbeing umbrella that lets you control the time you spend on the app. Let's discuss it and some other related features.
Screen Time Limit
The screen time limit introduced by TikTok will limit teenagers under 18 to watch videos for only 60 minutes. Once their 60 minutes are complete, the app will ask them to enter a password if they want to continue. According to TikTok, it allows users to make an active decision if they want to stop after a while or keep watching the content.
Users can always opt out of this feature, but the app will ask them to activate it if they spend more than 100 minutes a day.
Screen Time Dashboard
Just like any other dashboard, the screen time dashboard in TikTok gives you an important overview of your time spent on the app. It is an easy-to-access feature that provides you with weekly screen time updates in your inbox. By analyzing these reports, you can make informed decisions about your screen time and try to control it through different methods.
Screen Time Break
Screen time break is a bit different from the daily screen time limit. The former asks you to stop using the app if you have been watching it uninterruptedly for longer periods. You can also set a timer to remind yourself about it.
Here's how to activate the daily screen time limit:
Step 1: Start the TikTok app and log in to your account. Tap the Profile icon located at the bottom right corner, which will open your profile content.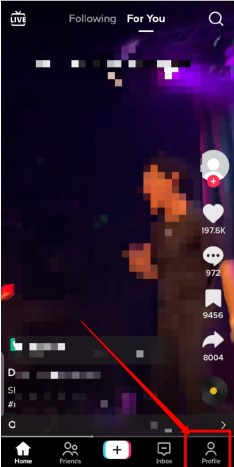 Step 2: Look at the top right corner of your screen, and you'll see three horizontal lines, which is the profile Menu. Click on it to proceed further.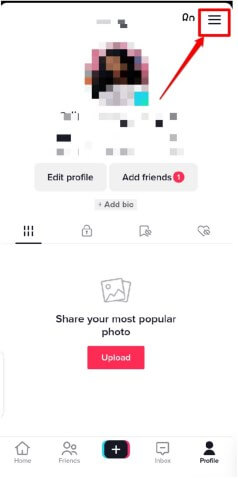 Step 3: A new window pops up showing Settings Privacy. With it are Creator tools that give you insight into your content.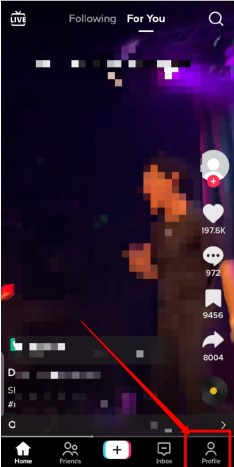 Step 4: Click on the Setting Privacy page and scroll down the menu. You'll find a Screen time option between Language Family Pairing.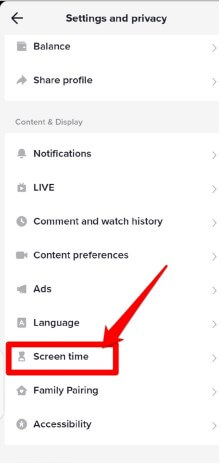 Step 5: Tapping Screen time will launch a new menu with many options such as daily screen time, Screen time breaks, Sleep reminders, etc. Click on Daily screen time.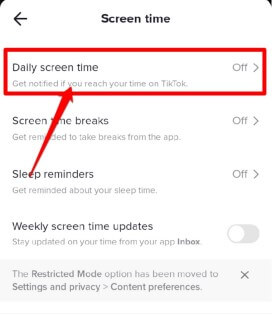 Step 6: Click on Daily time to set the time limit on your TikTok usage.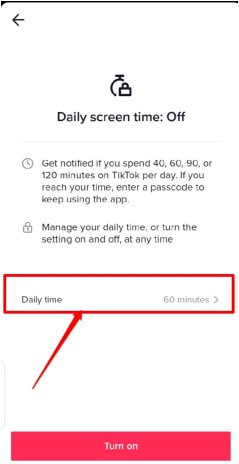 Step 7: TikTok will show you different timings to choose from, which are 40, 60, 90, and 120 minutes. Although 60 minutes is a common choice, you can pick any time that is convenient for you.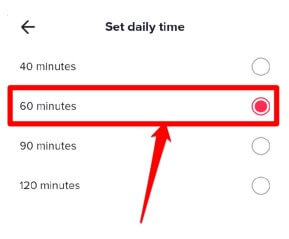 Step 8: Once you have selected the suitable time limit, go back by clicking the arrow in the top left corner. Here, you'll find a red Turn on the button at the bottom, which you need to click to launch the time limit that you set in step 7.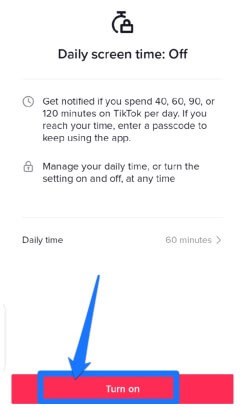 Alternatives: KidsGuard a Complete Solution
Although TikTok allows users to control their screen time, it's still not perfect. Teenagers still control the app and can set their timings. Even worse, they can completely opt out of these restrictive features whenever they want and continue wasting their time.
Therefore, parents need to step in and take control. KidsGuard provides the perfect platform to do that with its incredible features. It's an all-in-one phone monitoring app that lets you control the screen time of your kid from your device.
Let's discuss some of its features before diving into how you can use it.
App Block
If your kids are using too much TikTok doesn't benefit from the built-in features, you can simply block the app on their phone. You can easily track their TikTok usage from your device and prevent them from accessing the app in the future with a few clicks.
Lock Screen
KidsGuard also allows you to lock the screen on the kid's device. It helps you keep them away from TikTok and engage in creative and outdoor activities, such as learning, playing, exercising, etc.
Activity Report
You get detailed daily, weekly, and monthly reports from KidsGuard on the dashboard. They help you analyze your kid's behavior and see if it needs any change.
Here's how you can use KidsGuard to monitor your kid's phone.
Step 1: Download KidsGuard on your phone.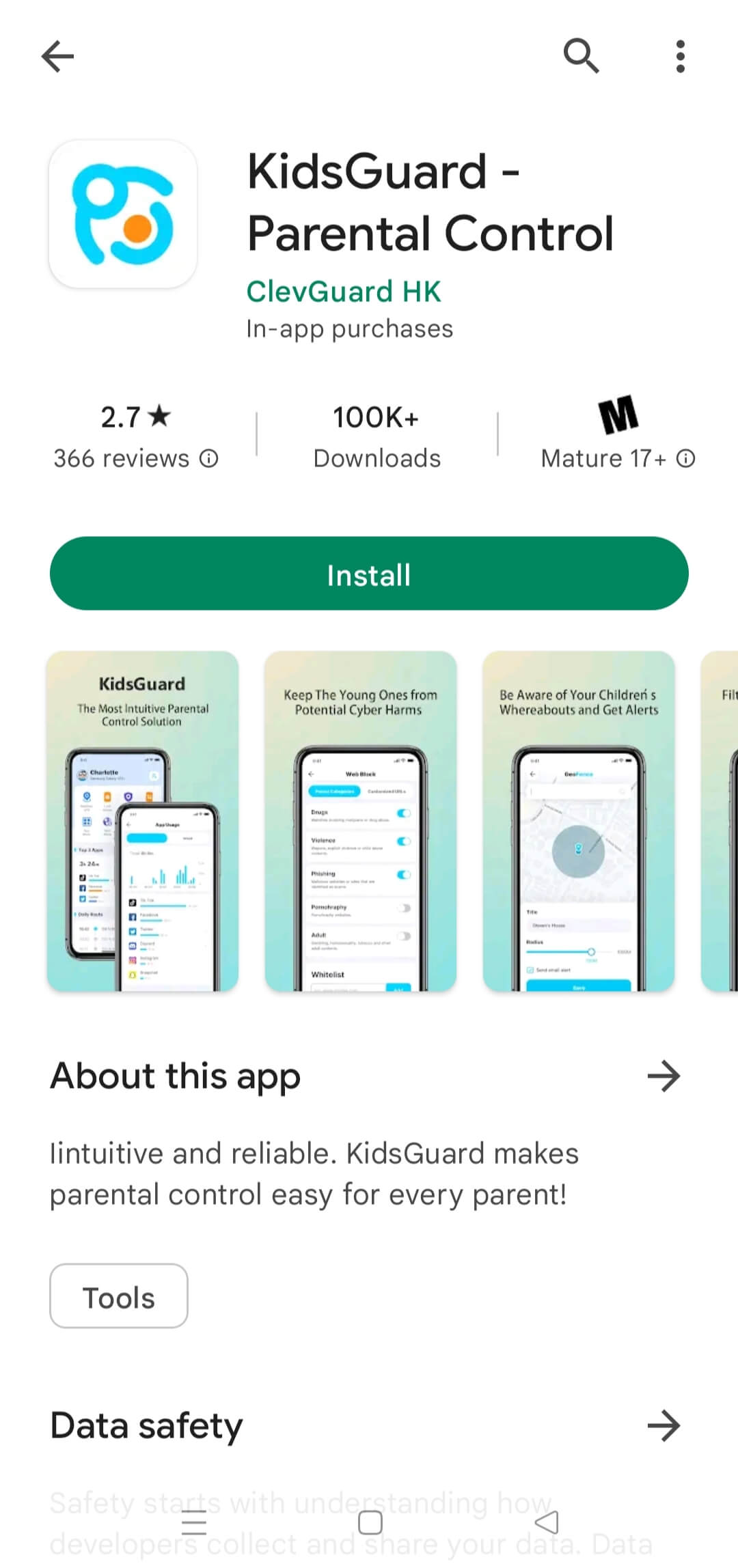 Step 2: Enter your account and password in the app. If you haven't, you should register it first. Once you have registered, you can sign in.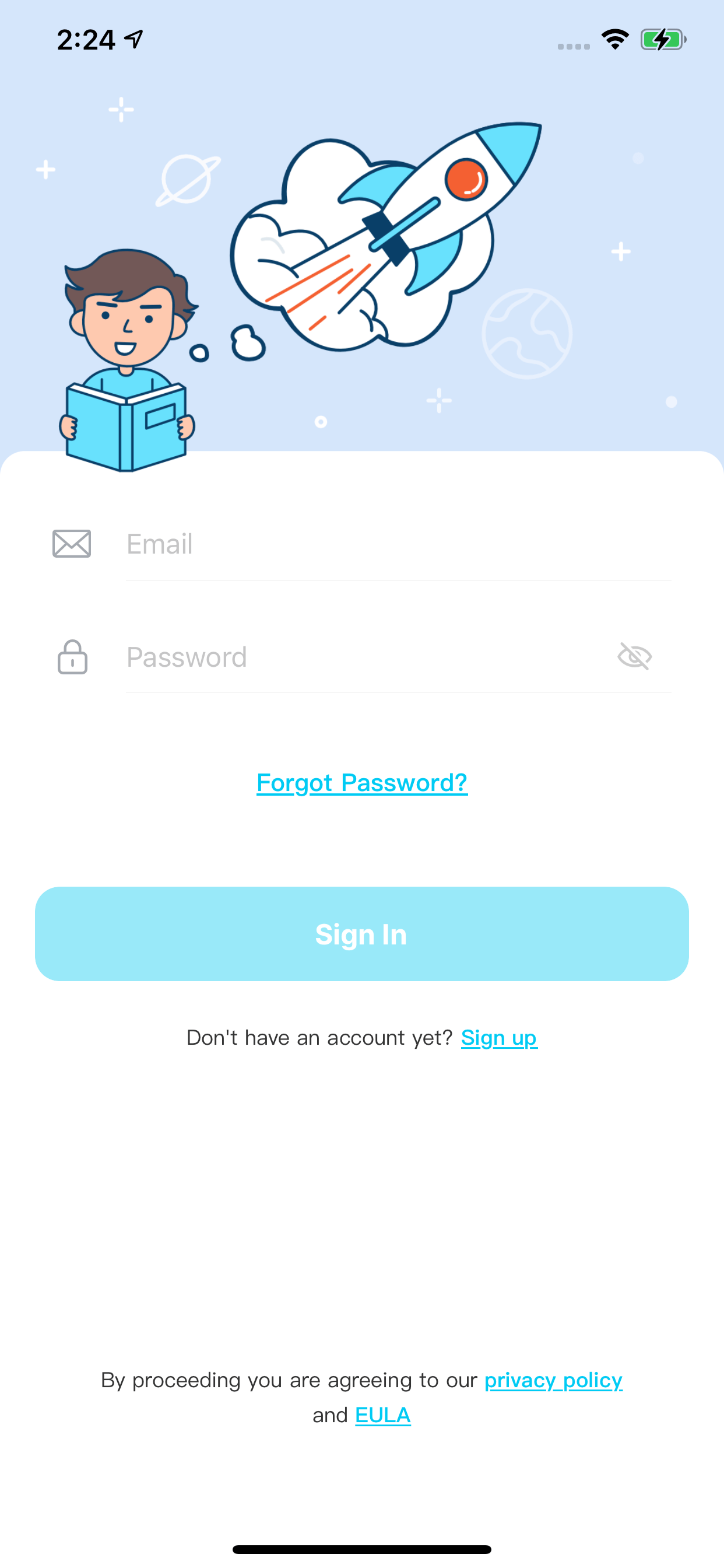 Step 3: Install the KidsGuard app on the kid's device and connect your main device with it using the QR code.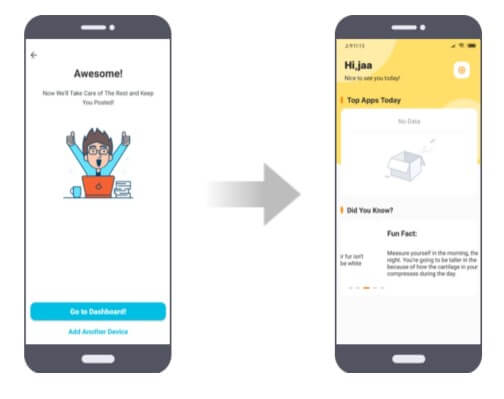 Step 4: Once connected, you can start monitoring their TikTok activity from your phone 24 hours a day.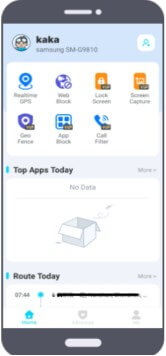 Conclusion
TikTok provides a lot of entertainment and informative tidbits, but overusing anything is harmful. As we have seen, the built-in features of TikTok are certainly not enough to stop kids from binge-watching the app. Parents should opt for an excellent alternative in the form of KidsGuard to keep an eye on their kids and stop them from wasting their time.
KidsGuard comes with all the features that one could ask for. From app blocking to screen lock, it provides parents with the tools that curb their kid's TikTok addiction. As a result, they become productive happy citizens and family members.
FAQs
Q: Does TikTok provide any built-in features for controlling one's screen time?
Yes, TikTok has added some features under the Digital Wellbeing umbrella to help users control their screen time. These features include a Screen time limit, Screen time dashboard, etc. You can also tweak them according to your preferences.
Q: Are there any alternatives to TikTok's built-in screen time features?
Yes, there are some excellent alternatives to TikTok's built-in screen time controls available for parents. The best one in this regard is KidsGuard, a leading application that comes loaded with handy features. It has an incredibly simple UI and lets parents monitor their kid's devices from their phones.
Q: Is KidsGuard available on both iOS Android?
Yes, KidsGuard is available for free on both Google Play Store and Apple's App Store. You can download the app right away without any payments or lengthy processes. After downloading it, just enter your credentials, and you're ready to go.