If you're considering viewing your children's TikTok activities, you're in the right place. A significant portion of TikTok users is children and teens. According to Cribbage Challenge, children spend 113 minutes on TikTok every day. These children most likely encounter content on the app that negatively affects their mental health and self-esteem. In this article, we'll introduce you to ways to view TikTok activities of your children. Before that, let's discuss why you should monitor your children's activities on the popular social media app.
Table of Contents
Why Monitor Someone's Activity On TikTok
TikTok is a creative and fun platform for everyone to enjoy. It's become a creative outlet for informative and funny videos. However, like most social media sites, TikTok has its own disadvantages as well.
Here are some reasons why it's become necessary to view TikTok activities of your children.
1. Inappropriate Content
Not all the accounts on TikTok are child-friendly. As a parent, you should be aware of the inappropriate material that can be found on the app. Children who come across videos with swearing and provocative dancing may be enticed to repeat or recreate what they see. If you want to set filters or report the content, you'll need to view TikTok activities of your child. 1.
2. Life-threatening Challenges
TikTok's fun challenges make the app stand out among the sea of social media apps. A lot of users will participate in challenges and trends in an attempt to gain views. Many of these challenges have been found to be detrimental and even fatal. Though, in the past, TikTok has taken action against such trends as the milk-crate challenge, it's often after the damage is done.
3. Cyberbullying
Bullying and negativity are prevailing issues on most social media platforms, including TikTok. Users receive highly malicious and hateful comments, which can harm their mental health. Depression, anxiety, anger, and extreme stress are all effects of cyberbullying. If you view TikTok activities of your children, you'll be able to protect them from such bullies.
4. Addiction
The TikTok algorithm is catered perfectly to the user's interest and suggests content that'll keep you hooked. So it's very easy to fall into an endless loop of videos and reemerge hours later. An addiction like this is harmful to one's productivity as well as mental and physical health. You can avoid this if you view TikTok activities of your child.
How to See Someone's Activity on TikTok
Now that you know how TikTok can adversely affect your child's mental health, let's discuss some methods you can use to view TikTok activities:
Method I: Check the Green Dot
TikTok has an inbuilt setting through which you can see whenever a user is online, indicated by a green dot. Enable this setting on your child's account so that you know when they are using the app. Note that you can only view your child's online status if you two are friends on Tik Tok.
Follow these steps to enable the setting:
Step 1: Open your child's profile on TikTok
Open TikTok on your child's phone and select "Profile" from the given options.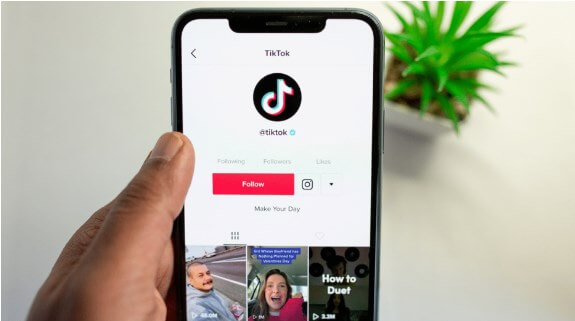 Step 2: Go to the privacy settings Tap the three lines on the screen in the upper right corner and go to "Settings and Privacy" > "Privacy."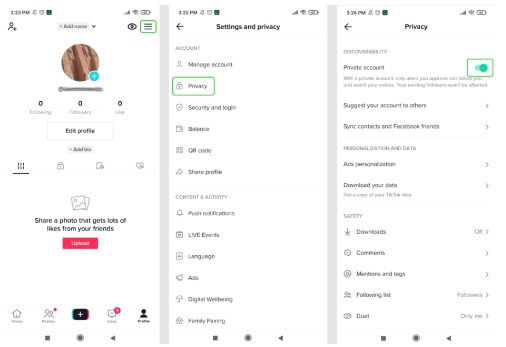 Step 3: Turn on the activity status setting Turn on the activity status if it isn't already. The toggle will turn green to indicate the activation.
Method II: Using KidsGuard
It's important to view TikTok activities of your child, but it's also hard to keep an eye on them 24/7. KidsGuard is an app that can help you view your child's TikTok activities from anywhere, e.g., your office, grocery store, etc.
You can capture your child's screen to view TikTok activities, set screen time limits, and also receive regular updates regarding your child's online activity.
Here are the steps to view TikTok activities of your child through KidsGuard:
Step 1: Install the KidsGuard app 
Install the KidsGuard app on the parental device (the device you'll use to track your child).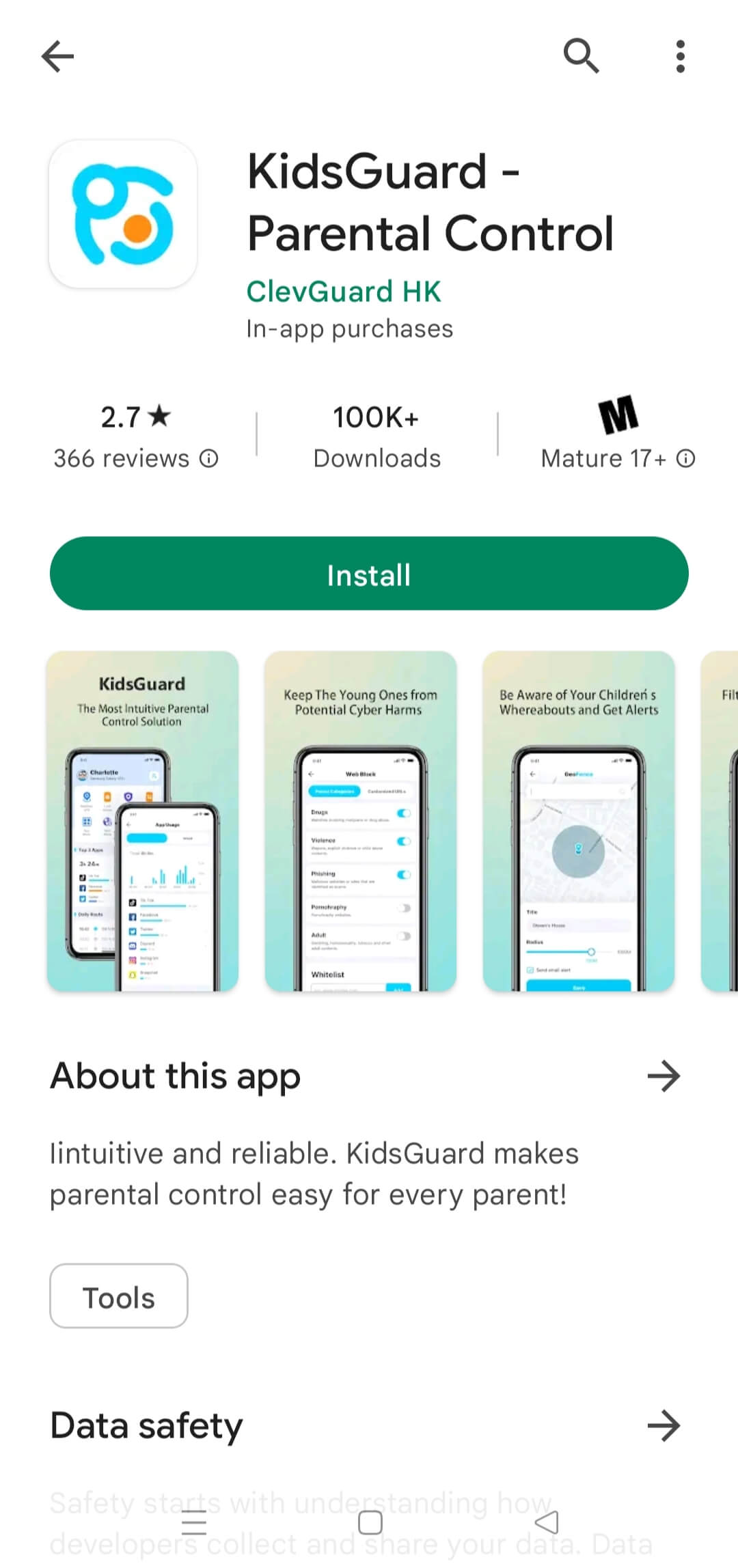 Step 2: Create an account
To log in, register and create a KidsGuard account. Choose a username and password, and subscribe to the app's many features.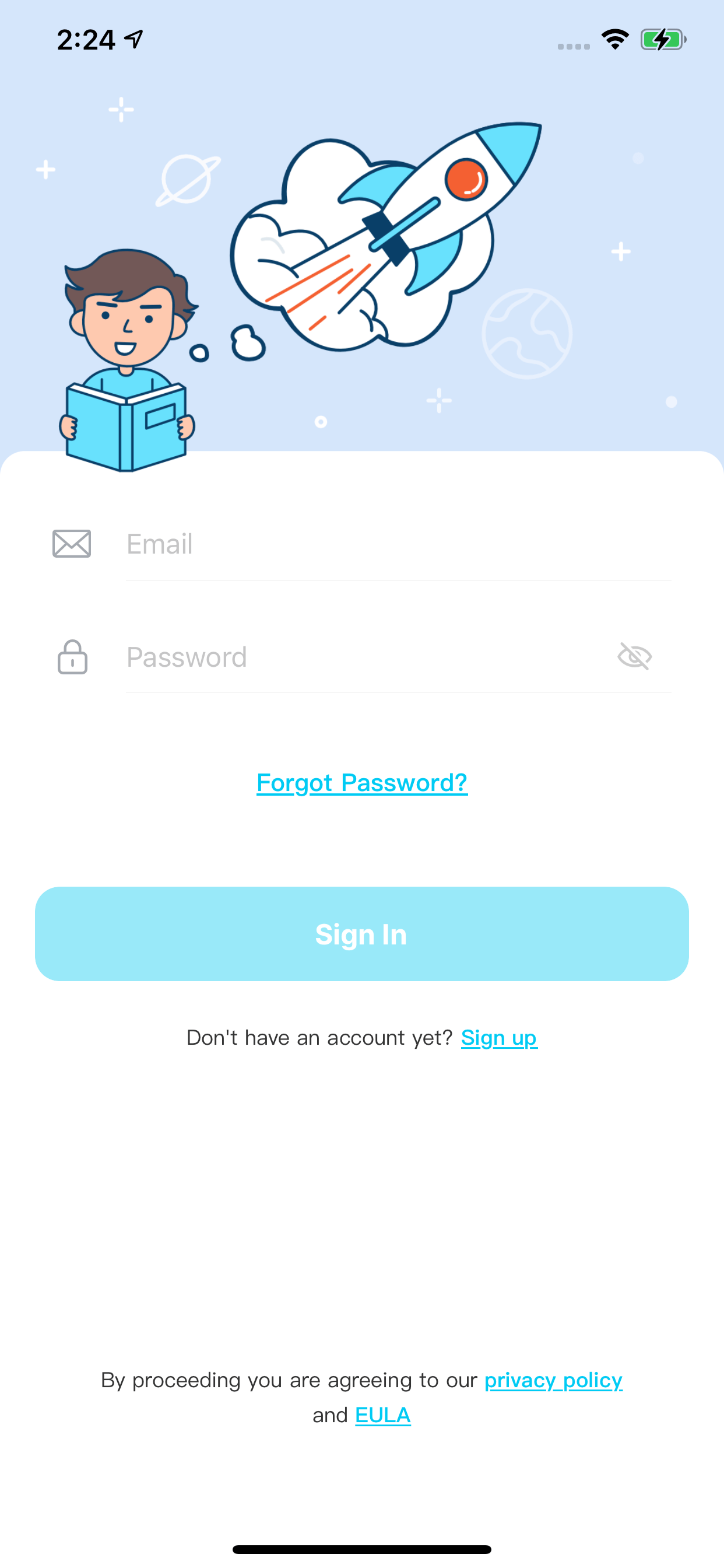 Step 3: Install the app on the kids' devices
Install the KidsGuard Jr app on the device your child uses for TikTok. While your child is online, the app tracks their activity in the background. Note that the app only supports android devices on the child's side.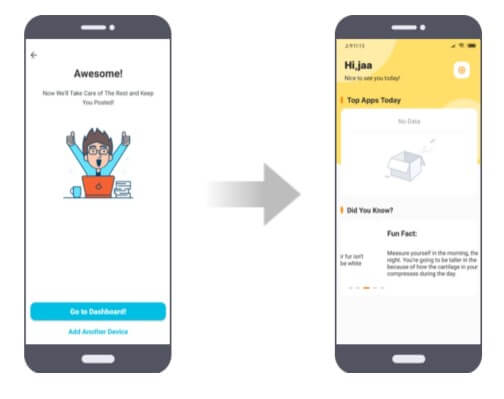 Step 4: Start monitoring
Now, you can easily monitor your child's TikTok activities. The KidsGuard app lets you set a screen time limit, block harmful apps or websites, and capture your child's screen. You'll also be updated with regular activity reports.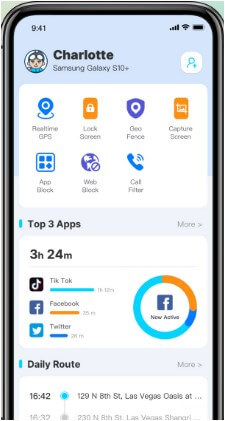 Method III: Check who they are following
Most of a person's TikTok feed is full of videos by the users they follow. Check who your children follow on TikTok and review each profile's content. This way, you'll know what influencers upload harmful and inappropriate content.
If you find an account that you prefer your child doesn't follow, you can report it for inappropriate content or simply block the user. This will automatically remove any of the blocked user's content from your child's TikTok feed.
Bottom Line
TikTok is a great entertainment app, but not all its content is appropriate for children. Not only can the content be harmful to children, but it can also be addicting and distracting from doing anything productive.
Try ClevGuard's KidsGuard app today and know exactly what your child is doing online through its capture screen feature. With the app's regular activity reports, you can decide your child's screen time limit or even block apps you deem inappropriate.
Frequently Asked Questions (FAQs)
Q: Can my child turn off KidsGuard Jr from their phone?
A: If the user has completed the configuration, please click the "Complete! Check for Setup Status" button below to check whether the configuration is successful.
Q: Is KidsGuard a free app?
A: Yes, it allow to install free to use part of the function. That is to say, we offer a free version but with limited features. The free plan includes a web filter, a limited number of instant screenshots, a location tracker, and a screen lock. if you want to encounter more function, you need to purchase it.
Q: Is KidsGuard safe?
A: Absolutely. Only you can access your data; we never share it with other third parties.