Tinder is an online dating app where you can create your account with any name and picture and with that secrete profile you can search for someone that you think is perfect for relationship.
Most of the parents have this problem that they want to know whether their kids are using such apps and same is the case with couples they also want to have a check on their life partners.
In this article we will let you know that how to hack Tinder.
Hack Tinder Account with KidsGuard Pro for Android
Hopefully now you know very well that what actually is Tinder and how it is dangerous to our children and other relationships. To keep our loved ones safe from such applications we have to look into some ways that can help us in this regard.
KidsGuard Pro for Android is the best application that can be used by anyone for this purpose. This application provides you the facility to keep an eye on your loved ones activities online.
3 Steps to hack a Tinder account with KidsGuard Pro
These steps will let you know that how to hack into someone's Tinder account.
Step 1.
Click
Monitor Now
button below and skip to KidsGuard Pro's website. Use a valid email address to sign up an account.
Step 2.
Login to your account and go to
My Products
page, click on
Setup Guide
button and follow the instruction to download KidsGuard Pro for Android onto target phone. This step only needs to take 5 minutes.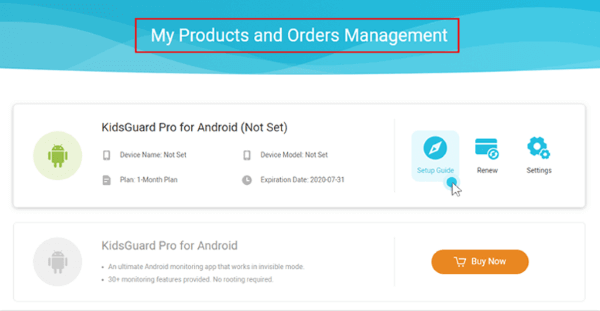 Step 3.
After completing the setting procedure, you may go to the Dashboard. On Dashboard you will see an option on the left "Social Apps". Open it and scroll down to "Tinder".
Here you can select the time from where you want to see the history of that app.
Keylogger feature will allow you to see what has been typed on that Tinder application. Complete chatting history can be watched from this Dashboard.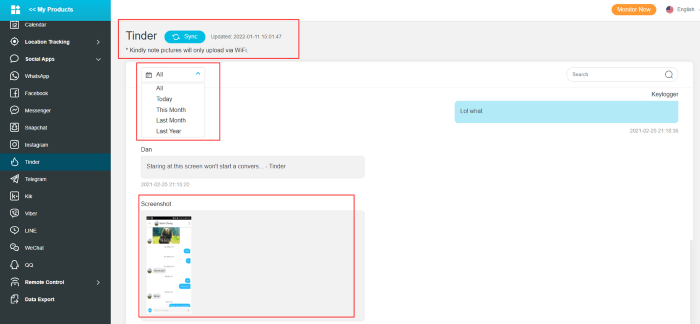 Other Features of KidsGuard Pro for Android
View social media apps' activity of target phone
Using KidsGuard Pro for Android you can watch your loved one's activities on their phone online. You can open the KidsGuard Pro Dashboard and check for social media applications. There you can get all the application installed in the target phone. Then you can select the specific social media application that you want to view on that target phone.
You can watch the videos and pictures shared from that phone using that social media app and that which are received on that target device. You can also listen the voice notes and online status of that mobile time. Time of each activity is also mentioned and screenshot taking facility is also available using this amazing app.
Track real-time location & location history
KidsGuard Pro for Android enable its users to track the real-time location of the target phone. This probably happens when parents wants to see where their kids go anytime and to see whether they have gone to school or anywhere else they were supposed to be. Similarly boyfriends and girlfriends use this location tracking service to know where their partner go mostly and what activities he or she is involved in.
This also enables them to check whether the partner is lying or not? Other than real-time location, KidsGuard Pro for Android also enables us to watch the location history that which location have been visited by the target person having that target phone.
Take Secret Photos Remotely
KidsGuard Pro for Android enable its users to perform some remote-control functions also which may include recording of calls, user can also take photos from the rare camera on the target device remotely. This features enables you to take secret photos from the target phone without knowing him. Other than this, you can also take screenshots of the target mobile device whenever you want.
Keylogger
KidsGuard Pro has another very interesting and amazing feature that is what we call it a keylogger. Yes, its true KidsGuard Pro for Android also provides a keylogger feature. Key logger is a feature that saves the words as it is that are being typed by that specific device. It is generally used to know passwords and other personal details that are not known to anyone else than the user itself.
KidsGuard Pro for Android helps a lot in finding Tinder password of our loved ones to know in what activity they are involved. In this way, you can do Tinder hack easily. This app is really amazing its features are totally unique and incomparable.
Why Choose KidsGuard Pro to Hack A Tinder Account?
KidsGuard Pro is the best solution to hack Tinder account from your child's mobile phone or any other person you want to hack. This is considered the best option because firstly it is safe and secure and there is no threat of any breach of privacy using this app.
The price is also very affordable and interface is user friendly too. Other methods are somehow typical and not sure will work or not to hack the Tined but KidsGuard Pro make you 100% sure that you can easily hack the Tinder account from the target device. KidsGuard Pro also provides a number of other benefits other than hacking Tinder account and that is the reason KidsGuard Pro is best suited for this task.
Calendars and Notes

This app provides an interface that enables you to watch almost all the activities of the target phone. You can watch the call records and the text messages of that phone. You can also watch the notes and calendars of that phone.

Real-time GPS location

GPS location of that target phone can also be watched and even you can use the location tracking & Geo-Fencing feature. This Feature allows you to restrict your loved ones to enter some specific area and still if they go there, you will get a notification on your device.

Activity Reports

KidsGuard Pro for Android enables you to watch the complete usage and activity report of what has been done on the target device. It can be on daily basis, weekly basis or monthly basis as per your need.

Photos and videos

Using KidsGuard Pro for Android you can also see the photos and videos that are available in the target phone. It also enables you to watch the call history and the contact list of the phone. Even you can read the messages of that device.

Browser History

This app enables you also to view the browser history that has been searched out online using that target device. You can also listen to the calls being dialed and received on your target android phone.

Screenshots

KidsGuard Pro for Android enables user to take screenshot of the screen shown of the target device on which the user has seen some clues against that target user activities and to discuss it in future with some evidence. Screenshot feature is really an amazing feature not just to get evidence but also for the reminder of that specific scene that is shown on the screen.
Final Words
In this article we have discussed that what is Tinder app and why is it used. Then we discussed the main reason to write this article that why people need to hack Tinder accounts and how to hack someone's Tinder account. After detailed discussion, we finally conclude that KidsGuard Pro for Android is the best option to hack Tinder account because of its minor price and its charming features that enables us to keep an eye on our loved ones without knowing them and even can hack their social media accounts by watching their activities on their mobile phones. Parents also use this application for setting parental controls on their kid's activities.