The Internet can be a great source of information, but if you don't use it wisely, it can do great harm too. This is especially true for teenagers. Nowadays, most of the teenagers have their own smartphones which they use to access the internet, so, parents need to employ some content control measures to protect their child from viewing inappropriate content like pornography, violence, or other inappropriate online content, which can have an adverse effect on a child's mentality.
To heed this need, many software vendors are developing parental control tools, so that parents can monitor their child's online and other activities on their smartphone. In this article, we will state everything about the new AT&T parental controls - AT&T Secure Family and its best alternative.

Part 1: Everything You Need to Know about AT&T Secure Family
Secure Family is the new parental control tool from AT&T which replaces the previous ATT parental control app, Smart Limit. It offers more control to parents over their child's internet activity than the earlier Smart Limits app. This AT&T parental control will allow monitoring up to 10 lines for a price of $7.99 per month. With this app, you can track the location history of your family, track their real-time location, filter internet content, block app purchases, set usage time limit, and manage their overall internet usage. So, Secure Family takes AT&T parental controls cell phone to a whole new level.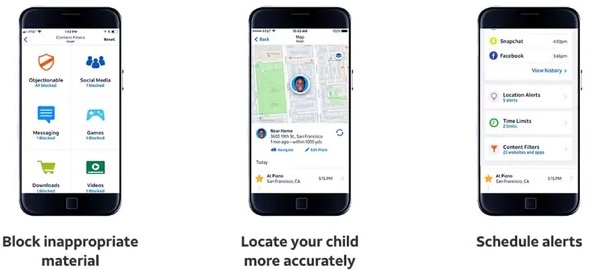 Price
Free trial for 30 days and $7.99/month afterward for 10 lines.
Features of AT&T Secure Family
Track real-time location of family members, and view their location history to know where they went.

Both parents can download and install the app to monitor their child activity.

Get real-time alerts on your child's arrival or departure from a certain location like home or school.

Content filtering feature allows you to filter or block online content and apps based on age-appropriate settings.

AT&T parental control app also allows you to set time limits to your child's internet access or even pause their internet access your device.

It also allows you to block app purchases from Google Play Store or App Store.

It allows you to view your child's phone remaining battery, voice, text, and data usage.

Tamper alerts are available if anyone tries to remove the app from the child device.
Requirements to Use AT&T Family Secure App
Your device must be Android 5.0 or higher and iOS 10 or higher to use AT&T Secure Family app.

The AT&T Secure Family Companion app must be installed on the child's phone and be paired with AT&T Secure Family app on the parent's device. Otherwise, the features are limited.

You can also track the real-time location and the location history of your child.

Both parents and child devices need to be set up with the same AT&T account on their Secure Family and Companion app.

It is available to AT&T wireless postpaid customers.

Only authorized users can use the app to locate a family member.
Limitations of AT&T Secure Family
You cannot use both AT&T Secure Family and AT&T mobile Security Plus on the same device. You need to downgrade to AT&T Mobile Security basic to use AT&T Secure Family.

Most features like arrival/departure alerts, internet limit, content filtering etc. require installing Secure Family Companion app on the child's device.

Location tracking isn't accurate without Secure Family Companion App installed.

You can only track location history up to 7 days.

It doesn't allow you to view the contacts and messages on your kid's device.

Your child will know that he/she are being tracked.

Only AT&T customers can use Secure Family app.
How to Setup AT&T Parental Controls
Step 1: First, download AT&T Secure Family App on your own device from Google Play Store or App Store and then set up the app with your AT&T user account.
Step 2: Then, send an invite text to your child's phone from the Secure Family app on your device.
Step 3: Now, on the child's device, open the text and tap on the link.
Step 4: Finally, tap on the Download button to download AT&T Secure Family Companion App on the child device.
Step 5: Now, follow the on-screen instruction to set up the Secure Family Companion App on the child device and start monitoring.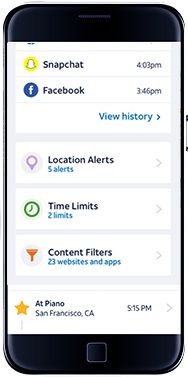 Part 2: Best Parental Control App for Cell Phone Monitoring
AT&T parental controls are good, but they don't cover every aspect of child monitoring which parents require like tracking calls and messages and limited location tracking. Moreover, other carrier users cannot use AT&T secure family. So, if you are looking for a parental control tool that allows you to track your kid's device activities regardless of which cellular carrier you use, then try KidsGuard Pro. It is one of the best alternatives to AT&T Secure Family. It is compatible with all Android devices from Android 4.0 to 9.0.
Features of KidsGuard Pro
KidsGuard Pro allows parents to view their child's call history, text messages, contacts, and other messaging apps like LINE, WhatsApp, Viber etc.

The location of the kid is updated every 15 minutes. You can check remotely from the dashboard.

It also allows you to view the photos, videos, calendars, and notes saved on the child's device.

Real-time screenshots allow parents to know what their child is doing at the time.

You can check the full browser history to know what your child is searching online.

The keylogger feature will record every keystroke typed on the child's device.

It can run invisibly on the child's device.

It offers 3-day free trial, and you can cancel the subscription at any time.
How to Use KidsGuard Pro Parental Control App
Step 1: First, create a KidsGuard Pro account on their official website. Click on the Try It Now button, provide information about the child such as name, age and device's OS.
Step 2: Then, visit www.clevguard.net on the child's device and download KidsGuard Pro app.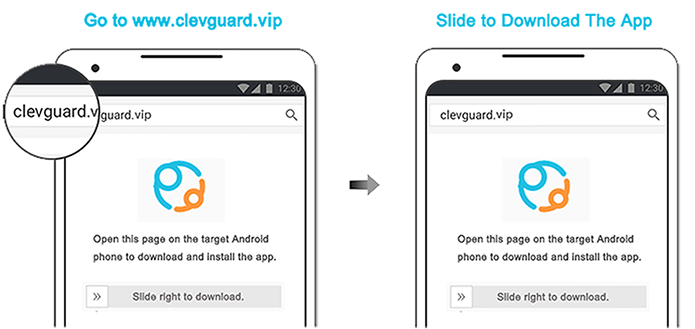 Step 3: Now, tap the downloaded file to install the KidsGuard Pro app. Then launch the app on installation.
Step 4: Sign in with your KidsGuard Pro account and then follow the setup process.

Step 5: After completing the setup process, log in to KidsGuard Pro web panel and then you will be able to view the detailed reports of the child's device.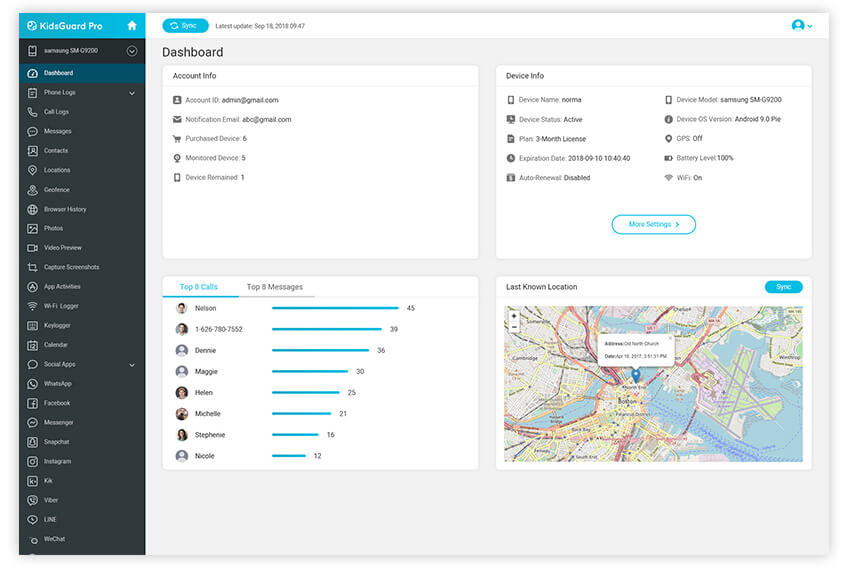 Summary
No doubt, AT&T Secure Family is a wonderful parental control tool for parents to monitor their kid's online activities. It not only allows you complete control over your child' internet usage but also allows you to view their real-time location. But, AT&T parental controls are only available for registered AT&T users, so, not all parents can benefit from it. Instead, these parents can use KidsGuard Pro to monitor their child daily online activity. So, just sign up and begin the free trial now.