Using the internet is not safe for kids as it provides them access to search for anything and that can lead them to the wrong society. To save kids from such evils, parents have to be very conscious about kids' internet activities.
It is impossible to watch kids 24/7 physically so parents use some technologies by which they can restrict the use of the internet on kid's devices.
In this article, we will discuss how to block a website on Firefox so that kids even searching out adult content will get results.
Part 1. How to Block a Website in Firefox on Desktop?
Download the Block Site desktop extension for Firefox
Using a Pc or Laptop, it is quite simple to download extensions on any browser. Here we will let you know about the Firefox browser extensions.
Let me first tell you why we need to add extensions, we add extensions in our browsers for some specific purposes like to download videos, to get translators, for grammar checking, blocking advertisements, and many other such purposes including blocking websites to access on the browser.
We mainly use Block a website extension to block inappropriate content to be shown. Parents especially use this extension for their kids so that if they even search adult content kids will not be able to do so.
Many organizations, schools, and colleges use this extension so that students and employees may not misuse the internet service provided just for learning and professional purposes.
Downloading Steps
Downloading the block website is very simple. It involves a few steps:
Step 1.
Open the Firefox browser and go to the menu option.
Step 2.
There you will find "Add-ons and themes" just tap on it. There you will see on the left side the "Extension" with recommendations, themes, and plugins.
Step 3.
Click on extensions and you will be able to see the extensions you have already installed. To install Block a website extension, click on the tab "Find more add-ons" at the end of the page.
Step 4.
Then at the search option you will type the desired extension and press enter. You will be moved to a page of the Block a website extension. Click on the button named "Add to Firefox". Just after clicking it will start downloading.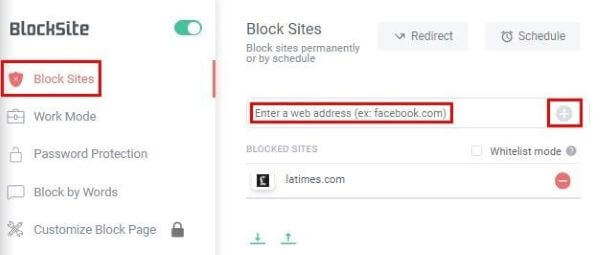 How to block a website on Firefox using the Block Site extension?
Method 1.
Blocking a website on Firefox using the Block Site extension involves only a few steps. Here is the way how Firefox block website you want it to:
Step 1.
First of all, you need to download the extension by following the above-mentioned steps.
Step 2.
After downloading you will see a symbol "w" on the top of your Firefox screen.
Step 3.
Open the website you want to block and then click on the "w" symbol. You will get a pop-up for confirmation if you want to restrict this site. After selecting "Yes" the website will be blocked. Now, whenever you will try to open that specific website, you will be alarmed as "Restricted Access".
Method 2.
Another method to block websites is to open the Extension tab from the "Ads-on" option. You will find three dots on the block site extension. Select the option from that tab and a new page will appear. At the top of the page, you will see "Block a new hostname". In this block, you can write as many websites as you want to block.
NOTE:
Unblocking Process
On the right side, you will see the remove option after every link that you have blocked. Clicking on the remove button you can also remove it.
Master Password
An additional feature of this extension is that you can also set a master password on your extension and can unblock the website using that master password on the page that is blocked.
Part 2. How to Block a Website in Firefox on Android?
Block Firefox websites with KidsGuard
We have another solution for our question how to block sites on Firefox? Here is another best alternative to block websites on Android not only on Firefox but also some other browsers is the KidsGuard parental app.
This app has got fame in a very little time and the reason behind this is the security and privacy of individuals is safe. Secondly, its features are up to the mark. KidsGuard has a web blocking feature.
Using this feature parents can keep their kids safe from online adult content. Parents use this app to block online gaming websites, adult websites and other irrelevant websites that can make kids addicted to bad things and kids can have less focus on their studies.
It is the most challenging period for parents until kids get mature and parents have to watch their kid's online activities all the time.
With the help of KidsGuard, parents can minimize their stress and get updated with their kid's online activities. KidsGuard also provides some additional features just under a single dashboard.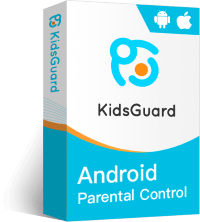 Features of KidsGuard Parental Control App
Block inappropriate games, websites to create a safe online environment
Capture kids' devices screen to know what they are doing
Track kids in real time and view their location history
Filter Calls to protect kids away from being harassed by scams
Receive detailed daily, weekly, and monthly reports of your child's online activity
How to block website on Android with KidsGuard?
Step 1.
Click download button below to download KidsGuard from Google Play Store or App Store, and then sign up an account.
Step 2.
Log into your account and go to dashboard, click
Bind Now
button and follow the instruction to download KidsGuard Jr. onto kid's Android device.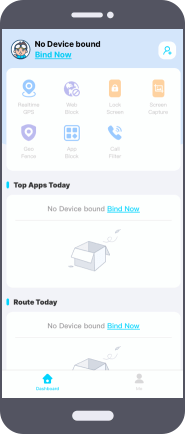 Step 3.
After binding, you can start to manage your kid's phone on the dashboard. Including block specific website on their phone.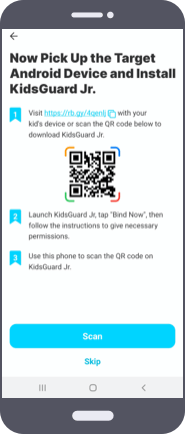 Part 3. How to Block a Website in Firefox on iPhone?
To block websites on the latest models of iPhone, you can prefer to use the screen time feature. It allows you two ways to block the websites.
If you want your kids to access only 2 or 3 websites then you must prefer to only whitelist those websites and block all other websites. Secondly, if you want only a few sites to get blocked then simply add their links to the block list.
This is the simplest way to block websites by limiting them using this functionality. Just set your parameters and keep your kids safe from such things that will waste their time.
Related Read: [Solved] How to Block Websites on iPhone and iPad?
Part 4. Why Would You Want to Block a Website in Firefox?
As already discussed, Firefox, most parents need to block website that includes Firefox porn content so that they can keep their kids far away from such evil things.
Today a large number of youngsters have become victims of such websites and they are now so addicted that keeping them away has become difficult.
Parents are trying their best to keep their kids safe from internet adult content. KidsGuard has released the parents from great stress and has provided them several solutions by which they can watch their kid's activities and also restrict them.
Conclusion
Hopefully, after reading this article I am sure you are well aware of the Firefox browser and the methods by which we can block adult websites or any other websites we want to save our kids from.
Firefox allows us to install block a website extension by which you can block websites on your Firefox browsers. Its download method and using steps are clearly explained.
Other than that, you have the best opportunity as a KidsGuard which is known as the best parental control app. You can use this app and enjoy its amazing features including the free web blocking feature.