Monitor All Phone Files At Any Time
Remotely view contacts, call logs, photos and more to know detailed activities on the targeted devices and export them as you like. In this way, you can keep your kids or partners safe.
Note: Some of the features listed below are available for Android devices only.
Contacts

Call logs

Message

Photos

Videos

Calendar

iCloud Drive

Voice memos

Reminders

Browser history

App activities

Notes

More
Track Phone Location with 4 Modes
KidsGuard Pro's GPS and Wi-Fi location tracking technology makes it easy to know the location of the targeted device. Parents can know where their children are and where they have been.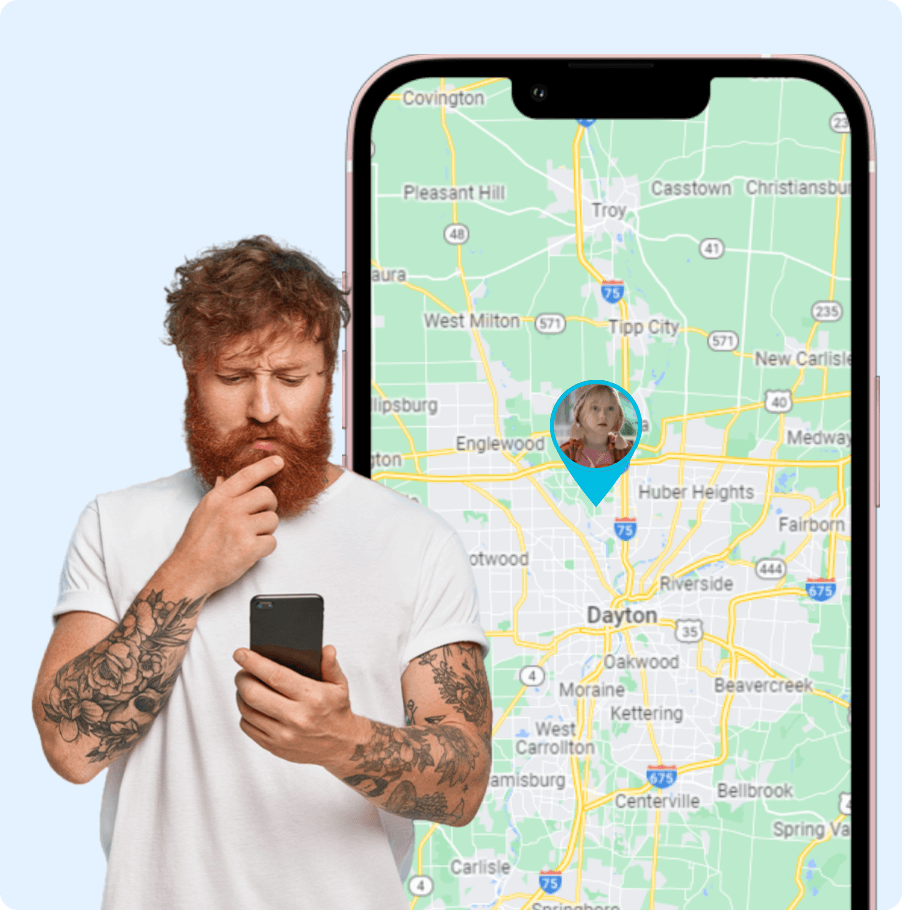 Track real-time location of Android & iPhone with detailed address, date and time.

Show and check location history with list view and map view.

Track WiFi location to know where the target device travels. Know the WiFi name, address, when and how long the device is connected.

Geo-fence will notify you when the target device crosses your marked zones on the map.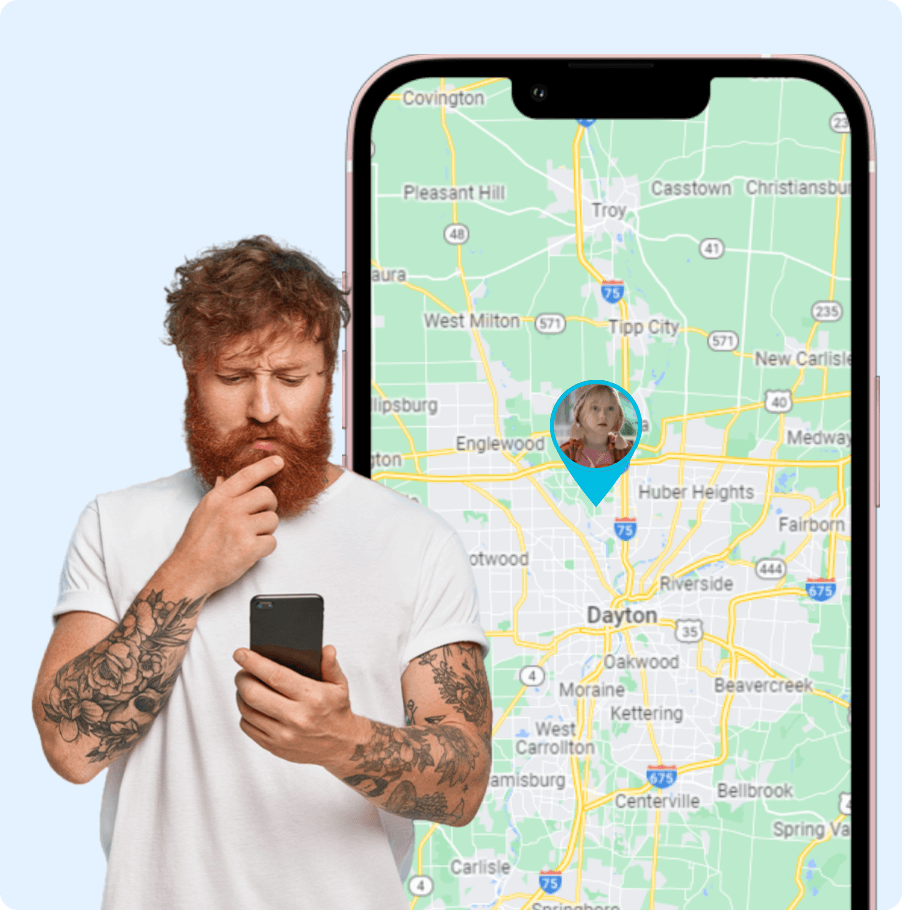 Top Cell Phone Tracker to Know Everything on All Social Apps
The spy app provides all the solutions you need for monitoring social media and tracks the social app activities of people you love, ranging from chat history to calls.
Incredible Remote Control Features of KidsGuard Pro
Using the remote control function, you can perform all kinds of operations in stealth mode. For example, record phone calls, take secret photos, or capture screenshots.
Note: Some of the features listed below are available for Android devices only.
Record phone calls
Records the voice of the caller and the called party.
Capture screenshots
Capture the phone's screen in real time and synchronize it automatically.
Take secret photos
Remotely turn on the phone camera to secretly take pictures.
Listen to phone environment
Listen to the phone's surroundings by recording the sound around the target phone.
Record phone screen
Record the target phone's screen remotely and secretly.
Set up sensitive words
Set up sensitive words so that if the target device enters or receives them, it will keep a record and receive real-time alerts via email.
Compatibility
KidsGuard Pro for Andoid
OS
Android 6
Android 7
Android 8
Android 9
Android 10
Android 11
Android 12
Android 13
Android 14-beta
KidsGuard Pro for iOS (No Root)
iOS Viewer (PC)
macOS Ventura 13.4
macOS Monterey 12.6.6
macOS Big Sur 11.7.7
macOS Catalina 10.15.7
macOS Mojave 10.14.6
macOS High Sierra 10.13.6
macOS Sierra 10.12.6
OS X El Capitan 10.11.6
OS X Yosemite 10.10.5
OS X Mavericks 10.9.5
OS X Mountain Lion 10.8.5
OS X Lion 10.7.5
Mac OS X Snow Leopard 10.6.8
Mac OS X Leopard 10.5.8
Mac OS X Tiger 10.4.11
Mac OS X Panther 10.3.9
Mac OS X Jaguar 10.2.8
Mac OS X Puma 10.1.5
Mac OS X Cheetah 10.0.4
iOS Devices Monitored
All iOS devices and versions supported
Start Monitoring Someone's Phone Now with the Best Cell Phone Tracker
Find out how to monitor any device you want with KidsGuard Pro!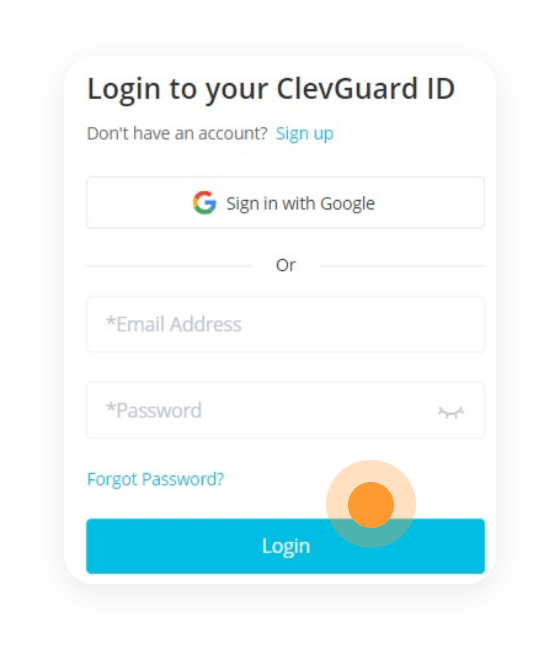 Step 1
Get your plan and sign up for a KidsGuard Pro account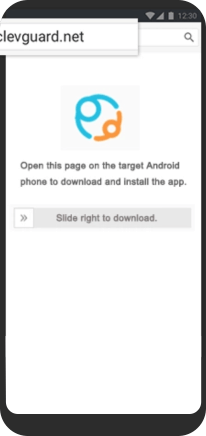 Full guide to monitor Android phone
Step 2
Install KidsGuard Pro on target device
Guide to monitor Android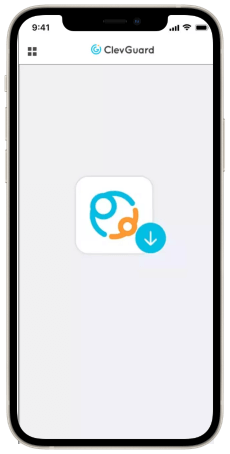 Full guide to monitor iPhone
Step 2
Download and install KidsGuard Pro
Guide to monitor iOS (No jailbreaking)
Guide to monitor iOS (Jailbroken)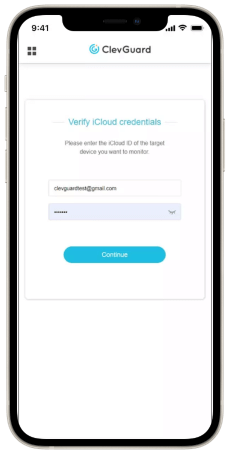 Full guide to monitor iPhone through iCloud
Step 2
Verify iCloud credentials
Guide to monitor iCloud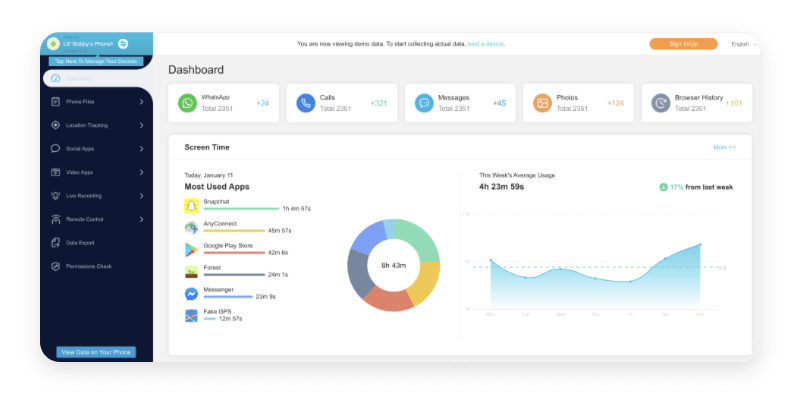 Step 3
Remotely start monitoring and parental control
Why Do You Need the Parental Control App
Toxic Relationship
Know if your partner is cheating on you. Find the truth right now.
Self-Harm/Suicide
43.09% of tweens and 74.61% of teens were involved in a self-harm/suicidal situation.
Sexual Content
68.97% of tweens and 90.73% of teens encountered nudity or content of a sexual nature.
Bullying
72.09% of tweens and 85.00% of teens experienced bullying as a bully, victim, or witness.
Anxiety
19.69% of tweens and 42.05% of teens used language about or were exposed to anxiety.
Depression
32.11% of tweens and 56.40% of teens engaged in conversations about depression.
What Makes KidsGuard Pro Excellent
KidsGuard Pro, the cell phone tracker and monitoring app, has dozens of monitoring features. See how it compares to other apps on the market.
KidsGuard Pro VS Mspy
Switch Devices on One App

App Activities

YouTube

Data Export
KidsGuard Pro VS Xnspy
Switch Devices on One App

Locations Tracking

Social Apps Monitoring

iCloud Drive
KidsGuard Pro VS Webwatcher
Switch Devices on One App

Contacts

Facebook

Notes

60 thousand
explicit website usage detected everyday
1 million
children are protected
Real Stories from Verified Customers About the Parental Tracking App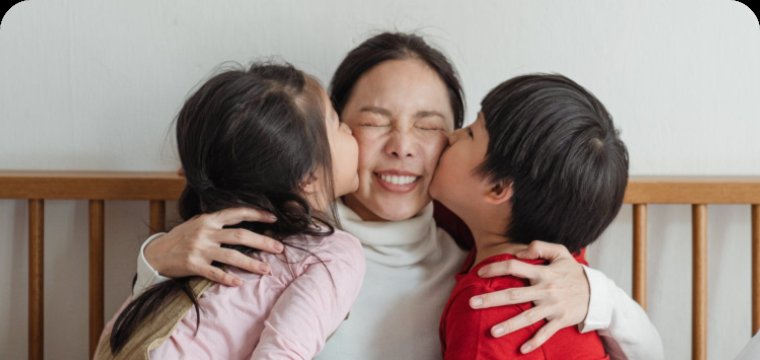 "KidsGuard Pro for Android gives me the peace of mind I have been looking for to ensure my kids are safe online."
Joseph - Mom of two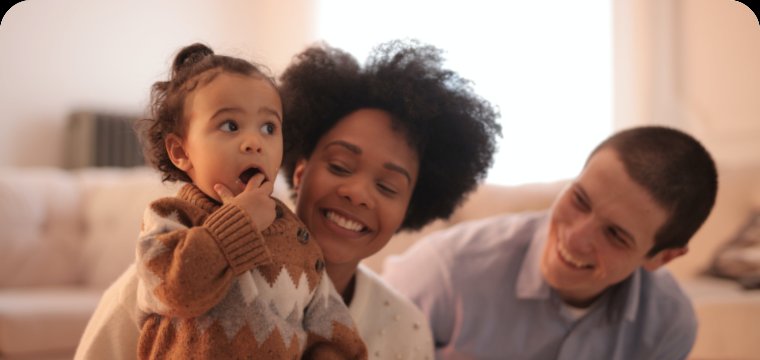 "With Android Parental Control, I don't have to struggle to balance my daughter's online independence with her safety."
Maria - Mom of one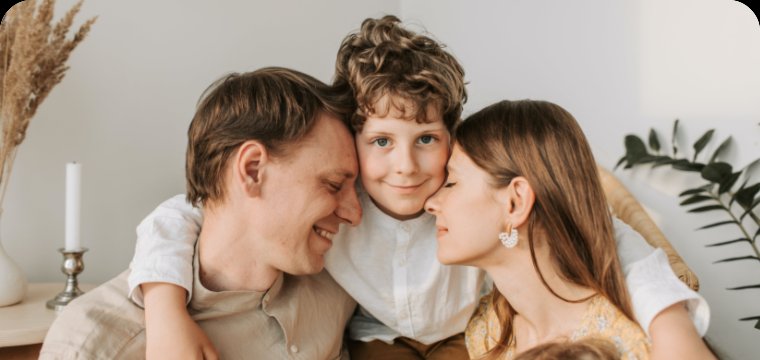 "We're a highly digital family, but we really value social activities—KidsGuard Pro helps us get that balance."
John - Husband of 1 year
Read More
FAQs
Q1. Do I need to root or jailbreak the target device before using KidsGuard Pro?

KidsGuard Pro contains four programs: KidsGuard Pro for Android, KidsGuard Pro for iOS, KidsGuard Pro for iOS RT, and KidsGuard Pro for iCloud. Only KidsGuard Pro for iOS RT needs to work with a jailbroken device.

Q2. Can I install KidsGuard Pro remotely?

No. You will still need to access to the target device for approximately 5 minutes. This is so you can install the monitoring app.

Q3. Will the target know I am tracking and monitoring their cell phone usage?

No. The app works in the background and will not alert anyone to its existence.

Q4. How many devices can I monitor at the same time?

With one KidsGuard Pro plan purchased, you can only monitor one device, Android or iPhone or iCloud. The target device can be switched free within the valid period.

Q5. How do I know if KidsGuard Pro works on my child's device?

iOS: KidsGuard Pro is compatible with iOS 9.0-16.0.
Android: KidsGuard Pro is compatible with Android updates 7.0 to 13 (all major phones such as Samsung, Google, Huawei, LG, Xiaomi, OnePlus and more).
More FAQs