Carrying two phones and managing text messaging accounts on both might be a drag. Why not mirror messages between the two for ease and convenience?

New technologies make life much easier for us in many areas, for example, the text messages get people around the world closer. However, simultaneous harassment and agony can also occur with the abuse of text messages. Sometimes, it may be necessary to keep a check on the virtual acts of a kid or a suspect husband, and to receive text messages from another phone number will be a good way to know what happened to people we love and take some effective measures to protect them.

Why Should We Check Text Messages from Another Phone?

Maybe to read others' text messages invades the privacy. However, when we our kids, old parents, and grandparents can't protect themselves from the bad text messages because of their ages, cognitive status, and physical condition, we have the responsibility to protect them. Or if the boss knows that the employees are doing private things during the working hours, but don't know to to prevent them effectively, the boss has the right to make the employees not to do Irrelevant things at the company actually. If we are in trouble with those problems mentioned just now, we need to check text messages from them, which will benefit so many people.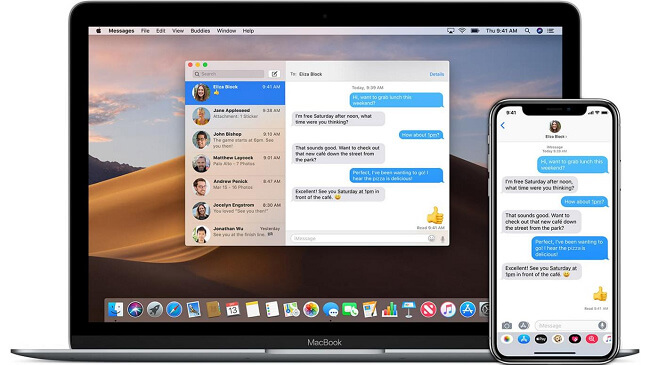 Receiving Text Messages from Kids'Phone Benefits Parents

Parents can know if their kids are safe or not if they can view text messages sent and received  by their children. By doing so, even if parents can't company their kids all the time, once their kid send or receive text messages outsiders who may harm them, parents will know in time and help them get rid of the people with bad intentions.  

Being Read Text Messages is Good for Kids

By having their text messages checked by their parents, kids are protected from potential harms that may be targeted on them Besides,  kids will never need to worry about how to let their parents know their trouble when they suffered some threats.

Boss Ensures Employees'Concentrated Work by Checking their Text Messages

By receiving text messages from the phones provided by the company, employers will be able to read the conversations among their employees, and chats among employees and clients, which can prevent employees from abusing the company resources, and thereby lead to the effective communications and the increase of productivity.

What if We Can't Receive Text Messages from People We Love?
Text messages (SMS) is one of the common methods of communication all over the World, the medium is often utilized by hackers and fraudulent people to carry out activities that may cause harm physically or financially to our love ones. If we can't receive text messages of our loved ones, we won't be able to know where the people they contact are good or bad, if those contacts would harm them, and we won't know until the tragedies happened sometimes, and eventually lose our loved members.
If we can receive text messages from people we love, we will know who they contact, what activities they arranged, where they have been or will go, what topics they communicate, from their text messages. Thus, it is necessary to read the text messages from another phone number, right? You may be want to know how to receive SMS from another phone number, continue reading this article, and you would find some useful ways.
How to Receive Text Messages from Another Phone Number?

Do you sense that behind your back your spouse is cheating on you? Are you worried that they are coming home late at night and always on Snapchat or Instagram? Or are your teens continually hiding their cell phones or tablets at your presence?
You've come to the perfect place if you are related to the preceding predicaments. Keeping a watch on our loved ones won't be enough, as we won't be everywhere. Actually, we can know who our loved ones are contacting with by receiving text messages from their smart phones via some monitoring applications, then we can keep them safe in some degree from the threats of people who may harm them.
There are different spy applications on the market to use to monitor our loved ones' activities, and Kidsguard Pro will be a good app to receive text messages from another phone number.

What is KidsGuard Pro?

A successful monitor software supports most of the mobile phones in the smartphone industry, and you will be happy to know that KidsGuard Pro supports popular and most-used mobile operating systems such as Android and iOS, because KidsGuard Pro has 2 versions, they are KidsGuard Pro for iOS and KidsGuard Pro for Android respectively. Besides, the monitored smartphones can perform perfectly without root or jailbreak, so convenient!
Key Features of KidsGuard Pro
1. KidsGuard Pro is Suitable for People at All Ages
KidsGuard Pro is essentially a wonderful tool for everybody including children, adults, and the old. Adults can protect kids and the old by monitoring their mobile phones.
2. KidsGuard Pro Supports All kinds of Data Monitor
We can not only receive text messages from another phone number but also check other data on the phone like the information on social media accounts, internet history, GPS location, telephone history, etc.
3. KidsGuard Pro can Sync Data in Real Time
We can receive text messages online in real time whenever the target device send or receive new messages, then we can know what people we love are doing in time.
4. KidsGuard Pro Has the Data Export Function
When we are located in some places with bad network signal, we can choose to export the pictures, videos, notes, contacts, etc., if necessary, which makes the offline monitoring possible.
5. Monitor on Any Devices Connected with the Internet
We can monitor the target devices on a browser if only we have a online devices  including cell phones, computers, iPads and so on.
How to Receive Text Messages from Another Phone Number with KidsGuard Pro for iOS?
In this section, we'll discuss how text messages can be delivered from another phone number to our monitor device. Take the following procedures if your target individual has an iPhone.
Step 1: Register an Account and Purchase the Service
We must register an account with a valid email address for KidsGuard Pro for iOS first. Afterwards, you can select an appropriate license and make a secure payment online.


Step 2: Download and Install KidsGuard Pro for iOS
You will be sent to My Products and Orders Management after the completion of the purchasing procedure. The order you have previously purchased can be found here. Click the "Setup Guide" button, carefully learn how you to download and install this iPhone tracking program to the target iPhone, and do the setup and connect operations according to the instructions.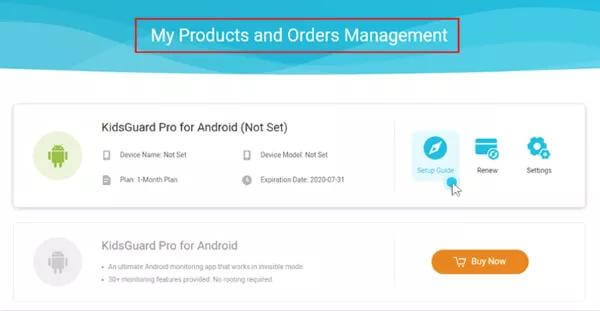 Step 3: Verify Setup and Scan Data
Verify the Setup > Start scanning according to different choices: "View iTunes Data" and "View iCloud Data"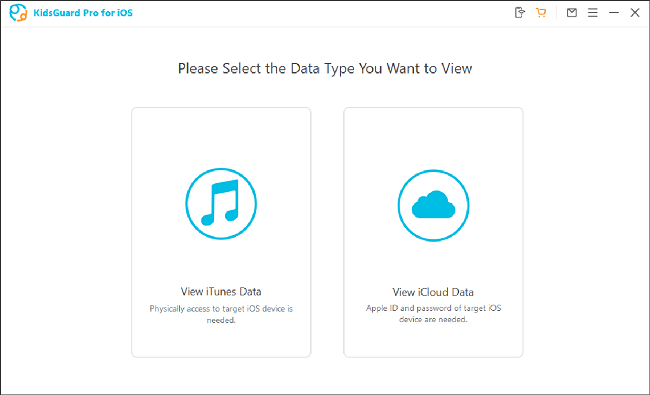 Step 4: Start Monitoring
Go to the "Dashboard" page, and start to monitor data including the deleted data online, or direcrtly export data to  monitor offline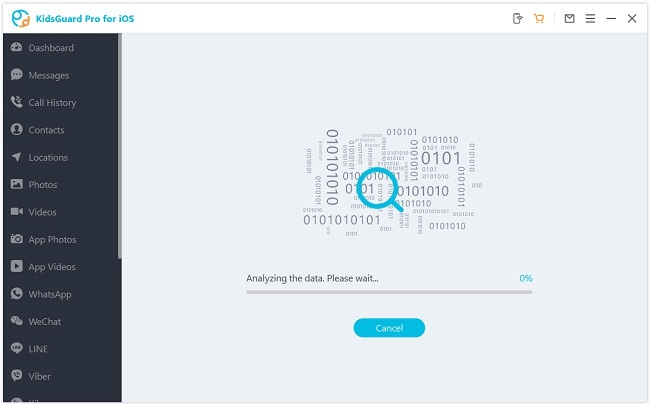 On the contrary , if the person you care about is using an Android phone, you can choose KidsGuard Pro for Android.

How does KidsGuard Pro for Android help to Read Text Messages from Another Phone Number?
You can learn how to use KidsGuard Pro for Android according to the following steps:
Step 1: Sign up and Purchase a Plan
Sign up KidsGuard Pro for Android with your email address > Buy a premium package to enjoy all advanced surveillance capabilities. One month plan, three month plan or one year plan can be selected.


Step 2: Download and Setup KidsGuard Pro for Android
Go to My Products and Orders Management page once you have successfully purchased the Android monitoring tool, where the appropriate order you created before can be checked and managed > click on "Setup Guide" and follow the steps to download the KidsGuard Pro for Android app and finish some necessary settings on the target Android smartphone.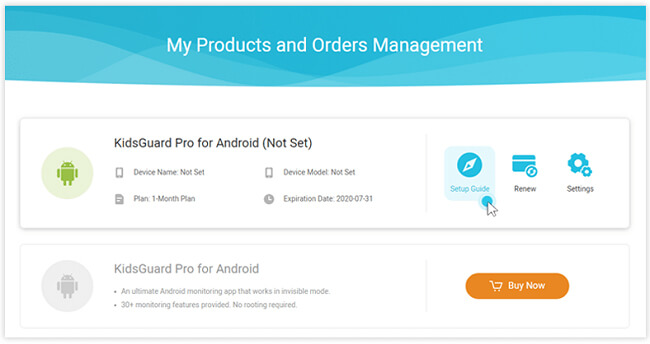 Step 3: Begin to Check Data on the Monitoring Interface
click "Dashboard" button, and the monitor start, you can check your phone activity and data, including the text messages. Please note that the synchronization of data between phone and monitor page will take some time.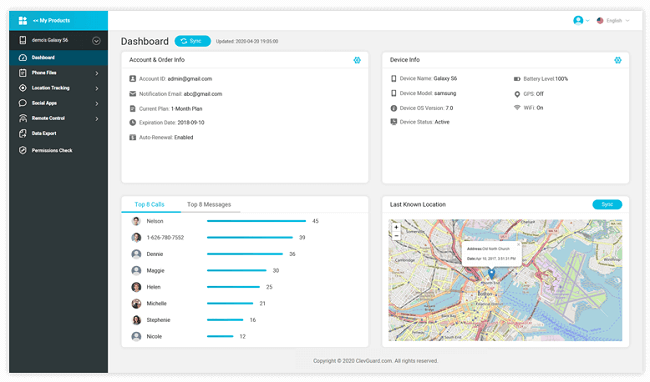 FAQs about Receiving Text Messages from Another Phone Number
Q1: Can Someone Access My Text Messages Remotely?

Yes, anybody can hack your phone, get your text messages remotely and then smish or phish you. Most hackers can access your device via some links on SMS, once you follow the link, the hackers will get your mobile phone connection.
Q2: Can I See Who My Boyfriend is Texting?

Yes, you can see who your boyfriend is texting or has texted by KidsGuard Pro. Just create an account, buy a service, download and setup the KidsGuard Pro app to the target device, and then review data remotely on the web panel.
Q3: Can You Spy on Someones Text Messages without Installing Software?

To be honest, without software installation there is no reliable technique to spy on text messages. It's probably a hoax, if somebody promises you there is a way. Only by downloading and installing an application on your phone can you remotely access text messages from another phone. And the KidsGuard Pro is a good choice.
Q4: How do I Sync Text Messages Between Two Phones?

The KidsGuard Pro Can do this. If we want to see the text messages from the other phone, just install KidsGuard Pro to the target device, and the KidsGuard Pro Dashboard page will automatically display the synced data including the text messages in real time from the target phone, we can check the data via the browser on our phone online. At the same time, we can check our own text messages on our phone directly. This way, we can check text messages on both phones on single one phone, which means that the text messages between two phones are successfully synced.
Summary

In conclusion, for diverse convincing reasons, receiving other's text messages has become a necessary thing under some conditions, which have many benefits for kids, parents, the old, the bosses, and so on. As one of the most professional monitor App, KidsGuard Pro can help you track your loved ones' or employees' text messages, location, activities, media files, social media messages, call logs, etc, and let you know what happened in time and able to take some effective methods to prevent tragedies and staff inefficiency from happening once you find something abnormal when you are monitoring the devices that your family and employees are using.