Question: Why is LINE App Popular in Teens?
LINE is popular with teenagers because they make it easy for them to communicate with people, they find difficult to interact with directly.
Another reason teenagers are mainly drawn to the LINE app is its cute graphics and emoticons and the wide range of animations (over 5,000).
As it is a socializing app, teens are exposed to some dangers and well. This article touches on some of these risks and queries (is LINE safe?). It explains what parents should do to make sure their kids are safe anytime they're using this app.
Part 1. Main Features of LINE App
Here are some of the prominent features of the LINE app.
Instant communication
LINE app provides several social networking features, such as a timeline feature that works like Facebook and Twitter timelines.
This app can share their thoughts, opinions, and voice with others. You can organize group messages with up to 100 people at once. There are many ways of adding friends, including tapping on the phone together or using QR codes to quickly add friends.
Photo editor & wide range of stickers
The LINE app Camera allows you to edit your photos to straighten and lightly enhance any pictures before easily saving them.
The in-app PhotoShop includes stickers and emoticons and you can purchase many of the former in App Theme Shop and the latter in Sticker Shop. The LINE Pay app supports QR code payments.
Part 2. Parent Reviews for LINE
Parents' reviews regarding the LINE app are not good so far. Most of them have reviewed this app is dangerous for kids. One of the users has commented on commonsense media by saying that "after digging into this app a bit more, I found my daughter was living in an imaginary world, telling small and big lies about herself and her family.
She was trying to meet and have conversations with strangers, who she "thought" was her age, and were her "friends", and are "boys".
Although this app claimed to be child friendly; in fact, most users had claimed it to be a dangerous game for kids. At first look, this app sounds to be innocent and a decent game where Kids are seen to be playing with avatars, and socializing about general kid stuff.
In reality, it has influenced children in a negative way when kids are exposed to disturbing, inappropriate, and incredibly un-moderated filthy language in chats.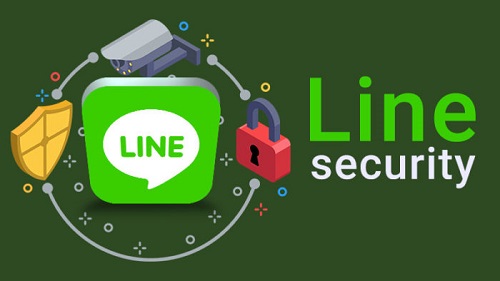 Part 3. Is LINE App Safe for Kids?
The LINE app is not safe for kids. Here is why!
Addiction
It's no surprise that Mobile Social Networking Apps such as LINE have become extremely popular among teenagers. However, the use of these apps can be a source of addiction for many, especially when they get so engrossed in this platform that they start drifting away from their studies and doing badly academically.
Those who choose to stay glued to their smartphones as opposed to finishing up their homework. In light of this, parents should also monitor their children's use of LINE apps to make sure they only use them along with their academic commitments.
Privacy breach
Many teens don't understand the consequences of sharing their personal information with strangers for social advertising on LINE. While deleting these apps and changing one's privacy settings can be a good start to prevent a privacy breach.
There are many instances of breaches that allow malicious hackers and identity thieves access to our sensitive data like credit card details or location history. These kinds of attacks create opportunities for the bad guys to gain control over you and your life.
Questioning One's self-worth
Teens are susceptible to peer pressure in all of its forms, but when they're bombarded by the influence of their favorite social media influencers. It can reinforce a standard that's much higher than what they know they can achieve.
When this happens, teens might begin to devalue themselves because they feel like they'll never measure up to the unachievable example set by the popular figures they see on social media.
So instead of giving kids too much access to these images and unrealistic expectations, we need to shape a world that will help teach them how to love themselves completely and not rely on anyone else for validation.
Exposure to inappropriate content
Various kinds of content are shared over the Internet using applications such as LINE, WhatsApp, or Facebook Messenger. Some of the content may be X-rated in nature and some of it may seem positive in terms of empowering teenage girls, but it could also unknowingly teach them about sending inappropriate images on LINE.
Parents need to monitor their children's screen time so that they don't end up doing anything out of character when they reach adulthood, against their will.
Teenagers and young people are at risk of being the target of online bullying and harassment on platforms like LINE. This could include having hurtful rumors spread about a teen or embarrassing someone in public using things they've shared themselves on their timeline.
It's not uncommon for cyberbullying to occur in group chats when a bunch of teens or young adults is sharing photos, videos, or private thoughts every day.
Part 4. Which Age is Appropriate to Use LINE App?
To keep teens and kids safe, LINE conducted educational research amongst users and updated features of the platform that would allow for more effective user interactions.
To continue facilitating the smooth operation of LINE for its younger users, the company increased the minimum age rating of LINE from 9+ to 12+.
Part 5. How To Make LINE App Safe for Kids?
Some work about can keep your kids safe from the evils of untrustworthy apps. Here are a few effective methods.
Monitor Child's LINE App Usage with KidsGuard Pro
The foremost method to prevent your kids from online dangers is using a parental control app that lets you spy on your kids' app. KidsGuard Pro is one of the most reliable software that helps you manage your child's activity without letting them know.
You can monitor your loved ones' activities remotely by simply checking social media apps. You can do all of those monitoring activities, such as reading a chat history and viewing an app's interface.
Checking to see if images, audio, or videos have been shared, and finding out when the app is being used to its fullest. Further, you can block inappropriate apps and websites.
How to set up KidsGuard Pro?
Step 1.
Click
Monitor Now
button below and skip to KidsGuard Pro's website, use your valid email address to sign up an account.
Step 2.
Login to your account and go to
My Products
page, tap on
Setup Guide
button and follow the instruction to download KidsGuard Pro for Android/iOS and finish some setting. This step only needs to take 3-5 minutes.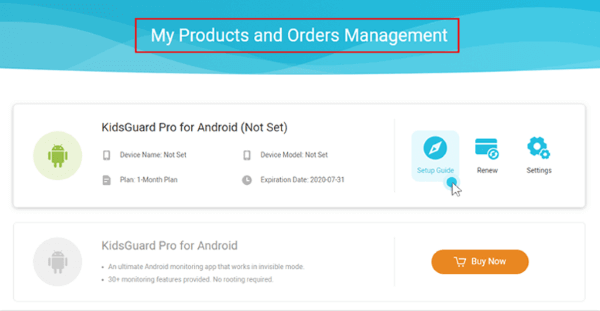 Step 3.
After setting, you can start to secretly monitor your child's LINE from dashboard.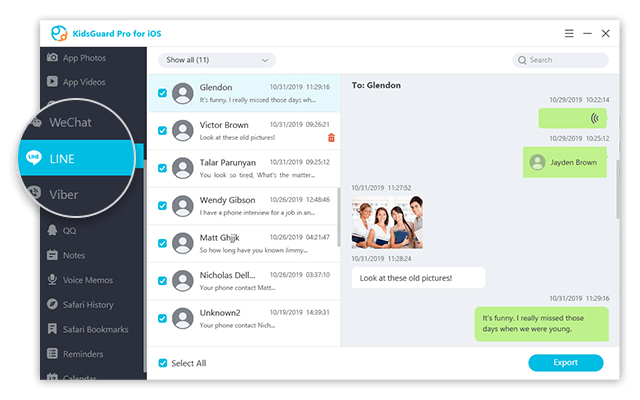 Set parental controls and app permissions
Like being on a social media site like Facebook, using your phone apps requires you to set parental control preferences and limits because kids don't have the solving skills or judgment to understand when it's over the top time to stop using their device and relax.
Therefore, parents are advised to set up app permissions and time limits on their devices to prevent any kind of risk.
Pre talks to your kids
Greater knowledge is power. Make sure your children know how to protect themselves on the internet. Talk to them and let them know that they need to be careful if they're going to be interacting with people they don't know on the LINE app.
Make sure that you've taught them how we need to maintain accounts privacy settings so that strangers can't talk with them. Set some monthly or daily limits on their devices so they have time for other activities too.
Prevent strangers to add you in LINE friends
When you first log in to the LINE app, your mobile phone contact list will automatically be added to your LINE friend list. If someone has your number saved in their Phonebook, the app will add them to your LINE friend list. Otherwise, they may show up on a Friend Recommendation list so you can decide whether or not to add them as a friend yourself.
To restrict others from adding you to their friend list, go to Settings and then Friends. Uncheck the small box in front of "Allow Others" to add so that other users cannot search for you and automatically add you as a friend using just your mobile phone number.
Set up LINE security setting
If your child recently became interested in the LINE app and in all its wonderful features, help him understand and implement the privacy and security settings offered by the LINE app. It will prevent them from being tricked or trapped by any unsavory characters lurking on LINE.
Part 6. Conclusion
The LINE app has a lot of nice features for communicating. Like other social media apps, LINE has found a home in many teenagers' hearts, but the app has recently become associated with security threats such as cyberbullying, sexting, and inappropriate language.
I hope this line app review makes you aware of several of the likely dangers that have arisen on the platform and warn parents of possible trouble when their kids use the LINE messaging app.