Do you want to easily know where is your phone every time you can't find it? Are you worried that your child will go out alone to a dangerous place?
If we can exactly know the location of the mobile phone in real-time, that would be more convenient. Fortunately, a GPS cell phone locator can help us find the location of the mobile phone. This article details will tell you how to use a GPS cell phone locator to find your mobile phone in 2023.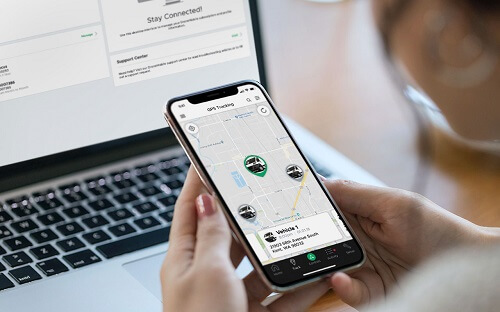 Part 1: Can I Track The GPS Location Of A Cell Phone?
The answer is yes. You can try to use location services in your phone and third-party platforms to track your location. To tell the truth, we still reconmmend tracker apps to you, because it is really useful and effective.
Part 2: How To Track The GPS Location Of A Cell Phone?
The most reliable and trustworthy way is using third-party tools to help you track the GPS location of a cell phone. Here are the three best methods to track the GPS location of a phone.
Method 1: Use Cell Phone Location Tracker-KidsGuard Pro (For Android)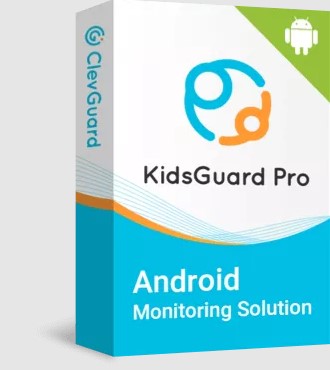 A location tracking tool can be really helpful when you are on a date wondering where your partner is now, where your kids are after school, or your phone was stolen. The best app among all the available location tracker apps is KidsGuard Pro. This credible app has so many amazing features that if you are a parent or a lover with a partner, you don't want to miss it.
Features Of KidsGuard Pro for Android In Location Tracking
Hidden Location Tracking: This is a very useful feature when you want to check someone's phone without them notifying you. KidsGuard Pro will completely disappear on the screen of your target phones, and your kids will have no idea that this app is installed on their phones. KidsGuard Pro uses hidden tracking techniques to avoid those embarrassing situations from happening.
No Need For Wi-Fi Connection: It uses GPS to track accurate mobile phone location and no need to connect with Wi-Fi.
GPS Tracking with 100% Accuracy: Unlike the free way, KidsGuard Pro for Android can track the GPS location with accurate longitude and latitude.
Geofence available: You can set a geofence to monitor whether your children have entered a dangerous area, and if so, KidsGuard Pro will alert you of their location in real-time.
No need the google account and info: You don't need to know your boyfriend's Google account and info. You only need to physically install the app on the target phone once and you can track his location remotely.
Steps On How Do I Track The Location On Cell Phone?- Only 3 Easy Steps
Step1: Get Your Account
If you have an account, log in. If not, click the button below and choose a plan based on your needs.
Step2: Install On The Target Device
After registration, go to My Products, click the Setup Guide button and follow the instruction to download KidsGuard Pro onto the target phone. You would need to download (You can visit http://www.clevguard.net) and install the app on the target device and make the necessary configuration changes on the target phone.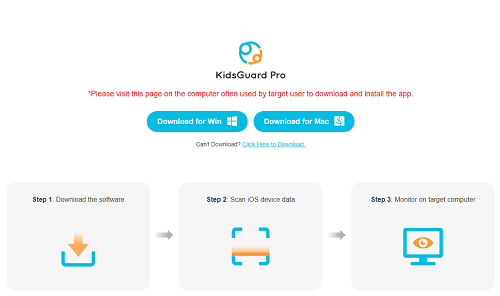 There is nothing to be worried about, you can find everything on the app interface; some of the permissions can be enabled automatically. And this app is 100% undetectable!
Step3: Track location Remotely
Now, you just need to log in to KidsGuard Pro website on any other device and choose the location tracking option from its dashboard to get all the information. This is how easy it is to track your kid's cell phone location.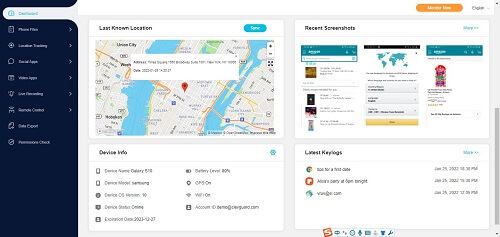 Find Out More Amazing Features On KidsGurad Pro
Track Text Message: Get all text messages in the target phone.
Monitor Popular Social Media Apps: Monitoring 30+ files like WhatsApp, Facebook, Snapchat, Tinder, and Instagram.
Record Phone Calls: Check their phone calls remotely and immediately.
Take Screenshots: Automatically Record the phone screen of the target phone at any time.
Remote Control: Support remote viewing of all files and export data.
Keylogger Analysis: Track every keystroke, which helps you know whether the conversations they're having are safe.
Method 2: Use Google Find My Device (For Android)
But the premise is that you must be sure that your mobile phone is open to the location service. If you don't know how to check whether the service is turning on your cell phone, just follow these 4 steps:
1. Go to your phone's Settings.
2. Open Privacy.
3. Open Location Services.
4. Turn on location Sharing.
Method 3: Use iCloud Find My iPhone to locate a iPhone (For iOS)
Similarly, Apple users can also use the built-in functions to locate their iPhones for free. Before monitoring an iPhone, you need also need to check the location services and get iCloud details.
Go to the Settings tap on Airplane mode to turn it on.
Log in iCloud.
Click The Find My iPhone.
Choose The Device tab.
Select the Device to see its location on the map and open its location in maps.
Hot FAQs About Tracking The Location Of A Mobile Phone
1.How Can I Find Someone's Location Without Them Knowing?
Using monitor apps is the wisest way to find someone's location without them knowing. Here are the best monitor apps to track someone without them knowing.
KidsGuard Pro
mSpy
FlexiSpy
Hoverwatch
FamiSafe
2. How Can I Trace A Mobile Number Location For Free?
Unfortunately, you cannot track a location with just a number. If any app claims it can do that with its tools, it must be cheating your money and you will just waste your time.
3. How to Track My Boyfriend's Phone Location for Free?
If your boyfriend has an Android phone, you can use Google Find My Device to track his location for free. If his phone is an Apple, you can use Find My Phone on ios. These functions are all built into the system and can be tried for free, but they all have a prerequisite that you have to know your boyfriend's Google or iCloud account and password.
4. Can Someone Track My Phone Without Me Knowing?
Yes, it's very possible. These monitoring apps will hide in your mobile phone, making it difficult for you to find them. In addition, these powerful tools will also monitor other data you use on your mobile phones, such as call records and text messages. While you can choose to turn off your location services, it can cause a lot of inconveniences when using your phone. The best way is to install anti-spy software, find them and uninstall them.
Conclusion
As you know, mobile phones are inseparable from our sight, due to their strong features and have been fully integrated into our lives. So today, to find a person's location, you only need to know where their mobile phone is located and you can know where they are. It is really amazing and that was unimaginable before.
But now, there are powerful tools like KidsGuard Pro to help you locate and collect mobile phone data, such as phone call history and photo files. KidsaGuard Pro provides incredible features for the safety and health of your mobile phone and your lover. To learn more about the functions of KidsGuard Pro, please click the button below to view it.