Hi to everybody. I'm Megan Evans. lately, we've received a lot of queries like "how can I see who my husband is texting". If you are here, you probably have something like this on your mind too.
So if your husband is sitting there on the couch, spending hours texting on his phone, you want to ask him who is it, but he simply ignores your question saying "just a friend".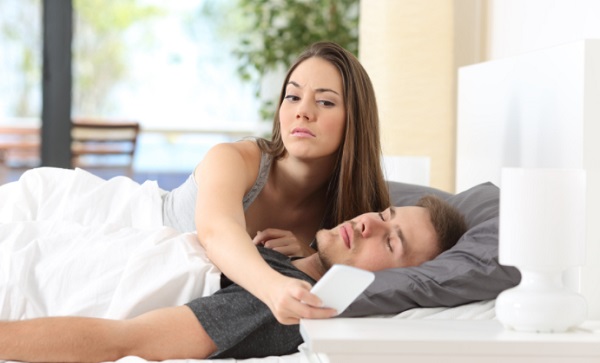 Now, the next thing you are thinking is whether he has an affair. To clear your suspicion, text messages of your husband and other information on his phone can tell you a lot.
Is It Necessary to Access Your Husband's Phone?
Regarding the question of how can I see my husbands text messages for free, the first method comes into your mind would be having access to his phone and take a look.
However, it might require you to have some stealth. First, you need to have your husbnad's passwords. Then, you are going to seize the rare opportunity of him not being on his phone and take the risk of being caught. Besides, what can you do if he deletes messages?
A more advanced and effective option is to use spy app. It can be easily installed on your husband's phone and deliver you all his text messages to your remote monitoring account. The best thing is you only have to access his phone for once and you will be shocked to see who is he texting without touching it again.
How Can I See Who My Husband is Texting
When considering a spy app, first of all you have to make sure the performance will be good. Then it is produced by a reliable brand, and operation will be much simplified.
Last but not least, the issue is not only 'how to see my husbands text messages', but also how to make it secretly, so he won't find out that you're tracking his conversations.
To help you in such situation, we tested a lot of spy apps and picked the best one for you. Let's acquaint you with KidsGuard Pro. This is a reputable spy application vetted by lots of media outlets. It's equipped with more than 30+ monitoring features from text messages tracking to calls recording to social media apps monitoring that means the full spy on your husband.
Sounds unbelievable? The next things I am going to tell you about it will sound even more so.
5-minute simple installation, incognito working mode, real-time data updates, fast technical support — all these things make KidsGuard Pro a worthy solution if you are eager to find out "how can I see my husbands text messages". This program is also gorgeous in terms of its compatibility: it can work well on both iOS and Android devices.
To ease your concern, you can check out its free live demo by clicking the button below.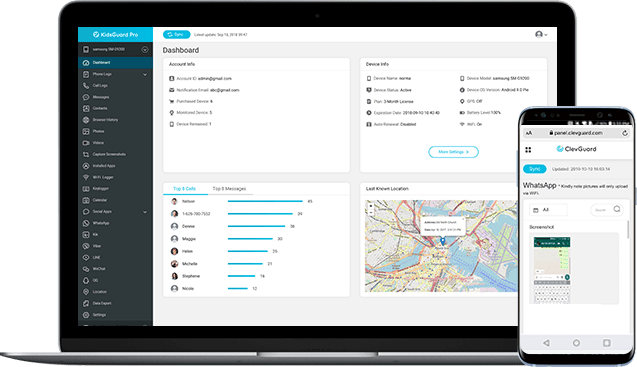 How to See My Husband's Text Messages for Free
As mentioned, for every person who wants to "see who is texting my husband" would appreciate KidsGuard Pro because of its fast and simple installation.
Here, I will show you how to see husbands text messages through KidsGuard Pro with a step by step guide.
Step 1: Create an account
Sign up on KidsGuard Pro official website on your browser (both desktop or mobile are available). Use a valid email address and password to set your account. After that, finish the purchase to activate all advanced features, then follow the Setup Guide to finish the following process.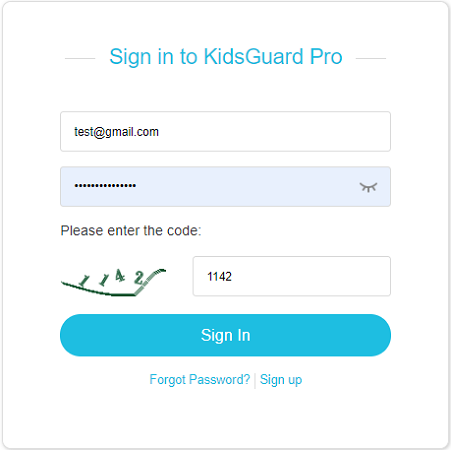 Step 2: Install the app on your husband's phone
Then simply download the app from www.clevguard.net and install it on your husband's mobile phone. Login your KidsGuard Pro account, and follow the on-screen instructions given to set and give the app permissions to access data on the target device. Once you finished all process, the app icon will vanish automatically on the phone screen.

Step 3: Start tracking your husband's text message remotely
You can leave your husband's phone alone and log into KidsGuard Pro's remote control panel with any browser on your computer (or your own mobile phone) to view the monitored data.
All supported features are listed on the panel so that you can click each category to view the data. To see who is texting my husband, just find "Messages" on the left menu. To sync latest text messages from the husband's phone, simply click the Sync button.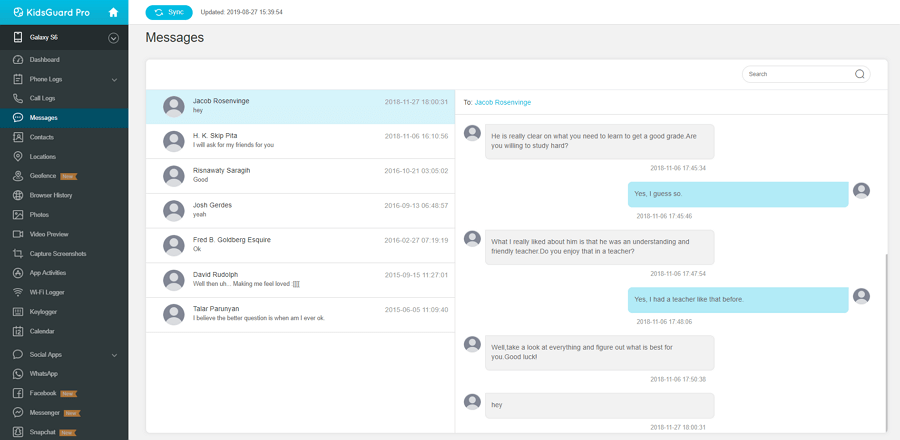 This is all you need to see your husband's text messages. With KidsGuard Pro, you can:
See every text message on your husband's phone, including the incoming, outgoing, and deleted messages.

Check the details of these messages. The contact names of the people who your husband is texting and the exact timestamps.

Retrieve the deleted messages and record drafted messages that have not been sent via Keylogger.

Also view instant messages from Facebook, WhatsApp, Instagram, Snapchat and more.

Check everything remotely from your control panel without accessing your husband's phone.

KidsGuard Pro works secretly on your husband's phone background without any notification.
Ending
For those who wonder how can I see who my husband is texting, you'd better go for a spy app. So you will hardly be caught spying on your husband. This method is also a guarantee that you will find hard evidence in confront with your spouse.
If you want to choose a reliable and qualitative spy app, then do not waste time and go for KidsGuard Pro. With the help of this program, you can see who is texting your husband without touching his phone and much more.