Basically, a keylogger is a software which can be used to record the keystrokes of a user on their cell phone or computer. Generally this is done discreetly so that the target user's phone activities can be monitored without them getting to know. This keylogger captures everything whatever the target cell phone user types including the messages they send, things they search for on the browser and other things on their phone. There are several monitoring apps available which feature this function. The top 7 undetectable keylogger for Android out of all are explained below.
Application
Pricing
Compatibility
Overall Rating
KidsGuard Pro
$29.95/month
$49.95/3 months
$99.95/year
Android
10
KidLogger
$29/3 months
$49/6 months
$89/year
Android, iOS, Windows and Mac
9
Spyic
$69.99/month
$99.99/3 months
$199.99/year
Android & iOS
8
Spyera
$189/3 months
$389/year
Android & iOS
8
XNSPY
$35.99/month
$69.99/3 months
$99.99/year
Android & iOS
7
Hoverwatch
$24.95/month
$59.95/3 months
$99.95/year
Android
6
Android Keylogger
Free
Android
5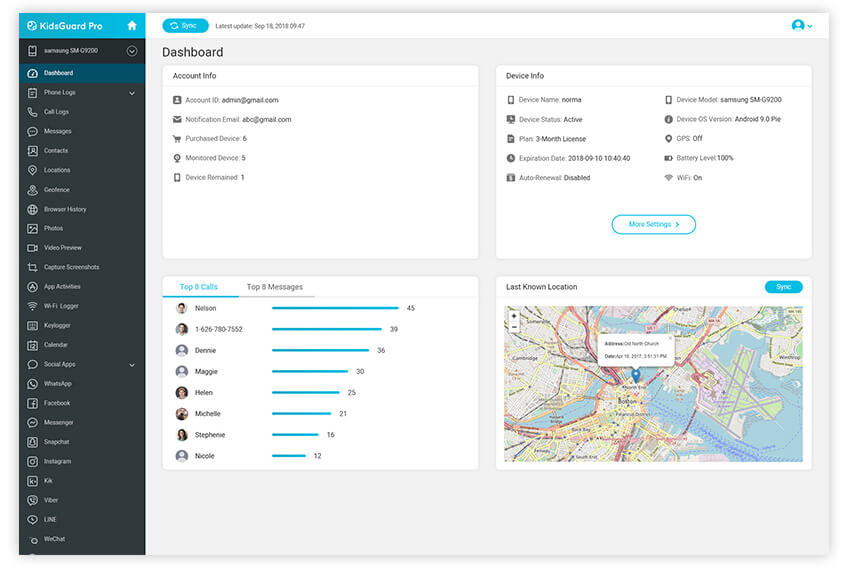 Ease of use:
One of the best hidden keylogger apps which you can use if you want to enjoy the best keylogging feature is KidsGuard Pro. It is one of the best-rated phone monitoring apps and is highly recommended by several satisfied users.
Every keystroke on the target device is recorded and then uploaded on the app online dashboard for you to view. You can even see the keylogger file in real-time. Once installed on the target device, this app goes incognito, so you can be sure that the target device user would not get to know that their keystrokes are being monitored. Even if the target user searches for this app by name on their device, they would not be able to find it. Using the keylogger features you will be able to to check the messages, browser history and more.
Pros

Light-weight app and does not take up much space.

Easy installation within 3 minutes.

Intuitive user-interface.

No need to root the device.

Remote monitoring without knowing.
Cons

One plan only covers one device.
2. KidLogger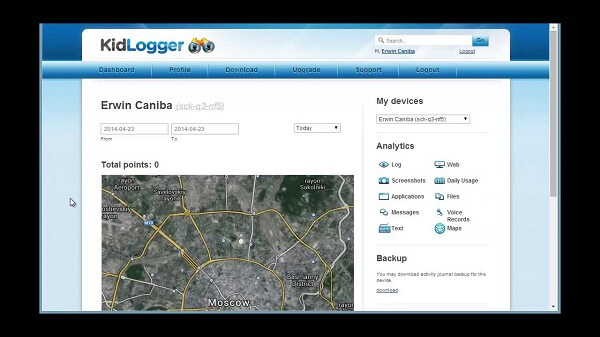 Ease of use:
This app has been specifically developed in order to monitor the activities of your child on their phone in order to keep them safe from any danger lurking online. This useful app can be used to view all keystrokes typed in the target phone on-screen keyboard and content copied into clipboard so that you will know what messages they are sending and what they are searching online. This app also offers keystroke recording feature for Windows computer.
Pros

Compatible with several types of devices.

Almost all essential monitoring features are available on this app.

Remotely check the keystorkes from any browsers.
Cons

The official website of this app is not well designed and difficult to navigate.

The keylogging feature doesn't work on iOS devices.

The data syncing isn't in real-time.
3. Spyic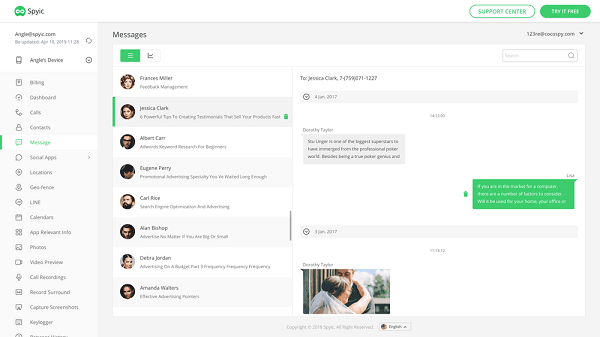 Ease of use:
Spyic is an incredible phone monitoring app which comes packed with numerous features to monitor any target cell phone. The most stunning feature out of all is the keylogging function which can help you in hacking almost any app on the target phone by recording the keystrokes on the device. Even the username and password entered by the target phone user can be recorded and used by you later with the help of this secret keylogger app.
Pros

Almost all instant messaging apps can be monitored with this app.

The user interface is pretty straight forward.
Cons

The iOS version has very few monitoring features.

Takes a long time to get installed.

It slows down the target phone once installed.
4. Spyera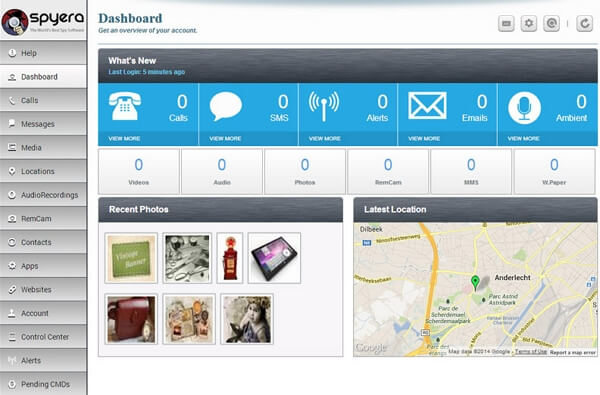 Ease of use:
Spyera is one of the phone activity monitoring apps which is completely undetectable on the target cell phone. Everything, whatever is being typed on the target cell phone by its user can be recorded and shown to you through this app. The entire keystroke history is also displayed for you to view later. Still, this app is 100% underectable once installed on the target device.
Pros

Any kind of media files on the target cell phone can be viewed easily.

You can take advantage of the kelogger feature to find passwords.

It can monitor keystrokes in real-time.
Cons

Very expensive when compared to other keylogger apps.

Several users have reported the malfunctioning of several features of this app.

It requires you to root the Android device.
5. XNSPY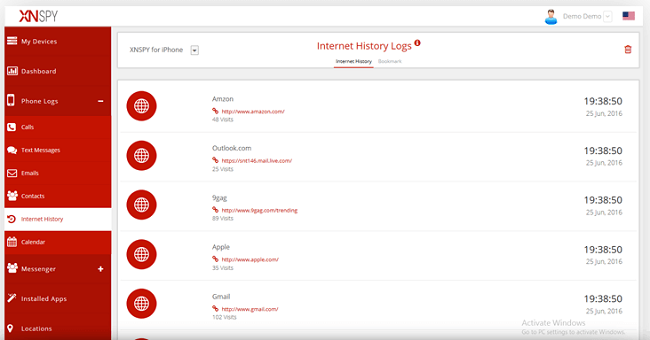 Ease of use:
XNSPY is another popular secret keyboard recorder app which has been used by a lot of people to keep a check on the activities on the target cell phone. You can remotely monitor the keystrokes on the target device. This feature can be useful when you want to check what the target phone user is keying in their cell phone. This can be on any of the instant messaging apps on the target cell phone.
Pros

Remote monitoring through an interactive online dashboard.

User-friendly interface.

Other powerful features provided for cell phone monitoring.
Cons

A free trial version to test out the app features is not available.

The iOS device would have to be jailbroken in order to spy on it.

It takes great effort to install this app.
6. Hoverwatch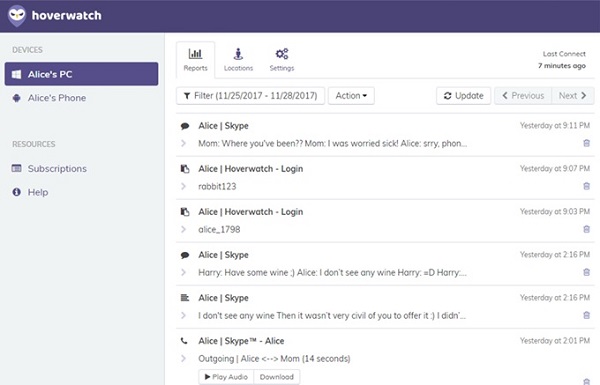 Ease of use:
You can use this hidden keyboard recorder app to monitor the keystrokes on the phones of your kids, employees or even your partner. Once installed, it functions secretly and records the keystrokes on the target device. You can monitor the text messages which are typed and sent on several social media apps which may be installed on the target device.
Pros

Offers a free trial version.

Up to 5 devices can be tracked using this app.
Cons

The monitoring features are only available for Android devices.

You would have to root the device in order to use this app.

The installation guide/demo is very difficult to find online.
7. Android Keylogger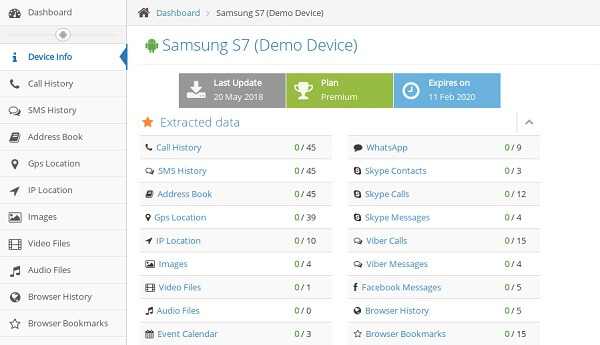 Ease of use:
This is an excellent free invisible keylogger for Android which has been specifically designed to have supreme keylogging functions. Almost all the popular messaging apps on the target phone including WhatsApp, Facebook, etc can be monitored using this app. Even the messages sent through the normal messaging app on the phone can be recorded to be seen by you. By viewing their keystroke logs, you will know everything they do on their phone.
Pros

Free to use.

Intuitive interface and easy operations.
Cons

Limited monitoring features.

You need to upgrade to premium plan to get a more powerful keylogger feature.
Conclusion
Some situations make it necessary for you to monitor the keystrokes on a target cell phone and know what the target user is up to. The easiest way to handle this task is by using any of the above mentioned keylogger apps. Out of all these apps, the best free undetectable keylogger for Android so far is the KidsGuard Pro app. It is highly effective in giving you accurate information about the keystrokes on the target cell phone. You can try its free demo first before purchasing it.