With the introduction of voice memos especially in iPhone, sending voice messages has become easier. Instead of typing text messages which could be quite stressful, you can easily send a voice memo across.
If you are using iMessage, there is a feature that allows you to send photos, and videos alongside texts.
Otherwise, you can decide to opt-in for audio messages. These voice memos are regarded as top secrets and most of them get deleted after some time.
But what exactly are voice memos and how do voice memos save on iPhone?
What are Voice Memos?
Voice memo is an in-built feature available on iMessage, that allows you to record audio messages with your iPhone, which is readily available for all iCloud users.
It usually works alongside an in-built speaker and microphone which facilitates the safe recording and transmission of your audio messages.
To record memos on iMessage, simply click on the audio voice option. Asides from the swift means of delivery, voice memos transmit your audio messages clearly and concisely.
In other words, the recipient can easily make out what the message is all about without straining their ears.
Benefits of Voice Memos
Voice memos are more convenient than written texts
It allows you to get your points across in a clear and concise tone.
It is relatively easy to record voice memos especially if you are too busy to type.
It is easier to choose when and when not to listen to voice memos.
Where do Voice Memos Save on the iPhone?
Voice memos are usually saved in iCloud. If you are an iPhone user, then it is easier to navigate to your iPhone settings and select iCloud.
However, you have to turn on voice memos in the iCloud settings before it is activated. When this is done, you simply have to record your voice memo, and it gets automatically saved in your iCloud settings.
This way, your voice memo can be accessed as long as you log in with your Apple ID.
Can I Listen to Someone Else's Voice Memo without Anyone Knowing?
Yes, you can listen to someone's voice memo without alerting them or raising suspicions.
There are several reasons you might want to listen to a voice memo. Just like text messages, voice memos harbor personal, private, and even documented information.
If it is for someone related to you, you might want to listen to the content.
If you intend to keep an eye on your kid, then listening to their voice memo is a sure way of achieving that.
This way, you get access to their online conversations, what they usually discuss, etc. Who knows? You might end up saving your kid from online fraud or danger.
Now, for you to listen to a voice memo, you have to start with the right tools, and one of them is by using a monitoring app.
Although several monitoring apps claim to provide you with a seamless monitoring process, KidsGuard Pro is the best.
Use KidsGuard Pro for iOS
KidsGuard Pro for iOS is a monitoring app equipped with edge-cutting spying features for a seamless spying experience. It is the right tool to use if you intend to listen to someone's voice memos from anywhere in the world.
It operates remotely, and can you would not have to worry about your target catching you in the art. One major upside of the KidsGuard pro is that users experience an effortless installation process.
In other words, you can easily get your monitoring app started and monitor as much as you want in a few minutes.
Step 1: Create a free account on KidsGuard Pro
Sign up for a free account on KidsGuard Pro with a valid email address and password.
Step 2: Download KidsGuard Pro for iOS on the target device
Next, proceed with the download and set-up instructions to get KidsGuard on your target computer.

Step 3: Start Monitoring
Now you are ready to listen to anyone's voice memo on an iPhone.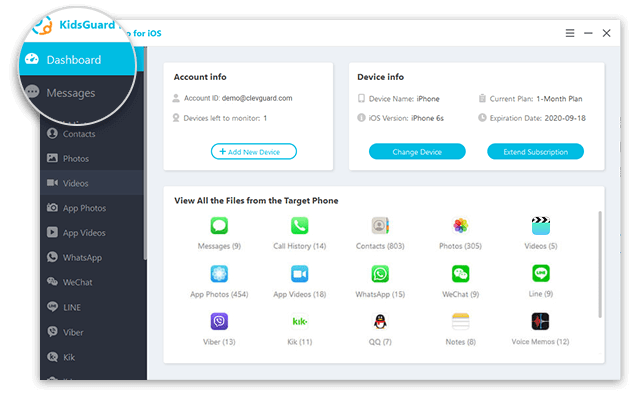 More features of KidsGuard Pro for iOS
KidsGuard Pro allows you to see all sent and received text messages and iMessage.
Get all iPhone call history, incoming, outgoing, and deleted calls with details.
It is easy to access iPhone call history and even deleted calls history.
Track iPhone real-time location without knowing.
Get the location of your target by activating KidsGuard Pro on your target device.
Monitor all activities on Whatsapp, Viber, LINE, etc.
All safari bookmarks and search history are available on KidsGuard Pro.
100% hidden and undetected
KidsGuard ensures you get to listen to as many memos as you want undetected.
FAQs about iPhone Voice Memos
Q1. How to send a voice memo on iPhone?
This app comes with an in-built microphone and speaker which allows you to get clear voice recordings. These features make recording audio messages easy and quick.
If you do know how to record a voice memo on your iPhone, here are the steps to follow;
Launch this app on your iPhone device

Find the voice memo app on your device. It is usually found in the Extras folder. Click on the voice memos app feature displayed on the screen

Proceed to record your voice

When you are done, press the red icon. Otherwise, you can tap on the pause button if you want to go on a break, and tap on "resume" to continue recording.

If you are done with the audio record, tap on DONE
Next, you are required to save the recorded file on the app, and give it a title
Now, you are done recording your audio on the voice memo. The voice memo is also available for editing, re-play, and even re-recording.
Q2. How long can a voice memo be on an iPhone?
Voice memos on the iPhone do not have a limit, and it is up to you to decide how long or short you want them to be. However, it is determined by your device's storage.
If you have more than enough storage on your device, you can record as much as you want. But if you are running low on storage you might have to reduce the length of your voice memo.
Q3. How to edit voice memos on iPhone?
Follow these steps to edit your voice memo;
Select the new recording option, and click on the three dots displayed.
Click on Edit Recording
If you want to trim the audio record, simply tap on the box surrounded by some lines and dots at the upper part of the screen
It is up to you to trim, remove unwanted parts and make your audio the way you want it.
Pull the slider to any position to start trimming
Once you are done, select the save option
There is a delete option, and even an edit option available if you do not like the newly edited version
Conclusion
Voice memos are one of the numerous perks of using an iPhone. It is solely designed to help ease the burden of hours of typing. Besides, you can easily record and listen to voice memos at your convenience.
Now, there are situations where you might want to listen to other people's voice memos. If you intend to spy on your kid, spouse, or employer, you might as well use the KidsGuard Pro for your iPhone.
With KidsGuard Pro for iOS, listening to audio messages is easier and more convenient. It also gives you access to old and deleted text messages and social media messages.
If you are looking to spy on someone's location, web history, as well as voice memos, then you should get the KidsGuard Pro to get started.