Are you looking for a hassle-free way to download videos from YouTube? Well, you're in the right place! In this comprehensive guide, we'll walk you through the process of downloading YouTube videos and provide you with valuable insights and tips. Whether you want to watch videos offline or create a collection for future reference, we've got you covered.
Part 1. Importance of YouTube Video Download
YouTube has become an integral part of our lives, offering a vast array of entertaining and educational content. However, sometimes you may come across a video that you wish to watch offline or save for later. This is where downloading YouTube videos comes in handy.
Downloading YouTube videos serves several purposes. First and foremost, it allows you to watch videos even when you don't have an internet connection. Whether you're on a long flight or traveling to a remote location, having your favorite YouTube videos stored on your device ensures uninterrupted entertainment.
Furthermore, downloading YouTube videos enables you to curate your personal collection. You can create playlists, organize videos based on topics, or compile tutorials for easy access. It empowers you to take control of your video consumption and tailor it to your preferences.
Part 2. Methods to Download YouTube Videos
There are various methods available to download YouTube videos, depending on your platform and preferences. Let's explore some popular options:
Method 1: Online Tools
Online tools provide a convenient way to download YouTube videos without the need for software installation. Websites like savefrom.net offer simple interfaces where you can enter the YouTube video URL and choose the desired format and quality. These tools quickly generate download links for your chosen video.
Method 2: Browser Extensions
Browser extensions, such as Easy Video Downloader and Internet Download Manager, add a download button to the YouTube video page, allowing you to download the video directly. These extensions integrate seamlessly with your browser and provide quick access to video downloading options.
Method 3: Software Applications
Software applications like TopClipper provide advanced features for downloading YouTube videos. They offer additional functionalities such as batch downloading, video conversion, and customizable settings. These applications are suitable for users who frequently download videos and require more control over the process.
Part 3. Online Tools for Downloading YouTube Videos
When it comes to online tools for downloading YouTube videos, several reliable options are available. Let's take a closer look at some of the most popular ones:
[x2download.app]: This user-friendly website allows you to download YouTube videos in various formats and resolutions. It provides a simple interface and fast download speeds.
[savefrom.net]: With an extensive range of supported video formats, this online tool ensures compatibility with different devices and players. It also offers options to extract audio from videos.
[ssyoutube]: If you're looking for a no-nonsense, ad-free experience, this website is a great choice. It focuses on providing a straightforward downloading process without any distractions.
Remember to exercise caution when using online tools, as some may display intrusive ads or compromise your privacy. Stick to reputable and well-known websites to ensure a safe and reliable experience.
Bonus: Remotely Check What YouTube Videos Others Downloading on Windows
If you're a Windows user, downloading YouTube videos is a breeze. While if you want to monitor what YouTube videos others are downloading on their Windows, you can try some computer monitoring tools, and it's better to use one for remote tracking.
MoniVisor is designed for remote Windows monitoring, and you will be able to check most app and web activity once you installed the software on the target computer. Thus, except from YouTube videos downloading monitoring, you will also be able to check web Gmail inbox, WhatsApp chats, Outlook calendar, etc. All of those activities are totally tracked under incognito mode.
Step 1. Sign Up and Choose Plan
Sign up and log in with a valid email account from the Monitor Now button below. Choose a purchase plan for computer monitoring.
Step 2. Installation and Configuration
Once you successfully purchased, you will need to install and configure the software on the target computer.

Step 3. Install Chrome Extension
Chrome extension allows monitoring employees' social media chats, emails and other page visiting actions.
Step 4. Start Monitoring from Your Computer
When all setup on the target computer, you need go back to your own computer and visit member center, find My Product where you can check the dashboard.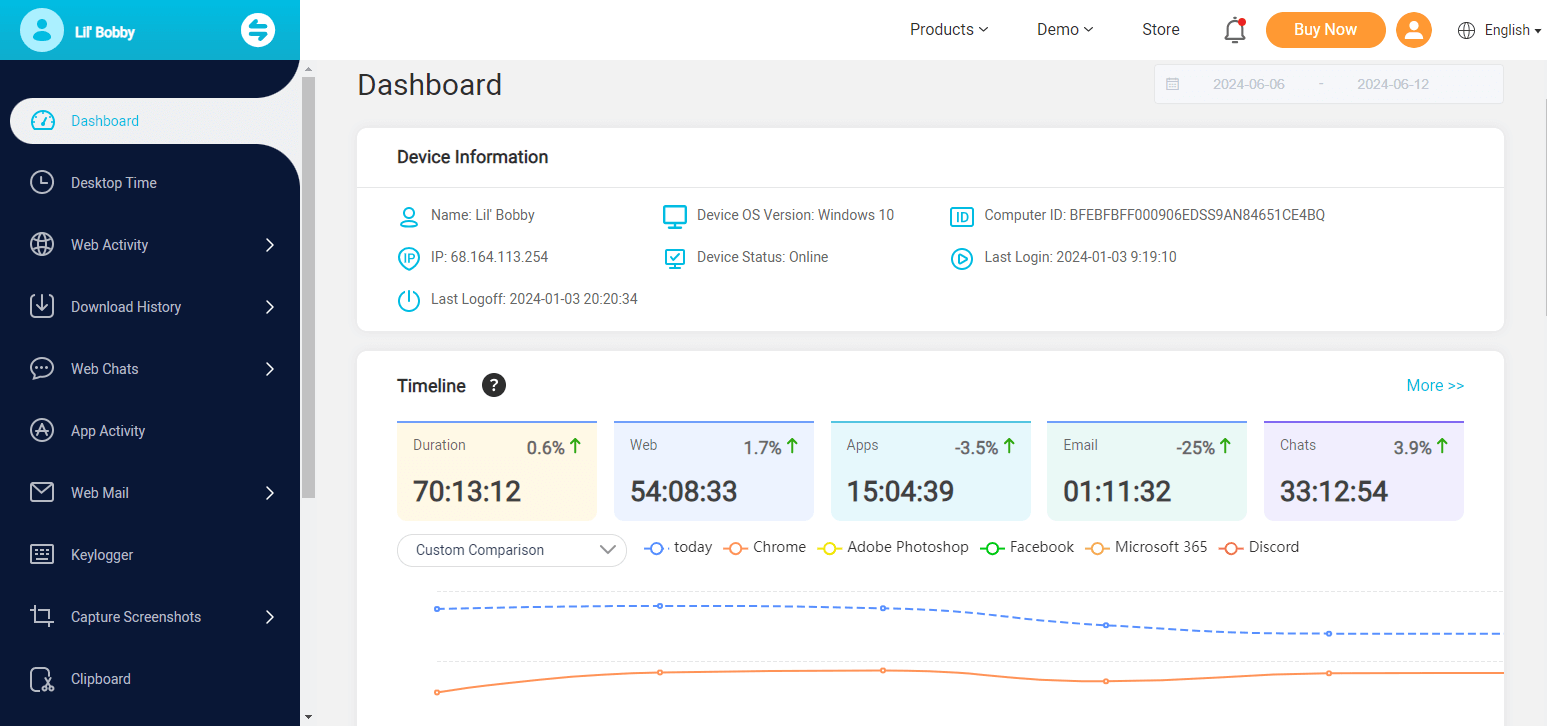 Alternatives to Downloading YouTube Videos
While downloading YouTube videos offers convenience, it's essential to explore alternative methods to enjoy YouTube content legally. Some alternatives include:
Offline Viewing

: YouTube's mobile app allows you to save videos for offline viewing in select regions. This feature is available to YouTube Premium subscribers.

Streaming Services

: Explore streaming platforms that offer a wide range of licensed content, including YouTube Originals and popular YouTube channels.

Screen Recording

: In certain cases, you can legally record your screen while playing YouTube videos to capture the content for personal use.
Remember, it's crucial to follow copyright laws and respect content creators' rights when consuming and sharing online videos.
FAQs: More About YouTube Video Download
1. Is it legal to download YouTube videos?
Downloading YouTube videos without explicit permission from the content creator is generally against YouTube's terms of service. However, some videos may have Creative Commons licenses or fall under fair use exceptions, allowing for legal downloading. Always ensure you have the necessary rights or permissions before downloading videos.
2. Can I download YouTube videos on my smartphone?
Yes, YouTube's mobile app offers offline viewing in select regions. YouTube Premium subscribers can save videos for offline playback within the app.
3. Are online tools for downloading YouTube videos safe?
While there are reputable online tools available, exercise caution when using them. Stick to well-known and trusted websites to avoid malware, intrusive ads, or privacy concerns.
4. Can I convert YouTube videos to audio-only formats?
Yes, many online tools and software applications allow you to extract audio from YouTube videos and save it in popular audio formats.
5. What are the advantages of YouTube Premium?
YouTube Premium offers several benefits, including ad-free viewing, offline playback, background play, and access to YouTube Originals. It provides an enhanced and uninterrupted YouTube experience.
Conclusion
In conclusion, downloading YouTube videos provides a convenient way to access and enjoy your favorite content offline. Whether you choose online tools, browser extensions, or dedicated software applications, make sure to adhere to legal guidelines and respect copyright. Consider the best practices mentioned to ensure a smooth and secure downloading experience, and you should definitely try MoniVisor for remote computer monitoring exercise.