As a new mother, you will frequently find yourself running around being sleep deprived. With so much going on, tracking your baby's growth and other relevant things take a backseat. You would keep forgetting when you fed your baby earlier and when your baby is getting up and sleeping. With the extensive range of baby tracker apps mentioned below, tracking all this information (food, haircut, steps, teeth, sleep etc) about your baby becomes very easy. With these apps you can be sure of knowing the accurate measure of each tracking aspect related to your baby. It lets you record even the simplest of details about your baby in the easiest way possible.
1. Tinybeans App
This is a personal photo journal app in which you can keep uploading pictures and videos of your baby as they keep growing. You can share you profile link with your family and close friends so that they can glance through the baby photos and videos. Through this you can easily track the growth and milestones of your baby. This app has been featured as one of the best baby journal apps in Forbes and CNBC.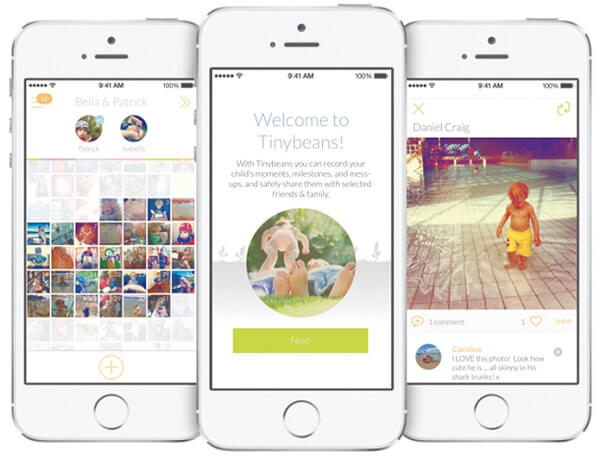 Pros:
Private sharing of content with family and close friends.

Easy to use.

Stores all photos and videos on cloud so your phone storage space remains free.
Cons:
The private sharing of photos and videos is only included in the premium paid version.

The "Add a moment" option does not let you upload the photos from Google Photos directly.
Compatibility: Android and iOS devices
Price: Basic version is free after which you will have to pay $8/month and 50$ per year respectively for the premium version.
2. Baby Tracker App
Either one or both the parents are generally working and leave their kids in the care of a nanny or any other trusted person. Being so busy with the work you might miss out on a lot of essential details regarding your baby's health, growth and those significant "firsts". With the help of this baby tracker app, you can log all this information and more. Details which can be fed into this tracker app include sleep patterns, bathing, feeding and nappy change times. With just one tap you can get detailed information about every minute detail about your baby.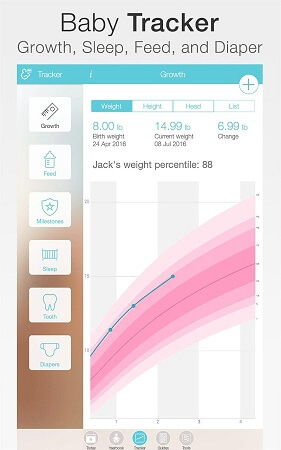 Pros:
Breastfeeding timer can be stopped and turned on with just one tap for convenience.

Logs details about formula, nursing and other such details accurately.

You can easily export all the data and share it.
Cons:
Some data has to be entered multiple times.

Syncing data with other apps is a bit of a hassle.
Compatibility: Android and iOS devices
Price: Free to download but to use the premium features you will have to upgrade at a price of $4.99.
3. Baby Connect App
While looking for the best baby tracker app, this one is surely different. This app lets you track your baby's mood! Yes you heard it right! Infants obviously cry for several reasons and most of the times, parents won't even know the real reason behind it and try and do everything which pops into their mind to stop them from crying. Through this app you can get an idea about what mood your baby is in. This application also records your baby's temperature as well and alerts you whenever it reaches alarming heights. Apart from this, the other data which can be effectively tracked by this application include milestones, feeding timings, nap timings, to name a few.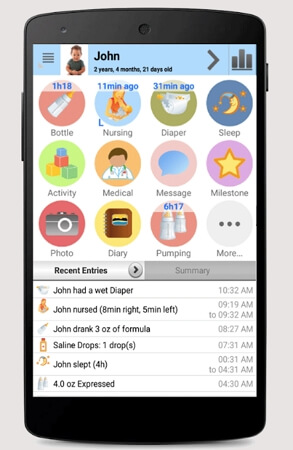 Pros:
You can access the web interface of this app for free.

You can compare the logged in information from different weeks.
Cons:
The graphics on some of its pages is very light and hard to decipher.

Syncing data takes a long time.
Compatibility: Android and iOS devices
Price: $4.99
4. Hatch Baby App
This baby growth tracker is mainly meant for tracking the growth and health of your baby. It also includes options to track the feeding times, diaper change times etc. You can get to know how your baby is developing through the months and how his/her health is variating through the days. This app features a visual chart which makes the comparison very easy. Track and log the details of your baby's weight and height and directly compare it with the WHO standards of normal baby weight and height at a particular age.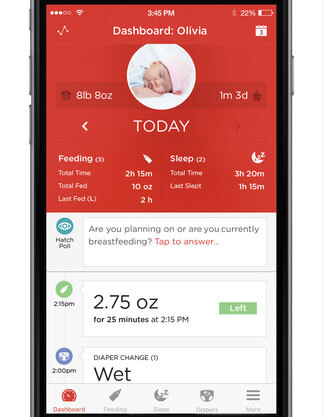 Pros:
Weekly tracking available

Daily summary report
Cons:
Crashes frequently

Newer version of latest Android OS is unavailable
Compatibility: Android and iOS devices
Price: Free
5. WebMD Baby App
This application is like a pediatrician in your phone. All the baby related data can be fed and logged on this app which is very useful for tracking the health of your baby. It features a lot of articles, stories, tips and baby's health related information which prove to be very useful in providing you with the required support. It is one of the most convenient and smart apps with very practical features.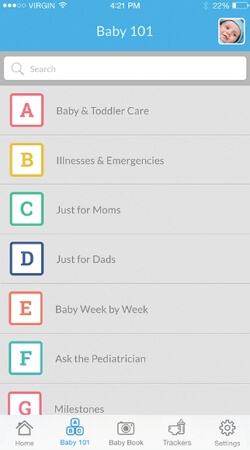 Pros:
Effective app to provide all the info related to your toddler's health

Weekly comparisons
Cons:
Takes a long time to launch

Can access the baby's info only on one device
Compatibility: Android and iOS device
Price: Free
6. FirstYear App
This is a unique application which is perfect for all the busy parents as you need not type and log in the data of your child. With just one single tap all the data can be fed and tracked. You can check the trend daily, weekly and monthly. This is a perfect application for tracking all the necessary information about your infant.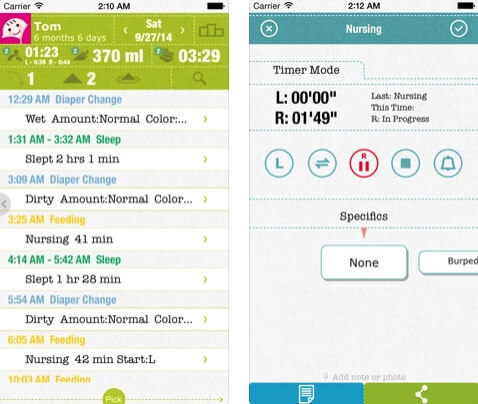 Pros:
One click information log

Powerful and fast note taking

Intuitive inputs
Cons:
Initially it takes a while to get used to the features of the app
Compatibility: iOS devices
Price: Free but has some in-app purchases
7. Eat Sleep App
This baby feeding tracker app offers the simplest solution to your baby's eating and sleeping routine tracking. You no more have to mess around with alarms and typing. All the information related to eating and sleeping routine of your baby can be recorded with just one tap of the finger on this baby weight tracker app. You can view daily, weekly and monthly trends using this application. Apart from this, the diaper changing schedule can also be logged and tracked using this application.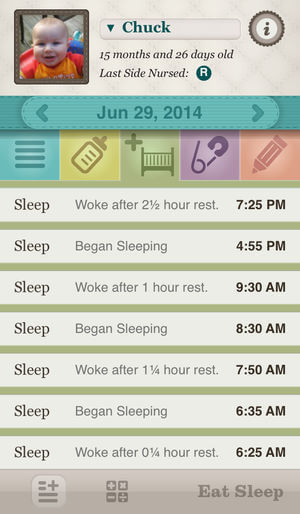 Pros:
Simple user interface

Note taking with just one single tap

Can track multiple children
Cons:
This makes the phone lag a little bit
Compatibility: iOS devices
Price: Free to install but later has in-app purchases for the upgrades
8. Baby Food & Allergy Tracker App
Baby Food & Allergy Tracker app offers the easiest way to track the food dislikes and likes of your baby. Every time you feed your child something new, observe their reaction and put that particular food under like or dislike or if the reaction is neutral, you can record that as well. If it is giving them any allergic reactions tick that too. This way it will be easier to keep a track of which ingredient your child is allergic to. The information is displayed on the dashboard in a detailed manner which can be referred to whenever you plan on feeding your child.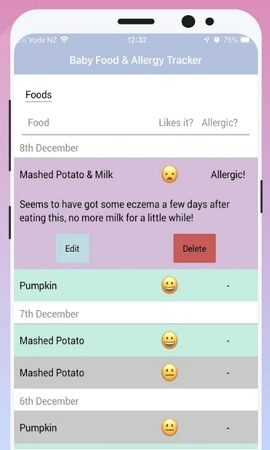 Pros:
Easier to find out the food to which your child is allergic to

Simple user interface

Detailed dashboard
Cons:
Multiple kid logging feature is absent
Compatibility: Android and iOS devices
Price: $0.99
Don't Miss This Awesome Parental Control App
The years pass by really fast and your toddler soon grows up and starts understanding a lot of things around them. Soon enough your child will be streaming through their teenage years trying to keep up with the ongoing trends of social media. At this age, your teenager will inevitably be accessing their cell phone for a lot of things. But there are some apps and content on the web which can be harmful for your child's health. You as a parent will then have to intervene and observe the activities of your child on their cell phone so that they do not
KidsGuard Pro is an amazing app which makes this process simpler. It provides effective features which lets you keep a watch out for any unwanted activities of your child on their cell phone. Its excellent location tracking feature lets you track the real time location of your child in case of any emergencies. Except for that, it also has the added feature of social media monitoring so that you can check the sent & received messages to detect any potential dangers. Other data like browser history, contacts, call logs, photos, etc can also be checked remotely. For more features, you can hit the button below to have a try.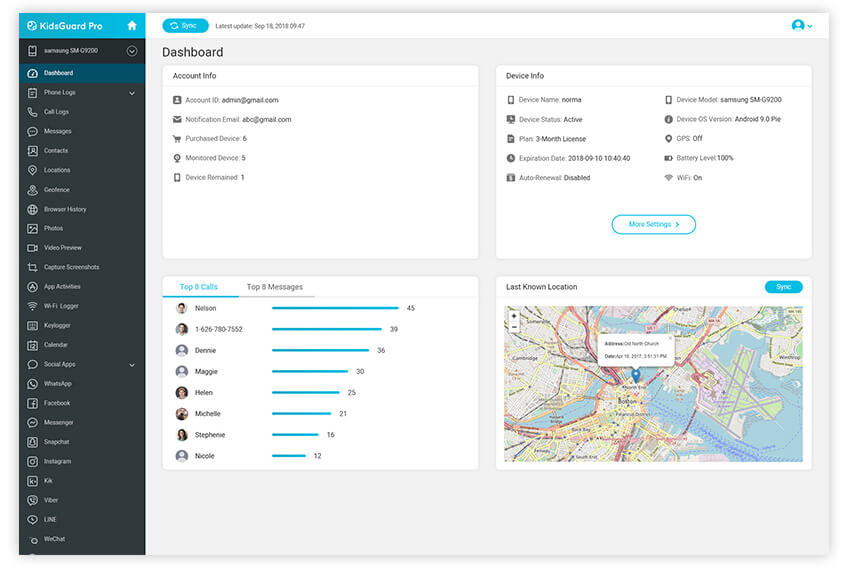 Write in the End
As parents, being worried about your kids is inevitable. It does not matter if they are toddlers or teenagers, you will always be worried about the different aspects relating to them. The above apps can help you out in tracking the progress of the growth of your child and once your child grows up to be a teenager; you can try out the KidsGuard Pro app to effectively manage the activity of your child on their phone. You can try this app for your older kids for free for 3 days after which you can download the premium version.