Twitter is the need of this first-running world to keep up with the trends. In spite of this, there are times when it becomes necessary to monitor Twitter without signing up, so it can be challenging to figure out Twitter viewers without an account.
Did you ever wish to know how to view Twitter without an account? This post helps you find the best third-party apps to monitor and track tweets without having an account.
Can You See Someone's Twitter Without an Account?
In this world of interaction, nothing is impossible. You can accomplish anything you want. Even you can swim inside Twitter by using state-of-the-art monitoring app called "MoniVisor" A must-have app for snoopers and detectives. MoniVisor Twitter Viewer enables you to check all the details about a person's profile remotely. This app runs in an invisible mode and lets you check that particular user's tweets, messages, and other details instantly from any location at any time.
How to View Someone's Twitter Without an Account?
The best way to view Twitter without login is the MoniVisor. You cannot ignore the fact that several social media accounts say more about Twitter. Considering that, how can you track a Twitter account effectively?
Use this app, which is a terrific social media tracker. Using this service, you can follow other people's activities such as their Twitter, calls, messages, videos, and photos. Furthermore, the service also lets you capture the screen automatically and silently. Here I will discuss the main 6 ways to read someone's Tweets without login.
1. The Best Twitter Viewer Without Using Account
As you know that MoniVisor is one of the best and most used apps in today's world. Let's take a look at some more impressive features that will definitely encourage you to download this app immediately:
Monitor Social Media:
No matter if you want to see all the chat messages from web WhatsApp, Facebook (Messenger), Twitter, Skype and Instagram. You can do with this mind-blowing app (MoniVisor). Also, you can check others' profiles, and chat media files like images, videos, emojis, documents, shared contacts, etc.
Track Internet Activity:
Having the MoniVisor app can help you record all the created internet history and allow you to take a deep look at all the visited pages. Another advantage of this marvelous and industry-leading app is that it provides you with the exact searching time and downloading history. So that you can quickly accomplish your task to "view Twitter without login."
Read Sent & Received Emails:
It is impossible to hide anything using MoniVisor's top-class app. You can have a more profound look at the detailed report of all emails and their attachments, along with their time of transmission within minutes. Furthermore, you can prevent the leak of confidential data by keeping a close eye on employees' emails. In other words, you can say that everything is in your hands.
Take Automatic Screenshots:
The hidden way to read Twitter without an account is no more tough with this tracking app. Taking screenshots without getting information leaked is its core competency. You can sync the captured photos in real-time and hassle-freely download them. Also, if you desire to enjoy the best ever syncing experience, Minvisor will never let you down.
Record Every Keystroke:
As an employer, you must make a proper check & balance on your employees and other management. So why not, this time, let's play this game with the world-class MoniVisor app. Take it as your spying partner to set an adequate eye on all the keystrokes, including the data typed on the keyboard and browsing history on both authentic and incognito browsers. As a result, you are a boss and can look after the things happening in your production area.
After this app's unmatched abilities, I will spotlight some real pros and cons. Have a look at:
Pros

Knowing the real-time whereabouts of someone or something important to you.
Being able to see all the outgoings and ingoings of data.
It's a convenient way to carry out a proper check and balance.
It helps you to make some changes after the spying.
Business owners and managers can track employee movement on the clock to ensure efficient use of time and resources.
Cons

It only provides free demo for now.
How to Access Twitter Without an Account?
After reading the above-written information, you are now curious to learn more about how to install and use this matchless app. We will discuss steps of installation and usage here that will absolutely help you. Continue reading.
Step 1: First, you will need to click on the button "Monitor Now" to create a MoniVisor account and then choose a plan based on your needs.
Step 2: Download MoniVisor on the computer and follow the onscreen instructions to set it up. This process will only take a few minutes.

Step 3: After the installation, log into your account and then you can check all the data of targeted computer and view someone's Tweets without an account.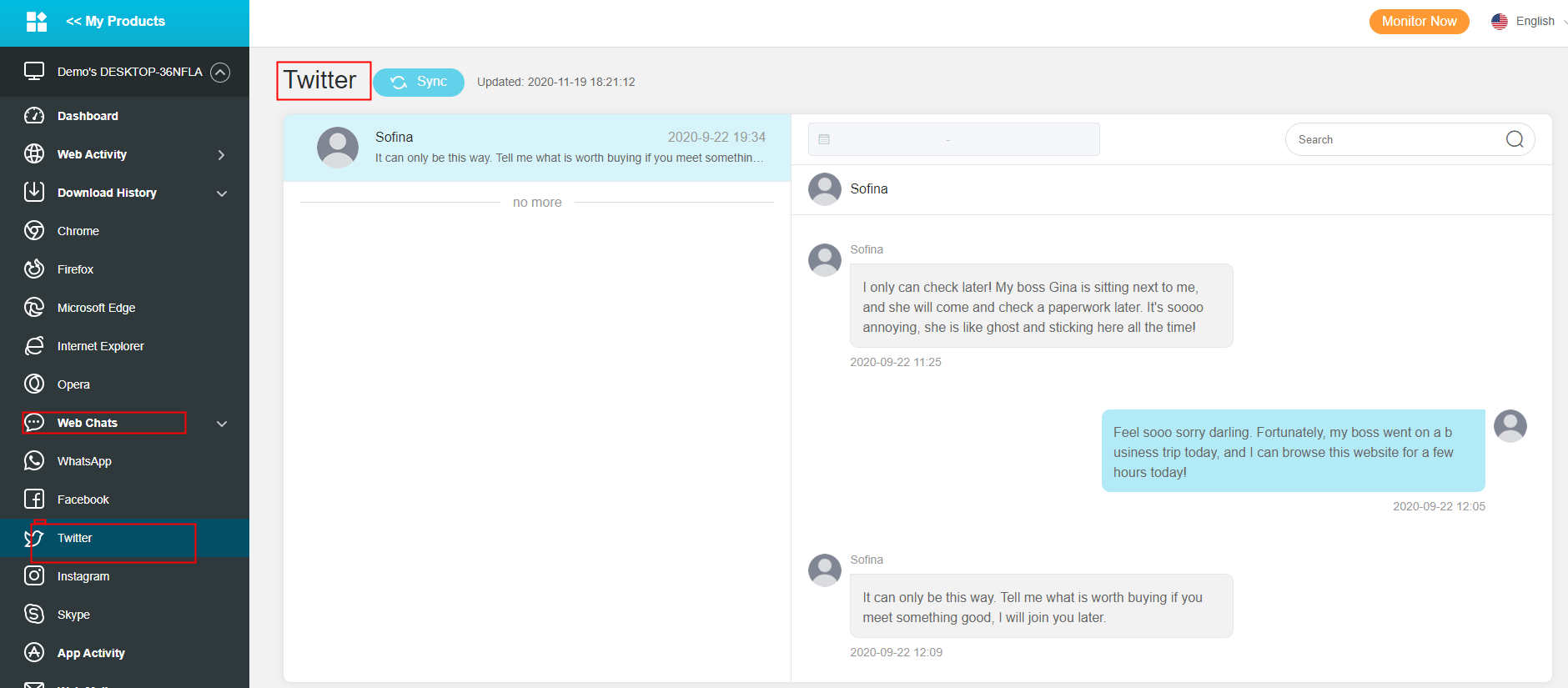 2. Go To Twitter's Explore Page
If your query "How to see Twitter without an account" is again circulating in mind. Then, keep calm and read on. You can see tweets immediately by typing in a name or word related to what you're looking for on Twitter's explore page. Alternatively, you can go straight to the profile page of any account to get into Twitter. Use "twitter.com" in your Web browser and type the user's username, replacing the "@" with a slash if you know the user's username, such as "@username" as seen on websites and business cards.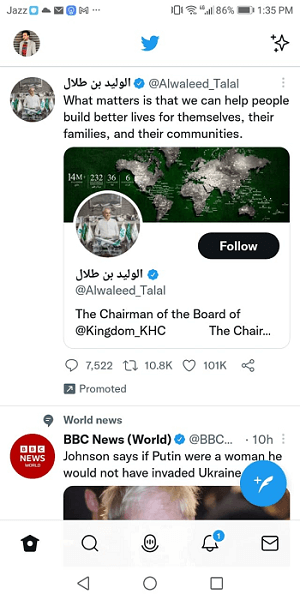 3. Go To the Twitter Search Page
Twitter allows you to search for content by using the search bar at the top of the page. If you just type a few words, Twitter will return results, but they may be varied and challenging to read. To narrow down the results further and ensure that you find exactly what you're looking for, click the "Advanced Search" option on the left side of the page and then enter your keywords at the bottom. Also, you can filter out tweets that contain specific hashtags if you want to see only specific types of related content.

4. Go To Text Messages
Twitter is all about knowing what's happening in the world right now. You can easily follow people who have something interesting to say with text messaging or subscribe to anyone's public tweets through a shortcode. By doing this, you can easily see someone's messages.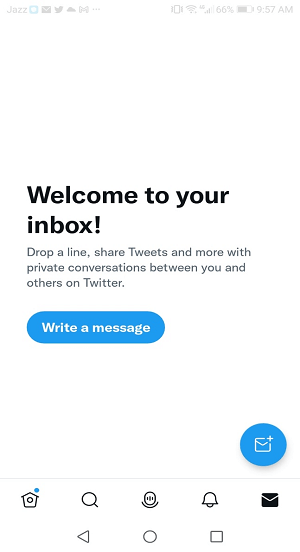 5. Go To Twitter's Advanced Search
Twitter's Advanced Search allows you to search for Tweets by their content, tweet details, location and people. Combine it with other Twitter searches to find even more Tweets.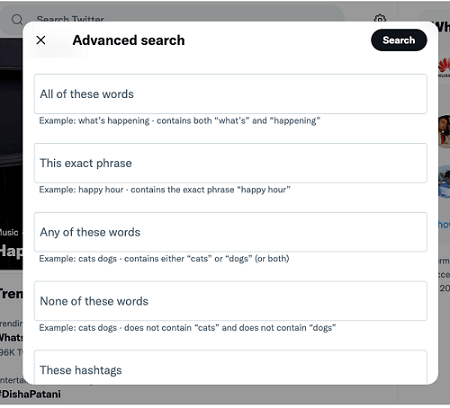 What You Can't Do Without a Twitter Account
There are a number of things that we cannot open or use without a Twitter account. But we discuss some of them. Like:
You cant follow accounts to create a timeline.
Unable to send your own tweets
Retweeting, liking, and replying to tweets
Filtering tweets on a profile by using the Media and Likes tabs
However, in MoniVisor, everything is possible, from creating the timeline to saving the data. With it, you can not only view tweets without an account but also view someone's profile and personal chat files like photos, videos, emojis, documents, shared contacts, etc.
FAQ about Twitter
Q1. How do you find out who blocked you on Twitter?
In order to see who blocked you on Twitter, you'll need to visit their page first. Once you are there, look towards the bottom of their profile. You will see an option that says, "Yes, I blocked this person." Click on it, and you will see all tweets that were sent to them by you. By doing this, you can easily read Twitter without an account.
Q2. How to view all likes on a Twitter post?
The easiest way to view all likes on a Twitter post is to navigate to the post itself, press the down arrow next to the edit icon and select "View likes." Doing so will reveal the number of likes a post has received in the past 24 hours.
Q3. How to remove a bookmark on Twitter?
If you love keeping up with stories on Twitter but don't want to save them as bookmarks, you can remove the bookmark or hide it. Go to your Bookmarks and select the bookmark you want to remove. On the left column under "Options," click "Remove from MyBookmarks."
Wrap Up!
Throughout this article, we have highlighted all the key aspects of Twitter and how it can help you keep up with the trends. We have also discussed how to see Twitter without an account and the importance of tracking. The MoniVisor tracking app gives you access to everything, such as messages, videos, pictures, tweets, and other info. According to the instructions outlined above, you can install this app on your mobile phone and use it to track Twitter without logging in. Call us right now for more information, and let the game begin.