Instagram is a popular social media platform not only among genuine users but also among hackers and scammers.
If you have recently received notifications or emails that read 'We detected an unusual login attempt…', this article is perfect for you.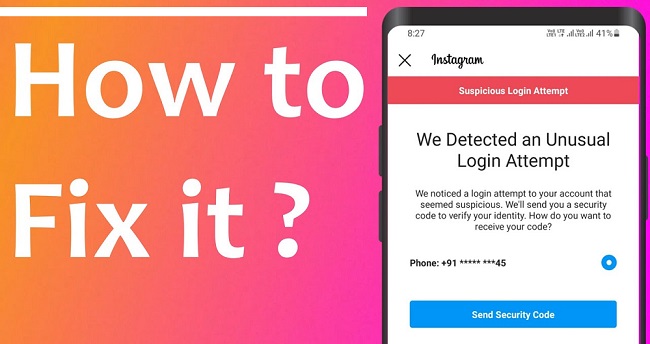 We will explain what exactly this Instagram suspicious login attempt means and what steps you should take to fix suspicious login attempts on your Instagram.
We will also recommend you to install ClevGuard Anti-Spyware to prevent spyware attempting to record your Instagram and other online account login credentials. So, stay turned!
What Does Suspicious Login Attempt Mean on Instagram?
Instagram sends suspicious login attempt notifications when someone logs into your account from an unknown device and unknown location. There are various ways by which someone can get your Instagram login credentials.
Spyware
There are so many apps we install and use today. While some of them are popular and trustworthy, there are some apps that are actually spywares.
Even though they may appear to be working as any regular app, in the background, they keep recording phone data and activities.
Spyware sends these data to the hacker's server, and hackers analyze them to find out your login credentials for different online accounts.
Phishing
Phishing is one of the best techniques to get someone's login credentials by tricking him/her. Phishing pages look exactly like the login page of popular websites like Instagram in this case.
Hackers and scammers send users messages or emails with text that will create panic among the users. They will also provide a phishing link in the message or email, and users are asked to click on it to solve the issue immediately.
Once the users open the link and enter their Instagram credentials, the data will go to their server, and your account will be hacked in no time.
Data Leak
Data leaks and breaches are quite common these days. In order to get login credentials of Instagram accounts, cybercriminals do not actually need to break into the Instagram database. There are many other apps and websites we log in with Instagram credentials.
If hackers can leak data from those apps or websites, they can get your Instagram login credentials. Moreover, if you are using the same username and password for multiple online accounts including Instagram, getting one credential will lead to hacking of all other accounts.
Miscellaneous
Apart from the above three main ways, there could be other ways through which your login credentials can land in the hands of hackers. You might have logged in from another device such as cybercafé and did not log out.
Such devices can have keyloggers and spyware to record your credentials. The use of public Wi-Fi networks such as in hotels or notable places can cause such issues. Hackers can also steal credentials from password manager apps and even from cookies.
NOTE:
Suspicious login attempt Instagram through messages or emails could also be sent by hackers and scammers to make you go to their Phishing page and type in your Instagram credentials. Therefore, make sure that the message or email is legit and do not click the link. Instead, use Instagram app or visit Instagram on your web browser directly by typing its web address.
How to Fix Suspicious Login Attempt Instagram
Whatever the reason is for Instagram to notify you regarding suspicious login attempts on your account, here are all the steps you need to take to fix the issue.
Step 1: Use a Reliable Anti-Spyware App - ClevGuard
This step is extremely important for the prevention of any suspicious login attempts and spyware activities on your phone and thereby, protecting not just your Instagram account but also every other online account.
Features of ClevGuard Anti-Spyware
Scanning – If any spyware or malicious file or app is already present on your phone, you can find that out the scanning feature. You can also detect any hidden app installed on your phone.
App Audit & Guard Event – Many not-so-popular apps you installed are spying on your activities in the background. With the app audit feature, you can understand the risk associated with any app and take action to keep or remove it. You can also get notifications if any app is turning on your phone's mic or camera necessary for spying.
Real-Time Protection – You should use the real-time protection feature to protect your phone 24/7. It continuously monitors your phone activities and alerts you if it detects anything suspicious.
Email Data Leak Detection – The app can detect if your email data is breached by any means and provide full details accordingly. It can also guide you to upgrade your email security.
Steps to Check Instagram Suspicious Login
1: Tap on the following "Google Play" button and download ClevGuard app.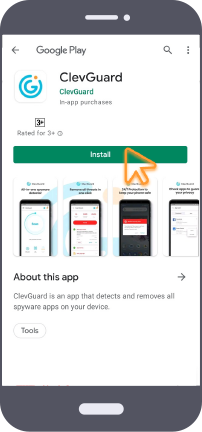 2: Open the app and tap on the Scan option to find whether there are suspicious login attempts present on your Instagram. After scanning, ClevGuard will list the suspicious files on your phone so that you can know which files are spying on you.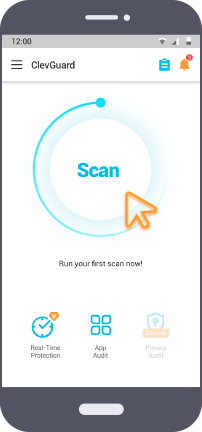 3: On the page of the scanning report, tap on Resolve All button to fix all the issues, then the risks on your phone will be removed.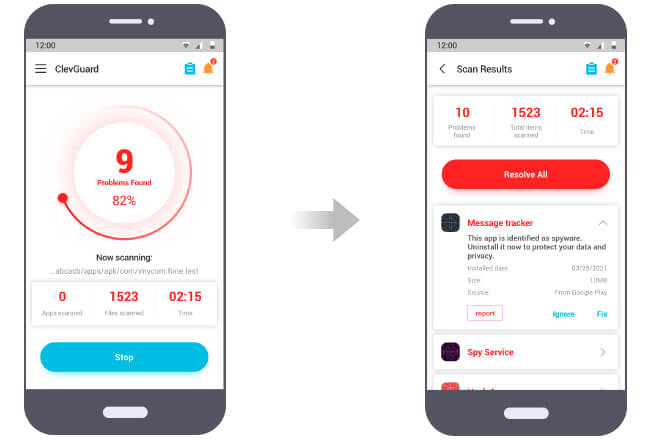 4: Go to Real-Time Protection tab at the bottom.
5: Toggle on Real-Time Protection to enjoy the real-time guard from ClevGuard, and prevent suspicious login attempts on Instagram in the future.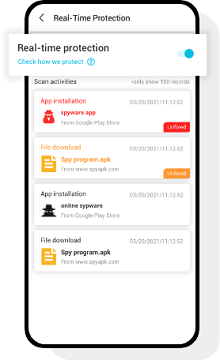 Step 2: Set a Strong Password
Some of the scenarios you may also encounter are that there are times when you could have logged into your Instagram account from an unknown device, and Instagram would notify you of a suspicious login attempt.
When Instagram offers you a security verification process, you will have the choice to pick from 'It Was Me' or 'It Wasn't Me' option.
If it was you, choose the option, and Instagram will take note, and the next time you log in from that same device, it will not generate the warning.
However, if it was not you, you will be asked to change your password. In that case, use a very strong password and never use the same password with slight variation.
Step 3: Enable Two-Factor Authentication
If you have enabled the two-factor authentication feature, even if someone had tried to log into your account with your login credentials, he/she can't succeed.
This is because when two-factor authentication is on, the user needs to enter a security code sent to the associated phone number or any authenticator app.
That is why we will recommend you to enable two-factor authentication feature for your account if not already.
Actually, there are still many users who do not enable the feature willingly because they find it annoying to log into Instagram with a security code all the time. However, it is worthy if the instagram security can be well protected by several steps!
To enable Instagram two-factor authentication, take the following steps on Instagram app.
1: Tap on three-line icon at the top-right corner.
2: Tap on Settings option.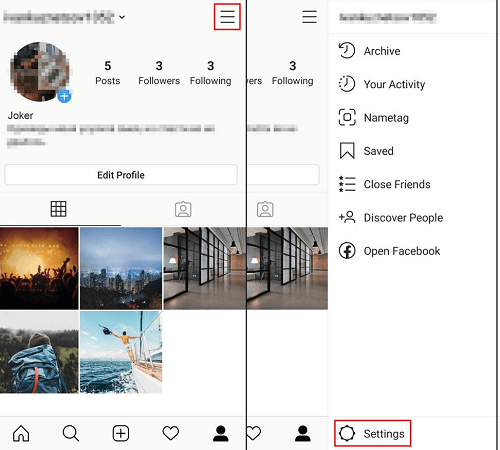 3: Tap on Security and then tap on Two-Factor Authentication.
4: Tap on Get Started button on the next screen.
5: Select 'Use Text Message' or 'Authentication App' as per your preference.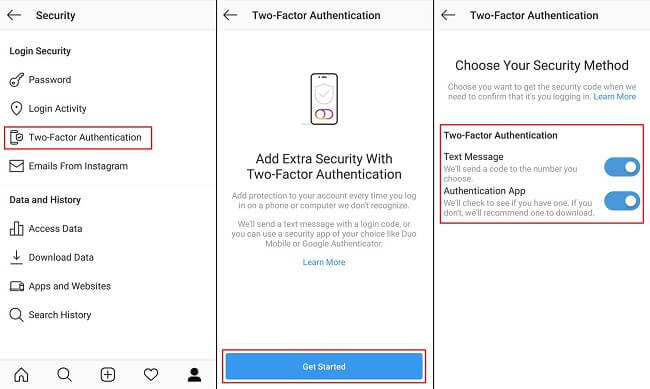 The next time you or someone else tries to log into your Instagram account, he/she will need to enter the security code. There is no doubt that it is the best thing you can do for the security of your Instagram account.
Step 4: Log Out of Your Account from All Devices
If you or someone else has logged in to your Instagram account from an unknown device, you need to log out of your account from all devices.
If any person tries to log in again with the same credentials, he will not be able to.
This is because you have changed the password as well as enabled two-factor authentication by now. Therefore, by logging out of all devices, you can ensure that no one is accessing your account now. Here are the steps.
1: Tap on three-line icon at the top-right corner.
2: Tap on Settings option.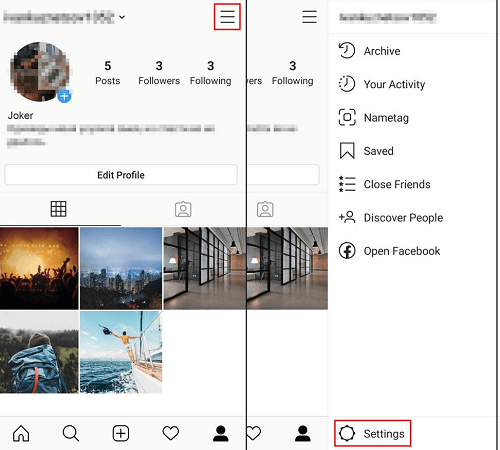 3: Tap on Security option.
4: Tap on Login Activity. You will see all the logged-in devices and logged-in location history till now. Therefore, you can ensure if your account has been logged in from another device or location.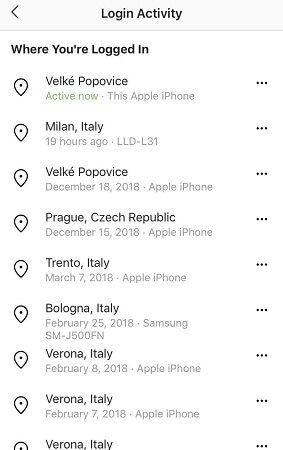 5: To sign out of all devices, you have to log out of each connection individually. Therefore, tap on each connection and tap on Log Out button.
After following the upon steps, the degree of safety of your Instagram will be high.
Can I Find Out Who Logged into My Instagram
You cannot find out who exactly logged into your Instagram, but you can find out if someone has logged into your account and is still logged in. Not just that, you can also find out when he/she logged in and from where.
1: Tap on three-line icon at the top-right corner.
2: Tap on Settings option.
3: Tap on Security option.
4: Tap on Login Activity.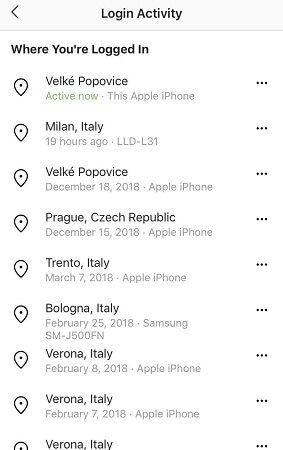 Now, you will see all the locations where your Instagram account has been logged in. And you can tap on the corresponding buttons to check the specific logging-in time.
Conclusion
Hopefully, you have understood what Instagram suspicious login attempt means and what you should do when you get such a notification. Make sure you follow all the four steps we have mentioned for complete protection and risk prevention. We have recommended you to install ClevGuard Anti-Spyware in the last step which protects your phone completely from spywares, malicious apps, and files.