When you have a child, you have to give them the freedom to use their phone. However, you also want to keep good control over what they can do on it. Locking apps on Android is a practice that many parents undertake to ensure that their kids won't get access to harmful content or, possibly, even take advantage of their cell phone's features.
Now you want to know how to lock apps on Android and looking for the best way to do it. And that's why we are here to help you. There are plenty of ways to stop a child from using harmful apps. Just keep reading.
Part 1: How to Lock Apps on Android?
Here are some different methods you can follow to lock apps on android. Make sure to follow them carefully.
Lock Apps on Android 10 and Android 9.0 Pie
Here are the steps to lock apps on Android 10 and Android 9.0 Pie.
Open Settings on your android phone. Go to Security > Location. There you will find the Advanced options; click on them. Turn on the screen pinning.

Allow for extra security measures by pressing the Ask for PIN button before unpinning.

Then, at the bottom of the screen, click the Overview button and select the software you want to pin. Then press the Pin button.

You must unpin the pinned app to access it. To do so, hold down the Back and Overview icons simultaneously. You then enter your security code, and the app is unpinned.
Lock Apps on Android 8.0 Oreo and 7.0 Nougat
Here are the steps to lock apps on Android 8.0 Oreo and Android 7.0 Nougat.
Tap on Lock Screen and Security in the Settings app. Then tap on Other security options > Pin windows.
To activate it, activate screen pinning and click the Ask for PIN before unpinning option.
Launch the app window you want to lock to the front by tapping on the Overview tab. Then, in the bottom right corner of the screen, hit the Pin button and click OK.

Tap the Back and Overview buttons to unpin the pinned app window. Then enter your security passcode to get access to the app.
Lock Apps on Samsung from Secure Folder
A secure Folder is a protected zone on Samsung smartphones where users may store private images, videos, files, applications, and other data. The encrypted area in the safe folder is protected by Samsung Knox's defense-grade system security, which is capable of protecting vital data from harmful attempts and unlawful access.
No one can erase this folder or the data contained within it unless you reveal your Pin, Password, or Pattern to someone else after turning over your phone to them.
Take the following steps:
Navigate to Settings and choose Lock Screen and Security. Then choose Secure Folder.

Next, select Lock Type by clicking on Lock Type. Choose your preferred choice, and then enter and confirm the passcode.

Now, open the Secure Folder app from the app drawer and select Add Apps. Select the apps you wish to lock and press the Add button.

When you're finished adding applications to the Secure Folder, hit the Lock button in the top left corner of this screen.
You will be notified when the Secure Folder has been locked. Any attempt to access it activates the lock type you chose in Step 2 above.
Input the passcode you generated in Step 2 above to gain access to the applications protected in the Secure Folder.
Create a User or Guest Account
A Guest account is similar to any other account, except that it uses several app clones on your phone. It is an excellent software locker for Android users, particularly if you share your phone with another person.
The following is an explanation of how to lock applications on Android:
Select System from the Settings menu. Then choose Advanced and then press Multiple users.

To change the user account, choose Guest. To enable calls, hit the gear symbol on the far right. To continue receiving calls while the Guest account is active, flip the switch next to Turn on phone calls text. In the pop-up window, click OK.

You may also switch to a Guest account by widening your notification tab and clicking the user symbol in the lower right corner.
To switch the user account, tap Guest.
Part 2: How to Lock a Specific App on Android?
If you want to lock a specific app on Android, use a parental control app. And we recommend you use one of the best Apps known as KidsGuard. KidsGuard is the best parental control app for Android. It allows parents to set up filters and rules that will enable them to set limits on their child's usage of certain apps.
It also comes with many other useful features; this will stop kids from accidentally downloading apps that aren't intended for them. Parental control app for Android will also prevent children from accessing adult content or other inappropriate material.
How to Use KidsGuard to Lock Apps on Android?
The steps are too easy. Follow them and you will be amazed.
Step 1. Open Google Play Store or Apple App Store, search for KidsGuard, and then download the app on the parent device.
Step 2. Create a KidsGuard account with your email address after launching the app on the parent device. You can also use your Facebook account to join up.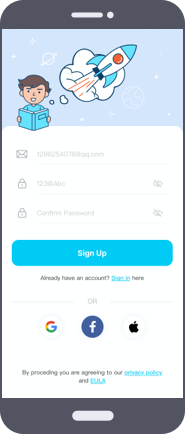 Step 3. On the KidsGuard parent account, you will notice the option "Bind now", which you should choose. It will provide a KidsGuard Jr. download link; copy and install the software on your children's Android smartphones.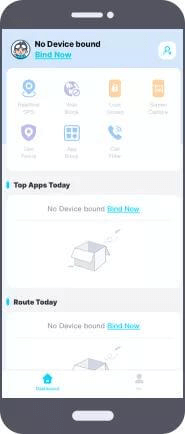 Step 4. Now, go to the parent account, bind both accounts, establish a time restriction on the child's phone, and lock any apps you believe are improper for your children.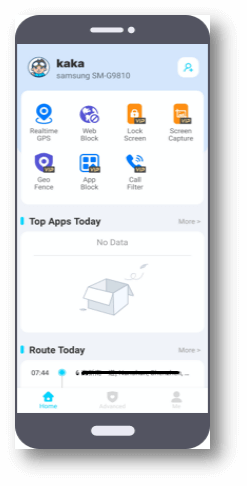 Now you can control your Kid's phone.
What Can KidsGuard Do Besides Locking Apps?
Besides locking apps, KidsGuard helps you in different ways. Here are some other features of this app.
KidsGuard offers a function that allows you to block websites on Android quickly. These websites will be unavailable to your children.
The KidsGuard parental monitoring system captures a child's device screen to notify parents of their child's activity. This allows parents to monitor their children's online activity.
When your child's screen time is finished, you may use this app to lock the screen.
This tool allows you to track your children's location.
Parents can use this software to filter all incoming and outgoing calls on their child's phones. To safeguard their children, parents can ban the number of strangers and scammers.
Why Should You Use KidsGuard?
You should use KidsGuard if:
You don't want your child using the internet all day long;
You're worried about your child accessing inappropriate content online;
You want to limit your child's time on their phone or tablet.
Part 3: Other Third-Party Apps to Lock Apps on Android
Here are some other third-party apps you can use to lock applications on your Android device.
AppLock
AppLock is one of the best apps for locking an app on Android. Many AppLock applications on the Google Play Store work great, but the best is the free AppLock developed by DoMobile Lab.
How to Use?
Install and open AppLock on your phone.
Now, Provide a password for usage with certain applications. Check that it isn't the same as the passcode you use to unlock your phone.
Allow AppLock to open on top of other applications when requested.
Choose an app to lock using the passcode you made while within AppLock, then hit the "Lock" button.
The lock will be successful, and you will be notified. To validate, launch that app.
Norton App Lock
When it comes to app locking software's, Norton is a huge star. It is well-known for its lock mechanism. The app includes a suggestions list that indicates which apps should be restricted. It is an excellent tool for people who want an easy approach.
How to Use?
Install Norton App Lock from the Google Play Store.
Now, launch the app and select "Agree & Launch".
Give the application the required permissions.
Set up your passcode after that.
If you forget your passcode, select your Google account for recovery.
Then click "Continue".
Tap the lock icon next to the app you wish to secure. The green padlock shows that the app is locked, whereas the grey padlock indicates that it is not secured.
Press the yellow padlock in the upper right corner to disable/enable all app locks on all applications at once. The blue padlock and greyed-out list show that the app lock is turned off.
Part 4: Why You Need to Lock Apps on Android For the Sake of Your Child?
After introducing so many ways to lock apps on Android, let's go back to beginning and ask ourselves why we do that. Is it necessary to lock apps on kid's phone? Well, I'm afraid yes. People always wonder why parents want to lock apps on their child's phone. Here are several reasons why:
Inappropriate Activities:
The first reason we will tell you why parents want to lock apps on their children's phones is to ensure that the child's phone is not being used for inappropriate activities. Parents want to ensure that their child is not wasting time on social media or games that are not age-appropriate. Some apps may contain inappropriate content or be used to bully other users, while others could encourage excessive screen time.
Misuse of Money:
There are so many apps like cash app in the Play Store that children can misuse. A child may use these apps to buy something or perform some other action that is not allowed. The parent may not know about the app and probably does not want it on their child's phone. To keep cash app safe from children, Parents need to understand this and ensure that their child's phone is locked and he cannot access any apps without the parents' knowledge.
Online Harassment:
With the rise in cyberbullying and other forms of digital harassment, kids don't know how to protect themselves from harm. Parents lock the apps, which can lead their children to this situation. They do not want their children to be interacting with strangers or other users who could be harmful to them.
Waste of Time:
Most parents want to lock apps on their child's phones because they waste time. They feel that their children do not need those things, which will only waste their time. They also think that kids are not mature enough to understand the need for these apps, so they should be kept away from them.
FAQs about Locking Apps on Android
Here are answers to frequently asked questions about locking apps on android.
Can I put a password on an app?
Yes. You may secure your mobile apps with a passcode, a PIN, a whole password, or even your fingerprint or iris.
How do you put a lock on your apps on a Samsung?
You can lock your Samsung device using Secure Folder or download any App locker from the play store.
Is free app lock safe?
Yes, it's safe. You can use free App lock without any worries.
Final Verdict
As you can see, there are many different ways to lock apps on Android devices. Whatever app locking method you choose, it's crucial to use them carefully.
With the help of these methods, you can prevent your child from accessing any app you do not want them to use. We hope that helps solve your problem!