Is your kid wasting time on different apps? Are you looking for a way to block apps on the kid's phone? As you know, there are a lot of Android apps which our kids download on Android phones, and they spend their maximum time on Apps like TikTok, Snapchat, Instagram, Tinder, PUBG, etc. Because of these Apps, kids don't pay attention to studies and other healthy activities. That's why parents want to block such apps on kids' phones.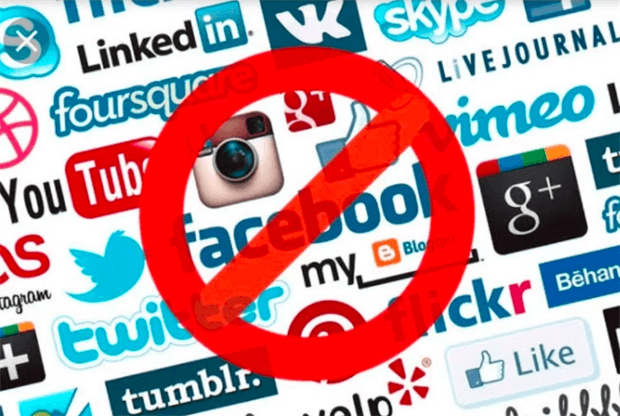 In this article, we will guide you how to block apps on Android phones in 2022.
Part 1: Reasons to Block Apps on Android
We all know its parents desire to block apps on kid's phones, but people are curious to know the reason for blocking apps on kids' phones. Here are some of them: 
Inappropriate stuff
The applications like TikTok, Facebook, Instagram, and YouTube contain inappropriate stuff, which is not good for kids at this age. The majority of these applications have no filter for adult content, so these applications should not be installed on kids' Devices.
Waste of Time
Nowadays, kids have become addicted to different social apps and games. They spend too much time on these applications which is a total waste of time. Because of addiction to these games, kids don't pay attention to other important tasks. They don't study and don't do other physical activities because of these applications.
Security issues
There are many popular social media apps for teens and children. But not all applications are secure for kids. There are a lot of applications that steal customers' data and share this kind of data with third parties. Additionally, many applications ask for your live location and personal details, so these apps are not secure for kids.
Mental health
Social apps are an open platform for all kinds of people. When kids create an account on these applications and post stuff, they experience all of the negativity, bullying, harassment, blackmailing, etc. these things are not good for kids' health, especially for mental health, because online bullying harassment leaves an unforgettable effect on the mind.  
Part 2: How to Block Apps on Android?
There are different methods to block apps on Android, such as:
1. Block Apps on Android in Google Play Store
How to block an app on Android in Google play store? Follow these steps to block apps on the Google play store:
First of all, go to the Google Play Store, tap on your Profile icon;
You will see different options; tap on Settings;

Now click on option Family, next tap on Parental Control;

Turn on the Parental Control option and set your PIN code;

Next, tap on Apps and Games;

Select age limit and apps more than your selected age will be blocked automatically, and the targeted person will not be able to download them.
2. Block Apps on Android in Digital Wellbeing
How to block a specific app on Android in Digital wellbeing? Digital well-being is a feature of Google's screen time management. You can get this feature on pixel phones, Android devices, and a limited number of other devices. Basically, this app keeps a record of how much you use your mobile.
Here is how to use this method to block apps on Android:
Go to Android Settings and click the gear icon to open settings;
Click on Digital Well-being & Parental Controls.

Now scroll down to YouTube or any other app and click the hourglass icon next to it, set a time limit to 0 or 1 minute to block this application.

Set time for each app, when you exceed your time limit, the app will automatically shut down. On the home screen, the icon will gray out. You will not receive the notifications anymore.
3. Block Apps on Android in Google Family Link
Can you block apps on Android via Google Family Link? By using Google Family Link, parents can monitor their kid's devices by using restrictions, screen time limits, content filters, and age ratings. It is specially created to monitor children's digital well-being.
Here are some easy steps for you:
On your device, download the Google Family Link;
Open the app on your phone and go to Settings. Add the child device if it is not added yet;

Click on the home screen and on three horizontal lines and Choose your child's account;
Click on manage settings in your child's profile and choose the Google play option.
Select the appropriate age limit. For example, if you choose "Everyone 10+," it will enable your kid to download the apps that go up to the "teen" rating but not the apps rated teen and up.
Part 3: How to Block a Specific App on Android?
Do you want to block any specific app on kids' phones? If yes, install the KidsGuard parental control app because only this application will allow you to block any specific application on your kid's Android device without any hurdle. The KidsGuard has an amazing inbuilt App Block  feature which allows parents to block unnecessary and unwanted applications.
How to Use KidsGuard to Block apps on Android?
Blocking applications on a kid's Android phone is too easy with the KidsGuard parental control application.
Here are easy-to-do steps for blocking apps on a kid's device:
Step 1. Download the KidsGuard app on parents' device
Go to the Google Play Store or Apple App Store, search KidsGuard, click it and install the application on the parent device.
Step 2. Create a KidsGuard account  
After launching the application on the parent device, create a KidsGuard account with your email address or  Gmail. You can also signup with a Facebook account.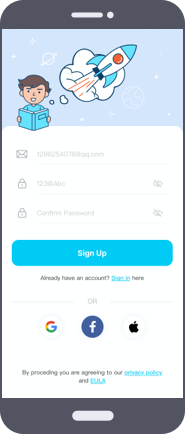 Step 3. Install KidsGuard Jr. on kids' device.
On the KidsGuard parent account, you will see an option "Bind now" click on this option. It will show a download link of KidsGuard Jr., copy it, and download the application on kids' Android devices.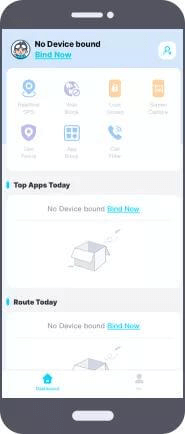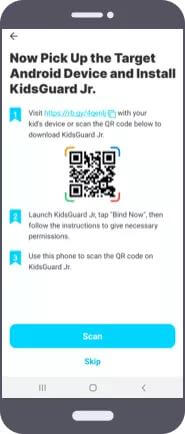 Step 4. Set Screen Time and Block a Specific App
Now go to the parent account, bind both accounts and set a time limit on the kid's account, and block any which you think are inappropriate for your kids.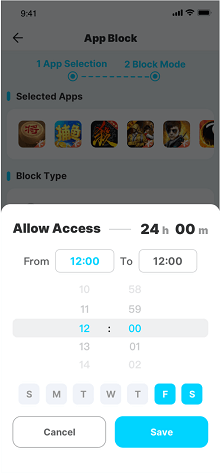 you can fully control kid's device now.
What Can KidsGuard Do Besides Blocking Apps?
The main purpose of the KidsGuard parental control app is to make parents' life easier. We all know that This application aids you in blocking applications which are not safe for kids. The parents can choose either permanently block inappropriate apps or set screen time on specific apps on the targeted device. Besides this, it helps you in different ways, such as:
Block websites: There are a lot of websites that are not good for kids, and the KidsGuard has a feature to block websites on Android in quick time. Your kids will not be able to access these websites.
Capture real-time screen: The KidsGuard parental control app captures the screen of a kid's device to inform parents about kids' activity. In this, parents can be aware of kids' online activity.
Lock screen: This application allows you to lock the screen when kids screen time up. You can turn off kids' screens without touching the device.
Track real-time location: the KidsGuard parental control application makes you able to track kids' real-time location.
Filter calls: The KidsGuard allows the parents to filter all incoming and outgoing calls on the kid's phone. The parents can block strangers and scammers' numbers to protect their kids.
Part 4: Other Tips to Limit Child's Screen Time
There are different ways to limit child screen time, but here are a few tips mentioned for parents, such as:
1. Download Kids-Only Apps
There are a lot of applications that are specially designed for kids. These apps are kids-friendly and are created according to the age of kids for entertainment purposes.
If your kid wants to install the application on the phone for entertainment download kids only apps. Because these entertaining applications will not cause any damage to your kids.
Additionally, few applications have kids' versions that are kids friendly such as YouTube kid, etc
2. Set a Bedtime in Google Family Link
If you want your kid should not use their phone excessively. Set a bedtime in the Google family link. Because this added time will remind your kid to go sleep on time.
For setting proper bedtime, go to the family link tree, choose your kid account, and tap on bedtime. Now set time. This way, your kid will sleep on time.
3. Develop Their Interests
More exposure to the screen makes the kid lazy and less physically active. That's why you need to divert your kid's attention and develop an interest in them. Engage them in painting or drawing activities. Play indoor games with them, play cricket, and hide and seek games with your kid. These activities will keep your kid's mind healthy and calm.
4. Set Rules on Screen Time
It is a basic thing when you give a personal mobile phone to your kids, discuss everything with them. Tell him clearly when he can use his mobile phone for watching movies,  series, cartoons, and games and when he is not allowed.
Set his screen hours and strictly mention extra time on screen is not allowed. It is important to decide all these things earlier because, in this way, your kids can know their screen time limits.
FAQs about Blocking Apps on Android
1. How do I block installed apps?
If you or your kid already installed an application but want to block it, you easily block it by disabling it from settings. Additionally, you can block it by setting Its screen time.
2. Can I block a specific app from downloading?
Yes, you can easily block a specific app from downloading with KidsGuard when you block any app on your phone with the KidsGuard app no one will be able to download it targeted device.
3. How Do I Block My Child from Downloading Apps?
You can block your kid from downloading applications on your phone with the parental control inbuilt feature and parental control softwares.
Conclusion
The Internet is full of different kinds of applications, but kids should not download inappropriate adult apps on their phones. Technology introduced different applications to block apps on Android , but most of them do not work properly. But the KidsGuard parental control application is perfect option for blocking apps on Android phones.