The simple answer to can I have 2 LINE account is a yes! Installing and using two-LINE accounts on the smartphone is conveniently possible with the steps of some manageable ways. Suppose you have used the app before; you must have identified that signing in two different LINE accounts on the same handset is impossible. However, here we will look at how you can accomplish it easily.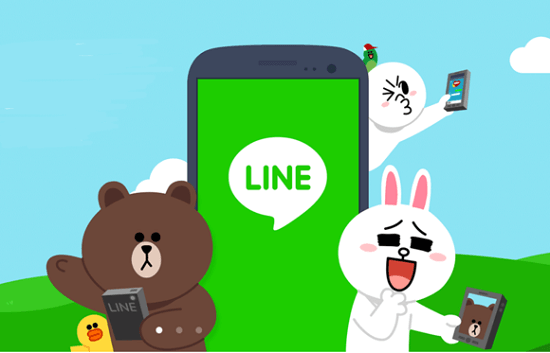 Part 1: Can You Have 2 LINE Accounts?
Using more than one account accounts might be restricted to root users. However, 2 LINE accounts is quite possible by non-rooted users as well. Thus, keep reading and identify how to have 2 LINE accounts on one phone with us and get the best monitoring steps.
For using two LINE accounts on one phone, you must first create two. Downloading a parallel space application or using LINE 2 app can assist you well with this feature. Having 2 LINE accounts can support you for multiple purposes. You can easily track your loved one's details without any trouble and gain access to various features. Monitor calls, messages, images, etc., remotely.
Part 2: How to Use 2 LINE Accounts?
1. Have 2 LINE Accounts on iPhone
You first need 2 LINE accounts on your phone to start the process. Now "Can I have two LINE accounts on one phone" must be clear to you. So, to successfully operate two LINE accounts on one iPhone, you must opt for the LINE 2 app. It is a duplicate of the foremost LINE app that you can install on your device and sign in to create a second account.
Way 1: Using LINE 2 App without Jailbreaking
You need the LINE 2 app for using two-LINE accounts on a single device. Follow these manageable steps to use it with ease.
Step 1: Start by getting the LINE app on your device from the App Store if you have not installed it yet. After installing it, follow the steps to finish the registration process.
Step 2: Now go to Safari and navigate to Othman.
Step 3: Scroll through the page and locate LINE 2 to select it. Click on Download followed by install and permit every third-party application installed on the device.
Step 4: After successfully installing the application, navigate to Profile in Settings and permit Trust VNE Software. Permitting this will allow the device to identify and accept the application.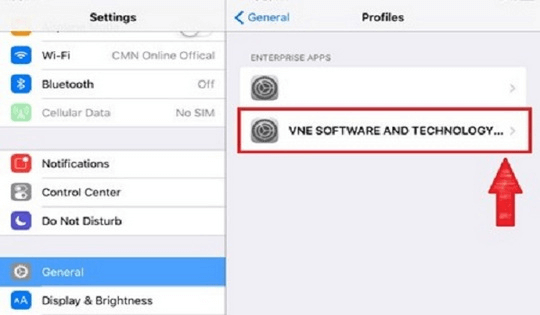 Step 5: After this, open your LINE app and sign into it with your other account to start using it.
Way 2: Using Cydia App with Jailbreaking
First of all, you need to know how to jailbreak a phone.  If you have a jailbroken phone, follow these steps:
Step 1: Go to the Cydia app and navigate to Sources in Manage.
Step 2: Select Edit and click Add to add this repo.
Step 3: After adding and loading the repo, look for Slices. Download Slices and take the aid of the steps that your iPhone displays.
Step 4: After installing the application, respring with the aid Springboard and go to the Settings section to look for Slices.
Step 5: Here, tap on the LINE app, fill in your account details, click on the Home button, and access the LINE app. You will have a view of both the accounts here, then select the one you wish to use and continue.
2. Have 2 LINE Accounts on Android Phone – Using Clone App
Step 1: Get parallel space on the device to start. To get Parallel Space, you need the following:
An Android version 4.0.3 or more
A space of a minimum of 1GB RAM on the phone
Must have a minimum of 15MB storage available
Step 2: After successfully installing, launch a parallel space on the device, and in the chief interface, opt for the LINE app on which you wish to run the two accounts and select Add to Parallel Space as in the reference image to commence.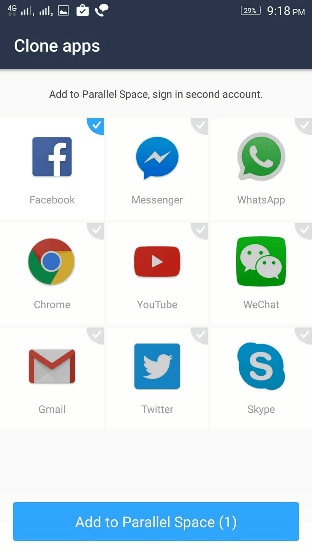 Step 3: The application will then be cloned, and you will gain access to its cloned version. After this, tap on the LINE app cloned version and sign in with the other account to commence the use of two accounts on a single device.
Part 3: Bonus: Monitoring LINE Accounts Remotely Without Logging Out
In this part we will assist you with using the app for better tracking in both Android and iPhone app versions. Enable them for the best results and precise monitoring.
1. Monitoring LINE Accounts Remotely on Android Phone – KidsGuard for LINE
Using this LINE monitoring app to secretly log in someone else's  LINE account is the most reliable option. The monitoring solutions are 100% undetectable and give assured outcomes. Getting it on your Android LINE accounts is quite simple and quick. Use these smart features to enable the best security for your kids or easily track your partner's phone to get instant details. Let's check out how to hack line together!
How to Use KidsGuard for LINE to Monitor LINE Accounts?
Using this monitoring solution is quite manageable. To complete the process, begin by following these steps.
Step 1. Sign Up with KidsGuard for LINE and Select a Plan
Register on our website and create an account, then pick a plan to activate your KidsGuard for LINE app.
Step 2. Install KidsGuard for LINE on the Target Device
After purchasing a plan, you will be sent to My Products and Management page, find Setup Guide icon. Click it and follow the instructions to download KidsGuard for LINE on the target phone.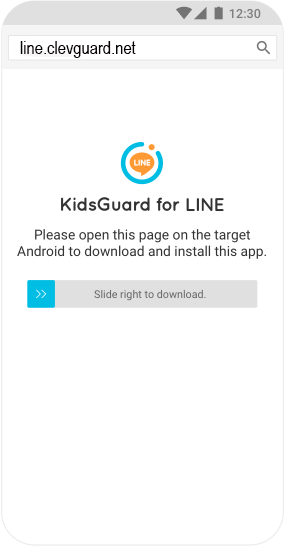 Step 3. Log in and Monitor LINE Accounts
Use the web control panel to check the KidsGuard for LINE app activity of the target device with ease.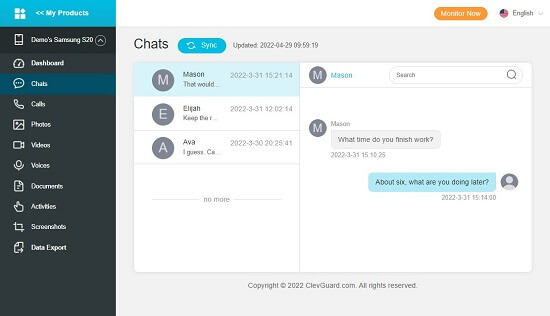 What Can KidsGuard for LINE Do to Monitor LINE Accounts?
KidsGuard for LINE is an impressive monitoring tool that can help you track details with these fantastic features:
The LINE monitoring app can track LINE chats including text and voice messages, even the deleted ones.
You can see all the shared documents on LINE like photos, videos and audios.
It also has access to the call logs, so you could see who they call and when they call.
You can also capture screenshots to see the what they are seeing in the real-time.
Data export is also available so you could check the acclivities in a systematic way.
2. Monitoring LINE Accounts Remotely on iPhone – KidsGuard Pro for iOS
Now that you know how to have 2 LINE accounts in iPhone, it's time to get KidsGuard Pro for iOS to track down the details of your loved one's iPhone. The monitoring tool promises no detectability and gives real-time results. The finest aspect about KidsGuard Pro for iOS is that it permits the installation of the monitoring tool into any iOS device without jailbreaking. It is an entirely safe-to-use tool and enables easy monitoring of almost all activities on the target phone. Get the installation completed with the simplest steps ahead in minutes and track remotely.
How to use KidsGuard Pro for iOS to Monitor LINE Accounts?
Getting KidsGuard Pro for iOS is quite simple. Take the steps of the following to complete the procedure successfully.
Step 1. Sign Up with Your E-mail & Subscribe a Plan
Sign up with your E-mail address on our website and make your purchase for the suitable plan.
Step 2. Download the KidsGuard Pro for iOS
Go to My Products and Orders Management and tap on Setup Guide following the guide to finish installation, including download KidsGuard Pro and install it on the computer.

NOTE:
In this part, if it's your first time to scan the iPhone, you need to scan the iPhone data with USB. The next time, you could do it with USB or with Wi-Fi connection.
Step 3. Log in and Monitor LINE Accounts
Log in to your account and find the dashboard. Open the dashboard and you could start monitoring LINE accounts in all aspects.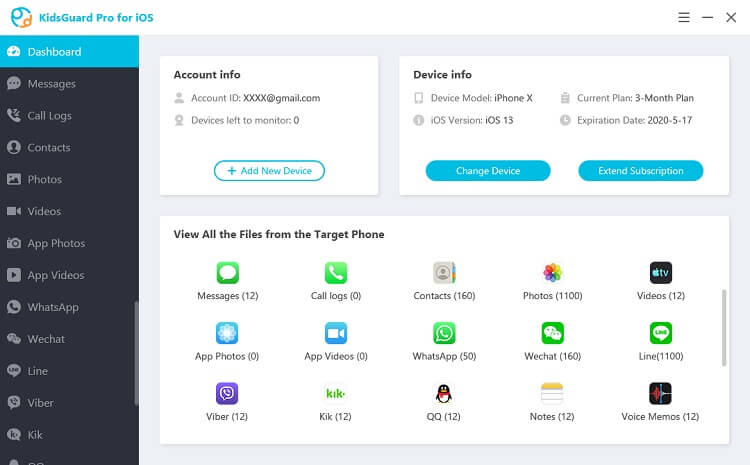 What Can KidsGuard Pro for iOS Do to Monitor LINE Accounts?
The KidsGuard Pro iPhone Monitoring app is a spectacular option for monitoring your loved one's iOS device. Use this monitoring tool to access these amazing features, including:
Social Media Apps Monitoring: This app covers all kinds of popular social media apps like WhatsApp, WeChat, LINE, Instagram etc;
View call logs: You could see who calls and the date and time of the calls.
Access to phone files: messages, photos, contacts, calendar and browser history, even the photos and videos you stored on apps.
FAQs about Using 2 LINE Accounts
1. How do I open a two LINE Account?
With these steps, know how to use 2 LINE account in Android and iPhone to start monitoring the target device.
Select the three dots in your main LINE app.
Tap on the inverted arrow.
Select Add Another Account.
Log in the necessities for the new account.
2. Is it feasible to hold 2 LINE accounts?
Yes, getting 2 LINE accounts on one device is possible. However, you will require a parallel or alternative LINE Lite app to access the same. Use the finest steps, obtain the LINE app, and commence today.
3. Can I use LINE on both iPhone and iPad?
Yes, using the LINE app on both devices is quite possible. A universal version of the application is available, which is compatible with both these devices.
Conclusion
Download the spectacular KidsGuard for LINE on Android or KidsGuard Pro for iOS on iPhone to complete your tracking with ease and security. The monitoring solution assures the best outcomes and promises no detectability. Track details remotely and gain access to the finest monitoring features with KidsGuard.