Discord is an ideal socialization app where you can meet like-minded people all around the world without any effort. But it becomes irritating when someone sends a message and then deletes it for everyone, mainly if the message contains essential information meant for harassment or distrust. In this case, you don't get the time to take screenshots and collect the evidence against them. According to a recent statistic, many people have been searching for how to see deleted messages on Discord but didn't get a satisfying answer.
But don't worry, we have found the best solution for you. In the session below, we have listed the three most effective methods to help you see all the deleted messages on Discord without hassle.
So, no matter how quickly the other person has deleted messages from both sides, you can retrieve them using these methods.
So let's get started!
One of the best ways to see deleted messages on Discord is by using KidsGuard Pro for Android. This app accompanied world best mobile monitoring technology that allows you remotely track your target mobile activities with just a few clicks. You just need to install the app on the mobile where you want to read all the deleted and edited messages on the Discord account.
Not only can you read your Discord messages but you can also read your kids, spouse, friends or employees as well. This app remains 100% hidden and the device owner will remain unaware of the app presence making it a perfect spying app. It has a simple user interface and you can easily operate the dashboard without any technical background. But it is important to note you can monitor only one device at a time and there is no free trial for the app.
Features of KidsGuard Pro for Android
Monitor messages
Besides Discord you can also monitor all the incoming, outgoing and deleted messages on the target mobile phone. This is an excellent feature that can help you to keep an eye on your kids or spouse text messages.
Listen and record call
KidsGuard also enables you to listen to all the ongoing and previous calls on the target mobile, making it an excellent app to catch cheating spouses. You can also record these calls and save them to your mobile.
Take screenshots
Apart from monitoring the target device activities, it also allows you to take screenshots and save your device as evidence.
Monitor location
Its geolocating feature helps you to monitor the real time and history location of your kid, spouse or friends. You can even mark the areas on map and get alert when the target device enters or leaves these areas. This can help you to find lost or stolen mobile phones.
View multimedia files
You can monitor all the multimedia files including audio, video, images, text files, calendar, reminder, contact and more.
Track social media accounts
KidsGuard Pro enables you to monitor all social media such WhatsApp, Instagram, Facebook, Viber, Snapchat and more. You can see their private stories, status, chats, call logs, and notifications without hessle.
Keyword alarm
You can set a keyword alarm on target mobile and KidsGaurd pro will scan all the conversation on the target device against these words. If it finds any word similar to these keywords it will immediately alert you on spot.
Record surrounding
You can also listen and record the surrounding sounds by enabling the microphone on the target device.
Record screen
Beside the screenshot you can also record the screen up to 3 minutes with the help of this app.
View search history of browsers, youtube and TikTok
Curious about your kid or spouse browsing history, this app can help you see all the search and watch history on browsers, youtube and TikTok. So, you can know what kind of content your child is visiting online and take action accordingly.
How to Use KidsGuard Pro for Android to See Deleted Discord Messages?
Step 1. Register KidsGuard Pro account
To see the deleted messages on Discord first you need register a KidsGuard Pro account. For this visit ClevGuard Official site and sign up using a valid email address. Afterward you need to buy a plan based on your need to use advanced features.
Step 2. Install the app
Once your account is fully setup you will be redirected to My Product and Management page. Here you will get the link to download the apk file on target mobile. Get the link and download and install the app on target mobile where you wanted to retrieve the deleted messages. Follow the on screen instruction and set up the app.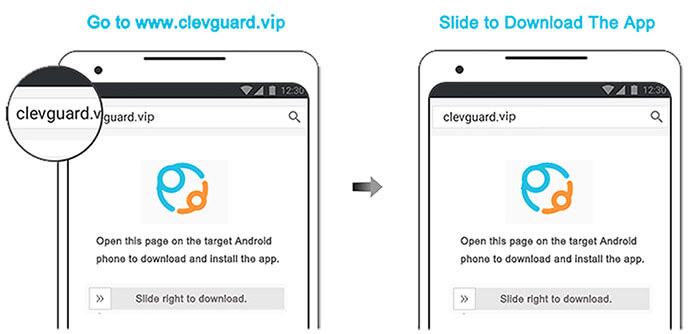 Step 3. Retrieve deleted messages on Discord
Now log in to your KidsGuard Pro account on a mobile or computer device, open the user dashboard and view all the messages on that mobile.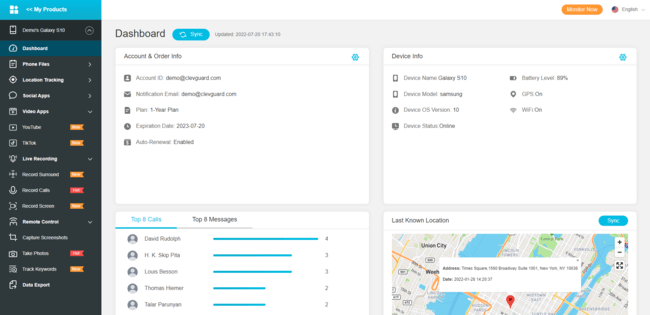 Method 2. Use BetterDiscord and Plugin to See Deleted Messages
BetterDiscord is another skillful option that you can use to view the deleted messages on your Discord account. It is an application designed by Discord to keep a track of all the edited messages, deleted messages and everything that happens on the server.
It is important to note you can only install the Better Discord on the computer not mobile device. Also, you will not be able to see deleted messages that have been deleted before the installation.
Step 1. Head over to BetterDiscord and install the app on your PC.
Step 2. Once you installed the BetterDiscord, next install MessagVlooger V2 plugin to enhance the functionality of the app.
Step 3. Now open Discord on your desktop, click on the gear icon and tap on User Settings.
Step 4. Scroll down the page to find Discord Header and click on the Plugin option under it.
Step 5. Open the plugin folder and the folder that contains the MessageVlogger plugin.
Step 6. Drag the MessageVlogger Plugin into the Discord Plugin folder.
Step 7. Enable the plugin and you will be asked to install a few libraries.
Step 8. Install and activate these libraries and you will be able to see the deleted and edited messages.
Method 3. Use YAGPDB Bot
If you want more detailed insight about your deleted messages then a MessageVlogger may not be enough for you. In that case try using a bot. YAGPDB (Yet Another General Purpose Discord Bot) is an excellent Discord bot that helps you to track all the Discord messages and the information related to them. Although it offers a wide range of moderation options, users report it is less user friendly and quite tricky to set up and manage. So, if you're a beginner it may not be a good choice for you.
Step 1. Go on YAGPDB official site and click on "Add to Server" in the top menu.
Step 2. Next Log in to the Discord and you will gain access to the bot's control panel.
Step 3. Now click on the select server and choose the server you want the bot to join. This will start the customization process.
Step 4. Assign the role to the bot and press Next.
Step 5. Follow the on screen instruction and complete the process.
Step 6. Now return to the Discord. Open your server and type -log to see all the deleted and edited messages on your Discord account.
Conclusion
It is easy to see all the deleted and edited messages on your Discord account with the help of third party tools like KidsGuard Pro, BetterDiscord and YAGPDB Bot. So, next time if someone harasses you on a Discord account and deletes their messages to remove evidence you can retrieve these messages  by using any of the above tools.
But it is important to remember BetterDiscord and YAGPDB can only retrieve those messages that are deleted after installation. It can not help you to see the messages deleted or edited before installation. In that case KidsGuard Pro is the ideal solution as it can help you to see all the deleted messages after and before the installation. Moreover, you can also keep a watch on your kids and spouse account as it offers a whole bundle of adventurous features.