If you are going to prefer Spyic as a remote monitoring app to take care of your children from any place, you should consider this post well. Here we will point out the complete Spyic reviews by testing this parental control app from different perspectives. It will cover its Features, Steps to Use, Pricing, and essential Pros & Cons.
As a bonus, later, you will come to know about its best alternative app, including similar monitoring features. You can surely try it if you do not want to use the Spyic app to secretly monitor your kid's activities!
Part 1: What Is Spyic
If you are looking for an effective child monitoring and parental control tool, Spyic is highly recommended. Using this app, one can easily track the location and monitor your young one's smartphone's activities.
You can use this app without the need to Jailbreak, Root, or do anything else to compromise a gadget's security. Hence, this app is also eligible for surveillance and control software for professional purposes. For instance, One can use it to supervise the work of the employee.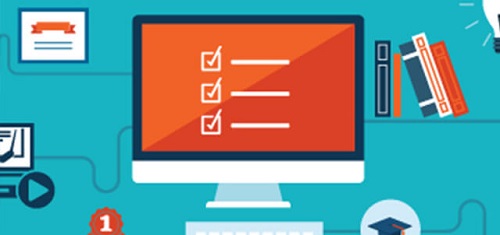 A user can install this mobile application on any smart device that supports Android 4.0 or newer operating system. Similarly, it works on almost all Apple devices currently running on iOS 7 or later versions. It works well on the background as an interception utility.
The app is responsible for tracking and uploading the details of every activity taking place on that phone. A user can log in to the account from any device using any browser remotely to access such information.
There are many reasons why it is one of the popular apps to spy on your children's smartphone on the internet. One among them is the Stealth Mode! For an iOS device, you will not need to install this app on the target device since you can handle it with iCloud credentials. It doesn't take much time to install on Android devices and does not even consume much battery while at work. You can also use the Spyic's control panel using any web browser. It can even help you uninstall this app whenever required, without touching the targeted device. Spyic is an entirely web-based interface with a Web demo providing a glimpse of its features and use process.

Part 2: What Can Spyic Do for You
There are more than 30 features that Spyic is claiming to offer to their app users. Let us have a quick look at all the main and useful options among them that contribute much to Spyic reviews.
1. Check call logs & contact info
A necessary feature that any remote-tracking software must have is to record the phone calls details. It must include all the calls that are received and made on the targeted smart gadget. Spyic can help you by offering you the needed details, like each call's time and duration. You can also come to know about the caller's identity.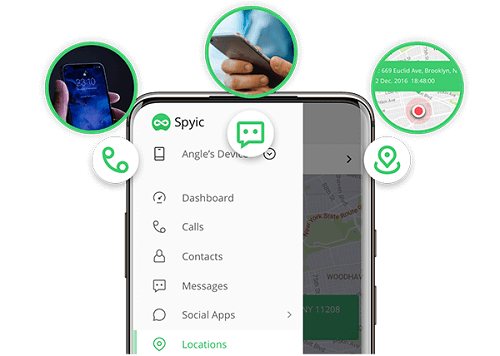 2. Read messages
Not every remote GPS tracker tool can get you content inside the messages received and send through a targeted device. Spyic is made to keep the records of almost anything happening on a Spying device with details. So you can view the person's name 'from or to' whom the messages have been shared from a gadget with the time logs.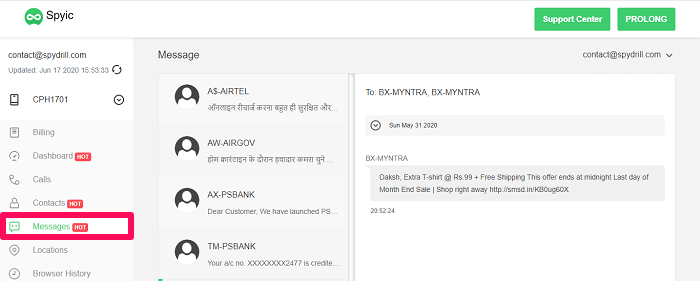 3. Track locations
If you need any mobile app that can track and inform you about the live area of any targeted gadget 24 x 7, then Spyic is one to consider. If you are busy enough and want to check the recent locations with their timings on a cell phone, the app can also do this very well.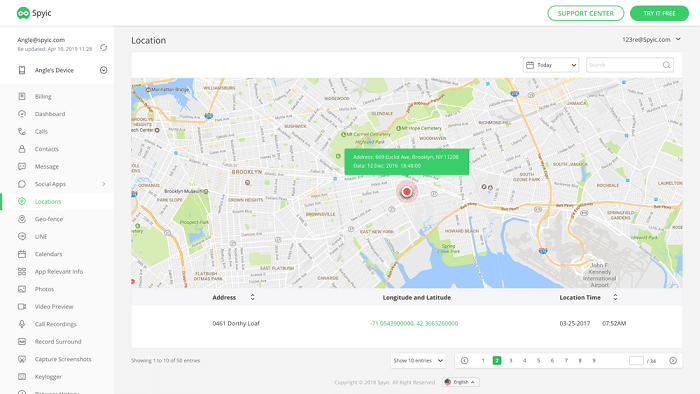 4. Access web browser history
It is a beneficial feature, especially if your child is all-time busy on his or her mobile phone to access the internet. It is necessary to know the sites visited or what is being searched on their browsers. In this way, you can better come to see your young one's mentality to better guide them as per.
5. Download media files
You can easily access all kinds of multimedia files. It includes photos and videos that have been taken, downloaded, or received from others on the targeted smartphone. It might be challenging to get exact details while accessing that kind of files directly on the portal. So you can have the option to download such media files and access them with clarity.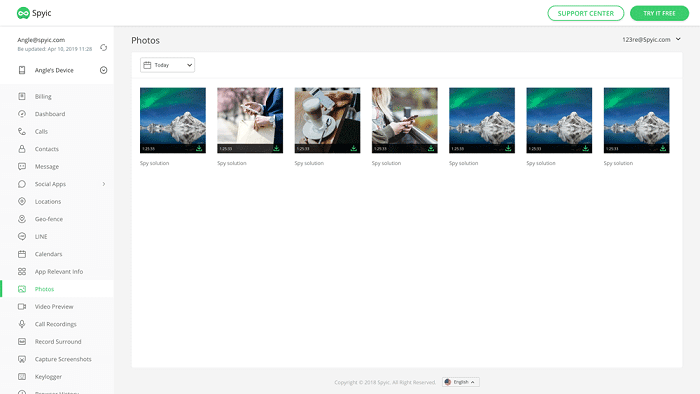 6. View social media activity
By this app, you can get the complete details of the social media activities happening on a targeted smart device. You can have access to multimedia like videos, photos shared using the same gadget, and related posts or messages.
Part 3: How to Get Started with Spyic
The whole process to install and setup the remote monitoring app, including both (your and the targeted device), is easy. It takes around 15-20 minutes to get it successfully done. Following is the stepwise procedure to install and use the app into two sections for each device.
Setting up your or your parent's device
Step 1. You can Sign Up and register for free on the Official website of Spyic provided at the top-right side of the portal.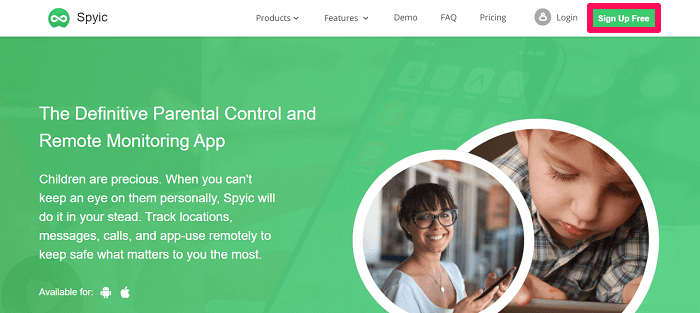 Step 2. The setup will want you to choose the kind of OS installed in the targeted device to be spied or monitored, i.e., either iOS or Android.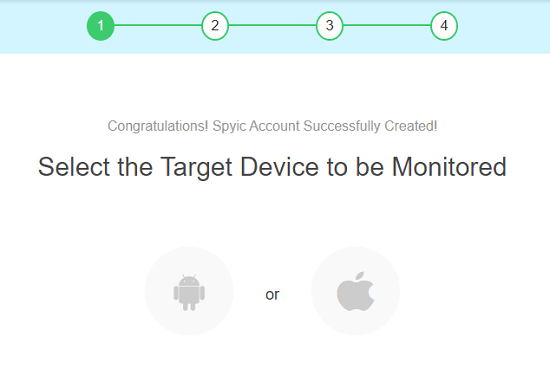 Step 3. Select a plan as per your need and budget and proceed ahead to fill up the targeted person's primary details.
Setting up targeted or child's/employee/spouse device
Step 4. There is a vital thing to note here. It is related to avoiding any interruptions happening while installing this app on the targeted android gadget. So, you first need to go to the Play Store and turn off its Play Protect feature. Here is how you can do it.
4.1 Launch the Play Store and click on the hamburger icon available at the top.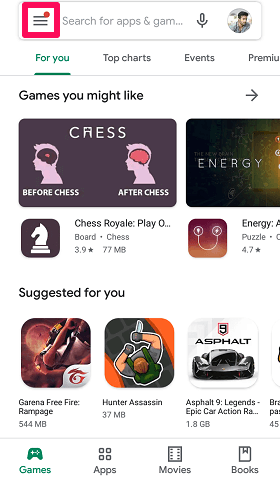 4.2 Choose the Play Protect option and click on the Gear icon seen on the top-right side.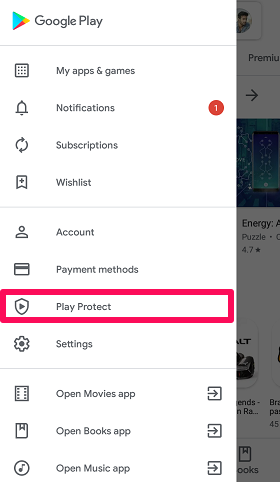 4.3 Turn off 'Scan apps with Play Protect' to enable the target device to accept the installation of unknown apps.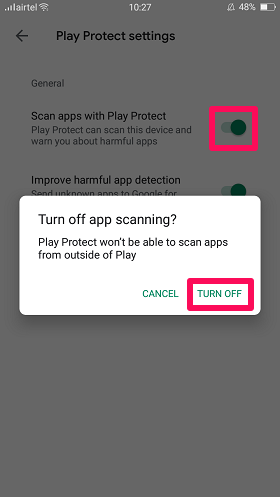 Step 5. Use the viptrack.pro to download and install the Spyic app on the gadget to be monitored.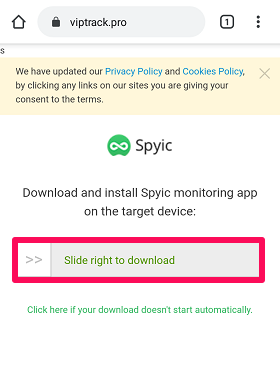 Step 6. You can check the details regarding what access it requires on the target phone and proceed with the installation.
Step 7. Tap on agree to confirm with their EULA and Privacy Policy.
Step 8. Use the same mail id and password to login to the Spyic account used while registering with Spyic on your device.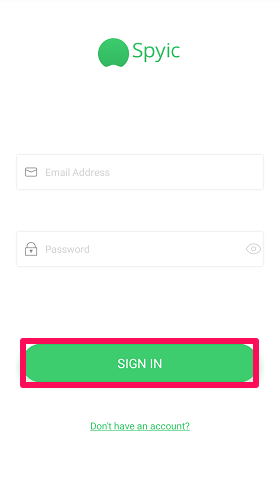 Step 9. You can check and give the app's permissions for accessing the calendar, SMS records, call history, media files, contacts, and more.
Step 10. Through the Auto-start management, enable "System Service" in your gadget. You can do it by clicking on the "PROCEED TO SETTINGS" option.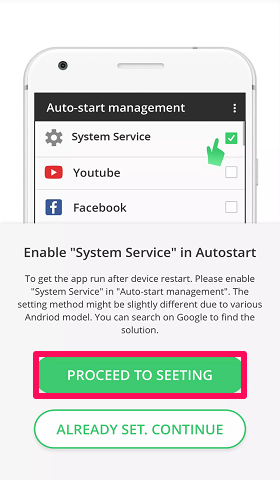 Step 11. After giving all the required permissions, the apps start monitoring the target gadget. At last, you can get the option to select from whether to 'Show the icon' of the app or 'Hide it' on the device.
Step 12. All set! You will start receiving the targeted device's required data without the need to touch or physically re-access it in the future!
Part 4: How Much Does Spyic Cost
For android devices, at present, three plans are available that also claim to offer a money-back guarantee of 2 months. They are Basic (ranges between $39.99 to $49.99/month), Family (priced among $69.99-$89.99/month), and Premium ( among $49.00-$69.99/month). Similarly, for iOS gadgets, you can choose from Premium (about $49.99-$79.99/month), Family (in between $99.99-$199.99/month), and Business (among $399.99-$699.99/month). They are also offering a considerable discount if opted for their 12 monthly bulk plan.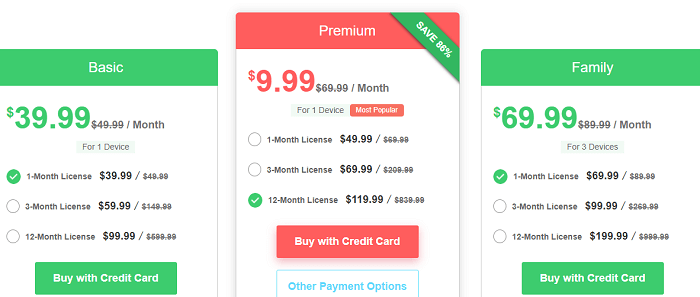 Part 5: Is Spyic the Best Option
After going through the above Spyic reviews, let us point out some downsides of the app. These will help us to identify. Is it the best parental control tool to match your needs?
Only the ultimate version can enjoy all the features

The price is a little expensive

The iOS monitoring doesn't work for an iOS device running iOS 12 with Two-factor authentication opened

Users report that technical support was completely unresponsive

Doesn't offer a free trial version
If you do not compromise with any or all of the above disadvantages, then there is the best alternative named 'KidsGuard Pro.'
Part 6: What Is Spyic's Best Alternative Monitoring App
By using KidsGuard Pro for Android, you can set up your phone monitoring app in around 3-5 minutes. It is 100% undetectable, offering full Data & Privacy protection and Real-Time Data Syncing. The app provides 24x7 client support. A helpful option is to set up Geofence and to get related alerts. You can access files remotely of more than 30 different file formats coving almost all popular smartphone apps. The best part is as compared to the Spyic, and this app is a more economical option with all the same features and latest updates.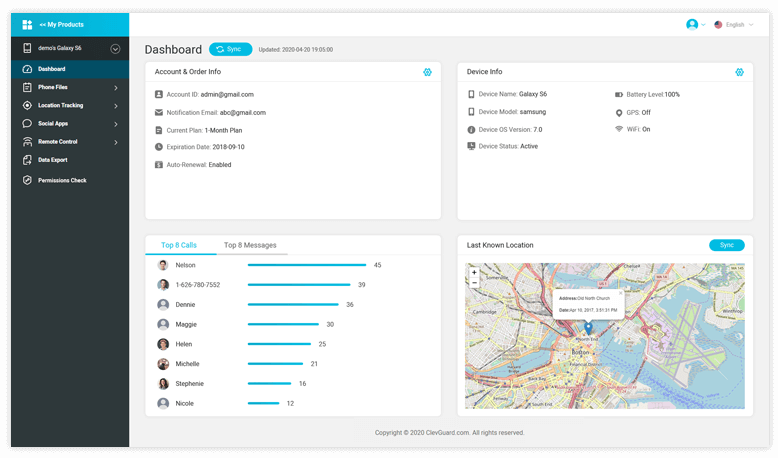 Likewise, you can get more details of KidsGuard Pro from its free demo!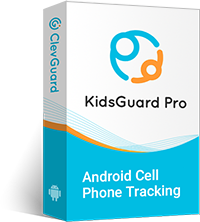 Many impressive yet powerful features
List of recent Messages and Calls with their respective contact names or numbers.

Quick Details of the last location shown on the map, including date, time, and address.

Current status of GPS, Wi-Fi, Battery level, and more of the target device.

Complete chat history and app activity in nearly all popular social apps, like WhatsApp, Facebook, Instagram, Snapchat, etc.