Looking for a quick match for casual dating? Do you want a nearby match for hooking up without any string attached? Having no luck on popular dating apps in finding a partner for starting your dating experience? You may need to switch to Pure App. Pure App has become popular as the perfect dating platform for casual hook-ups with matches nearby.
People who are not finding luck on serious dating apps, Pure App has become their destination for success. You can go for quick conversations and meetups to take things forward. Starting from flirting and adult conversations to causal dating and relationship with no strings attached.
Pure dating app is taking over the world. But is Pure App really worth the hype or is it just another scam? Read out our Pure app review to find out the truth.
What is Pure App?
Pure app is an app for casual dating where you can find matches from nearby areas to hook-up with no strings attached. The app is available for both Android and iOS users. The app is for adults only, and one can register anonymously.
There is no need for long profile details, and you can find matches for flirting, adult chatting, casual relationship, no strings attached relationship, and finding friends with benefits.
The chats are self-destructive in nature, and you cannot save the shared photos and videos in chats. Hence, you can have bold conversations without any hesitation. Moreover, you can have video chats to know your match virtually. The app also alerts users of potential scams so that they can avoid falling into the traps of scammers.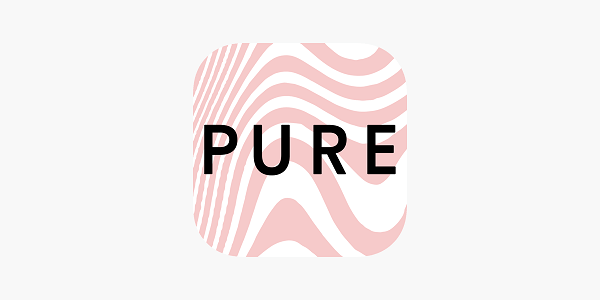 What are the Features of Pure App?
Here are the key features of Pure Dating App that need to highlight in our Pure App review. You can understand how it is different from other dating apps.
1. Stay Anonymous:
Unlike other dating apps, you can register on Pure anonymously without revealing your personal data. In fact, you do not have to showcase your personal information on your profile. All you have to provide are your photo and location, and you can get started and get your match as per your requirements.
2. Time Limitations:
Pure is based on the one-hour time limit. Once you log in and post your requirements, your post will be visible for one hour only. Therefore, you have one hour to find a date, and hence, it is considered quick and fast as a platform. Your post will be visible to those online for the next 60 minutes. Once done, you have to redo the process, and that is how you can get a date quickly.
3. Secure Chatting:
Pure App does not allow users to download shared photos and videos in a chat. Even when the other person takes screenshots, you will get notified. There is end-to-end encryption, and the chat self-destructs in after 24 hours. However, if you mutually agree, you can extend the timer to keep the chats longer.
Besides, the app alerts you about potential scams, and there are options for video calling and calling an Uber to meet your date instantly. Moreover, you can search for matches in your desired city and hence, it is not restricted by distance only.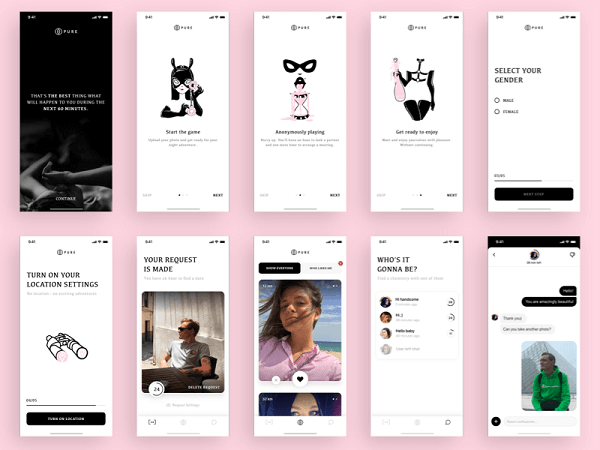 How Does Pure App Work?
Let us review Pure app in terms of how it operates. The main motto of Pure dating app is instant hook-ups. The app does not want its users to waste time in finding a match as per their preferences. Therefore, it does not need you filling profile with personal details and descriptions. The app uses your location to find women nearby you.
Pure app operates on the principle of on-demand service. Your post and your profile will only be visible to women who are online. Once your use "post for one hour", your post with your requirements will be sent to online women for an hour, after which your post will be removed.
Therefore, the inactive and offline profiles get eliminated automatically. Hence, you can contact the interested women instantly as they are available online.
You will also see online women near you for one hour, and if you are interested, you can send a heart. If the woman likes you back, you can start chatting. Once you two find a match in one another, you will have 24 hours to arrange a meeting.
After 24 hours, your profile will no longer be visible, and the chats will also self-destruct. You have to renew and start afresh again to find your match again.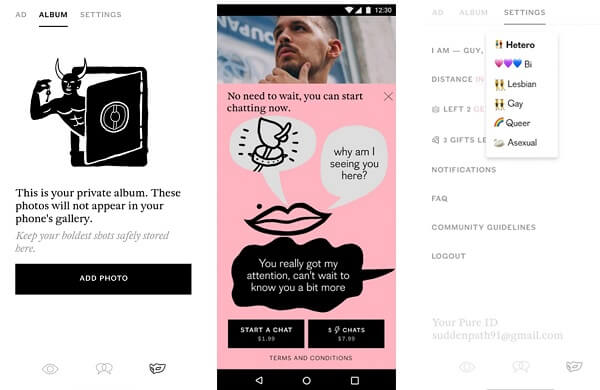 Is Pure a Good Dating App?
Let us come to the main part of Pure review where we are going to weigh the positives and negatives of the app. After going through this section, you can easily decide if Pure is good for you, or you should opt for an alternative dating app.
1. Pros & Cons of Pure App
Here are the benefits and drawbacks of Pure App that you should be aware of.
Pros –
Instant match finding with those who are available online.
No need for revealing personal data in public and hence, maintaining anonymity.
Complete privacy in chatting as no downloading of media files is allowed.
More likely to find new potential matches based on when you are online.
Cons –
The app needs your credit card information during registration.
It is more for those who want to hookup with no strings attached.
The one-hour time period to find match could be too short at times.
Not so useful in certain locations where there are not many Pure app users.
2. What Are the Users Saying on Trustpilot?
Now let us look at Pure App reviews from genuine users that we have gathered from Trustpilot.
"While PURE has its good side it is also a playground for scammers with the latest scam" – Lar (3-star rating)
"Instantly arranged a meeting with a really attractive guy and we spent a few great hours. I'm speaking with other attractive guys as well. Surprised how great an experience it has been so far on the app" – Abi (5-star rating)
"Pure is made up of cam girls and sex workers. They want PayPal or Payment upfront for interaction. Could not find genuine girls who are interested" – Grimly (1-star rating)
Is Pure Free?
Pure app is particularly for males to find females. Hence, the app charges male users but it is free for female users. You can download the app for free and open your open. But unless you have a paid membership, your photo will not be sent to any woman. Here are the subscription plans of Pure App for male users.
1 week plan - $14.99
1 month plan - $29.99
3 month plan - $49.99
1 year plan - $64.99
Bonus: How to Know if Your Partner is on Pure App or Not?
Since Pure app is designed for instantly finding dates with no strings attached, many adults get attracted to the app. In fact, people in relationships cheat their partners behind their back by flirting, sexting, one-night stand, and much more by getting matches from Pure app.
If you want to know if your partner is on Pure or not, we recommend KidsGuard Pro app that you must install on your partner's phone. The app stays hidden on the target phone and shows you if the person is using Pure or any dating app.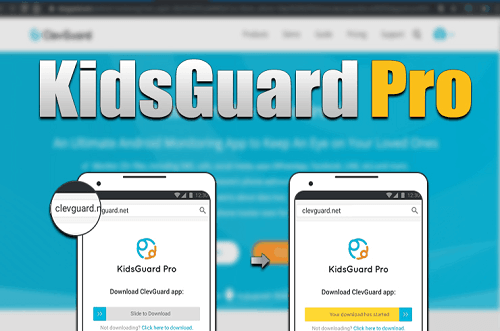 Is Your Partner on Pure App? - Check in 3 Steps
Here is how to deploy KidsGuard Pro for Android app and find out if your partner is on Pure.
Step 1: Create A KidsGuard Pro Account
Register an account for KidsGuard Pro with your email address. Choose a proper plan as per your preference.
Step 2: Deploy KidsGuard Pro App
Get your partner's phone and download KidsGuard Pro for Android from www.clevguard.net. Install the app and set it up properly. The app will stay hidden and hence, your partner won't know about it.

Step 3: Find Out The Truth
Log into your KidsGuard Pro web account from any device. You must see your partner's device name. Go to Dashboard > App Activities. If he is using Pure app, you will see it on the list of all the used apps with screen time and daily frequency.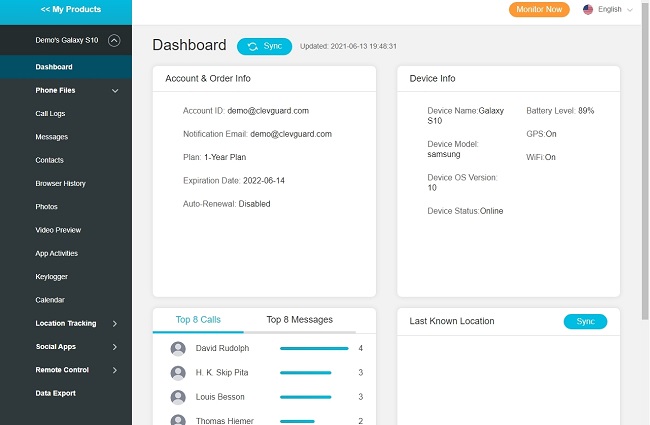 Key Features of KidsGuard Pro
Here are all the features of KidsGuard Pro for Android that can help you track your partner's phone activities.
Social Media Monitoring

You can track your partner's social media activities on all the popular social media apps. You can check on the conversations he is having on social media apps along with the media files shared.

Track Call Logs and Messages

You can check your partner's call history to find out who he is talking to regularly. You can also check on the text messages sent and received to find out if he is texting strangers.

Record Calls

You can record your partner's calls in real-time and listen to the conversations whenever you want to. These conversations stay available on Dashboard and you can download them any time.

Track Location

You can track your partner's real-time location on the map. Besides, you can check on his location history to find out if he is venturing in unknown places. You can set a safe Geofence so that when your partner crosses the safe virtual area, you get instant geofence alerts. You can then track your partner in real-time to find out his whereabouts.

Take Photos and Screenshots

You can check who your partner is with at any time by taking a photo of the surrounding with your partner's phone camera. KidsGuard Pro for Android lets you get access to your partner's phone camera in real-time from Dashboard. Besides, you can take screenshots of your partner's phone in real-time to find out if he is using Pure app or dating app.

Check Media Files

You can check all the photos and videos on your partner's phone. These include the media files from apps as well and hence, you can find out if he is getting any adult photos from women.

Check Browser History

You can confer a lot from what your partner is searching online on his phone web browser. You can visit the websites he has visited directly from your Dashboard as well as find out his search queries.
How to Keep Safe on Pure App?
Here are some steps you need to take if you are on Pure App.
1. Stay Away from Spy App
Scammers are active on Pure app and they open fake women accounts. They can send links to download spy apps that look normal but steals login credentials and financial details. That is why we recommend you install ClevGuard Anti-Spyware app on your phone while using Pure app to detect and remove spyware and malware with real-time protection.
2. Stay Away from Paid Hookers
There are real women available on Pure app who are ready for adult chats and one-night stands, and much more for money. They ask for payment upfront, and hence, you can identify them and stay away from them by all means.
3. Watch Out for Pure Scam Notifications
Pure app itself detects scammers from their trigger words and alerts users to be cautious. Therefore, watch out for the warning messages and act accordingly to prevent yourself from further trouble.
4. Do Not Share Personal Details
You should not reveal many personal details such as your exact address, phone number, email address, adult photos or videos unless you have a video chat or meet the date in person. There are cases of blackmailing, money extortion, and even identity theft reported by users.
Are There Alternatives to Pure Dating App?
If you are not satisfied Pure review app, here are the alternatives you can try out.
1. Tinder
Tinder is the most popular dating app, and if you can invest some time on the app, you can find matches that are ready for instant dates and hook-ups. Since it is extremely popular, you will find matches from nearby areas easily.
2. Coffee Meets Bagel
From casual hook-ups to serious dating, the app is perfect for all users. Starting from personalized matches to a seven-day chat limit, the app is a great alternative to Pure app.
3. OkCupid
OkCupid is equally popular as Tinder and the free version has enough features to find your right match. You can select your requirements such as a hookup or a serious relationship, and you will find matches accordingly.
4. DOWN App
The app is perfect for casual hook-ups and fun for adults. In fact, the app is suitable for finding one-night stands partners, and you can use the swipe function, and you can find the perfect match.
Conclusion
We have provided you with a detailed review of Pure dating app. You can easily decide whether the app is suitable for you and you should try out the different alternatives. We have also illustrated how you can find out if your partner is using Pure app and cheating on your behind your back. We recommend you install KidsGuard Pro on your partner's phone to track all his phone activities secretly.