Are you concerned about what is going on with your kids everyday and they won't tell you? It is reported that over 90 percent of teens have cell phones at their disposal. As a result, inappropriate content and bad intentions are easily shared through cell phones and can pose a huge risk for your kids.
Imagine if you could monitor all activity your children are happening, and there is a way to do that without having to ask your child for their device. Wouldn't that give you some peace of mind? In this guide, we will show you how to track activity on iPhone for free.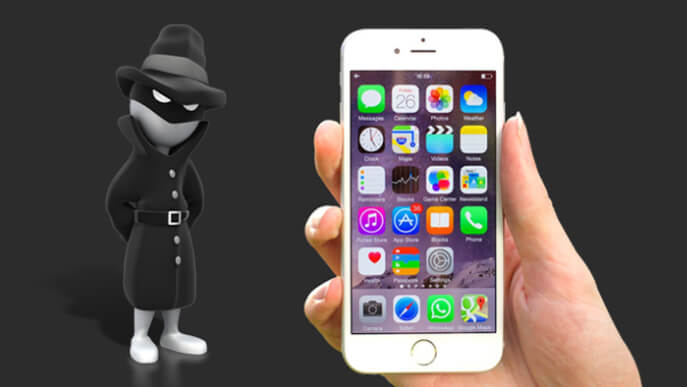 How to Track Activity on iPhone for Free with Screen Time
Screen time is a great feature included in iOS devices running iOS 12 or later. It allows you to track installed app activity including the total spent time, block or limit specific apps, restrict explicit content and other information. It's free and it's very effective if you want to know what your children are doing with their time. The same goes for your partner as well. If you're interested, keep reading on how to monitor iPhone activity by this method easily.
Steps to Track iPhone Activity with Screen Time
Step 1: Hold your target iPhone, open Settings and swipe down to find Screen Time.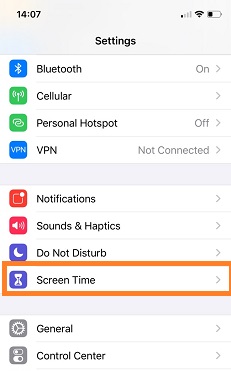 Step 2: Tap Continue. The first time you open Screen Time, you'll see a splash screen, then tap This is My Child's iPhone.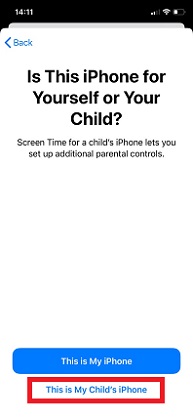 Step 3: Follow the prompts to customize Downtime, App Limits, Content & Privacy, and set your Parent Passcode.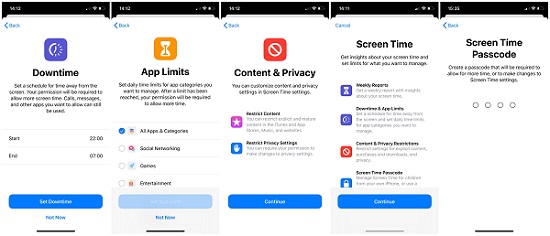 Step 4: Now, you'll receive reports regarding how much they use their phone and on what. If you're setting up Screen Time on your child's or partner's phone, you can use the Family Sharing feature to control the device connected to your iCloud account. Just head to Settings > Your Name > Family Sharing > Screen Time.
A very convenient feature of this iPhone usage tracker is that you can create your own password to protect the settings. It's helpful if your children or partner figures out that they are being monitored, they can't change the settings.
NOTE:
1. It only shows the spent time of each app. There is no way to see what they are doing specifically, like sent or received messages, browsed content, etc.
2. Your target will be notified once Screen Time is enabled. For example, when the bell tolls, a white screen appears: "Time Limit. You've reached your limit on WhatsApp (or your chosen app)."
Can I See What Someone is Doing on Their iPhone without Them Knowing
If you're willing to check out someone's specific activity on their iPhone on the go, you have to go a little further than Screen Time. There are a lot of iPhone activity trackers available online which letting you instantly access all the important data of the targeted iOS device.
Among all of the iPhone activity trackers, KidsGuard Pro for iOS makes the task of tracking the activity of someone's device incredibly straightforward. This one has a bunch of features, perhaps the most comprehensive I've seen. What's more, I can say with surety that it has got everything that it takes to let you track someone's iPhone stealthily.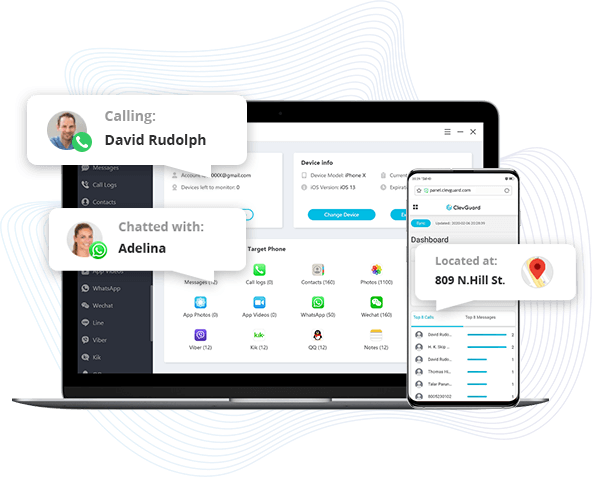 There are three basic steps to getting started with KidsGuard Pro. Let's take a detailed look at them.
Steps to Monitor iPhone Activity with KidsGuard Pro
Step 1: Sign up with your valid email and buy a license for iOS plan.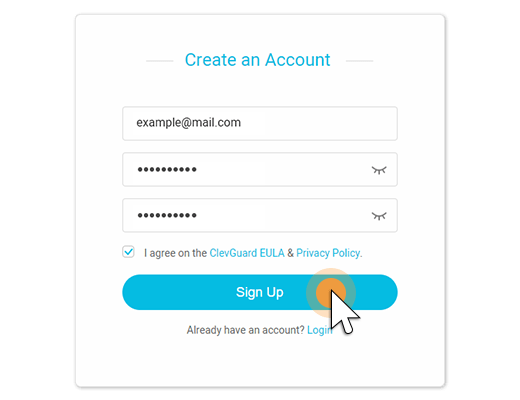 Step 2: Download the app onto the target computer. After that, click the downloaded file to install it. Device name, device serial, backup data, etc. will come up and you will have the freedom to precisely select the device you want to monitor. If the iPhone you want to track is not on the list, you can connect it with the computer to generate data.
It is noted that you have the choice to hide the app icon of the target device. It means you can keep the app invisible if you don't want the owner of the target device to know that you're monitoring them.

Step 3: As the scanning is done, you'll have access to all data on the target device. To further analyze data from any particular application on the target iPhone, you can export it to your computer and save it for future use.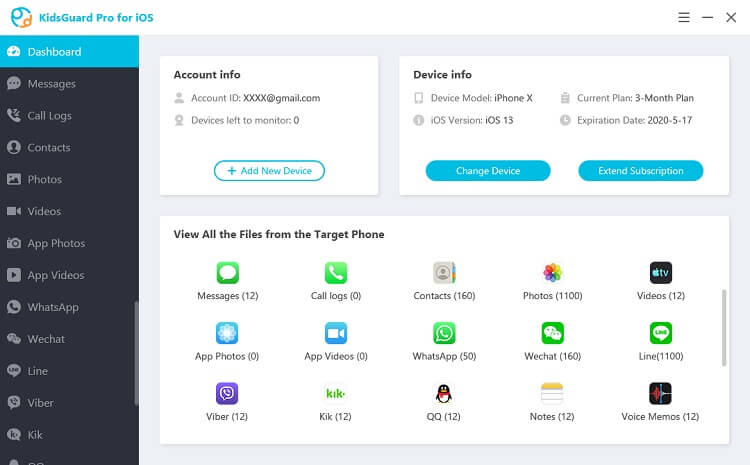 Now you have learned how to monitor iPhone activity with the best Apple activity tracker. Why not go to KidsGuard Pro free demo and see how it look like?
What Activity Can You Track:
KidsGuard Pro is a one-stop monitoring solution that provides most comhensive features in one package. With this tool, you can track:
Social media chatting: You can view messages, photos, videos, voices exchanging on WhatsApp, Kik, LINE, Viber, WeChat, QQ.
SMS and iMessage: Outing, incoming and deleted messages can be tracked as well.
Media files: You can check out the photos, videos, and voice memos.
Text files: You can view call logs, contacts, safari history, reminders, calendars and notes.
Extra Tips to Ensure Your Child Online Activity Safety
Safety on the internet ultimately comes down to individual users. Before you get into how to monitor iPhone activity for free, you should strengthen their browsing habits. So, it's important to follow some internet safety rules in order to keep safe from all the chaos.
Keep phone system up to date: Each update comes with new security patches and features that make it harder for the bad guys.

Be careful with the downloads: Don't click on any random download button from unverified websites.

Safe browsing: Phishing is still very relevant and one of the most common ways to get your information.

Don't disclose too much: Protecting yourself and your loved ones start from protecting your information. So, always disclose as little as possible.

Using a VPN: A VPN will mask will your IP address and won't let any intruders pinpoint your exact location. It's a great way to stay and keep your loved ones safe.
Ending
Knowing how to track activity on iPhone can be a blessing. You can protect your children against the odds of the internet and have a precise idea of what they are doing with their iPhone.
We have introduced two easy ways to track someone's iPhone activity. One is by Screen Time, which is free to use. But if you want to check out specific content on certain apps, KidsGuard Pro for iOS is the best iPhone activity tracker for the advanced functionality and the ability to let you track someone's iPhone with the needed secrecy.