WhatsApp Status updates have been widely embraced because of their simplicity and the ability to share videos, photos, and text with your contacts. However, while Status updates can be a fun way to keep in touch, they can also pose a privacy risk if not used carefully.
In this article, we will delve into the world of WhatsApp Status updates, explain how to use them, and provide tips on how to protect your privacy.
Related Read: How to Share YouTube Video in WhatsApp Status?
Introduction
WhatsApp Status updates have become a popular way for users to share their daily activities and thoughts with friends and family. These updates are similar to Snapchat and Instagram stories, but with a few nuanced differences.
Section 1: Understanding WhatsApp Status Updates
To understand WhatsApp Status updates, it is essential to first understand what they are and how they work.
WhatsApp Status updates are a feature that allows users to share videos, photos, and text with their contacts for 24 hours. After 24 hours, the Status update disappears automatically. There are different types of Status updates, including text-only, photo, video, and GIF. Users can also add filters, captions, and stickers to their Status updates to make them more engaging.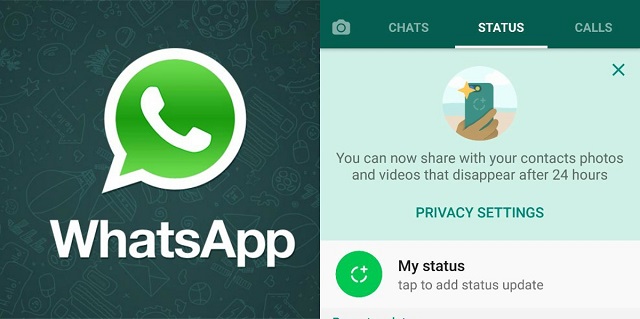 Creating a WhatsApp Status update is straightforward. Users can access the Status tab within the app and then click on the "Add Status" button to create a new Status update. Users can then choose between taking a photo or video or uploading one from their camera roll. After selecting the media, users can add text, filters, and stickers before sharing the Status update with their contacts.
To make the most of your WhatsApp Status updates, it is essential to be creative and engaging. Try to create content that will grab the attention of your audience and provide value to them.
WhatsApp status updates come in various formats to give users flexibility in expressing themselves. The platform offers three main types of status updates: text-based, photo and video-based, and animated GIF-based.
A.Text-based status updates: This type of status update is the simplest and most common. Users can type up to 139 characters of text to share their thoughts, emotions, or current activities. Users can also choose from a variety of background colors to make their text stand out.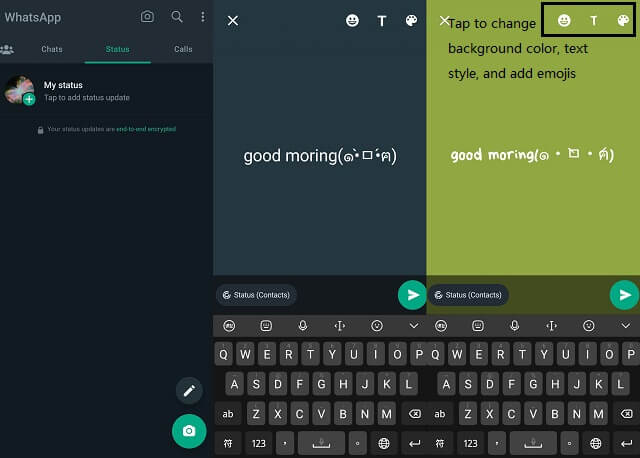 B. Photo and video-based status updates: Users can share photos and videos as their status updates, which can be up to 30 seconds long. Users can also customize their media with filters, emojis, and captions before sharing them.
C. Animated GIF-based status updates: WhatsApp also offers a library of animated GIFs that users can use as their status updates. These can range from funny memes to emotional reactions, and users can easily search for the right GIF to convey their message.
Related Read: How to Download and Use WhatsApp Stickers?
Overall, WhatsApp status updates allow users to share a snapshot of their lives with their contacts in a fun and engaging way. With the variety of formats available, users can choose the best way to express themselves and connect with others on the platform.
Section 2: The Importance of Privacy
Privacy is a crucial concern when it comes to using WhatsApp Status updates. Sharing too much information on your Status updates can lead to unwanted attention or even cyberstalking. Therefore, it is important to understand how to control who can see your Status updates and what information you share.
WhatsApp offers several privacy settings that users can use to control who can see their Status updates. Users can choose between a public and private Status update. Public Status updates are visible to all their contacts, while private updates are visible to only those contacts the user selects. Users can also choose to hide their Status updates.
Apart from hiding your WhatsApp status from specific contacts, you can also choose to hide it from all your contacts. Here's how you can do it:
Open WhatsApp and go to the "Status" tab.
Tap on the three dots in the top right corner and select "Privacy."
Under the "Status" section, select "My contacts"
Choose the contacts you want to exclude from seeing your status updates and tap on the checkmark in the top right corner.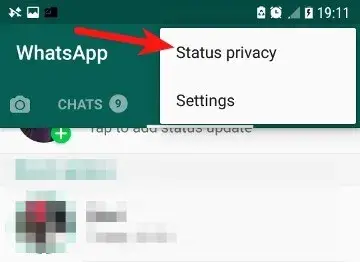 NOTE:
If you choose to hide your status updates from all your contacts, you won't be able to see theirs either.
Conclusion
WhatsApp status updates are a fun and easy way to share moments with your friends and family. However, sometimes you may want to hide your status updates from certain contacts or all of them for various reasons. Thankfully, WhatsApp offers privacy settings that allow you to control who sees your status updates, and you can also hide your status updates altogether. By following the steps outlined in this guide, you can easily hide your WhatsApp status updates from specific contacts or all of them, giving you greater control over your privacy on the app.