With WhatsApp - a free messaging app, users can text and video chat with anyone in the world who has access to the internet and a phone. It can be downloaded on almost any device, including your iPhone, and is especially well-liked by family and friends who want to stay in touch but live in different countries.

It isn't just a straightforward messaging app, though. For added privacy, end-to-end encryption is used for all photo and video sending, status updates, group creation, and group chats. Using WhatsApp on your iPhone is simple for texting, calling, or video chatting with people all over the world. Let's learn everything about how to download WhatsApp.
A Step-By-Step Guide: How To Download WhatsApp for iPhone from the App store?
The App Store on your iPhone is where you can get WhatsApp for iOS devices, just like other Apps. All you have to do to set up WhatsApp on your iPhone after downloading it is open the app and follow the onscreen prompts. You can download and install WhatsApp on an iPhone by following the exact steps listed below, which are also illustrated by the relevant screenshots.
However, there is a way to use WhatsApp without a phone number or SIM card. WhatsApp does require an active mobile phone number to function on an iPhone. You can download WhatsApp for iOS on your iPhone by following the instructions listed below. To know about how to download WhatsApp on iPhone, read these steps carefully.
Launch the App Store on your iPhone, enter "WhatsApp" in the search bar, and then tap the result when it appears.
Download WhatsApp on your iPhone.
Watch out for the download of WhatsApp onto your iPhone.
The next step after downloading WhatsApp is to set up the app on your iPhone.
Open the WhatsApp app that was downloaded to your iPhone.
Click Agree & Continue on the following screen.
Choose the country, enter your phone number, and then click Done. A six-digit verification code will be sent to your phone number by SMS message as soon as you enter your phone number into WhatsApp.
On the following screen, enter the six-digit Verification Code you were sent by WhatsApp. Don't try to close the window or change your phone number if you don't get the verification code. Wait five minutes, then tap 'Call Me' to have WhatsApp call you with the code.
Type your Name on the following screen and click Done. Your WhatsApp account is now ready for use, and you can chat with and call family and friends who are anywhere in the world using it.
Install And Use WhatsApp For iPhone
1. Upload Profile Photo
The next step after how I download WhatsApp is how to use it. You can edit your WhatsApp profile and upload a photo. Following the instructions below will allow you to edit your WhatsApp profile at any time if you forgot to upload a profile picture during the setup process.
Open WhatsApp and select the Settings tab from the menu at the bottom.
Clicking on your Name on the WhatsApp Settings screen will take you to the Edit profile screen.
By clicking the Add Photo icon on the Edit Profile screen, you can upload a profile picture. By tapping the Name and Status fields, you can also edit these two fields.
2. Add New WhatsApp Contacts
As soon as WhatsApp is installed and set up on your iPhone, it will automatically search through your Contact List and add contacts to your WhatsApp (only those who are on WhatsApp). You can manually add contacts to WhatsApp by using the steps below if some of your contacts aren't already using it.
Open WhatsApp, then tap the Chats tab in the bottom menu.
In the top right corner of your screen, on the Chats screen, tap the New Chat icon.
On the following screen from the menu, select "New Contact."
Type the Name, Phone Number, and other details on the following screen, then click Save Contact to WhatsApp.
3. Request Contacts To Join WhatsApp
You will need to send a WhatsApp invitation to any contacts on your iPhone who are not already using the app by following the instructions below.
Open WhatsApp and click the Chats tab in the bottom menu.
Select "New Chat" from the Chats screen's icon list.
Scroll down to the next screen and select the option to invite friends to WhatsApp.
On the pop-up, choose the invitation-sending mode by clicking on Mail, Message, or another option.
Select the contacts you wish to invite to WhatsApp from the Contacts screen.
When you're done choosing contacts, tap the Send Invite option to send a pre-made WhatsApp invitation to your contacts. This is how you can invite them to download WhatsApp.
Bonus Tip: Protect Your Kid's Online Safety
Now that you know how to download WhatsApp on iPhone, move to protection. Normal security measures may not be sufficient when a child is using your computer. Due to their inherent qualities of innocence, curiosity, independence, and fear of punishment, children pose additional difficulties. When deciding how to safeguard your data and child, it would be beneficial to consider these factors.
Another serious threat, especially to children, comes from online predators. Due to the secrecy of the internet, it is simple for users to misrepresent themselves and manipulate or trick other users.
One of the Best iPhone Monitoring Tools to Watch Over Your Kids is KidsGuard Pro for iOS. It comes with more than 20 cutting-edge iOS monitoring features for employers and parents, allowing you to keep tabs on almost all activities occurring on the targeted iPhone or iPad.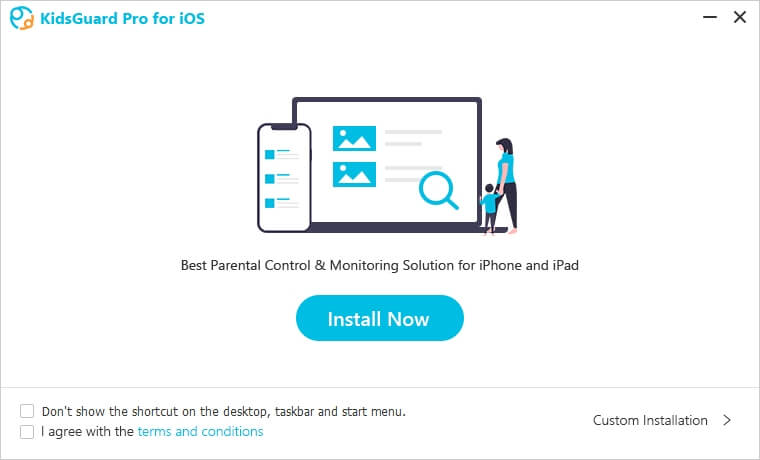 It keeps track of conversations on Wechat, QQ, LINE, Viber, Kik, and WhatsApp, as well as shared media files and emojis. You can easily get started using this iOS tracking solution in a matter of minutes because it doesn't require any complicated operations.
How to Set up kidsGuard Pro for iOS
Get The Plan You Want

You can first select and purchase a subscription plan.

Install Software on Your Computer

The computer being used by the person you want to monitor should have the KidsGuard Pro iOS app downloaded and installed.

Examine The iPhone's Data Both With And Without Wifi
Option 1: Perform a Wi-Fi-free data scan on the iPhone
Option 2: Examine the iPhone's data using wifi
Begin Monitoring
More than 20 different file types will be shown by the program. Immediately start monitoring.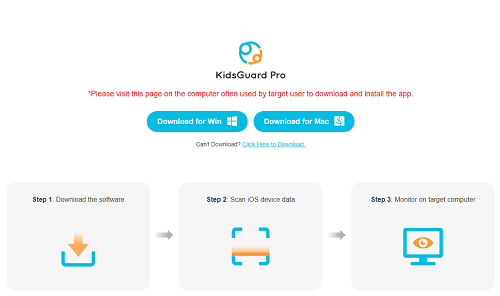 Bottom Line
That's it with how to download WhatsApp on iPhone. With WhatsApp, you can communicate with anyone in the world via messages and free voice and video calls. Use the instructions listed above to download and use WhatsApp on your iPhone, and don't forget to use the iOS parental control app KidsGuard Pro.