Are you suspicious of your partner? Do you feel that he/she is having an affair with someone else? Or is your child spending too much time on calls? Do you think he/she is talking to new social media friends? If yes, how can you know whom they are calling and talking to?
Don't worry! You could start tracking their phone and messenger calls to know what is really going on. But how can you track Facebook messenger calls?  There are different ways available make track Facebook messenger calls a piece of cake. This article will guide you on how to track Facebook Messenger calls in 2023.
How to Track Someone else's Facebook Messenger Calls?
Why do you need to Track Someone else's Facebook Messenger Calls?
We admit that tracking Someone's calls is against basic ethics, but when the matter is about your kid's safety or about partner loyalty, it's fair to track their Facebook messenger calls. Kids of the 21st century are highly active on social sites like Facebook, Instagram, etc. However, these platforms are not secure for kids, so most parents check their Facebook messenger calls and messages and try to find a way to set up parental control on Facebook. Additionally, if you see your partner behaving strangely and spending too much time on suspicious Facebook messenger calls, then this couple tracker app can help you clear your doubts. Moreover, if you are running a business and want to keep your data safe, you have to track the messenger calls of employees.
Can You Track Facebook Messenger Calls?
You cannot track someone else's Facebook Messenger calls directly because Facebook has strict security and privacy policies. You can not listen to or record Someone's Facebook messenger calls without getting their email or password. If you try to hack a Facebook account, Facebook asks you for two-step verification so the person can be alert. So the question is can I track Facebook Messenger calls with any other method? If you are still interested in messenger call tracking, you can use any third-party spy app or monitoring app for tracking Facebook messenger calls.
How to Track Facebook Messenger Calls?
KidsGuard Pro is an advanced monitoring app for android devices that has the ability to monitor 30 plus social apps like Snapchat, Instagram, Facebook, Messenger, Viber, WeChat, telegram, etc.; this app aid you in monitoring your loved ones' activities on all these social media apps.
How to Use KidsGuard Pro?
The KidsGuard pro is easy to use, and its installation and complete setup process take only 5 minutes. Anybody can install this app because it is super easy to download and install.
Step 1. Sign up using a valid email address, select your subscription plan.
Step 2. View the step-by-step instructions to install KidsGuard Pro on the target phone.

Step 3. You can log in on our website and visit the online Dashboard to monitor or track all these activities now all done.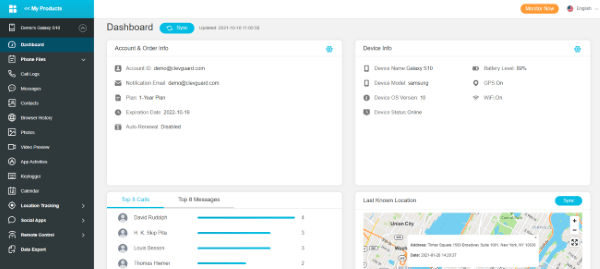 What Can You Do with KidsGuard Pro?
KidsGuard pro is are Reliable and powerful monitoring app that comes with all advanced monitoring features that assist you to do following things:
Monitor social media apps
View and Record Call Logs
View Messages
Capture Screenshots
Location History
Why Choose KidsGuard Pro to Monitor Facebook Messenger Calls?
KidsGuard pro app is the best option for you if you are looking for a messenger call tracking app. It is easy to use and you can easily check daily all incoming and outgoing calls of your kids or partner. For tracking calls, install KidsGuard pro, do set up, now go to the dashboard, it has many options but tap on " social apps" by clicking on this, it will show you different options to choose, select messenger, and you will see the history of chat and calls.
Additionally, it records all messenger calls by using the call recording option. When you see your kid or partner is on the phone. You can record a call without being noticed with the remote control option.  That's why it is a highly recommended messenger tracking app with no difficulty.
Tips: Wanting to Know If your Facebook Messenger Calls are Being Tracked?
Clevguard is an anti spyware app for the android app that has advanced algorithms to detect hidden and suspicious apps.
The primary function of Clevguard anti spyware is to protect the phone from harmful apps. It takes more resources in the background as compared to other anti-spyware apps and automatically removes harmful apps from android devices.
What Can Clevguard Do to Protect Your Phone From Being Hacked?
Clevguard is anti spyware which does a fantastic job and protects your phones from being tracked and hacked. This app has advanced features such as:
Real-time potation
Guard event
Email breach
Detect hidden apps, junk files
Delete threats
App audit
Customized blacklist report
App whitelist enumeration
The Clevguard app detects all suspicious apps and files۔It sends you a notification; it does the audit of all recently downloaded apps, removes all junk files, and protects your camera and microphone. If some apps try on your camera and microphone, it automatically detects the app and stops it. Additionally, this app stops email breaching and protects all official and sensitive information.
How to Use Clevguard for Phone Security?
Step 1. Go to the google play store to download the Clevguard app on your device and create an account using a valid email address.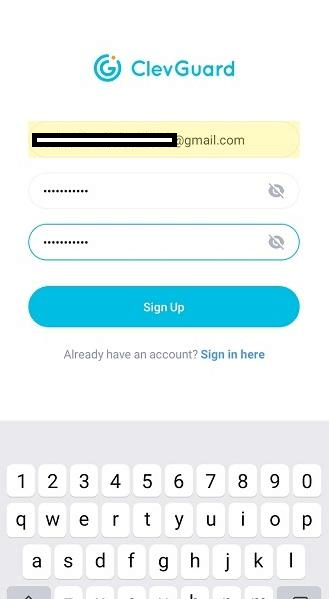 Step 2. Open this app and click on the Scan Button.It will ask for permission; allow it. And it will check either spyware is not on your device not.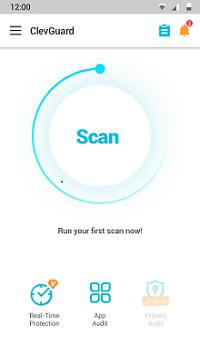 Step 3. After scanning, it will show the results. If you have suspicious applications, you can delete spyware by tapping on Resolve All.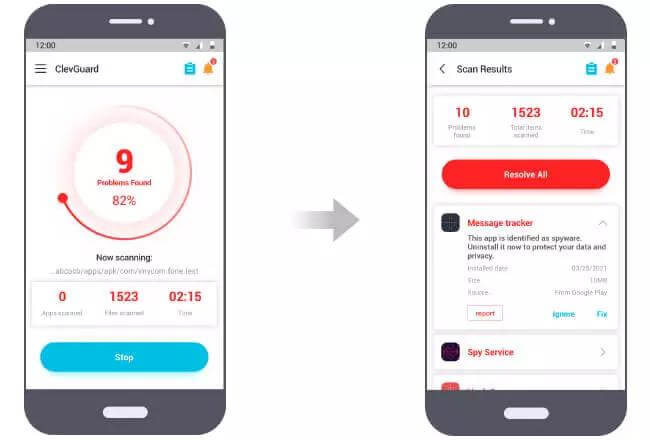 FAQs about Tracking Facebook Messenger
1. How can I tell if my partner is messaging in secret on Messenger?
People can have both normal Facebook messenger conversations as well as secret conversations too.
A padlock will appear next to the person's profile to tell you that the conversation is secret. So if this padlock sign is visible on the partner profile, that means the conversation is in secret mode.
2. Can Someone See my Messenger messages from another phone?
Yes, if that person is using any third-party spying or monitoring app, they can see your Messenger messages on their mobile device. But if you are using secret chatting mode, no one sees that conversation on any other phone, even if they know your password.
3. How to Stalk Someone's Location on Facebook Messenger?
If you want to locate the person with whom you are talking, then ask them to click on the four-dot icon if they are Android users.
After that, ask them to click on the location icon.
They will now see an option of allowing or denying. Tap on allow location access.
Request him or her to grant it permission by clicking on allow to use smartphone's GPS.
Now you can access their location.
4. Do call on Messenger show up on your cell phone call list?
No, Messenger does not show phone call history because it is a self-contained app; it does not show received and dialed calls on the phone call list.
5. How to Check Facebook Call Log History?
Facebook has no specific option to see dialed, received, and missed calls on your android phone. To check the call history of Someone, Go to your Messenger app and tap on his or her chat; in chat, you will see when he called you and when you dialed a video or audio call to him.
Conclusion
In this modern era, leaving your child at the mercy of mobile phones and the internet is not safe. Kids get evolved in different inappropriate activities like friendships with strangers, drug addiction, adult activities, etc. So it's better to monitor their activities with the KidsGuard pro application. But the main thing is, can you track FB messenger calls with KidsGuard pro? Yes, you can check their calls, messages, and all social media application activities like Messenger calls, Instagram chat, etc.
Additionally, you can monitor your partner or staff member's phones with KidsGuard pro.