App usage trackers have become increasingly popular among smartphone users, as they offer valuable insights into how we spend our time on our devices.
Whether you're worried about your own smartphone addiction or want to keep an eye on your child's usage, an app usage tracker can provide you with the data you need. In this article, we will explore the top app usage trackers for both iPhone and Android devices, helping you make an informed decision about which one is right for you.
Part 1: Why You Need an App Usage Tracker
In today's digital age, it's easy to get lost in the countless apps available on our smartphones. From social media platforms to addictive games, our time can quickly slip away without us even realizing it. This is where app usage trackers come in handy. By monitoring your app usage, these trackers can help you understand how much time you're spending on each app, allowing you to make more conscious choices about where to allocate your time.
Moreover, app usage trackers can be particularly useful for parents who want to ensure that their children are using their smartphones responsibly. With these trackers, you can set limits on screen time, block access to certain apps, and even track your child's location. By having this information at your fingertips, you can have peace of mind knowing that your child is using their smartphone in a safe and balanced manner.
Part 2: Top App Usage Trackers for Android
If you're an Android user, there are several app usage trackers available that can help you keep tabs on your smartphone usage. Here are four of the top options:
1. KidsGuard Pro for Android
KidsGuard Pro is a comprehensive app usage tracker designed specifically for parents. It allows you to monitor your child's app usage/activity including screen time and frequency, see all their phone files and even access their social media apps activities like WhatsApp, Snapchat and Facebook.

With its user-friendly interface and advanced features like monitoring browser history and keylogger, The phone usage tracker is a powerful tool for keeping your child safe and monitor their apps usage without them knowing. To use the app to track your kids or partner's phone usage, just download and install KidsGuard Pro Assistant from www.clevguard.net and you can check it remotely.
Pros

100% undetectable and safe.
Provide other parental control features like location tracking and geofence.
All Android phones and system versions are supported.
The data can be exported.
Cons

The software is subscription-based.
2. App Usage App
App Usage App is a popular choice among Android users who want to gain insights into their own app usage. This tracker provides detailed reports on how much time you spend on each app, as well as the number of times you open them. With its customizable features, you can set goals for yourself and receive notifications when you exceed your desired usage limit.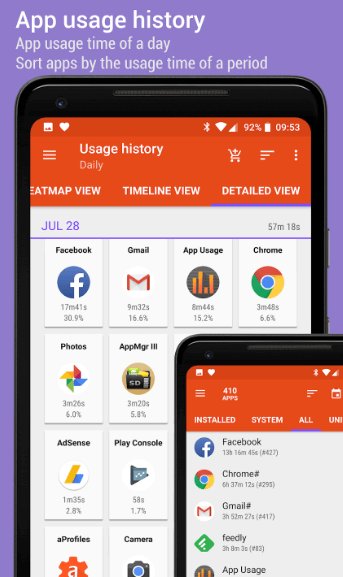 Pros

Report notifications of apps.
Show the battery used by each app.
Cons

It gets down sometimes and report wrong records.
The exported files don't include contents.
3. Quality Time
Quality Time is another highly rated app usage tracker for Android devices. It offers a range of features, including the ability to track your overall screen time, set usage limits for specific apps, and receive daily and weekly reports on your smartphone usage. With its intuitive interface and helpful insights, Quality Time can help you regain control over your digital habits.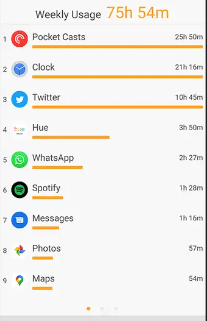 Pros

The dashboard is user-friendly.
Get alerts every day.
Cons

The time used by each app is wrongly displayed.
The app system gets wrong sometimes.
4. StayFree
StayFree is a unique app usage tracker that focuses on helping you maintain a healthy balance between your digital life and real life. It provides detailed analytics on your app usage, including the time spent on each app and the number of times you unlock your phone. StayFree also allows you to set reminders to take breaks from your device, promoting a more mindful and balanced approach to smartphone usage.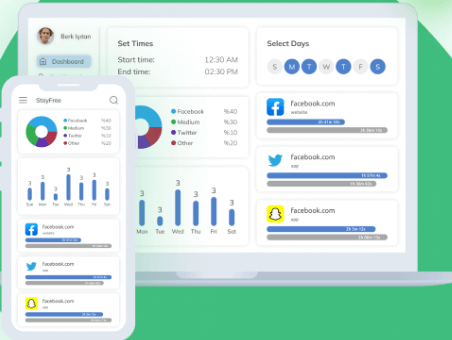 Pros

The app restrict function is good.
The time spent on each app is accurate.
Cons

Users often complaint about its user interface.
The data synced is inaccurate.
Part 3: Top App Usage Trackers for iPhone
For iPhone users, there are also several app usage trackers available that can help you track and manage your smartphone usage.
1. Moment
Moment is a popular app usage tracker for iPhone users who want to gain a better understanding of their digital habits. It shows your daily screen time, the number of times you pick up your phone, and the apps you use the most. Moment also offers features like daily reminders to take screen breaks and the ability to set daily usage limits for specific apps.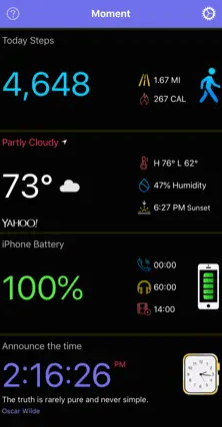 Pros

It sends notifications when your daily limits exceed.
Can cover family devices.
Cons

It doesn't show Weather app information.
It consumes phone battery largely.
2. WaRadar - App Usage Tracker
WaRadar is an app usage tracker that focuses on providing a comprehensive overview of your smartphone usage. It tracks your screen time, app usage, and even your sleep patterns. With its user-friendly interface and customizable features, WaRadar can help you develop healthier habits and reduce your reliance on your iPhone.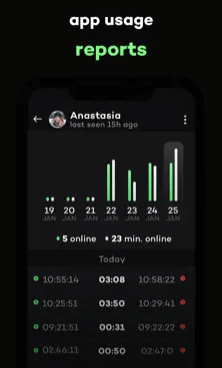 Pros

Support iOS devices and Mac.
Get detailed weekly reports.
Cons

It often doesn't work.
The developer does not give any support.
Many bad user reviews.
3. Offtime iPhone Usage Tracker
Offtime is a powerful app usage tracker that allows you to block distracting apps and notifications, helping you stay focused and productive. It provides detailed reports on your app usage, allowing you to identify your most time-consuming apps. Offtime also offers features like scheduling breaks from your device and setting up auto-replies to let others know that you're taking a digital detox.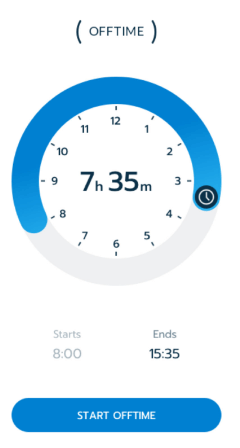 Pros

Tailored modes like Work and Family are available.
It offers analytical tools.
Cons

When all features are used, the battery consumes largely.
It crashes when opening the app.
The report is inaccurate.
4. Social Fever App Usage Tracker
Social Fever is an app usage tracker specifically designed to help you manage your social media usage. It tracks your time spent on various social media platforms and provides insights into your usage patterns. It has built-in reminders and usage limits.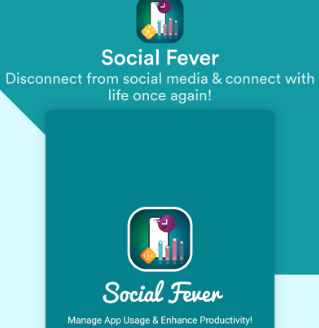 Pros

Limit different activities.
Can set up alerts.
Cons

The memory of your phone can be largely occupied.
It drains the performance of your phone.
Conclusion
App usage trackers are valuable tools for anyone who wants to gain insights into their or their kids smartphone usage and develop healthier digital habits. Whether you're an Android or iPhone user, there are plenty of options available to help you track and manage your app usage.
If you are parents who want to track app usage of your children, KidsGuard Pro is the perfect app usage tracker to suit your needs. So, remotely monitor and see their app and phone usage now with the app.