Question: How do I stop my Instagram ccount from getting hacked?
Instagram is extremely popular among teens, young adults, influencers, and celebrities. At the same time, Instagram is equally popular among hackers who hack Instagrammers and blackmail them under the threat of leaking personal photos and messages. That is why if you are a regular Instagram user, you should know how to secure your Instagram account from hacking.
You have to know how Instagrammers generally get hacked so that you can avoid those traps set by hackers. You should also know when your Instagram gets hacked so that you can take action immediately so that no further damage can be done. In this article, we will answer in detail how do I stop my Instagram account from getting hacked.
Part 1. How to Know if Your Instagram Account Has Been Hacked?
If your Instagram account has been hacked and your password has been changed, you cannot log into your account with the old password. In that case, you will know straight away that your account has been hacked.
However, if the hacker does not change the username or password, you can log into your Instagram account normally and you may not know initially if your account has been hacked. In such a scenario, you have to check for the following to know if your Instagram account has been hacked.
You find photos and videos uploaded from your account that you have not uploaded yourself.
You find messages that you have not sent as well as comments that you have not typed.
The number of Instagrammers you are following increases suddenly and significantly.
You get new login notifications on your linked email address.
You see unusual activities from Instagram Login Activity page.
You notice that your linked phone number and email address have changed.
Part 2. How Do You Get Hacked on Instagram?
There are different methods designed by hackers through which Instagram accounts get hacked. We are listing down the common methods that you should be aware of and avoid at any cost.
1. Spy App
Hackers can deceive you into downloading and installing spy apps on your device which looks like a normal app. Such a spy app hack your Instagram account without human verification and records activities and uploads them to hacker's web server. Besides, a spy app can steal your Instagram login credentials and even give remote access to the target person's device.
2. Keylogger App
There are many apps that we install on our devices which get access to what you type on your device. If one of these apps happens to be from hacker's side, the app can record your keystrokes when you log into your Instagram account. Therefore, the hacker will get to know your Instagram login credentials easily when the app sends them to the hacker.
3. Phishing Page
Hackers send you phishing page links through social media messages and emails. The content is generally so attractive that you will be tempted to click on the links. When the phishing page opens, you will see that the fake page looks exactly like Instagram login page. If you type in your login credentials, the credentials will reach the hacker's web server and your account will get hacked.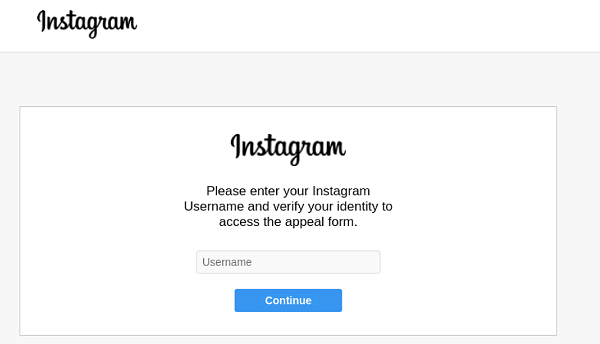 4. Third-Party Apps
There are various apps available that ask you to log in with your Instagram account. Once they gain access to your Instagram account, extracting your Instagram data becomes so easy. Even hackers hack these apps to get login credentials of linked Instagram users and hack their accounts.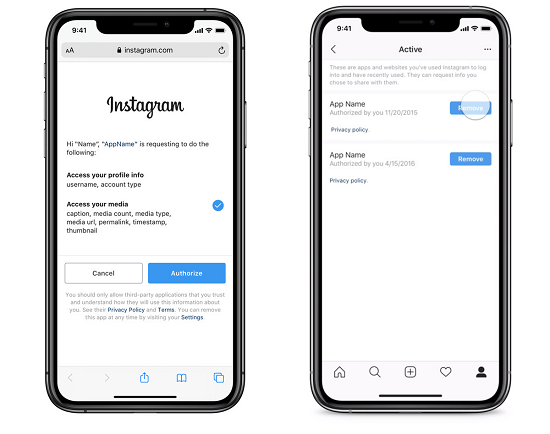 Moreover, if hackers can hack your email address, they can get access to the linked online accounts including Instagram. These are all the common ways on how do people get hacked on Instagram.
Part 3. How to Protect Your Instagram Account from Hackers?
Now that you know when and how Instagram accounts get hacked, it is time to focus on how to make sure Instagram is not hacked. There are various steps you have to take in order to ensure the security of your Instagram account and we are going to discuss them in detail now.
1. Use A Professional Software
The most secure way to ensure the safety of your Instagram account is by using professional software. We recommend the ClevGuard Anti-Spyware app that you must install on your device. The app can scan for hidden spy apps as well as prevent malicious apps from getting into your device.
How ClevGuard Anti-Spy Secure Your Instagram from Hackers?
Here are all the features of ClevGuard Anti-Spy app that will answer how to protect your Instagram account from hackers.
Scan Phone in Real-Time
ClevGuard Anti-Spyware app comes with a real-time protection feature. Once you turn on the feature, the app will continuously scan your device in real-time and alert you as soon as it detects any malicious app getting downloaded and infringing your device security.
Detect and Remove Hidden App
You can scan your device with ClevGuard Anti-Spy Scanner app to find hidden spy apps in your device that can hamper the security of your device as well as hack your Instagram and other online accounts easily. After the in-depth scanning gets over, you can review the threats and delete them at once.
Check Email Data Leakage
We have stated that if your email account gets hacked, your linked Instagram account can also get hacked as hackers can change password easily. ClevGuard Anti-Spy app lets you check if your email account credentials are leaked in any data leakage incident. The app also recommends security steps to strengthen the security of your email account.
Protect Phone Microphone & Camera
There are many spy apps available that give hackers remote access of your phone's camera and microphone secretly. ClevGuard Anti-Spy app can detect as soon as any app secretly accesses your phone camera or microphone. It alerts you immediately so that you can take action.
Clean Junk Files
Last but not least, you can clean the junk files on your devices with the app so that you can speed up your phone and free up storage space.
Prevent Instagram Hack in 3 Steps
Here are the steps to use ClevGuard Anti-Spy app and how to avoid being hacked on Instagram.
Step 1. Install ClevGuard Anti-Spy Scanner app
Click the "Google Play" button below to download ClevGuard Anti-Spy on your Android phone.
Step 2. Scan Your Device
Launch ClevGuard Anti-Spy app and tap on Scan button. Wait for the scanning to get over and you will see all threats on your phone. Review the list of threats and remove them with a single tap on "Resolve All" button.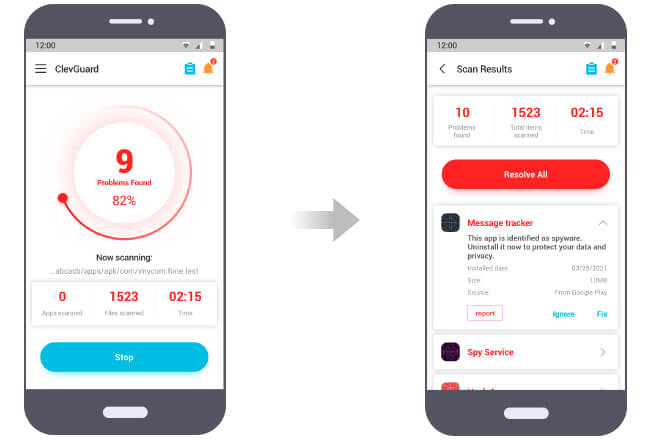 Step 3. Turn on Real-Time Protection
Go to Real-Time Protection tab at the bottom of the screen. Turn on Real-Time Protection and the app will monitor your device 24/7 and alert you when a threat is detected.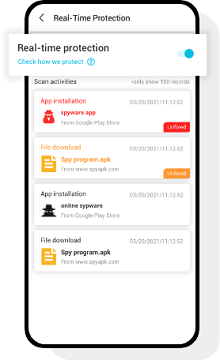 2. Don't Click Unfamiliar Links
Since hackers send links to make you download spy apps or get trapped in phishing pages, you should avoid clicking on any link coming from strangers. No matter how tempting the content is, unless the source of the message or email is from someone you know well, you should delete the message or email instantly.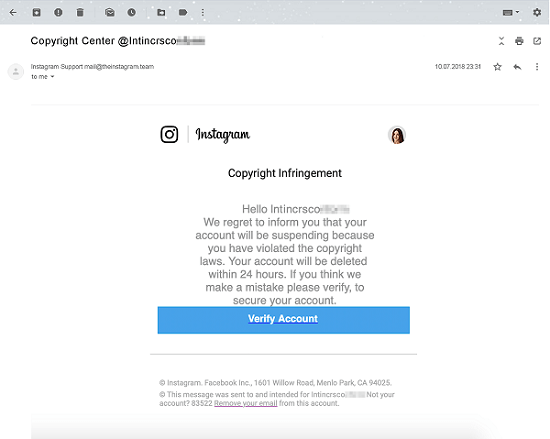 3. Use Two-Factor Authentication
Simply setting a strong password is not enough these days. You have to activate two-factor authentication so that even when the hacker gets your login credentials, he cannot get into your account.
When the two-factor authentication is turned on, along with the password, you have to enter OTP sent to your linked number or code generated in your linked authentication app. To activate two-factor authentication, go to Settings> Security> Two-Factor Authentication and follow the on-screen instructions.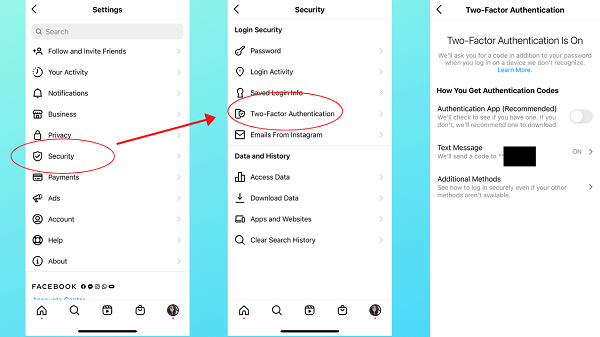 4. Do Not Log Into Third-Party Apps via Instagram
Do not give access to third-party apps to your Instagram account. There are several apps that ask you to sign up and log in through social media apps and you should not fall into their traps. Instead, you should sign up with your email address manually.
Besides, if you have already given access to your Instagram to various third-party apps, you can revoke the access by going to Settings> Apps and Websites.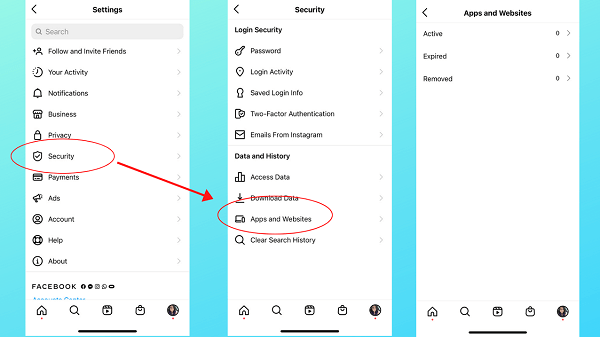 5. Secure Your Email Address
Most social media accounts get compromised when the linked email addresses get compromised. We suggest you create a different email address for signing up your social media accounts. You should not be using the email address anywhere else and that is how your email address will stay secured. Besides, you should keep changing the password regularly and enable two-factor authentication.
Part 4. What Should You Do When Your Instagram Account Has Been Hacked?
Even though we have stated how to secure your Instagram from hackers, your account can still get hacked due to hackers coming up with innovative methods. Therefore, you should know what you need to do when your Instagram account gets hacked.
1. Check Your Email Address
If your Instagram account has been hacked, you should have login notification email. If the hacker has changed the password, you must have intimation through email. Check such emails thoroughly and you will find options to revert the changes.
2. Forgot Password Option
If the hacker has changed your password, you can revert the change by opting for forgot password option. You will find the option on the login page of Instagram. Follow the on-screen instructions where you have to enter personal details to identify yourself as a real user. Thereafter, you will get a link to set a new password.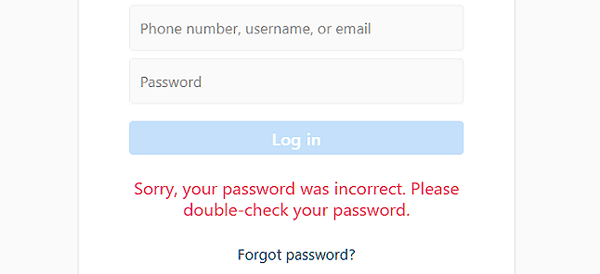 3. Contact Support Team
If the hacker has changed the linked phone number and email address, you have to get in contact with the Instagram support team. You can send an email to security@mail.instagram.com and let them know the situation. Besides, you can get more help with Forgot Password> More Help option.
Part 5. Final Words
We have explained how to know if your Instagram account has been hacked and what to do when your account has been hacked. Most importantly, we have illustrated how to secure Instagram from hacking. We recommend you install ClevGuard Anti-Spy app on your device and turn on real-time protection for 24/7 protection from hacking attempts through spyware and malware.