Question: Is there any app to block text messages?
Yes. Many people have found that spam text messaging can harm their work and personal life. If you're one of those people, you should consider downloading a text blocking app so you can stay focused on the task at hand.
This blog provides top 10 free text blocking apps. Moreover, if you wish to keep your child from this kind of spam messages, don't miss the tips to detect spam texts on their phone.
Top 10 Free Text Blocker Apps for Android & iPhone
Top 1. SMS Blocker
Price: Free.
Requirements: This app requires Android 5.1 and up, iOS 11.0 or later.
SMS Blocker is the Best Free Messaging App you will find on the play store. It is a very fast and reliable SMS blocking app.
It has an incredible number of features and gives you complete control over your phone.
SMS Blocker is easy to use; you can use it as your default messaging app, with no need for any additional setup. This app is an award-winner spam blocker communication.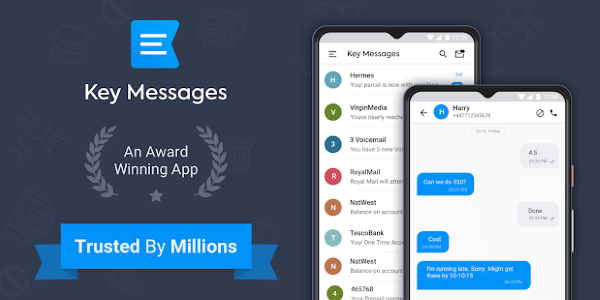 Top 2. Hiya Caller ID and Block
Price: Free (in app purchases).
Requirements: Requires iOS 13.0 or later.
If you get spam and unwanted messages from unknown or anonymous numbers, then you must use this app.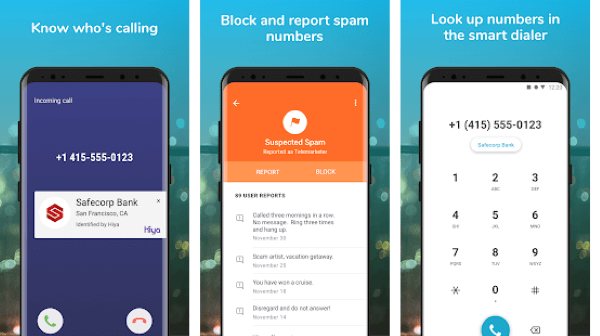 Top 3. Firewall Call and SMS Blocker
Price: Free
Requirements: Android permission is required. It does not work on Android 9 and 10.
A firewall is a best app to block texts on Android that allows you to configure many rules to block different messages and calls at different times. Periodic rule and one-shot time rule are supported.
To make sure a Firewall has a higher priority to monitor incoming messages, install a Firewall before other third-party messaging applications such as Go SMS Pro, Handcent, etc.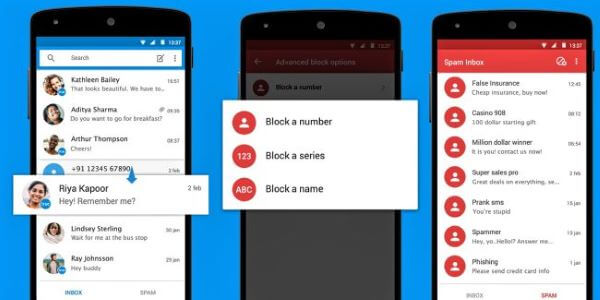 Top 4. Call Bliss
Price: $9.99
Requirements: Requires iOS 8.0 or later. For mac, it requires 11.0 or later.
With Bliss, you can freely silence or allow contacts via a contact whitelist or blacklist.
If someone is repeatedly trying to get in touch with you but hasn't made it into your list of allowed contacts, block them through the Ignored tab.
Bliss allows you not only one main whitelist and one main blacklist, but also regular lists in case there are various people you need to separate in your Do Not Disturb settings.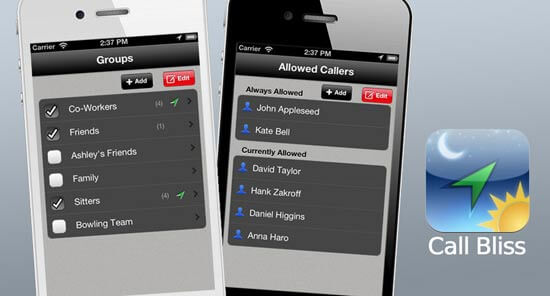 Top 5. VeroSMS
Price: It is available free but with limited features, also paid subscription of $9.99 with additional features.
Requirements: This app supports iOS 14.
VeroSMS is a new SMS spam filter app that focuses on maintaining users' privacy and on free speech.
It filters spam texts through crowdsourced data by getting keywords from the people in your region, and it also provides filtered keywords using an algorithm of its own.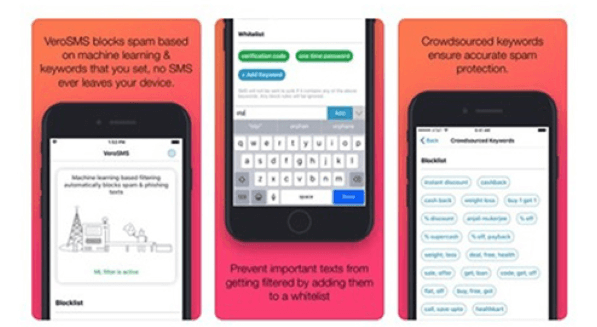 Top 6. SMS Shield
Price: Basic features are free. To access all the features you will need to get a premium version. The price starts at 0.99 per month.
Requirements: This app requires iOS 11.0 or later.
SMS Shield is a Machine Learning-based SMS spam filter for iOS that prevents people from receiving unsolicited messages.
This tool will automatically block messages that are considered spam, which can be promotions, advertisements, phishing attempts at stealing your sensitive information (e.g. messages pretending to be from your bank).
SMS Shield protects you by filtering out these unwanted messages by leveraging machine learning technology to block out information-stealing attempts.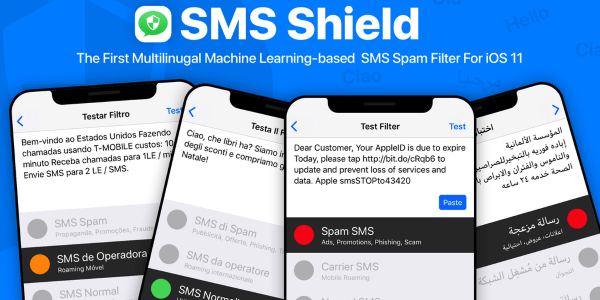 Top 7. Calls Blacklist
Price: $0.99 per item.
Requirements: Varies with device.
Calls Blacklist is both a call blocker and an SMS blocker. Its main function is to block calls and messages from unwanted, private (hidden, anonymous), or unknown numbers on your device.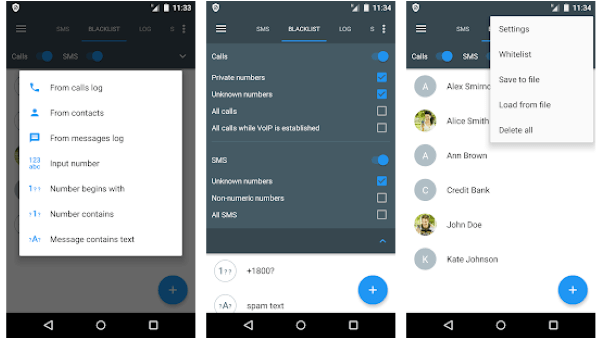 Top 8. Text Blocker
Price: Free
Requirements: Require Android 5.1 or later.
We all hate spam. When it comes to texts, this is a great app that serves as a reliever for some of that stress.
Most spammers will continue sending the same text over and over, but that's not going to happen here with this blocker!
This app serves as a free Android app for blocking calls and texts. you'll no longer have to worry about dealing with spammers or people who do nothing but annoy you because you can simply block them from contacting you altogether!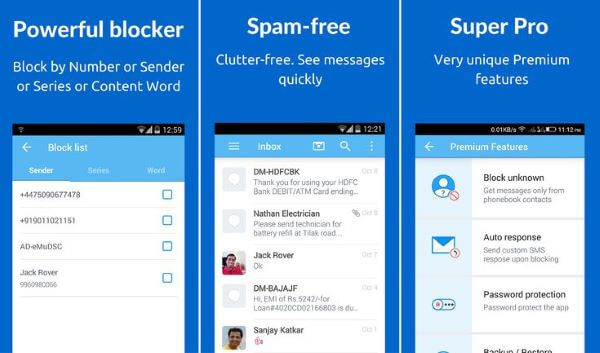 Top 9. Root Call SMS
Price: Free.
Requirement: This app requires Android 5.1 and up.
Key Messages is an Award Winner Spam Blocker. If you want to block text messages, spam messages from unknown numbers, text messages from email and Gmail, an SMS blocker is the best choice.
You can also block group text messages. It is the ultimate solution to maintain your privacy and give you peace of mind.
It is the top text and spam blocker for Android that helps you to get rid of unwanted texts.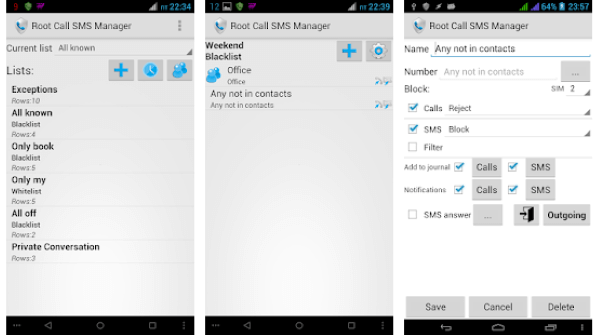 Top 10. Textkiller
Price: Both free and premium versions are available. Prices start at $2.99 per month.
Requirements: It requires iOS 12.0 or later.
Increase peace of mind with the help of an AI-powered tool that will block up to 1000 spam messages in one day.
This is especially helpful for those who are always on the go and don't have time to go through each message to ensure that no spam messages slip by.
This app comes with automatic protection (but can also be customized!) out of the box, saving you time and energy to concentrate on more important things!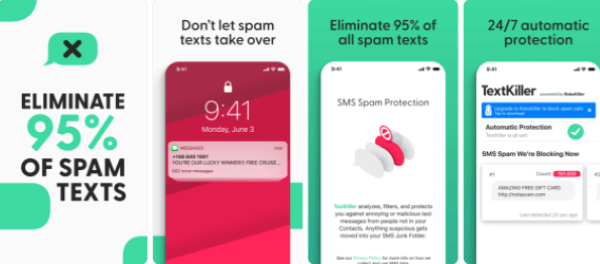 Reasons to Find A Text Blocker App
People have different reasons to search for a text blockers. Let's have a look at some of them.
Don't want to interact with someone again.
The reason to find a text blocker app is when you want to interact less with someone again. Blockers are apps developed to disable users from chatting with certain people online. They don't want to hear you anymore for one reason or another.
Stop spam texts on kid's phones.
Many adults and parents, on the other hand, don't like children keeping their phones on. They fear that their children can be led to bad places where they will be exposed to drugs and violence. So they are looking for free apps that block spam texts to protect their children.
Related Read: How Can I Monitor My Child's Text Messages on iPhone?
How to Detect Spam Texts on a Kid's Phone
Here is how you can detect spam on your kid's phone.
There are several ways that these messages can harm your kids. The messages can be cruel, sexual in nature, or threatening.
Regardless, if your kids are still under 18, you don't want them to view spam messages, you can choose to use KidsGuard Pro for Android to protect them, which is a parental control app.
Features of KidsGuard Pro to Monitor Text Messages
Check text messages on target phone
You can remotely view the sender's and recipient's SMS on target mobile phone, and data can be synced in real time. So you need not worry about missing anything.
Monitor Social media apps
It covered all the popular social media apps like WhatsApp, Facebook, Snapchat, Discord, Skype, etc. and enables you to monitor different activities like chat and shared multimedia carried out by the target phone.
Track real-time locations
You can do this by utilizing the built-in GPS or Wi-Fi location tracking technology to track real-time locations.
And you can set up a virtual boundary or "fence" for your child that will alert you when he enters or exits the area using your app!
Access phone data from anywhere
You can easily access all the data of a mobile device that you want to monitor without having physical access to it.
[Setting Steps] How to Detect Spam Text Messages on Phone
The Using process is very easy and it only need to takes 5 minutes to get started with KidsGuard Pro for Android.
Step 1. Firstly, you need to sign up an account by click Monitor Now button below and get a plan which is suitable for your demand.
Step 2. After registration, go to My Product page and tap on Setup Guide, following the instruction to finish download and installation on target phone.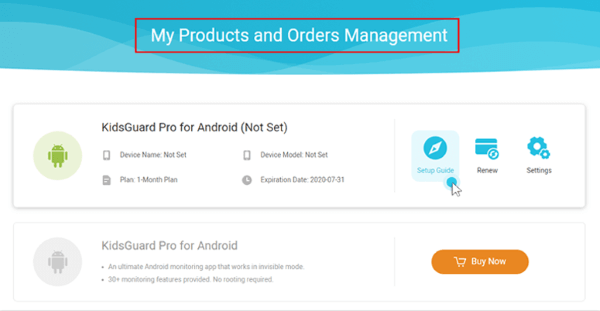 Step 3. When you finish installation and correct setting, the icon of KidsGuard Pro for Android will be hidden, it is 100% undetectable. Now you can view target user's text messages on dashboard of your own device.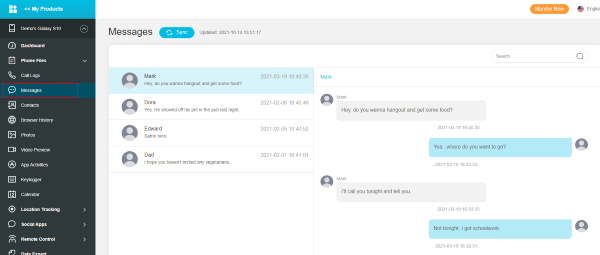 NOTE:
If the one you want to monitor is using iOS device, KidsGuard Pro for iOS is also available for you to check someone's messages on iPhone/iPad.
Summary
Have you ever received annoying and unwanted SMS from random numbers? These spam messages are not only wasting your cellular data plan, but they might also contain some malicious programming that can harm your smartphone.
Regardless of why you are dealing with unwanted texting, you may be wondering the best and free apps to block spam text messages.
SMS blocking apps give you the chance to block and filter out these SMS, and it also provides you with lots of options and filters that you can use to enjoy a personalized and unique filtering experience.