You come across someone's Story on Facebook, and you want to save it for future before it disappears, you have to take a screenshot. Similarly, someone shares something through Facebook chat, and you want to save it before the person deletes it, you have to take a screenshot. However, your main concern is if you screenshot someone's Facebook story, will Facebook send a notification to that person?
The act of sending notifications to the users when someone takes screenshot of their Stories or Messages has been introduced by Snapchat. The main reason behind this screen notification feature is user privacy and the security of shared content.
But the main question is, does Facebook notify when you screenshot a story or a message? Besides, is there a way to take a screenshot on Facebook without anyone knowing?
Does Facebook Notify of Screenshots?
Well, Facebook does not have any feature as of now to send notifications to any user when someone takes a screenshot of his/her Story or regular message. However, the new screenshot Facebook Messenger notification feature has been introduced for disappearing messages.
This means if you take a screenshot of someone's disappearing message from your chat, the person will get a notification that you have taken a screenshot.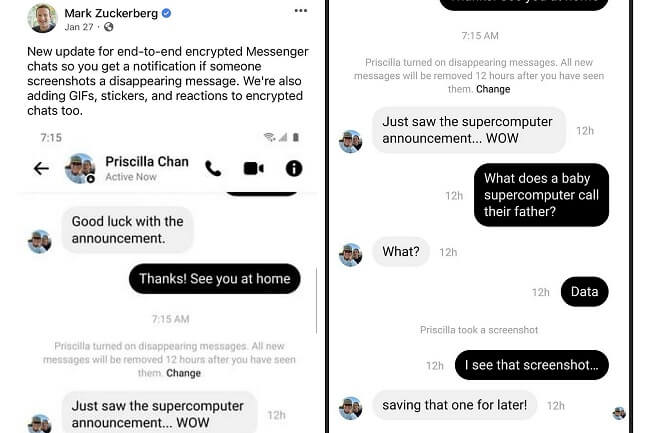 The feature of Facebook screenshot notification for disappearing messages was previously introduced on Instagram. Keeping the competition of Snapchat in mind, Facebook is likely to introduce screenshot notification feature for disappearing Stories going ahead.
However, it does not send any notification for taking screenshots of regular messages and stories. Now you might be asking can you screenshot Facebook stories without them knowing or screenshot of Facebook disappearing messages for that matter?
How to Take Facebook Screenshots Secretly?
It is possible to take Facebook screenshots of disappearing messages, regular end-to-end encryption messages as well as disappearing stories secretly. You have to use a third-party remote screenshot app that is capable of giving you remote control on the target person's phone.
We recommend KidsGuard Pro for Android screenshoter for taking Facebook screenshots secretly without them knowing. Here are the features of KidsGuard Pro for Android screenshoter app that are going to be useful for you.
Take Screenshots on Facebook

You can get remote access to the target person's phone screen and capture screenshots whenever the person uses Facebook. Therefore, you can screenshot Facebook story when he is uploading it online.

Read Facebook Chat History

You can view all the Facebook chats of the target person on his Facebook account. Therefore, you can check all the messages the person has sent and received on Facebook including the media files.

View Shared Multimedia

You can check all the shared media files such as photos, videos, even documents through Facebook account of the target person from your KidsGuard Pro Dashboard. You can also check on photos and videos taken by the target person with his phone camera.

Check Facebook Activities

You can check the target person's Facebook app activities starting from daily screen time to the frequency of daily usage. Besides, you can take screenshots and check Facebook activities as well.

Record Facebook Screen

KidsGuard Pro for Android screenshoter app comes with an exclusive feature of recording the target person's screen in video form. It is more convenient than taking screenshots and you will not miss out on any Facebook activities of the target person.

3 Easy Steps to Screenshots on Facebook Secretly

Here are the steps to screenshot Facebook Stories and Chats with KidsGuard Pro for Android app.

Step 1. Create A KidsGuard Pro Account

Click the below "Monitor Now" button to register an account for KidsGuard Pro for Android screenshoter app with your email address. Thereafter, choose a suitable plan to use the app to take screenshots and record someone's Facebook activities.

Step 2. Download KidsGuard Pro for Android on Target Phone

You should get the target person's Android device and open the web browser to visit "www.clevguard.net". Install the app and follow the instructions to set it up perfectly.

Step 3. Take Facebook Screenshots

Open KidsGuard Pro web portal on your device. Log into your account and go to Dashboard. Go to Remote Control > Capture Screenshots option. When the target person uses Facebook, you can capture screenshots of his phone screen secretly from your device remotely without him knowing.

Can You Expect More from KidsGuard Pro for Android?

KidsGuard Pro for Android app is useful for complete remote monitoring of the target person's phone activities. Here are the other useful features of the app you should be aware of.

Check Social Media:

Apart from Facebook monitoring, you can take screenshots, read chats and messages, and check shared media files on all social media apps. Starting from WhatsApp, Snapchat, Instagram and Facebook to Telegram and even Tinder, you can monitor the target person's social media apps.

View Call History & Record Phone Calls:

With KidsGuard Pro for Android app installed on your target person's phone, you can check his phone call logs from your Dashboard. You can see the caller number, call type, and duration as well as call timestamps.

Moreover, you can record any call on the target phone in real-time from your device. You can listen to phone calls whenever you want as they will be available on Dashboard.

Listen to Phone Surroundings:

KidsGuard Pro for Android app allows you to record and listen to the phone surrounding sounds in real-time from your device. Therefore, you will come to know what the target person is talking about and the topic of discussion remotely from your KidsGuard Pro Dashboard. You can also listen to them anytime and download them for future usage.

Read Text Messages:

Along with checking social media messages, you can read the text messages sent and received on the target phone. You can also check the deleted text messages as well, and you get to read them in proper conversation format.

Track Location:

Tracking someone's location in real-time cannot get any easier. You can track the target person's location live on the map. You can even check his location history to figure out his whereabouts. Moreover, you can set a Geofence so that you get alerts when he crosses the safe Geofence.

View Browsing History:

You can even monitor the target person's web browsing history directly from Dashboard. You can check the websites he has been visiting along with the searches he has been making.

Alerts on Watchlist Words:

You can add certain words on the watchlist so that whenever the target user types in those words in any app such as social media apps or text messages, you will get instant alerts. You can check the entire message from your Dashboard to understand the context of the conversation where the watchlist word is used.

KidsGuard Pro for Android

The Ultimate Android Monitoring App for You.

Sign up free

Social Media that Notifies When Taking Screenshots

There are certain social media apps that notify the user whenever someone takes screenshots of Story and disappearing messages.

Snapchat

Snapchat is the first app to introduce the feature of notifying users when a screenshot is taken on his/her messages and stories. The feature has been introduced since the inception of Snapchat. Whenever any screenshot is taken such as regular messages, disappearing media files or stories, the user will be notified.

Instagram

Instagram notifies users when any screenshot is taken for the disappearing messages. Instagram is not so strict about user privacy like Snapchat but it is very logical to notify users on screenshotting disappearing messages. This is because users are putting on disappearing messages so that the other user cannot see them for long or save them for the future.

Telegram

Under normal circumstances, Telegram does not notify users when someone screenshots their messages. However, if any user has enabled Secret chat option, Telegram notifies users immediately.

FAQ about Taking Screenshots on Facebook

Q1. Will Someone Know if I Take Screenshot on Facebook with KidsGuard Pro for Android?

No, when you take screenshots of someone's Facebook using KidsGuard Pro for Android app, the target person will not get any notification. You can perform the action secretly and remotely from your device, and there is no way the target person will come to know about it.

Q2. Is It Illegal to Screenshot Facebook Photos?

No, it is not illegal to screenshot Facebook photos. However, it is illegal to circulate private and personal photos of any user on public platforms without the consent of the users. You can take screenshots and keep them to yourself only.

Q3. Can I See if Someone Screenshots My Facebook Story?

No, Facebook does not notify you when someone takes a screenshot of your Facebook Story. However, if you install KidsGuard Pro app on the person's phone who is likely to take a screenshot of your Facebook story, you can view all the photos and videos on his phone remotely from KidsGuard Pro Dashboard.

Conclusion

First of all, we have answered the question, "Does Facebook notify when you screenshot a story and message?" Thereafter, we have also illustrate how to screenshot Facebook stories and messages without them knowing. The same is applicable to any social media apps using KidsGuard Pro for Android screenshoter app.