Question: What is T-Mobile FamilyWhere?
T-Mobile familywhere is an Android app that is used to know the location of a family member. It is a very advanced app in which you can schedule a checkup of the whereabouts of the enlisted people.
T-Mobile Familywhere helps you to keep an eye on your kids and other family members. You will get a notification where they are. Additionally, you can also use it to find the lost phone.
In this T-mobile familywhere reviews, we will provide you Complete Guide on How to Use T-Mobile FamilyWhere.
Part 1. Why Do We Need the T-Mobile Familywhere?
T-Mobile Familywhere is a tracking set-up, and people use it to track the location of their kids, partners, and employees. Everyone has different reasons to use T-Mobile familywhere such as:
Tracking kid's location
Parents have been using this tracking system for many years to track their kid's location. Parents usually get worried when their kids go out, so they use the T-Mobile familywhere app to know about the kids' location.
They can set their school location whenever they go and leave school parents to receive notification about their location. Additionally, parents activate this feature on kids' phones when they go for school trips or events to make sure their kids are safe and sound.
Find stolen phones
The worst feeling is when you forget your phone in any public place. But The T-Mobile familywhere is an app where you can locate any family member's stolen or missed personal phone.
This app shows you the current location of your forgotten device. So you can easily find your mobile phone.
Spying on partner
If you doubt your partner is lying to you or don't tell you where he visits. If you think he is sharing official information with company competitors, you can secretly track his location with the T-Mobile familywhere.
This feature will share the complete location history with you, and you can even download this report. So you can catch him red handed.
Track location of older adults
People also use this app to track the location of older people who have memory issues, like schizophrenia. Their safety is important because they forget everything such as their name and address.
The T-Mobile familywhere app works effectively to monitor their location to make sure they are safe and sound. You can check their location any time.
Track location of employees
If you think your employer is stabbing at your back and sharing official information with rivals. Then set the T-Mobile familywhere app to monitor this physical activity like where they're going, whom they are meeting, etc.
Related Read: Best Emergency Phones for Kids to Keep Them Safe
Part 2. Pros of T-Mobile Familywhere
People love to use T-Mobile familywhere app because it includes various pros such as:
T-Mobile familywhere gives a free trial for 30 days.
The paid option also has a free 30 days trial.
It allows the parents and family members to locate their kid's location.
Sends automatic alerts.
Aids to find stolen phone.
Shares real-time location.
T-Mobile familywhere doesn't require a smartphone or GPS enabled.
Provides 7 days location summary.
Part 3. Cons of T Mobile Familywhere
Although this is very easy to handle, still it has many drawbacks.
Only Android users can use this app.
If the family members are not on the T-Mobile network, you will not track the location.
Kids can trick T-Mobile familywhere easily.
The location provided is not the precise location as it is of the nearest cell phone tower.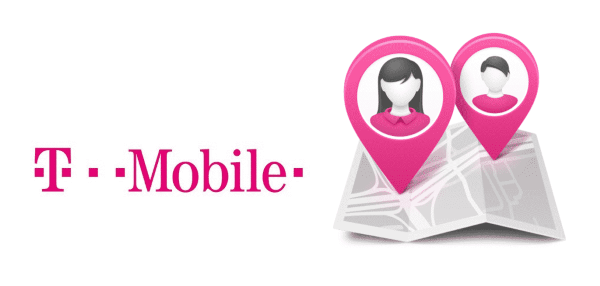 Part 4. How to Enable T Mobile Familywhere?
Using the T-Mobile familywhere is easy. Just follow these steps:
Go to my T-Mobile and sign in to your account. Tap on my account.
Select your profile. Select family control and click on a family where the option.
Click on get started, add your personal information and complete the basic setting.
Tap Agree to the term of service.
Now your T-Mobile familywhere is enabled.
Part 5. How to Disable T-Mobile Familywhere?
You can easily do T-mobile familywhere disable by following these 5 steps.
The first step is to log in to your account by putting the right information and password.
Tap on my account option. Now select the control option. Now you will be able to get into your profile settings because familywhere is a profile-based feature.
Go to the profile setting. If you choose family controls, you will see an option to tweak the familywhere setting.
Go to settings; now select the unsubscribe option present at the bottom to disable it permanently.
Part 6. How to Trick T-Mobile Familywhere?
If you want to trick the T-Mobile familywhere, there are various methods for tricking familywhere. Few are mentioned below:
Fake GPS
Fake GPS shows the phoney location of you apart from the place where you actually are. It is the most popular method of tricking the T-Mobile familywhere feature.
This is because so many fake GPS apps are available both on google and the apple play store.
Turning off location
In addition to using a fake GPS, you can also turn off your location on mobile. Follow these steps to turn off your location.
Go to settings.
Choose the option of location.
Tap on turn off location option.
The location has been turned off.
Use floater app.
The floater app is very simple and easy to use. This app helps you to hide your device location from your family.
But the main drawback is that it is only available for Android users. If you are an iPhone user there is no need to worry. There are so many fake GPS apps out there.
Activate aeroplane mode
You can turn off your location or disable your location by turning on the aeroplane mode.
You will be able to use the Wi-Fi instead of being in aeroplane mode. All other features will be disabled.
Part 7. KidsGuard Pro for Android - Alternative of T-Mobile FamilyWhere Locator App
A familywhere locator app is a good app for tracking someone's location, but this app has multiple drawbacks that force the person to choose something more advanced and effective than T-Mobile where tracking.
So, people can choose a more reliable monitoring app, KidsGuard Pro for Android, which has multiple features than location tracking.
Additionally, KidsGuard Pro for Android provides you with a summary of downloaded apps, games, etc. KidsGuard app is a powerful app that can monitor 30 plus apps, call logs, messages, web history.
It's location tracking feature works extraordinarily; it sends you real-time location and alerts you when your kid goes to an unsafe place via a geofencing feature. Indeed this single app helps you monitor all activities of your loved ones.
How to Set up KidsGuard Pro for Android?
Step 1.
Click
Monitor Now
button and skip to KidsGuard Pro' website, use a valid email address to sign up an account.
Step 2.
After registration, log into your acoount and go to
My Products
page, click on
Setup Guide
button and follow the instruction to download KidsGuard Pro onto target phone. This step only needs to take 3-5 minutes.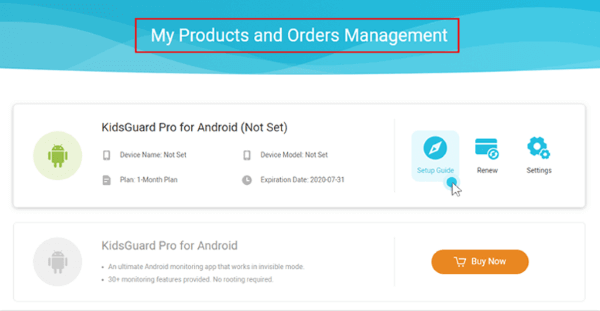 Step 3.
When setting is finish, you can start to monitor target phone's activity on your own device. Don't worry, the icon of this app will disappear from target phone's home screen, target user can not detect it.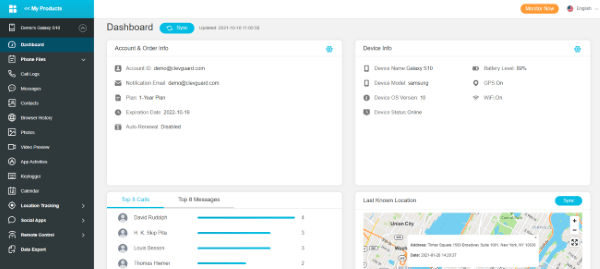 Part 8. Conclusion
T-Mobile familywhere enables you to find out where your family members are. This app is the best option to make sure that all your family members are safe. But this app has some cons, such as people know how to trick T-Mobile Familywhere?
But you can still track the location of your loved ones with the super-smart monitoring app. KidsGuard Pro for Android is the best alternative to the T-Mobile familywhere. Because KidsGuard Pro also has other amazing features like call logs, web history, media history, screen time limit etc.