Browsing in Incognito means your activity history is not saving on your device or any account you're not signed in to. It can be great way to keep your activities private even from the Google. That's why many people, especially kids, use incognito mode to watch the content that they are not supposed to watch. But do you know there is a way to watch incognito history?
In this article we will discuss how to see Incognito history on Android without knowing. So, if you're curious about your spouse, friend or kid's incognito history, read out the following guide.
Part 1: What is Incognito Mode?
Incognito Mode is a private window on Google that creates a private session on your browser which doesn't keep a record of your history. When you open the browser in the Incognito window your browser will not be able to save the record of all the searches and sites that you visit in the Incognito tabs. This deleted information also includes all the cookies and site data that you entered on website forms.
You visit each site as a new user and they can not identify you as long as you sign in to your account. All the data saved on the browser during your session will expire as soon as you close the incognito window. That's why even those who share the computer with you can't see what you searched or watched during that session.
Every browser has a different name for Incognito mode such as in chrome it is "Incognito mode", in Microsoft edge it is "In Private mode", in Firefox it is "Private mode" and in Safari it is "Private browsing".
To open an Incognito mode click on the three dots at the top right corner of the screen. In drop down you will see the option "New Private Window Mode" (may vary depending on the browser you're using). Tap on it and a new private session will start on your browser.
Part 2: Can You See Incognito History on Android?
Yes, you can see the Incognito history on Android even after the session has been closed. There is no way that you can keep your activities hidden from the internet service providers. Incognito mode does delete all of your search and browsing history along with cookies and site data but internet service providers, search engines, websites you visit, government and third party spying can still track down your activities during the Private mode session.
Here we have listed various methods to see the Incognito history on your kids or spouse Android mobile phone.
Part 3: How to See Incognito History on Android with KidsGuard Pro for Android?
KidsGuard Pro is one of most renowned and trustworthy spying apps that parents and partners use to see their kids or spouse's Incognito history without them knowing. This app works in stealth mode so you can secretly watch all of their Incognito search and browsing history without hessle.
That's not all. Apart from tracking incognito history, KidsGuard Pro also monitors all the social media apps, calls, messages and location of the target device. So, if you want an all in one  monitoring solution to watch your kids or spouse mobile activities then KidsGuard Pro for Android is the ideal app for you.
How to Use KidsGuard Pro for Android to View Incognito History?
Step 1. Create KidsGuard Pro account
Head over to KidsGuard Pro official site and sign up using a valid email ID and username. Next you will need to buy a premium plan to unlock the feature for monitoring the target mobile.
Step 2. Install KidsGuard Pro
Go on My Product and management page and get the link to download the apk file on target mobile. Download and install the app on the target device. Now configure the app using the set up guide. Once finished leave the target device.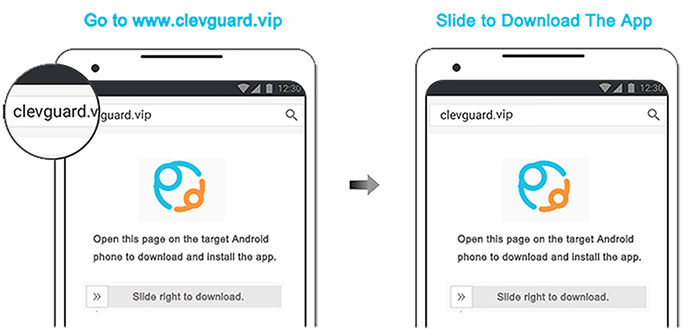 Step 3. View target device Incognito history
Now log in to the KidsGuard Pro account, open the dashboard and view the browsing history under the Phone Files.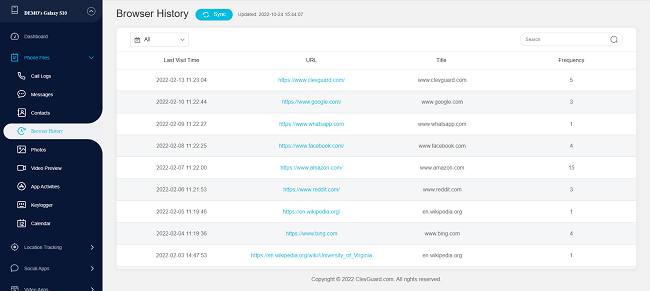 Excellent Monitoring Features of KidsGuard Pro for Android
View all the incoming and outgoing calls and messages on the target device. You can even record the calls and listen to them later.
The advanced GPS locator helps you to get real-time and history location of the target device. While with geofence you can mark the places on the map and get alert when the target device enter or leave that area,
Access all the social media accounts such as WhatsApp, Facebook, Instagram, etc and view their private chats, snaps and stories.
Track search and watch history on Youtube and TikTok.
Access all the audio, videos, images, text files, contacts and other files on the target device.
Take screenshots, photos and record the target screen for up to 15 seconds.
Record and listen to the surroundings of the target device.
Track up to 14 keywords by setting the keyword alarm.
Part 4: How to See Incognito History on Android on Chrome?
Although it is impossible to view the Incognito history unless you know the exact command prompt, still there is a way to watch the history without hessle. Here is how to do:
Step 1. Open chrome and install Off The Record History extension.
Step 2. Go to chrome extensions, locate this extension and check mark the box against the option Allow in Incognito.
Step 3. Open the Incognito tab and click on the Off the Record history extension icon. Here you will see the browsing history of incognito mode.
Part 5: How to See Incognito History on Android From Incognito Mode?
Step 1. Go to your browser and open a new Incognito window.
Step 2. Click on three dots at the top right corner and select "More Tools" > "Developer Mode" in the drop down menu.
Step 3. Once the developer mode is activated, click on the gear icon and check the box "Preserve Logs".
Step 4. Now go back to chrome and open the history. Here you can see all the Incognito history of the device.
Part 6: How to See Incognito History on Android From Phone's Internal Memory?
If you have Incognito mode turned off on your device, you can view the history from your mobile internal memory.
Step 1. Connect the mobile phone to the computer via a USB or over WiFi.
Step 2. Give access to the transfer file on your mobile.
Step 3. Now open chrome on the computer and view the incognito history by visiting the chrome://history/ page.
Part 7: How to See Incognito History on Android From Router?
Step 1. Open browser on your Android mobile phone.
Step 2. Now type your private router band's URl in the search bar.
Step 3. Enter your username and password in the respective fields.
Step 4. Look for System Logs on the sidebar and click on it.
Step 5. Open the Logs and here you will see all the Incognito history of the devices connected to the router.
Part 8: How to Disable Incognito Mode on Android?
There are two means to disable the Incognito Mode on your Android phone: either by using a third part app such as Incoquito or by simply closing the incognito tabs. Incoquito is an excellent app that allows you to disable the Incognito mode permanently on your device. You can also choose between the option to use the incognito mode but save the activity in a separate Log tab.
Step 1. Open play store and install the Incoquito app on your mobile phone.
Step 2. Once installed grant the requested permission and toggle the button at the top right corner of the screen to enable the app.
Step 3. Now you will see three options on the screen: Auto-close, Prevent, Monitor to choose how you want to disable the incognito mode.
Step 4. Click on Prevent option to disable the Incognito mode permanently on your Android phone.
FAQs about Android Incognito History
Q1. Can I find my incognito history?
Although, all the browsing history, site data and cookies get deleted automatically once you close the Incognito mode. But with third party apps like KidsGuard Pro you can watch the incognito history of your mobile phone.
Q2. Can you tell when someone uses incognito on Android?
When you browse the internet using an Incognito mode your search and browsing history does not save on the chrome. So, if you watch someone browsing on the internet but don't see any history on the chrome, this means that person has used Incognito mode to browse the web page.
Q3. How do I permanently delete incognito history on Android?
To permanently delete your Incognito history, open browser and type chrome://net-internals/#dns in the search bar. Select DNS from the sidebar and click on the Clear host cache button on the screen. Now all the incognito history has been deleted from your browser.
Q4. Who can see my incognito searches?
One can see your Incognito history only by retrieving it from your phone internal memory, through your router, browser or if he has installed a spying app such as KidsGuard Pro on your mobile phone.
Conclusion
Here you see it is quite easy to view someone's incognito history on Android with the use of the right app. KidsGuard Pro is an excellent spying app with a number of amazing features that allows you to monitor more than just browsing history. With the help of this wonderful app you can effortlessly watch over your kid and spouse activities without them knowing.