Recently the trend of hiding apps on smartphones has become enormously popular among kids, adults and teenagers. They use these apps to hide pornographic content, private messages and much more, which is quite alarming for parents and partners. Thus, it is important for you to know how to find hidden apps on Android so you can protect your child or loved one.
In this article we are going to show some of the fantastic ways that you can use to find hidden apps on your kid, spouse or friend's mobile phone and carefully track their activities without them knowing.
Part 1: Why You Need to Find Hidden Apps on Android?
Before we jump to the solution first you need to understand why it is crucial you should know how to find hidden apps on Android. There are many reasons you need to find hidden apps but the most important of all is that teenagers and kids are using hidden apps to watch and save the inappropriate content and hide it from parents. These hidden apps has the potential to damage your child's mental health and can leave dangerous impact on them like sexual aggression, poor confidence, aggression and much more.
Moreover, your cheating partner can also take the leverage of these apps and hide their messages and chats from you. Thus, it is important to find the hidden apps on your child and partner mobile phone for the sake of their mental health.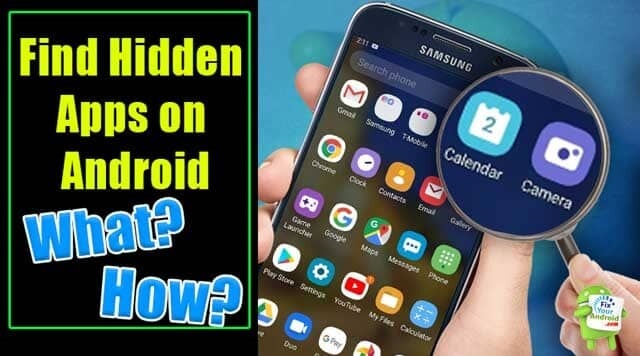 Part 2: How to Find Hidden Apps on Android?
There are many ways to find hidden apps, here we have listed some of the most efficient and easiest ways that you can use without any hessle.
Way 1. Find Hidden Apps on Android From Settings
One of the first places to see the hidden apps is from your mobile settings. It is one of the places where you can see the list of all apps whether they are hidden or not. Here is how you can do that:
Step 1. Open your target mobile phone and go to settings.
Step 2. Scroll down, choose Apps and Notification and click on it. If you don't find it, search in the search bar at the top of the screen.
Step 3. Now tap on apps and you will see the loss of all the apps (hidden or visible) that are downloaded on the device. Some mobiles also have the option "See hidden apps".
Way 2. Find Hidden Apps on Android From App Drawer
Step 1. Tap on the app drawer icon on your target mobile phone home screen. Usually it looks like three dots in two rows or square shaped.
Step 2. Next click on the menu icon and you will see the option "Show hidden apps". Tap on it and you will see all the hidden apps.
Step 3. If you don't see this option on the mobile screen, this means there is no hidden app in the device.
Step 4. If you're still in doubt click "All" to see the list of all the apps.
Way 3. Find Hidden Apps on Android From File Manager
You can also find the apps from Android file manager using ES file explorer, to do this follow these steps:
Step 1. Download and install "ES File explorer" from google play store.
Step 2. Open Es explorer and slide the menu drawer to the right.
Step 3. Click on tools and scroll down to enable the option "Show hidden files".
Step 4. Now you can see all the hidden apps and files on the target device.
Way 4. Find Hidden Apps on Android From Special Access
Step 1. Open "settings" and go to "Apps and notification".
Step 2. Scroll down and click on "Special access apps".
Step 3. Now go to "All file access", here you will see all the apps whether they are hidden or not.
Part 3: How to Find Someone's Hidden Apps on Android without Knowing?
Finding hidden apps on your kids or spouse's mobile phone by using the above method can be tricky as you can't get access to their mobile phone for a long time. Moreover, you may not get enough time to see the hidden data. To your surprise there are ways that can enable you to see these hidden apps without them knowing. One Of the most efficient ways is by using third party apps such as KidsGuard Pro for Android.
When it comes to secret monitoring or detecting hidden apps, no one can beat KidsGaurd pro. It has been a great helping hand for parents to keep a watch on their child or spouse mobile phones. It remotely monitors all the activities on your target mobile phone and shows the synced data on KidsGuard Pro dashboard where you can easily access it without anyone knowing. With the help of this data you can find the hidden apps on your target mobile phone and see what your kid or spouse is doing on those apps.
How to Use KidsGuard Pro for Android to Find Hidden Apps?
Step 1. Sign up on KidsGuard Pro
Head over to KidsGuard Pro official site and create an account by using a valid email address and username. Next proceed with buying a premium plan to unlock advanced monitoring features according to your needs. Follow the onscreen instruction and complete the signup process.
Step 2. Download and install the app
After signup you will land on My product and management page. Get the download link from there and download the apk file on your target mobile. Install the app and configure the app following the setup guide. Once done, close the app and leave the target mobile.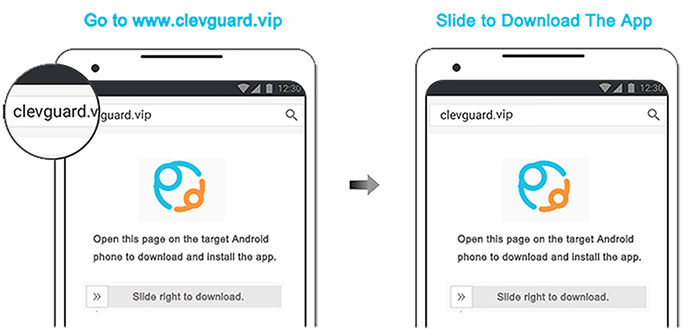 Step 3. See the hidden apps
Now head over to your device and sign in to the official KidsGaurd pro account. Open the dashboard and see all the hidden apps and monitor all the activities on these apps.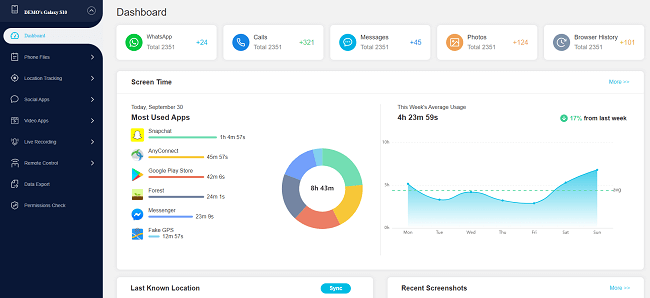 What Can KidsGuard Pro for Android Do?
Apart from finding the hidden apps there are many other incredible features that KidsGuard Pro offers to his user. Here is a simple breakdown of some them:
Track location
Whether it is real-time location or location history, KidsGaurd pro provides instant updates remotely. No matter where your target mobile is, it automatically access the location and show on the dashboard. Also, with advanced geofencing features you can mark specific locations on target mobile and get alerts when the person enters or leaves that area.
Monitor messages and calls
KidsGuard Pro monitors all the incoming and outgoing calls and messages on our target mobile phone and shows it on your mobile screen. You can read all the messages and listen to phone calls.
Set keyword alarm
With this feature you can set an alarm for sensitive words, KidsGuard Pro will check all the incoming/outgoing messages against these words and alert you when it detects any word.
Access all multimedia files
KidsGuard Pro also accesses all the audio, videos, images and text files on the target mobile phone and shows the data on the screen. What's more, you can also save this data on your device.
Monitor all social media apps
You can also monitor all the social media apps (WhatsApp, Instagram, Snapchat, Viber, Facebook, Discord, Skype and more) and read the chats, view notifications, snaps, stories and private photos and videos.
Capture and record phone screen
You can also take the screenshots and record the screen as an evidence to use in the future.
Record calls and surrounding
With this feature you can record all the calls on the target mobile phone and listen to them afterwards. Moreover, you can also secretly enable the target microphone and listen to the surrounding of the target mobile phone.
Part 4: What's the Pros and Cons of Hiding Apps on Android?
Hiding apps on your Android mobile phone may seem a little sneaky but it is a great way to clear space on your home screen. It can also help you protect your sensitive data such as banking apps, financial details, business secrets or confidential documents and vice versa. Furthermore, parents can hide spying apps on their kid mobile phone and watch their activity without them knowing,
However, Some phones only allow you to hide the apps and don't offer any way to unhide or access the hidden data. Some hiding apps collect your private information and sell them for their benefit. Most importantly, the hiding apps help the child hide the adult content affecting their mental health. Cheating partners can also use these apps to hide their chats, videos and images from their spouse.
Part 5: Check if They Have These Popular Secret Apps
Vault: Just like a vault, this app can hide all the images, audio, video and sensitive data on your mobile phone. With over millions of users it has been a sensation in the world of hiding apps and a perfect secret weapon for kids to hide content from their parents without them knowing.
CoverMe: CoverMe is one of the most flexible and versatile hiding apps among all in the list. This app was first designed as a secret messenger but now you can use all kinds of images, audio, videos and documents in this app. It is an excellent app for kids and cheating partners to hide sensitive content without anyone knowing.
Hide it Pro: Hide it pro is one of the most customisable apps with 2 in 1 functionality. This app can not only hide your secret information but also lock the apps you choose to hide. Most importantly, the app disguises itself as a music player to blindly mislead the users.
FAQs about Hiding Apps on Android
Q1. What do hidden apps look like?
Most of the hiding apps look like normal apps but some of the apps like CoverMe or Hide it Pro decoy themselves as file manager, music player galler or vice versa. In this way they can delude the user and they can't detect them at the first site.
Q2. How to find hidden apps on Samsung?
Just like Android, you can find the hidden apps from app drawer, settings and file manager by downloading ES file explorer. Read the above mentioned steps for further details.
Q3. Where can I find hidden files on Android?
You can find hidden files in your file manager or by using data recovery software. For this open your "File manager", click on the "Menu" and the "Settings". Next scroll down to "Advanced" section and enable "Hidden files". Now you can access all the hidden files on your Android phone.
Conclusion
After going through the information above, you should have got a clear idea about hiding apps and how you can find them on Android apps. So, if you are worried that your child or partner might have been hiding apps on their mobile, find out immediately with the help of these steps. However, if you want to find in depth information about their online activities, KidsGuard Pro is an excellent app that can provide remote updates in real-time.