Question:
Do you want to know how to see hidden friends on Snapchat?
As you know, relying on its fun and lively camera features, Snapchat has become one of the most popular applications in the world. But sometimes, other users can hide us on Snapchat without any notice.
Fortunately, in this article, we will explain how you can see hidden friends on Snapchat.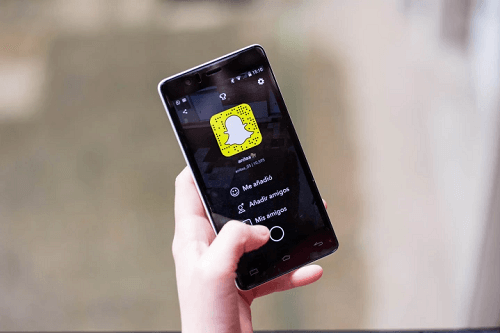 Part 1: How Do Friends Work on Snapchat?
Snapchat built critical safety and privacy features to provide users with a more private social experience. This may explains why only real friends become Snapchatters, and Snapchat helps them express themselves better.
1. Why Others Can Hide You on Snapchat?
Snapchatters must be friends with each other before sending Snaps or Chats. However, the only way to become friends on Snapchat is for both users to add each other as friends. This also means that when you don't want to continue to be friends with someone on Snapchat, you can hide or delete him in person, and the other person will probably not know, and you will no longer be able to continue chatting or Snapping with him through Snapchat.
2. What Happens If Other Hide You on Snapchat?
When somebody hides or blocks you on Snapchat, you won't be able to view their Story or Charms or send them Snaps or Chats.
Similarly, if one person does not appear on your Friend list, it means that this person hid or blocked you on his Snapchat.
Part 2: How to See Hidden Friends on Snapchat? -5 ways!
1. Use KidsGuard Pro For Android-Snapchat Monitor
There is an easy and effective way is that use a third-party tool like KidsGuard Pro for Android to see hidden friends on Snapchat. This application is specialized in tracking someone's Snapchat account and monitoring the target activities on Snapchat. People can see hidden friends on Snapchat with this amazing tool. You can easily monitor the target's Snapchat activities by using its powerful features like recording screen, screenshots, Snapchat messages, etc.
How to Use KidsGuard Pro for Android to See Hidden Friends on Snapchat?
The KidsGuard Pro for Android is easy to use, and you just have to install it on the targeted phone device.
Step 1. Create your account and select the perfect subscription
First, click the below Monitor Now button and sign up via your valid email address to create a KidsGuard Pro account. Then, choose the perfect subscription plan.
Step 2. Download the KidsGuard Pro for Android app and install it
After successfully downloading, you will be sent to the My Products and Orders Manager page. Then, open the target Android mobile phone, tap the Setup Guide icon and follow the on-screen instructions to complete some critical configurations. The whole process should only take 5 minutes. After installation, the app's icon will completely vanish from the target phone's screen and they will not detect it at all!

Step 3. Log in and start viewing hidden friends on Snapchat
Now go to the website, log in to your KidsGuard Pro account, and next go to the Dashboard. You can see all activities like messages, group chat, and sent and received messages on dashboard.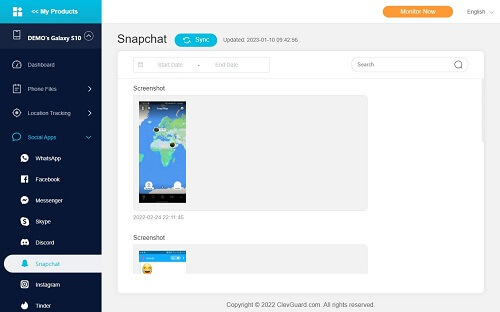 What can KidsGuard Pro for Android Do to See Hidden Friends on Snapchat?
The KidsGuard Pro for Android is a wonderful application that includes different features for monitoring hidden friends on Snapchat.
Monitor all messages
You can see Snapchat conversation history, and you can view deleted and unsaved Snapchat messages.
Sync data quickly
It allows you to access the latest chats through fast data synchronization remotely and immediately.
Search history
This amazing application helps you search chats history on Snapchat, including words, photos, videos, and voice.
Real-time activity
It allows you to monitor the real activity of Snapchat users by capturing screenshots of screens. You can know to whom your target user is talking.
Export data
You can open the web dashboard to export all the data or activity on your target's device.
Why Should You Choose KidsGuard Pro for Android?
You have unlimited reasons for choosing KidsGuard Pro for Android application for monitoring your partner's or children's Snapchat activity because:
This monitoring app can not only monitor Snapchat but also track other 30+ social apps such as Facebook, WhatsApp, Tinder, Instagram, Skype, etc. You will able to track every detail of your partner or children's social activities on their mobile phone.
It's 100% undetectable and you don't need to root the target Android phone.
It allows the user to access 10+ files, like contacts, call logs, texts, photos, videos, browser history, and more.
As a hidden phone tracker, it silently collects all the hidden data without being discovered.
2. Check The Hidden Friend List
As mentioned above, if someone hides or blocks you, you won't be able to see them in your Friends list. Follow the steps below to check your friends list.
Open the Snapchat.
Click your profile icon. (on the top left side of the screen)
Tap on the My Friends icon.
See your friend list.
3. Use Snapcode
Snapcode is a unique QR code on every Snapchatters' profile on Snapchat. You can scan to access features or unique content on Snapchat. Likewise, you will be able to scan someone's Snapcode to find his profile regardless if they have hidden you.
To scan a Snapcode:
Open Snapchat and tap on your camera at a Snapcode.
Press and hold on the Snapcode on your screen to scan it.
4. Use Phone Number
This is a very original method, with access to almost all social apps. If the user registered with a mobile phone number and did not hide the mobile phone number, you may wish to use this method to find him.
Open Snapchat and tap on Add Friends.
Back to your phone's Settings, permit Snapchat to use Contacts.
Click the All Contacts button on Snapchat.
You can see all your contacts on Snapchat.
5. Through Snapchat URL
One hidden piece of information here is the Snapchat URL, which represents the user's profile. The form of Snapchat URL likes www.Snapchat.com/add/username. So if you want to find a hidden Snapchat friend, you can try to use the profile URL.
Part 3: How do I Hide Friends on Snapchat?
Likewise, you can hide your friends on Snapchat if they make you uncomfortable. The method of hiding friends on Snapchat is very simple and it will not alert them.
Block your friends on Snapchat.
The most direct way to make your friends disappear from your list is to block them.
First, open Snapchat and tap on the ghost icon on the top left side of the screen.
Then, swipe down until you see the Snapchat home screen and open it.
Tap on My Friends(next to a notebook icon towards the bottom of your screen)and open up your Friends list.
Click the target's name and open his profile card.
Tap on the settings icon (on the top right side of the profile card)
Tap on the Block button, which blocks this friend on Snapchat.
Finally, tap on Block again and it will block the target.
Hidden your friends on snapchat without blocking
If you don't want to block your friends on Snapchat, here are some ways to help you hide your friends without them knowing.
Clear your chat history and remove your friends from your chat page: This option will temporarily hide your friends, if they want to contact you again, they will still appear in your chat page
Remove your friends on Snapchat: If you do want to keep your friends on your friend list, you can remove them directly.
Report your friends on Snapchat: Snapchat also give you an option to report someone without them notifying.
Part 4: Hot FAQS about Hidden Friends on Snapchat
1. Can you hide people on Snapchat?
Yes, you can. As mentioned above in the article, if you want to hide someone, you can block him from your Friends list. Please follow the steps above in detail.
2. What are hidden friend suggestions on snap?
Hidden friend suggestions on Snapchat mean that these people maybe you know or are friends with on Snapchat.
3. Does the other one know you hide your friends on Snapchat?
If you hide friends on Snapchat, the target will not be alerted that you've hidden them. But they will no longer find your contact on their Friends list. In this case, they will notice that you've blocked them.
Conclusion
Snapchat is a great platform that allows real friends to express themselves and contact each other. If your friends hide you on Snapchat, it is pretty hard to find out immediately. With tools like KidsGuard Pro for Android, seeing record screens and messages is not a trouble anymore.