Many people store all of their data in iCloud, whether it may be pictures, contacts, personal notes.
Is there any way through which you can access your data on iCloud? Umm Yes! Of course!
This article will give you all the necessary information about how to access iCloud on iPhone and other devices and how to access iCloud photos on iPhone. So, let's Dive in to get the Answers!
How to Access iCloud on iPhone and iPad?
If you are worried about how to access iCloud photos on your iPhone then you need not worry. All the cloud data can be stored on Apple devices because iCloud is specifically Apple's platform available for all Apple users.
People can manage and use their iCloud data on Mac, iPhone, Windows, iPad, and the web. The only important thing required is just an active internet connection. iCloud saves your every data without any privacy issues, which means your every information and data is kept wherever it is.
iCloud services are not only restricted to saving and storing data but if a person wants to remove or erase all of its data, he or she can easily do it too.
Apple devices are well known for their storage space also, but if you want to add more storage, then iCloud is the best option to go as it comes with 5GB of free space. If still, you want to get more space you can buy any plan also.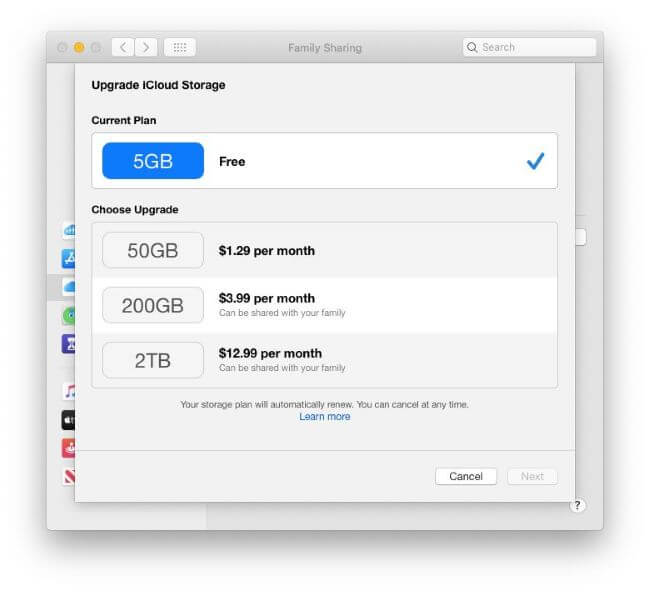 Read more to know how to access iCloud on iPhone and iPad.
Go to the Settings app on the designated iPad or iPhone device. Now you will see your name in the top banner of the settings app. Click on it.
Now search the iCloud option there and click on it. If you desire to sync your data in iCloud, then tap on each app then click on the sync or unsync option.
Now click on iCloud backup. It will make a backup of all your data on the iCloud.
If you have installed any third-party apps and do not want them to sync with your cloud's backup, then scroll down and tap on the unsync option to stop it from restoring.
By using this method, you can easily access iCloud on any iPhone or iPad.
How to Access iCloud on Mac?
If you have a Mac device and want to know how to access iCloud on Mac, continue reading this article, which will help you in getting your answers.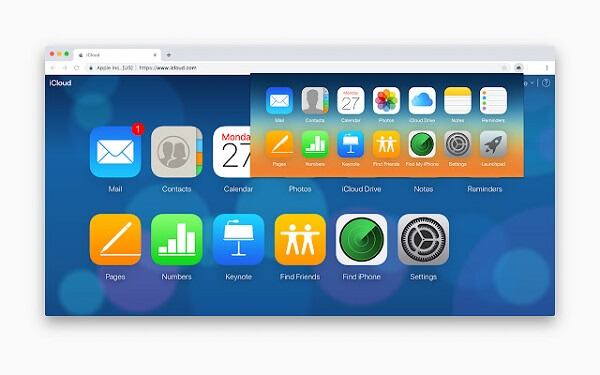 Open your Mac device and find the Apple symbol on your screen. You may find this option in the top left corner of the device. Click on it. Now click on that option and find the system preferences option.
After clicking on system preferences, you will see an option named iCloud. Click on it.
Search for every app and search for small checkboxes next to the apps for syncing and unsyncing data to the iCloud.
It is impossible to back up your entire data from Mac devices to iCloud. The only way to backup data as the hole is to do it locally. Using a Time Machine or the external drive option, you can back up your actual data.
Using this method, you can easily access iCloud on any Mac device.
How to Access iCloud in Windows?
If you have added your Apple iCloud ID in windows, then iCloud will automatically update pictures, bookmarks, and documents on your computer. Follow the steps to know how you can access iCloud in Windows.
First of all, download and install iCloud for windows. Now restart your device in which iCloud was recently installed.
In most windows, iCloud will open automatically. But if in your windows, iCloud does not open automatically, then click on the start button.
Now search for the Apps or Programs option and click on it. Now tap on the open iCloud for the windows option.
Then you will need to sign in to your iCloud by entering your Apple ID. If you have an old Apple ID, you can join it there, but if you don't have an Apple ID, create a new one there.
Now select the checkboxes of the apps of which data you want to get up to date along with your device. You can also choose the features of the apps by clicking on the options button. Now click on the apply button.
By using this technique, you can easily access iCloud on any windows, whether it may be Windows Vista, Windows XP, Windows 7, Windows 10, Windows 8, windows home server, etc.
How to Access iCloud From a Web Browser?
Follow the steps to access the iCloud by using a web browser;
Open your web browser or visit the cloud's website that is iCloud.com, in any web browser. Now type your Apple ID and password there.
Many people put two-factor authentication on their devices. If you are one of them, write down the two-factor authentication code there.
After this process, you will get access to the cloud's features on your web browser that may include accessing your pictures, data, documents, etc.
You can also retrieve files that have been removed or deleted from your iCloud. Recovering features may consist of calendars, contacts, and reminders.
For some people accessing iCloud on their web browser may be difficult. Accessing iCloud on a web browser shows you which devices your Apple ID has been logged in, how much storage space you have used, and how much is left, and it will also show you members or people of your family sharing group.
By using these steps, you can easily access iCloud on any web browser, whether it may be Mozilla Firefox, Google Chrome, Opera, Safari, Microsoft Edge, Chromium, UC Browser, SeaMonkey, etc.
Related Read: How to Access iCloud Drive on iPhone?
How to Access Someone's iCloud Files?
There are a variety of techniques through which a person can access anyone's iCloud files. Many people use spying apps to access anyone's iCloud files but the problem arises when these apps start security threats.
In this article, you will get the easiest and most frequently used app which is a very trustworthy app and through that app – KidsGuard Pro for iCloud. You will know how to access my files in iCloud on iPhone and how to access iCloud photos on iPhone.
Continue reading to know the answers.
When Should You Choose KidsGuard for iCloud?
If you want anyone's iCloud credentials, then choose KidsGuard to help you in that matter. Do you know what the KidsGuard Pro app can do? If No! Then let me tell you.
KidsGuard application was released in 2016 specifically for parents to see what their kids are doing by using their phones.
Features of KidsGuard include monitoring calls, text messages, social media apps, GPS locations, browser history, mobile data, pictures, videos, drive files, and many more features.
Whether you want to check the iTunes of your child's device or want to check their iCloud settings you can see everything by using KidsGuard app for iCloud.
What Can KidsGuard Pro for iCloud Do?
KidsGuard Pro for iCloud will help you to see the real-time location of your child along with last visited places.
If you want to know how to access iCloud files on iPhone or iCloud drive files, then use KidsGuard Pro, as it will help you monitor every file that has been uploaded to the targeted person's iCloud device.
How to Use KidsGuard Pro for iCloud?
Step 1.
Click
Monitor Now
button below and skip to KidsGuard Pro's website to sign up an account and active a plan that suitable for your needs. You also can click
View Demo
button to try its features that you can get after installing.
Step 2.
Log in to your account and go to
My Products
page, click
Setup Guide
button and follow the instruction to finish download KidsGuard Pro for iCloud. This step only needs to take 5 minutes.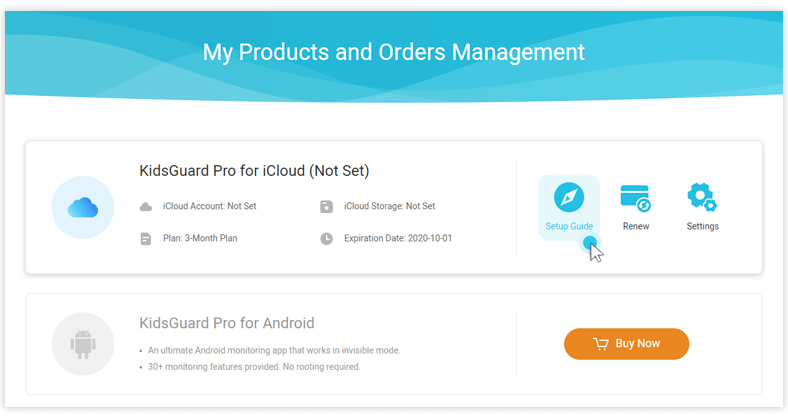 Step 3.
After setting, you can easily start to monitor someone's iCloud files from your dashboard.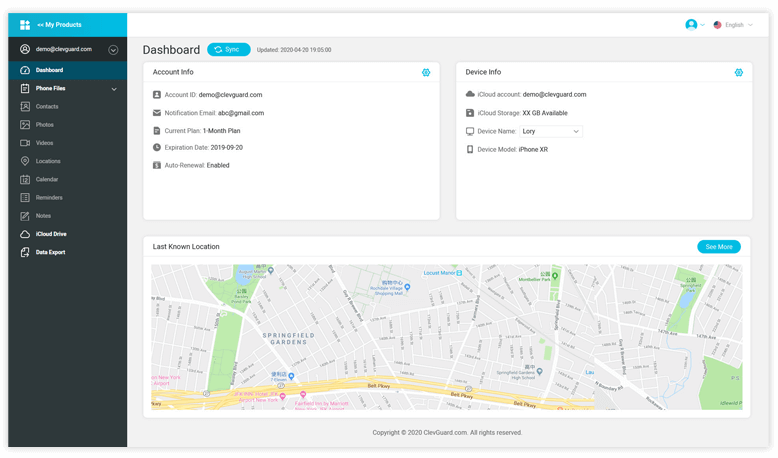 Conclusion
Now you will know that getting all your documents, files, important apps and accessing iCloud files, photos and restoring, backing up them isn't a difficult task. This article has provided answers to not all but many of your questions that relate to accessing the iCloud on iPhone and different devices.
So use these methods and retrieve or backup all your important data. Furthermore, you can also use a well-known app named KidsGuard Pro to access simple features to use on your iPhone device and use KidsGuard Pro to access the iCloud and drives features.