In today's digital age, the development of realistic text-to-speech technology has revolutionized the way we communicate. Gone are the days of robotic and unnatural voices. With advancements in AI and machine learning, text-to-speech generators have become more authentic, making it challenging to distinguish between a synthesized voice and a natural one.
In this article, we will explore the fascinating world of realistic text-to-speech technology, including how it works, the top generators available, a comparison of the most realistic software, and factors to consider when choosing a generator.
Part 1: How Realistic Text-to-Speech Technology Works?
To understand how realistic text-to-speech technology works, we need to delve into the underlying AI and deep learning algorithms. These algorithms process written input and synthesize spoken output.
The text is first analyzed, breaking it down into individual words and phrases. Various rules and algorithms are then applied to determine pronunciation, inflection, and emphasis for each word. The software's speech synthesis component combines this information with pre-recorded sound samples of phonemes to generate spoken words and sentences using a synthesized voice.
Part 2: The Top Realistic Text-to-Speech Generators Available
In this section, we will explore some of the most realistic text-to-speech generators available today. These generators have gained popularity due to their impressive features and ability to produce authentic and natural-sounding voices.
1.VoxBox
VoxBox is a dedicated app that offers a massive library of over 46+ realistic text-to-speech voiceovers in multiple languages. It is available for both desktop and Android devices. One of its standout features is the extensive catalog of up to 3,200 voiceover options. VoxBox's user-friendly interface and essential features make it a popular choice among users.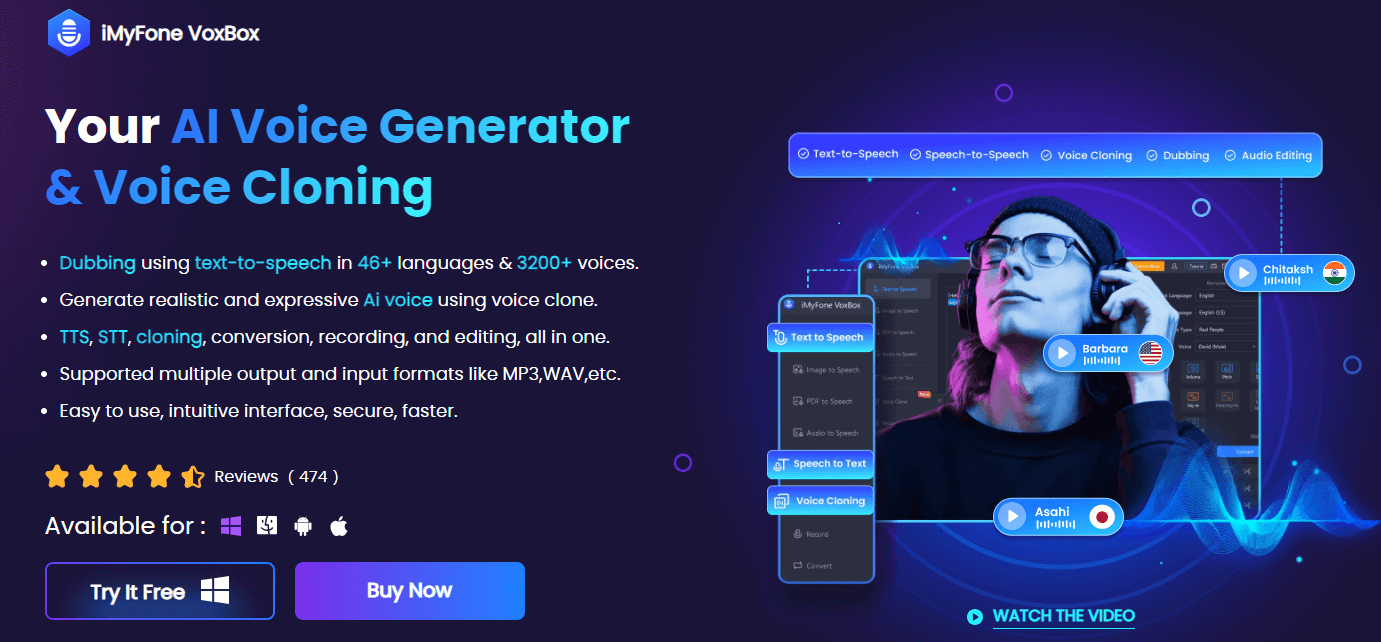 Various voices:VoxBox provides 3200+ voices, like text to speech celebrity voices, YouTuber voices, cartoon voices and so on.
Global languages: It supports 46+ types of languages, including English, French, Japanese, Spanish, etc.
Mutiple functions: Aside from celebrity text to speech, it also offers voice record, image to speech, voice clone.
Customization: You can custom the voice by trimming, cutting, clipping, and deleting soundtracks.
Free trial: It provides a free trial that you can use celebrity text to speech free.
High-quality voice generation: With VoxBox you can create high quality and realistic celebrity voice.
How to use it?
Step 1: Download and install VoxBox realistic Text to Speech tool on your computer. Then, sign up your account.
Download for WindowsDownload for Mac
Step 2: Launch the application, navigate to the "Text to Speech" option, click on "Change Location" to choose the vice you would like to change.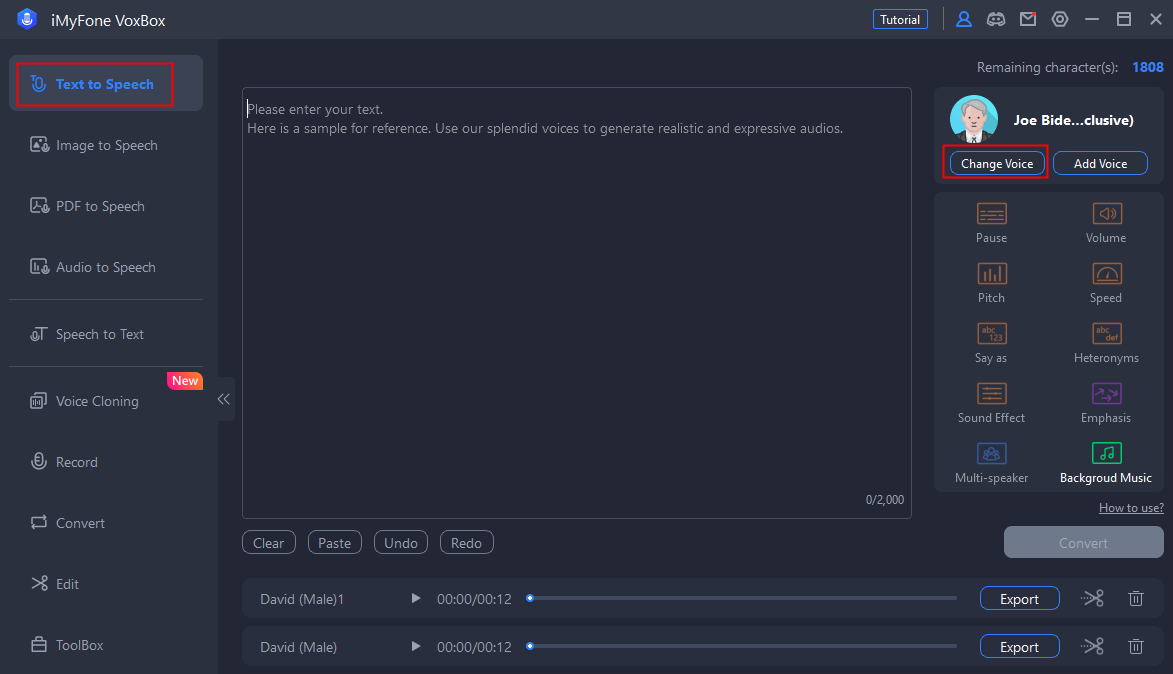 Step 3: Enter the text you need to change in the interface and adjust the speed and puase, then click "Convert" to create the voice instantly.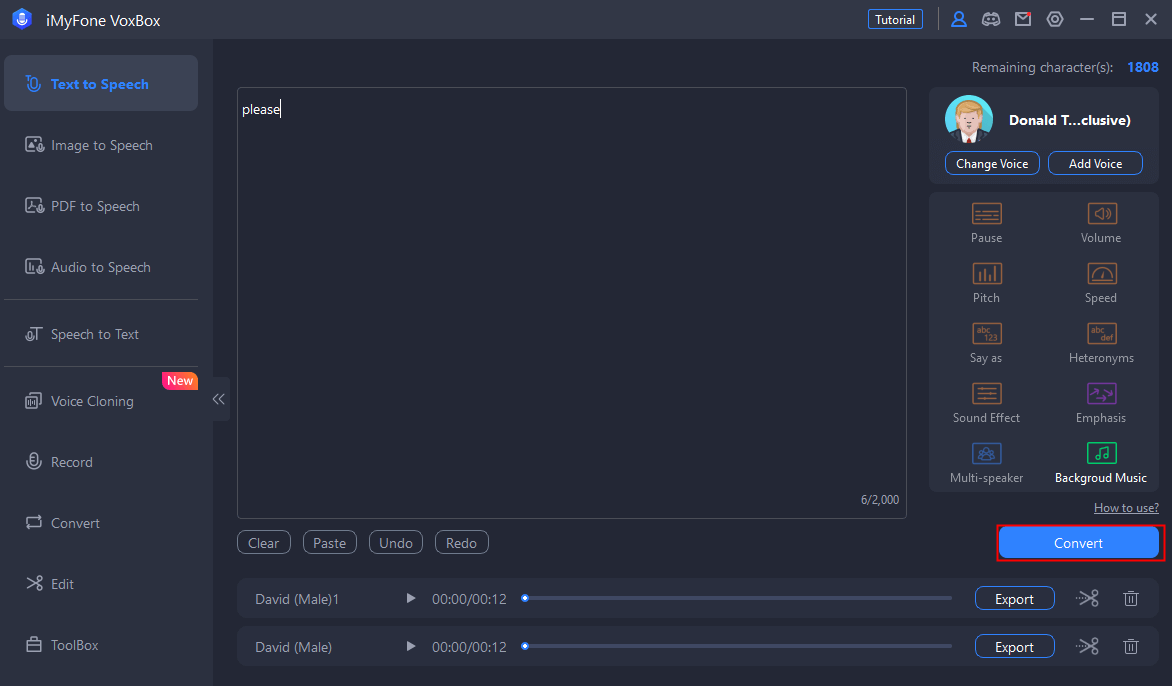 2.Murf.ai Celebrity Voice Generator
Murf.ai is another powerful text to speech generator that provides ultra-realistic voices to enhance the quality of your content. With over 120+ AI voices across 20+ languages and accents, Murf.ai offers a wide range of options to suit your specific needs.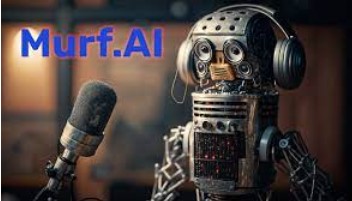 Pros

Ultra-realistic voices that replicate human subtleties
Customization options for pitch, emphasis, speed, and more
Pronunciation correction feature for improved accuracy
Ability to add background music to voiceovers
Cons

Higher price for individual users compared to group plans
3.Natural Readers
Natural Readers is a reliable text-to-speech generator that offers a range of features for various applications. It is widely used as an assistive technology tool for individuals with dyslexia, visual impairments, and other disabilities. Natural Readers can convert text into speech, making it easier for users to comprehend and learn on the go. It also supports multiple languages, making it useful for translation purposes.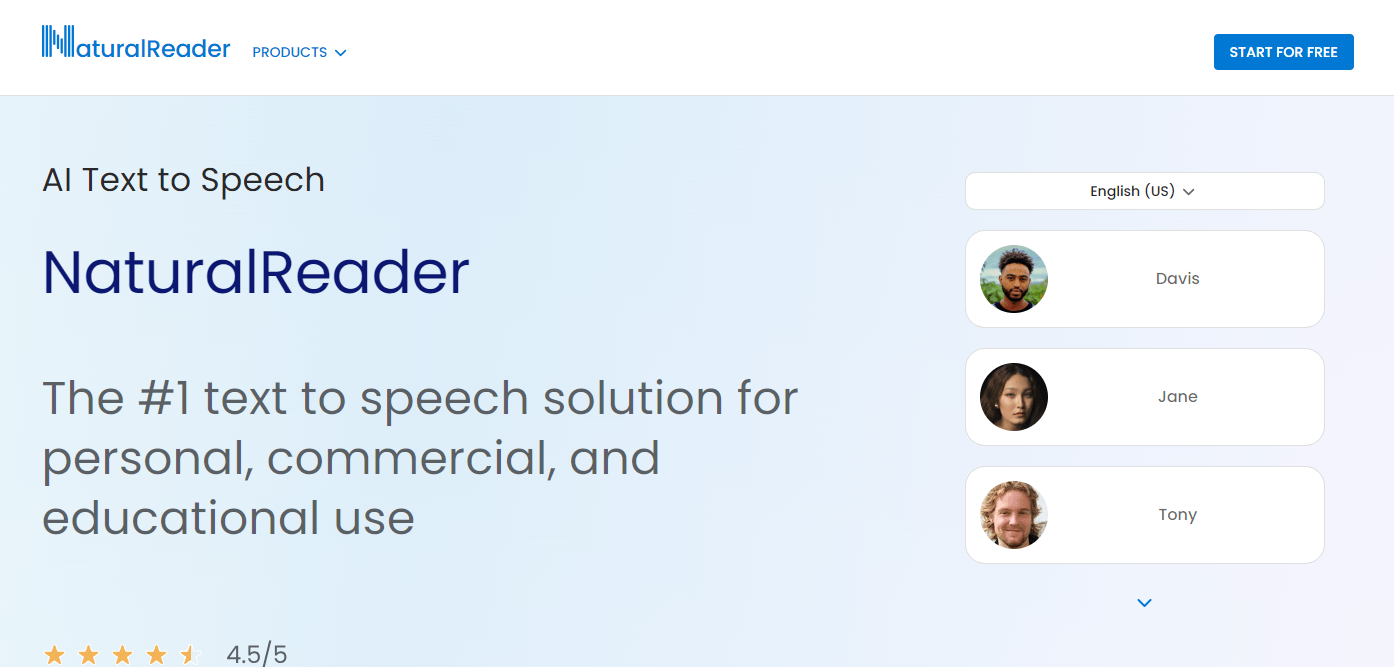 Pros

Improves accessibility and comprehension for individuals with disabilities
Enables businesses to reach local customers in their native language
Facilitates translation of content from one language to another
Cons

Limited customization options compared to other generators
Part 3. Comparison of the Most Realistic Text-to-Speech Software
When choosing a realistic text to speech generator, it's essential to consider various factors such as voice quality, language support, customization options, and pricing. Here is a comparison of the top generators discussed in this article:
| | VoxBox | Murf | Natural Readers |
| --- | --- | --- | --- |
| Key Features | 2300+ most realistic text to speech voiceovers | Ultra-realistic text to speech voices | Converts text into read-aloud sections |
| Pros | Realistic & natural dubbing | Easy to use | Widely used by educators |
| Cons | Need to install the app | Pricing may be expensive for individual users | Limited customization options |
Part 4: Factors to Consider When Choosing a Realistic Text to Speech Generator
Each generator offers unique features and benefits, so it's important to consider your specific requirements when making a choice.When selecting a realistic text to speech generator, there are several factors to consider:
Voice Quality: Look for generators that offer high-quality, natural-sounding voices.
Language Support: Ensure the generator supports the languages and accents you require.
Customization Options: Check if the generator allows you to customize pitch, speed, emphasis, and other aspects of the voiceover.
User-Friendliness: Choose a generator with a user-friendly interface and easy-to-use features.
Pricing: Consider the pricing plans and options available, keeping in mind your budget and specific needs.
Part 5: Hot FAQs About Realistic Text to Speech Voice Generators
Q1.What is the most realistic text to speech voice?
The most realistic text to speech voices are those generated by advanced AI algorithms that replicate the subtleties of human speech. Generators like VoxBox, Murf.ai, and Natural Readers offer a wide range of realistic voices to choose from.
Q2.What text to speech do most people use?
The choice of text to speech generator varies depending on individual needs and preferences. However, generators like VoxBox, Murf.ai, and Natural Readers are popular among users for their realistic and high-quality voices.
Q3.Is there a free AI voice generator?
While some generators offer free versions with limited features, the most advanced and realistic AI voice generators often come with premium pricing plans. However, VoxBox, with its free version and essential features, provides an excellent option for users seeking a realistic text to speech generator without breaking the bank.
Conclusion
Realistic text to speech technology has transformed the way we consume and create content. With the advancements in AI and deep learning, generators like VoxBox, Murf.ai, and Natural Readers offer ultra-realistic voices that bring written text to life. Among these, VoxBox stands out as a top choice, with its extensive voice library, user-friendly interface, and support for multiple languages. Why not give VoxBox a try now?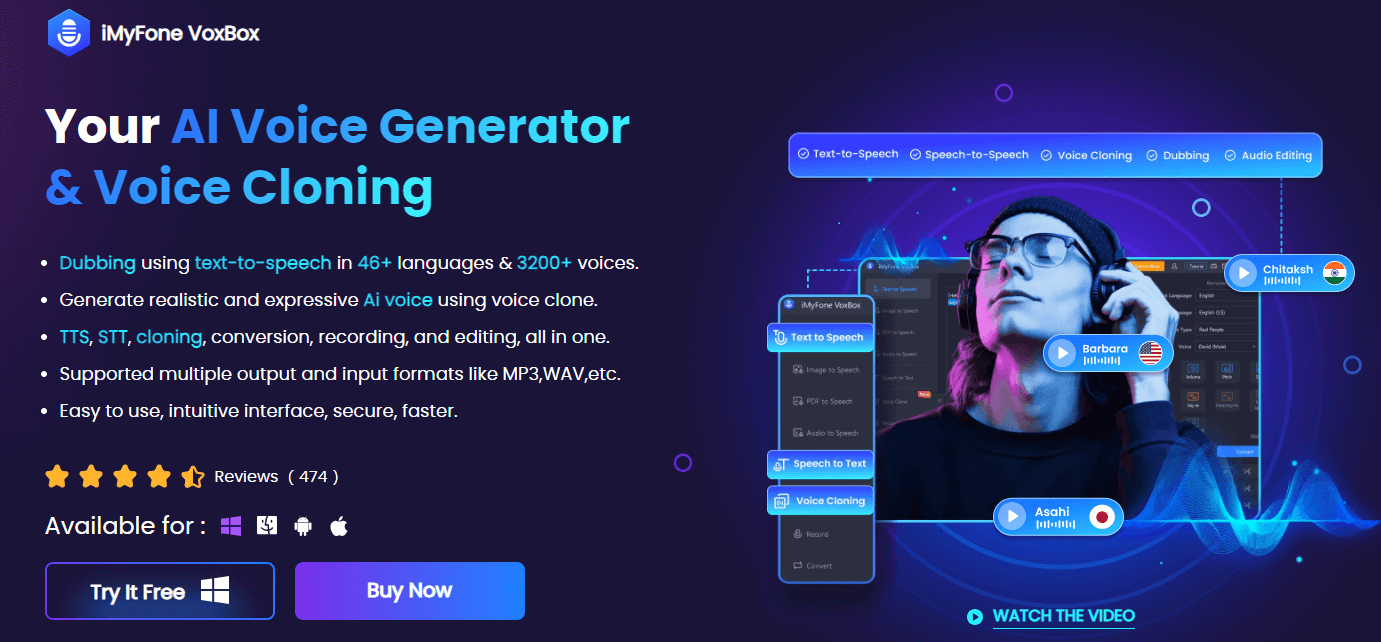 Download for WindowsDownload for Mac