Can I track an Android with an iPhone in case it is stolen or lost? Even though you are careful, it is unpredictable that you may lose your Android device. Imagine you lost your Android phone by either misplacing or getting it stolen.
If it is possible to track the location of the phone, it is convenient to narrow it down to the exact location of the mobile. It is possible to locate an Android phone as you can even track an Android phone using an iPhone. Just like users can remotely turn on the lost mode or erase an iPhone for the safety of privacy, we can use an iPhone to locate a lost Android device.
Here are three methods to track an Android phone from another iPhone.
How to Locate an Android Phone from Your iPhone
1. Track an Android Phone with KidsGuard Pro for Android
KidsGuard Pro for Android is designed to track someone' activities regarding the smartphone. It can run in the background of the target Android phone without the user knowing. The app can monitor over 30 phone files on the target device.
Features:
Track Location
Inbuilt GPS allows you to track the device and get real-time locations. Not only GPS but also uses Wi-Fi to detect the location accurately. Setting up Geofence allows you to get notifications when someone enters and exit a virtual zone. The location history is also available to track the previous locations.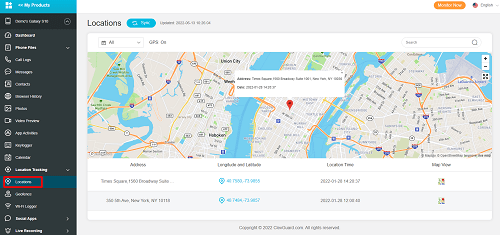 Monitor Calls & Messages
You can use Kidsguard Pro for Android to monitor the target person's call logs, which includes incoming and outgoing calls as well as the duration of the call. Call logs are helpful to determine the frequently contacted numbers via calls and messages.
Capture Screenshots
The real-time screenshot feature allows you to capture the screen of the installed target device and sync it to your device automatically. This feature is important to keep the important details saved. Secret photos can be taken by remotely turning on the rear camera of the target device.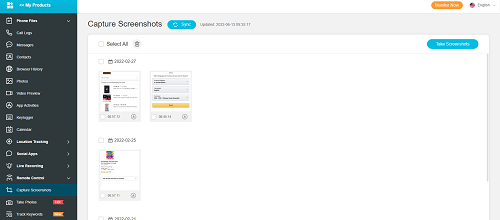 Monitor App Activity
This app allows you to view the app list of the target device and see the activity log as they are being used. This feature is very helpful to keep track of someone's frequently used apps. Contacts, calendars, reminders, notes, screen time summaries, and many other apps can be monitored.
View Photos & Videos
Having access to the target device gallery is one of the major advantages of KidsGuard Pro for Android. Photos and videos on the target mobile can be viewed. Having access to media is vital to get an idea of the things that are saved on the device.
View Social Apps
KidsGuard Pro for Android supports app monitoring in almost all the social media apps available. It includes Snapchat, Instagram, WhatsApp, Facebook, Facebook Lite, Messenger, Line, Tinder, Telegram, Kik, Viber, etc. For example, you can track someone's WhatsApp messages remotely.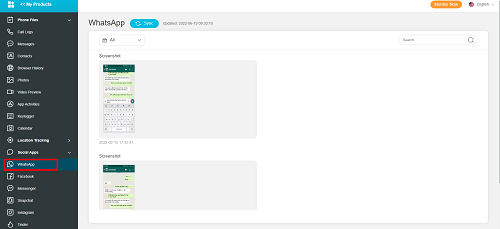 Monitor Brower History
Browser history reveals a lot about the user of a device. It allows you to monitor some websites visited by the target user. Viewing the browser history is advantageous for parents to keep their kids away from exclusive and adult content available on the internet.
Key Logger
The key logger records all the keystrokes whenever something is typed. This is an essential feature in a spying app. Key logger in KidsGuard Pro for Android can function in the background and stay hidden from the target user.
How to Install KidsGuard Pro for Android
KidsGuard Pro for Android is simple to install for anyone with a smartphone and an internet connection. Here are the 3 simple steps to install the app.
Step 1: Create a KidsGuard Pro for Android account
Step 2: Download and install the KidsGuard Pro for Android
You will see the My Products and Orders Manager page. Select the Setup Guide on the target Android device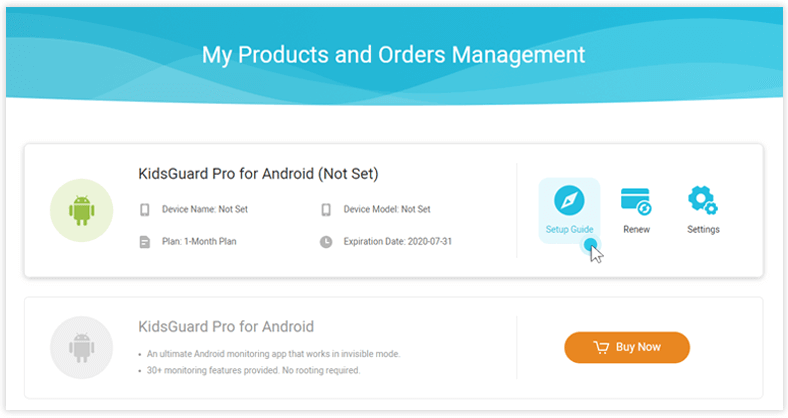 Step 3: Confirm your configuration and begin monitoring the Android device with your iPhone
Log into your account and you'll see the data on the dashboard. You can use it to monitor someone's Android with your iPhone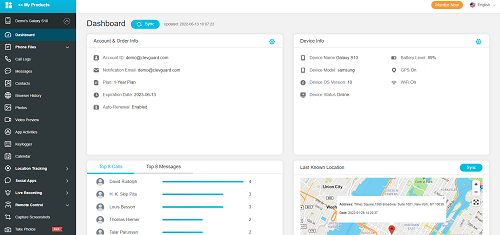 2. Track an Android Phone with KidsGuard
KidsGuard is designed for parental control to track kids' activities regarding the smartphone. Once logged into the account, tons of features are available to track a child's activities. Parents can monitor child's phone on the KidsGuard dashboard with another device such as an iPhone or Android device.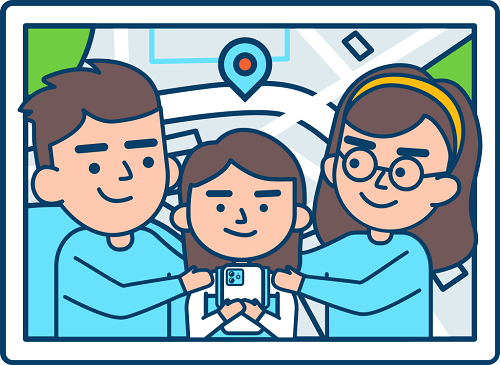 Feature:
Track Real-Time Location
Real-time location on KidsGuard is used to get the exact location of the remote device using GPS or Wi-Fi location. While the kids explore the world, the parents can make sure they are safe and within the Geofence. The real-time updates of the current location is a big relief for parents as they can keep an eye out for their kid within their busy schedule.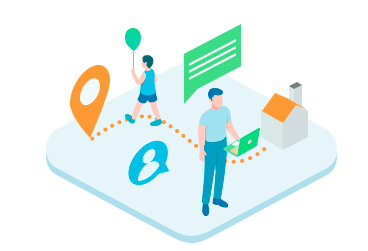 Web Block
Web locks help to keep the kids away from potentially harmful websites. Such websites can be blocked and filtered to make a safe online environment for the kids. KidsGuard helps parents to protect their children on a healthier Internet.
App Block
App monitoring is another feature to keep track of the app usage of the target device. App history reveals the preference of the kids as their screen time can be monitored by the app usage reports. Parents can block unwanted apps, social media, or games to prevent kids from getting distracted.
Lock Screen
Capturing and locking your kid's phone screen remotely when necessary can help kids to focus on their studies and not overuse the mobile. This will help both kids and parents to save and manage their valuable time. Having a schedule is important to determine how much time to spend indoors and when to get outside and be active.
Activity Report
Parents can access the KidsGuard dashboard on an iPhone device and obtain the daily, weekly, and monthly activity reports of their kids' online activities. Such reports can reveal a lot about the things your kid is fond of and addicted to, which can be smartly used to keep the kid away from harm.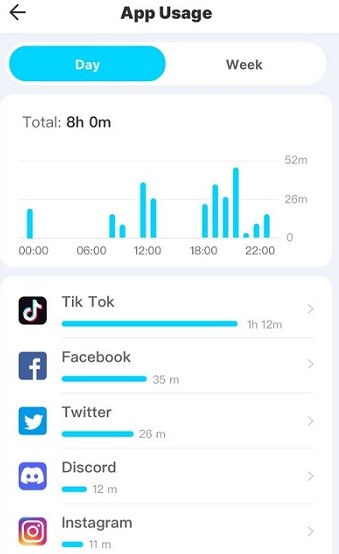 Call Filter
Harassments, scams, and fraud can be prevented by filtering unnecessary phone calls. One missed call from an unknown party can lead to a disaster. Therefore, the Call Filter feature on KidsGuard help prevent such messy calls and keep strangers away from your kid.
How to Install KidsGuard
Step 1: Click Google Play Store or App Store button below to install KidsGuard.
Step 2: Create an account and log in to your KidsGuard account. Then bind your kid's account.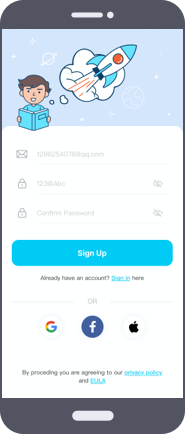 Step 3: Install the KidsGuard Jr app on your child's device by scanning the QR code on yours. Please note that KidsGuard only supports Android devices on the kid's side.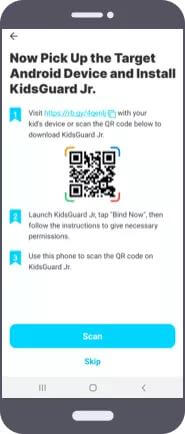 Step 4: After the installations on both devices, you can use your iphone monitor the remote device activities for the safety of your kid. There are features available, including set screen time, block apps, websites, etc.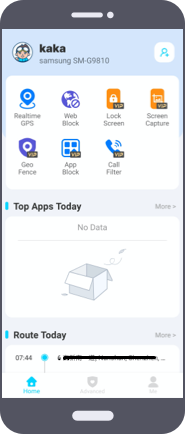 How to Use an iPhone to Track an Android's Location in Another Way
Use Find My Device
As a security feature, Google provides their Android users a feature called "Find My Device". You can remotely track the location, lock the device, erase data or send a ring using this feature.
To use this feature, it should be enabled in the settings of the device. You can enable it by going to Setting → Security → Find My Device. If it is enabled, you can track your android device using the iPhone.
Step 1. Open Apple Safari or any browser on your iPhone. Then go to google.com/android/find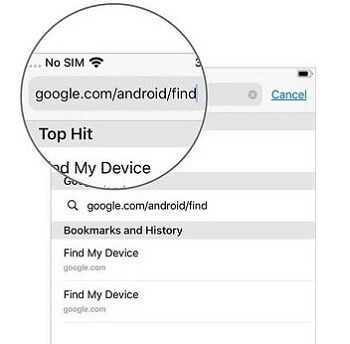 Step 2. Then enter the Google ID and the password saved on the target device. After that, you can hit next. Remember, you should have access to the Google ID of the device you want to track to proceed.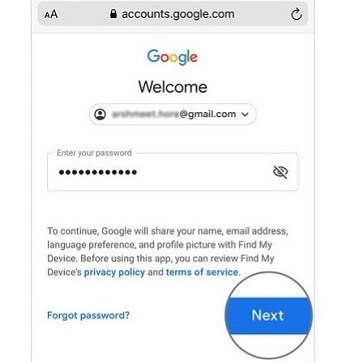 Step 3. You can use the Location Tag icon on the map to track the location of the device. If you have a proper connection, location information will be displayed on your iPhone.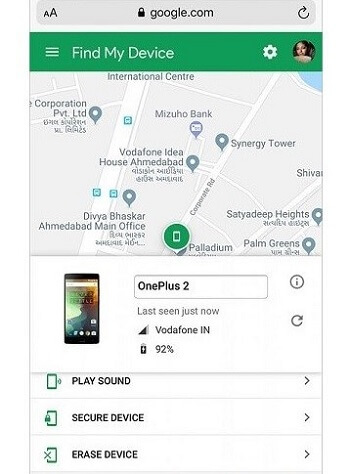 Using Find My Device has limitations. If GPS is turned off on the targeted device, it will be difficult to track the exact location of the device. It is a must to correctly remember the Google ID and the password to start tracking.
Without the sim card or a working network connection on the lost device, this feature is not an option to use an iPhone to Track an Android's Location using the "Find My Device" feature.
FAQ
Q. Can I track an Android with an iPhone without knowing?
Yes, apps like KidsGuard Pro for Android run in the background on the targeted device, and the user cannot see or uninstall it.
Q. Can I read other's WhatsApp messages on another Android?
Yes, the dashboard of KidsGuard Pro for Android allows viewing the conversations and all the incoming and outgoing WhatsApp messages on another device. This applies to both WhatsApp and WhatsApp Business. Using KidsGuard Pro for Android, it is easy to monitor the information of many social media.
Q. How to use KidsGuard Pro for Android to view someone's Google search history on an Android?
The browser history feature is available to monitor the browsing history of all the internet browsers on the targeted device. So it allows you to view Google search history the user accessed.
Conclusion
Three effective methods on how to track an android phone from an iPhone are in this article. KidsGuard Pro for Android is a popular way of tracking an android by using a simple and effective app. Its user-friendly interface, advanced features and affordability has made it a leading tracking app in the market.
Meanwhile, regarding parental control, KidsGuard is the go-to app for many parents to safeguard their kids in the digital world. Either can do you a great favor in tracking someone's Android with an iPhone.