Nearly all messaging and social networking apps provide options for informing your contacts and followers whenever you are online. Of course, there are numerous occasions when this is incredibly helpful, but, logically, many users would want to look offline on services like WhatsApp.
Fortunately, there are many choices available, particularly for individuals who wish to conceal their online status on WhatsApp even while the internet is turned on and they are using the application.
In the advice provided below, you can see in detail all the actions you must do to use WhatsApp with a little more privacy.
Table of Contents
Part 1. Who Can See Me Online on WhatsApp?
When you open WhatsApp, you will automatically be online. Every person who is using WhatsApp knows you're also using WhatsApp. You may receive unwilling messages or calls then.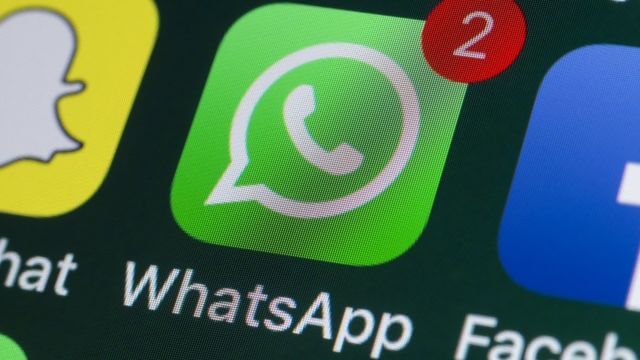 So, how to show offline on WhatsApp?
We illustrate proven ways to help you hide WhatsApp online status and give you some tips on how to find "invisible" online friends.
Part 2. How to Appear Offline on WhatsApp Even When Online?
WhatsApp does not have an invisible mode. You have a few things to do to pretend offline. For instance, you can choose to no longer show status updates and not open WhatsApp messages.
It will be troublesome because you can't ignore all WhatsApp messages. However, if you change WhatsApp settings follow the guide below, and others will not notice you're online.
1. Change the "Last seen" option
To start our tips we talk about how you can change the "Last Seen" option. This is the one that notifies all of your contacts when you last used WhatsApp or even if you are online right now. The most crucial setting to experiment with is this one if you wish to seem offline on WhatsApp.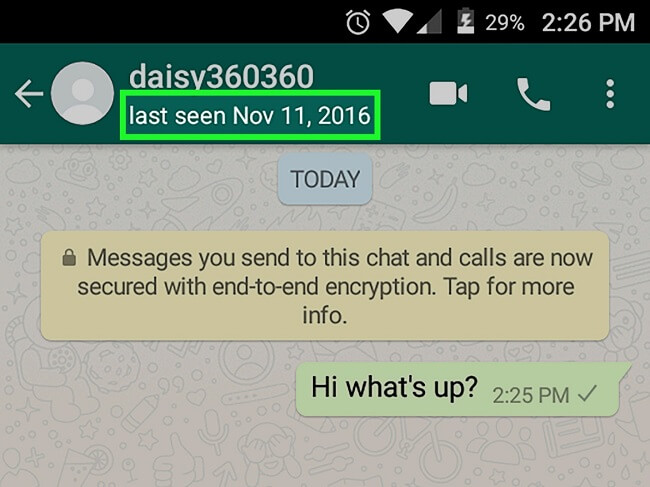 Step 1. To accomplish this, select "Settings" by clicking on the three vertical dots in the upper right corner of the screen.
Step 2. Next, click on the "Account" option.
Step 3. Then, in the following menu, select "Privacy" to continue.
Step 4. Many of the choices we'll use in this lesson may be found there. You only need to click "Last seen" for the time being.
Step 5. To seem offline on WhatsApp, you must select the "Nobody" option from the available choices.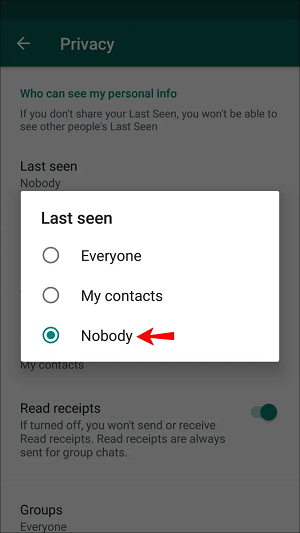 You may modify this whenever you want your contacts to be able to see that you're online, as we've already said (or not). It's important to note that if you disable this feature, you won't be able to know when your contacts were last online.
2. Turn off Read Receipts
Next, we'll demonstrate how simple it is to prevent your contacts from knowing when you read one of their messages. Currently, two blue checkmarks are displayed under the message to indicate that you have read it if the read receipts are enabled.
Step 1. To change this, go to the "Privacy" menu again and look for the "Read receipts" option.
Step 2. To turn it off whenever you need to, all you have to do is click on the button next to this choice. Like any of the other settings, it may be modified at any time.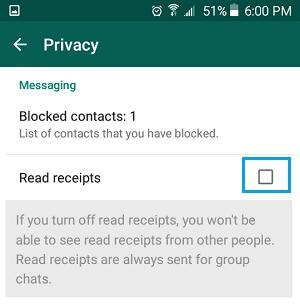 You shouldn't be surprised that if you disable this feature, you won't be able to see if anyone has read your messages. All you'll be able to tell is if the messages were delivered to their intended recipients.
3. Hide your WhatsApp Status
Hiding your Status updates is the final thing you can do to attempt to look offline on WhatsApp as much as possible. For those who prefer to update it regularly but don't want everyone to see it right away, this is a nice thing.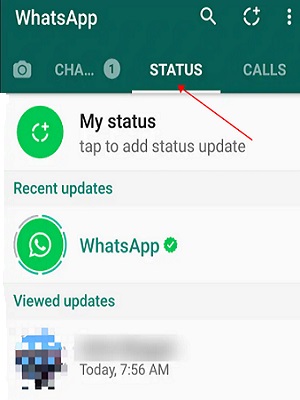 Step 1. Return to the "Privacy" page and seek the "Status" option to hide your current Status from others.
Step 2. You'll then see a window where you can choose how your status will be broadcast. All of your contacts will see it if you choose "My contacts," all of your contacts will see it if you choose "My contacts except...", and just the contacts you choose will see it if you choose "Only share with."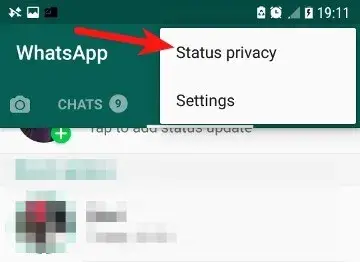 Pretty simple, isn't it? And remember, this is yet another option you can share whenever you want.
Part 3. Bonus Tips - How to Find "Invisible" Online Friends?
You may also want to know: how can I know if someone is online on WhatsApp but invisible?
It is necessary to know if someone pretends to be offline on WhatsApp. KidsGuard for WhatsApp is a dedicated WhatsApp Monitoring app. You can catch the cheating partner's WhatsApp callings and messages anywhere, anytime.
Preparation Before Remote Monitor
To start our tips, we talk about how to install the monitoring app first. You can get the plan by clicking the button below and following our install guide.
Step 1. Download KidsGuard for WhatsApp on the target's Android device on www.installapk.net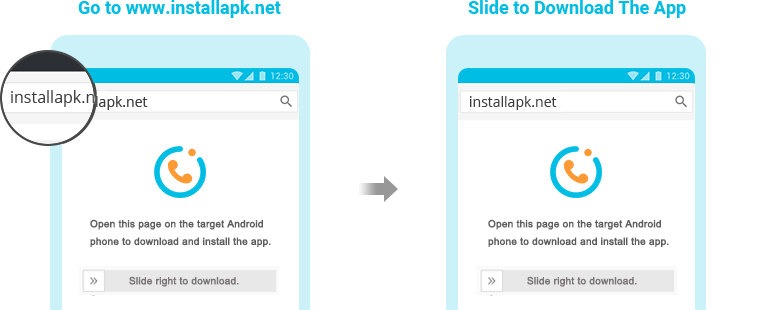 Step 2. Open the file and log in to your KidsGuard account. Follow and set with the instruction which automatically jumps into your eyes. Complete the setting by clicking "Verify Setup" on the target's phone.

At last, open your monitoring device (smartphone or computer). You can monitor who is chatting with whom now.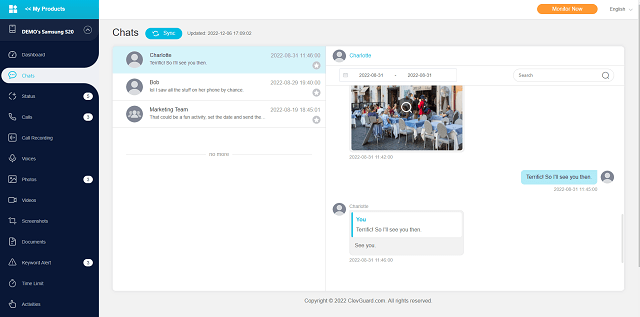 Part 4. How to Remove Online When Typing on WhatsApp?
To achieve this goal, you can set up your Last Seen status to "Nobody".
How to Hide WhatsApp online status?
Go to settings in WhatsApp on your phone, select account settings, and then select privacy settings.
Go to the Last Seen configurations.
To conceal your Last Seen status, select either "My Contacts", "My Contacts Except", or "Nobody".
With these methods, you can also hide WhatsApp's online status while chatting.
Part 5. Wrapping Up
Privacy is the key concern in many people's minds. It is inconvenient for users to appear online on WhatsApp once they open the app. In this article, we have illustrated some methods to make you "offline" when using WhatsApp.
By the way, there is also a special WhatsApp monitor app called KidsGuard for WhatsApp, which can monitor your kid's, cheating lover's, or employee's WhatsApp without them knowing. You can have a try by clicking the buttons below.