Question: Can I See Someone's Facebook Activity?
Facebook seems to be the go-to social networking site for almost every individual all over the world. Liking photos, commenting on posts and looking through your friends and family's activities, even reading their Facebook messages have been a routine on Facebook.
In fact, checking someone's Facebook activity log reveals a lot of information. We can know their preferences, movies they are watching or songs they are listening to, etc. If you want to know someone better, this is a good starting point.
So this article focuses on telling readers about how to see someone's activity on Facebook.
Method 1. Use FB Monitoring App - See Someone's Activity on Facebook without Them Knowing
Works in situation: You want to check someones facebook activity without notifying them. You don't have to be their friends or know the FB login details.
What you can check: All the Facebook messages, FB notifications, media files, current screen activities (indicating likes, comments, posts, secret conversations and more), etc.
The best way to answer how to see activity on Facebook without being friends would be by using a cell phone monitorig app. And KidsGuard Pro for Android is a great option that is approved and trusted by many users. This app has the excellent feature of Facebook activity monitoring. We draw this conclusion after we tested it for weeks. The following part contains 3 major parts.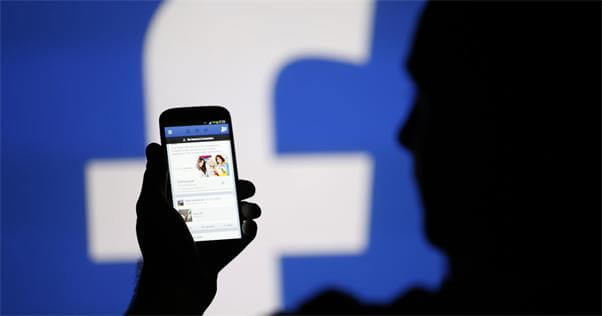 What Can KidsGuard Pro FB Tracker Do
Facebook monitoring is one of KidsGuard Pro for Android's best features. You may not have thought about using a third-party tool in order to check one's FB activity, but trust me, once you use it, you will be amazed by it.
Facebook screenshots are automatically uploaded every min when the target phone is connected to Wi-Fi so you can check someone's recent activity on Facebook.
This Facebook hacker app also allows you to monitor multiple Facebook accounts at the same time. No password requirements.
All Facebook notifications can be intercepted and checked, you could see what someone likes on Facebook, what they comment or post on Facebook. You could even see their friends on Facebook.
All the incoming, as well as outgoing messages and private messages on their Facebook or Messenger app, can be tracked secretly, which making view secrete conversation on Facebook a peice of cake!
The best part about this app is that it runs in the background in stealth mode. So the target cell phone user would not get to know that their activities on Facebook are being monitored by you. What's more, all the monitored data will be updated in real-time.
Step by Step Guide for Facebook Activity Monitoring
KidsGuard Pro is very easy to install and use. To know how to see recent activity on Facebook using this app, follow the steps given below.
Step 1. Create your KidsGuard Pro account
Click the button to choose a plan which suitable for your demands and to sign up using a valid email ID. Then select the platform you want to use, kindly note that KidsGuard Pro's Facebook monitoring feature only applies to Android phones.
Step 2. Install KidsGuard Pro for Android
Log in to your account and go to the My Products page, click Setup Guide, and follow the instruction to download KidsGuard Pro for Android to the target phone.
When installing the app, you need to open some permissions for this app, like permissions to read app notifications, etc. But don't worry, this is safe. KidsGuard Pro will not abuse your data.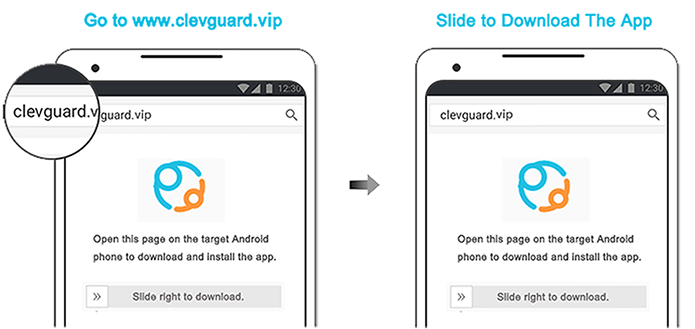 Step 3. Start Seeing Activity on Facebook
After you set up the app correctly, the app icon will disappear from the target device to prevent being discovered. Now from any other devices, visit KidsGuard Pro official websites and log into its online dashboard. Select the "Facebook" option on the left to view all the activities of Facebook on the target cell phone.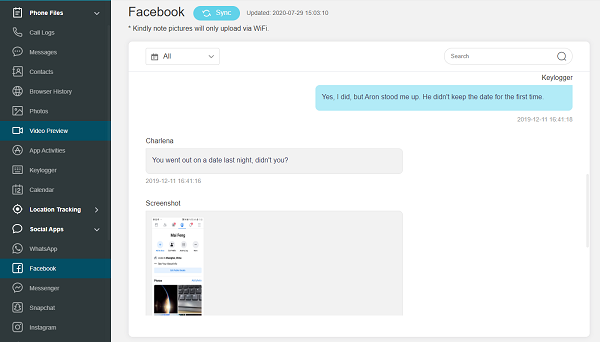 The entire installation process takes hardly 5 minutes. Once you have done this, you will be able to remotely monitor someone's Facebook without knowing. This can be your child, partner, or even employees.
What Else You Can Do with KidsGuard Pro for Android FB Tracker?
Do you think that KidsGuard Pro for Android can only help you see someone's activity? However, KidsGuard Pro for Android, an all-around monitoring software, can surprise you far beyond your imagination. It provides several functions than you expected. Let's see what else you can do with it!
Monitoring All Popular Social Media Apps: Expect to see someone's Facebook activities, KidsGuard Pro for Android can also help you monitor the hottest social apps in nowadays, such as Instagram, Snapchat, WhatsApp, Tinder, Kik, etc.
Tracking Location: If you want to track your loved ones' real-time locations, you can use the built-in GPS or Wi-Fi location tracking technology. Also, you can set up a geo-fence and receive notifications when your loved ones enter or quit the virtual boundary.
Accessing Phone Files: You can get access to the targeted phone's contacts, call logs, texts, photos, and videos from anywhere.
Checking Browsing History: You can track the browsing history on the targeted phones to see what your loved ones have viewed on the internet.
Video Guide:How to See Friend's Facebook Activity
Method 2. Check Recent Activity Log on Facebook Side Tab
Works in situation: The person whose activity you want to check is in your friend list. And they have listed the posts under public.
What you can check: New posts, comments, friend requests, group messages, etc.
How to see friends activity on facebook?
The most direct way to see a friend's recent activity on Facebook is by checking the notifications center. However, there are some requirements for using this way.
First, the person whose activity you want to check is in your friend list.
Second, the person's profile is public. Only then can you check the notifications center to see others' activity on Facebook.
So, just log in to your Facebook and click on the bell button next to the chat tab, you will have a quick view of the recent activities from your friends, including new posts, comments, friend requests, but not much information you can see.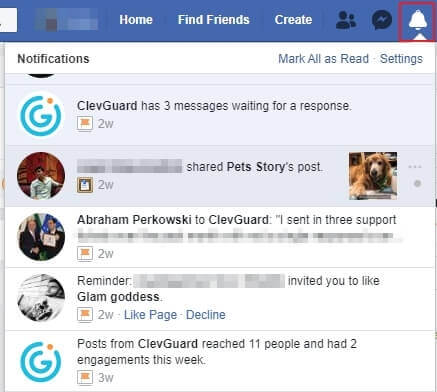 If you have access to the target phone, we suggest you explore the Activity Log, this includes the post (even hidden from the timeline), photos, stories the target person is tagged in, friends they added or removed.
How to see someone's activity log on Facebook?
Open Facebook app, and tap the menu icon. Then tap the user name and find Activity Log. You can check each category to review activities.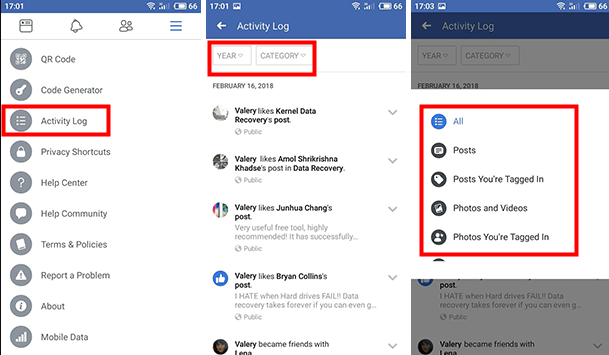 Method 3. See Someone's Likes on Facebook Profile Page
Works in situation: You are friends with the person or if the person's profile is public.
What you can check: All likes: photos, music, videos, books, sports teams, etc.
If the person whose Facebook activity you want to check is in your friend list, then this method can be useful to you. You can directly check from his/her profile page to see what someone reacted to on Facebook, as long as they have listed the posts under public or friends only category.
How to see someone's Facebook activity?
Step 1. To know how to check a friend's activity log on Facebook, all you have to do is first login to your Facebook account and go to the friend's profile.
Step 2. Now, click on the "More" options and select "Likes" from the drop-down menu. This will show all their likes on pages, movies, TV shows, books and more.
Step 3. After checking out the Facebook Likes, repeat the process again and select another category this time, for example, Music, and you will be able to check other activities.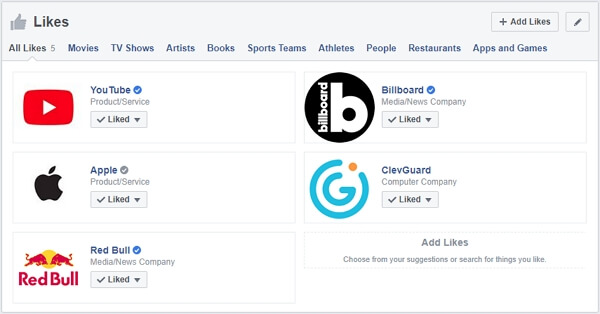 Related Read: How To Tell If Someone Blocked You On Facebook?
FAQs about Faccebook You May Want to Know
We have collected some frequently asked questions about this topic, so we write them down here in case you may want to know.
Q1: Who can see my activity log on Facebook?
Theoretically, only you can see your activity log. Unless someone has access to your phone or knows your FB password.
Q2: How to see when someone was last active on Facebook?
Open the Messenger app and go to the contact list. You can see a green dot or a recent time next to the contact name. This way you can know who is active or has been recently active on FB.
Q3: How to check someone's Facebook history?
Facebook doesn't allow checking someone's search history. But you can try using KidsGuard Pro to find out what has been searching on Facebook.
Q4: Can people know when you look at their Facebook page?
No, KisGuard Pro is a software that runs in stealth mode and the owner of the targeted phone can hardly find out that their activities are viewed.
Q5: Is it illegal to monitor someone's Facebook activities?
KidsGuard Pro is a legal monitoring tool for parents, guardians, and employers that want to keep an eye on their children. Monitoring a phone you don't own or have authorization to scan is illegal.
A Short Conclusion
The said task about how to check friend or someone else's activity on Facebook can be easy with the 3 methods discussed above. Each of them applies in different situations. If you have difficulties checking all FB activity, download KidsGuard Pro. Otherwise way 2 and way 3 should satisfy your need.