WhatsApp is one of the most popular instant messengers in the world. One of the features that makes WhatsApp so popular is its online status indicator. This feature allows you to know when your contacts are available on your Windows computer.
However, for many users, tracking WhatsApp online status of their contacts can be a challenge. That's why in this article, we will provide a guide to monitoring someone's WhatsApp online status. Whether your contacts have hidden their online status, the following WhatsApp status tracking app can effectively solve your problem.
Table of Contents
Why Track WhatsApp Online Status?
WhatsApp is a popular instant messaging app that allows users to send and receive text messages, voice messages, and make voice calls. As one of the most popular instant messengers, some people use WhatsApp to cheat, deceive, or hide things from their loved ones. This is where tracking WhatsApp online status becomes crucial. In this article, we will recommend a WhatsApp status tracking app to check someone's online status.
How to Monitor Someone's WhatsApp Online Status Effectively
If you want to monitor someone's WhatsApp activity, you need to understand how WhatsApp works. WhatsApp allows users to set their online status as "online", "last seen", or "offline. The "online" status means that the user is currently using WhatsApp, the "last seen" status shows the last time the user was online; and the "offline" status indicates that the user is not currently using WhatsApp.
To track someone's WhatsApp online status, you need to understand the different ways you can do it. Here are some of the most effective methods:
1. WhatsApp Web:
WhatsApp Web is a browser-based version of WhatsApp that allows you to access your WhatsApp account on your computer. If you have access to the target's computer, you can open the WhatsApp Web and scan the QR code on their phone to gain access to their WhatsApp account. Once you're logged in, you'll be able to see their online status, last seen, and other activity.
2. WhatsApp status tracking app:
There are several apps to track WhatsApp online status remotely. These apps can track online status, chat history, media files, and more. One of these programs is MoniVisor for Windows, an effective tool to track WhatsApp last-viewed status.
Here is how to using MoniVisor to see WhatsApp last seen status without them knowing:
Step 1: Create an account. The next thing you'll need to do is purchase a suitable pricing plan to activate all the WhatsApp tracking features.
Step 2: Download and install MoniVisor for Windows on the monitored computer.

Step 3: Go to the online dashboard and start monitoring someone's WhatsApp status. Apart from this, MoniVisor can track the WhatsApp chat messages. This feature makes it a preferred option for parental control and employee monitoring. Therefore, if you need to figure out someone's WhatsApp activities, it can be a useful tool.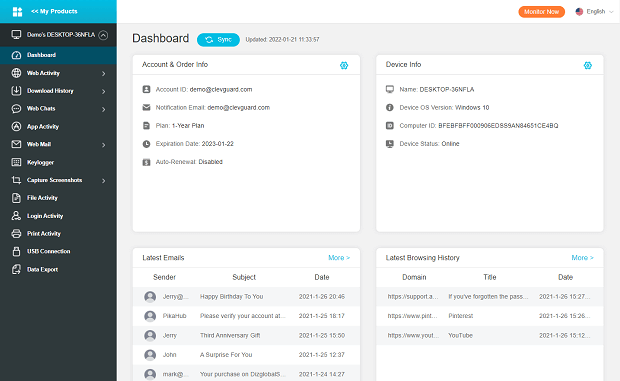 Alternative App to Track WhatsApp Online Status
There are various ways you can track someone's WhatsApp online status. As we mentioned earlier, you can use WhatsApp Web or install a third-party tracking app. However, you can also use spy apps for Android phones.
WhastApp tracker apps such as Spyic, Cocospy, and XNSPY allow you to track someone's WhatsApp activity remotely. These apps work in the background and can monitor the target user's messages, call logs, and online activity. They also allow you to view the target user's WhatsApp status, even if it is set to "hidden".
Tracking apps such as Find My Device, Cerberus, and Where's My Droid allow you to track your device's location and online activity. You can use these apps to track your own device or someone else's device, as long as you have their permission.
How to Hide Online Status on WhatsApp
If you want to know how to hide your online status on WhatsApp to avoid being harassed, there are a few tips and tricks you can use.
First comes the official way. You can launch the app and click on "More Options" in the top right corner. Then navigate to "Privacy" and "Last Seen". Go for "Nobody" and tap "Same as last seen" under "Who can see when I'm online". to hide your online status on WhatsApp.
The second method is to keep a certain contact from checking your online status. Select "Settings" > "Accounts" > "Privacy". When the "Status privacy" window pops up, click "My contacts except" under "Who can see your status updates" to block someone from seeing any of your WhatsApp status.
Conclusion
Tracking someone's WhatsApp online status can be a useful tool for parents, employers, or anyone who wants to keep an eye on their loved ones' WhatsApp activities. With the methods mentioned above, you can easily track the online status on WhatsApp, chat history, media files, and more. However, it's important to use these methods responsibly and respect the privacy of others.
FAQ about Tracking Someone's Online Status on WhatsApp
Q1. Does WhatsApp show you're online when in the background?
It depends. In some cases, when your WhatsApp is closed or runs in the background, this app still shows you're online due to technical issues. But in most instances, such as your device is locked with WhatsApp running, the status bar will not show you're online.
You may also be interested in:

By Megan Evans
A certified content marketing specialist with great passion for Internet and online safety. She is bent on educating the audience about cyber safety tips and tricks.
Thank you for your feedback!