Question:Why should parents understand secret texting codes?
Nowadays, parents have provided smartphones to their kids, and parents think they will monitor their all activities, but they don't know kids are cleverer than parents.
They use different tricks to hide their online activities from their parents. Kids usually use secret texting codes to hide their conversations from their parents.
In this article, we will discuss what secret codes kids discuss and what parents can do when their kids are using bad words.
30 Teen Texting Codes
Kids use different texting codes trying to be cooler or in order to hide something from parents. here are a few mostly used teen texting codes are mentioned below.
1.99
Code 99 indicates that "parents are gone", and now nobody is watching their conversation. This code means your kid is involved in something inappropriate.
2. CD9
CD9, or 9 is a code word used for "parents are present near." In this way, you can keep the conversation safe and clean.
3. PAW
Another code is PAW which means parents are watching. This codeword is most commonly used on WhatsApp, Snapchat, Instagram, and Twitter, etc.
4. ASL
ASL is Refers to age, sex and location. This is a romantic way of asking about sex from strangers. on various apps kids ask each other ASL to communicate with them.
5. KPC
The term KPC is used for "keep parents clueless". This is used to keep the parents out of the conversation and secret plans.
6. Dope
Dope is secret text code that used for an illicit drug is taken for providing intoxicating or euphoric effects, e.g., marijuana smoking dope.
7. Gucci
Gucci shows the term "I feel great." When someone asks kids how you are? they reply in a coolest way I'm feeling Gucci.
8. LMAO
LMAO stands for "laughing my ass off". It is used to show that you are laughing so loudly. kids usually use the word LMAO in group chats.
9. Bae
Bae means before anyone else. It is also used instead of " baby".
10. Cake
Cake word is used as slang for "nice ass".
11. Drip
Leaks drips mean you look sexy or extremely fashionable.
12. RUOK
Rock is used for "are you ok"?
13. PIR
PIR stands for parents in the room. It is used as an alert.
14. LOL
Lol means lots of laughs. Lol is the most common word so that the Oxford English Dictionary now recognizes it.
15. No cap
No Cap is used in code words to tell the next person that someone is not lying. Instead, the blue cap emoji is used to signify this.
16. PMOYS
PMOYS stands for "put me on your Snapchat." Teens most commonly use this code to add each other on Snapchat.
17. Sis
Sis is a short word used for sister. It shows the close friendship and is a style of greeting.
18. Smash
Smash refers to casual sex. Nowadays, kids are involved in casual sex, so you should keep an eye on such relationships.
19. Snack
In slang language, a snack is used for attractive or sexy people. Moreover, it also refers to cute animals who are enjoying their snack.
20. OOTD
OOTD is an abbreviation used for outfit of the day. it is mostly used in fashion videos, styling videos, personal blogs, etc. word OOTD is very famous on social media like Twitter, Instagram, and Pinterest.
21. YOLO
YOLO stands for you only live once. It means you should enjoy every moment of life because one gets only one life.
22. NIFOC
NIFOC is used for" naked in the front of a computer" in slang language. For example, it is used to imply masturbating to porn.
23. LMIRL
LMIRL is used as an abbreviation for "let's meet in real life".
24. Sexting
Sexting is actually a combination of sex and texting. First, it means sending sexual messages. Second, it means sending or circulating nudes, porn, etc.
25. QQ
QQ is a term mostly used in the gaming community. It is used as sarcastic remarks for players who are weak or noob. Moreover, QQ is used for sadness, loss, or crying.
26. TTYL
TTYL means talk to you later.
27. SPAM
SPAM means unsolicited messages. Most spam messages are fraud. Spam has many forms like messages, email, chat forums, posts in blogs, etc.
28. SWAK
SWAK stands for "sealed with a kiss". It is mostly written at the end of a letter or a gift card etc.
29. RAK
RAK is an abbreviation of a random act of kindness.
30. VSCO girl
The term "VSCO girl" is used for stylish girl who take and upload stylish pictures.
Related Read: Parent Guide: Is Tinder Really Safe for Teens?
What Can Parents Do When Their Kids are Using Bad Texting Codes?
It is difficult for parents to keep calm when they know their kid is using secret codes in conversation and involved in some kind of adult activity.
So, there are few steps by which parents can protect their kids from internet dangers such as secret codes, secret chats etc.
1. Keep an eye on their online activity - KidsGuard Pro for Android
KidsGuard pro for Android is a monitoring app with advanced features that let the parents keep an eye on kids' online activities.
It gained popularity in a short time among parents because of its amazing monitoring and tracking features.
If you have doubts that your kid is hiding something from you and using secret texting codes in their conversations, then you can monitor their activities with KidsGuard Pro.
KidsGuard Pro will provide you report of all chats and call history so you can block that person who is using bad secret codes in their chats, like sex-related codes, etc.
How to set up KidsGuard Pro for Android?
Step 1.
Tap on
Monitor Now
button and use a valid email address to sign up a KidsGuard Pro account.
Step 2.
After restriction, go to
My Products
page and click on
Setup Guide
button. Now follow the instruction to finish download and install KidsGuard Pro for Android onto target phone and complete neccessary setting.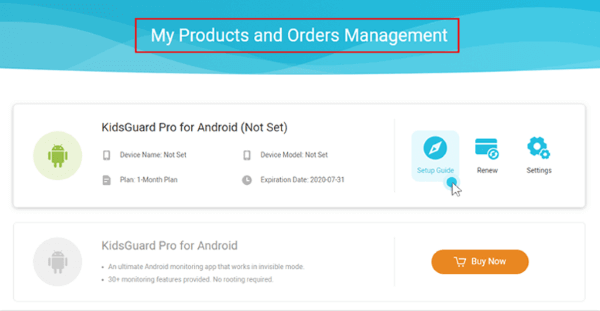 Step 3.
When complete setting, the icon of this app will disappear from the home screnn of target phone, it's 100% undetectable. Then you can view your kid's online activities from the dashboard.
KidsGuard Pro for Android can monitor more than 30 social apps, file managers, SMS,real-time location,phone calls. Additionally, it has an advanced geofencing option through which you can track your kid's activities like where he is going.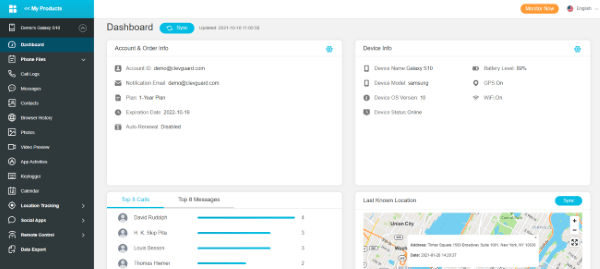 2. Have an open conversation with kids
You should openly talk to your kid if you have noticed some secret codes in his conversations with friends and strangers. Ask him if anything wrong is happening to them, assure him you are with him always.
In addition, Discuss with him the cons of secret codes, adult stuff and friendship with strangers. Tell him about the online predators, blackmailers, cyber bullying etc.
Because it's important for kids to know about the drawback and dangers of having a secret conversation or sexting with strangers or friends.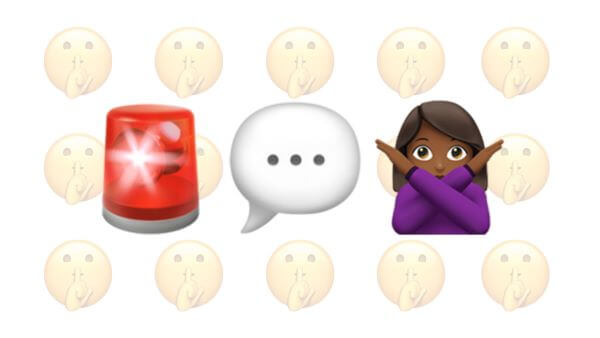 3. Keep their account private
As you know, about 88 percent of teenagers have their own phone or mini laptop, and many of them have social media accounts too. So online predators target teenagers and attract them towards themselves.
They send messages to kids, they use acronyms or slang to keep their chat secret from the device system or app system because few apps have rules which do allow words like sex, sexting, porn, etc.
That's why they approach kids with secret texting codes. Make sure that your kid's account is more secure and activate their private mode on all social app's accounts.
4. Set time limit
After the lockdown, parents provided their kids with smartphones for online study and projects but now kids are getting involved in adult activities, that's not good for their mental health.
That's why parents should set a time limit on device usage. They should allow them to use a mobile for study purposes, only that's why they should put a screen limit. Because in this way, they can protect their kids from social hazards.
Parents can use parental control app such as KidsGuard to set screen time limit for kid's phone.
Final Thoughts
Parents check kid's phone frequently because they worrying kid's safety, in order to avoiding this, kids choose to using secret codes for texting to keep their conversations private. They are surpassing their parents in smartness.
Knowing this kind of secret codes are important for parents. However, parents can still monitor kids' phones without their knowledge with KidsGuard Pro for Android. Parents can use this app to protect and control your kids from dangerous social media.