Question: What Are Messaging Apps For Teens?
Messaging apps for teens include all those applications that connect users around the world. Through convenient texting, chatting, and calling features, messaging apps are not only loved by the young generation but elder people are also using them as the main source of communication with their loved ones.
The benefit of these messaging apps is that it does not cost much. Also, you can not only chat with your faraway friends and family but also you can share your photos, videos, current location, and above all, you can make video calls as well.
Part 1. The 5 Most Popular Messaging Apps for Teens
86% of teenagers own mobile phones. Along with playing games on them and listening to music, teens love to talk and text their friends. Here is the list of the most popular apps for teens.
1. WhatsApp
WhatsApp is the most popular messaging app that's used by millions of users around the world. With WhatsApp, you can send and receive messages, as well as group chat. Kids feel better connected to mom, dad, and siblings through group chats.
You can also broadcast text to everyone in a chat as well as make calls over Wi-Fi instead of your mobile network. It works with your existing phone address book and tells you when someone's phone number has been changed.
WhatsApp also allows you to share your exact location, along with your last location history. It is free to use on all Android and iOS devices. You can voice call or video call to anyone who is on WhatsApp.
Pros
Offers unlimited texts, calls, and videos.
Free to use and very convenient.
Offer message status; sent, delivered, and read are visible.
A wide range of stickers and emojis are there.
You can search for a text inside a chat.
You can mute the status of an unwanted person.
Also, you can choose who can view your status.
Cons
Automatically connects you to your all contact list.
Related Read: How to Read Others WhatsApp Messages on Android? 3 Ways Discussed
2. Kik
Kik is another app on iOS and Android platforms that was founded in 2009 by a group of college students from the University of Waterloo in Ontario, Canada.
Users can create their own Kik usernames and log in with them instead of giving out their phone numbers. This way, users can control who they talk to since people can only talk to those with whom they have been added to the app.
Kik also claims that their messenger has "real-time messaging" built into it which makes it feel like 'a real conversation' as opposed to text messaging on traditional SMS/MMS applications where one isn't aware when the person is typing back.
Pros
Free to use
It's fast and has no message limits.
Cons
Kik allows communication with strangers.
It's loaded with covert marketing.
3. Viber
Viber allows people around the world to text, call, and send photo and video messages with a Viber app on both Android and iOS smartphones.
Viber offers toll-free calls across all devices to users who don't have access to a cell or landline number. To use an app like WhatsApp, you only need to register your phone number, and it automatically links with your contact list.
In addition to basic messaging services, groups can consist of up to 100 people with instant messaging enabled by default in some countries.
Pros
Offer many participants in group chatting.
Available for all smart devices.
Contain a wide range of Emojis or stickers.
Cons
Does not offer a search for text inside chat.
Message status; sent, delivered, or read is not provided.
4. LINE
LINE is another chatting app for teens that allows users to send as many text messages and photos to their friends as they want. It includes a feature that enables users to make free calls and texts while they are on the go.
The app also includes a feature that allows users to make video calls with one another instantly and easily. With this app, users can share status and other information instantly without having to wait until people reply.
Pros
Offer free massaging and calling.
Cons
It can be addictive.
Prone to inappropriate content.
5. Snapchat
Snapchat is another popular messaging app for Android that allows users to share messages that include photos or videos (with a caption option), group chat, and more.
The app allows one to make "snaps", brief, fleeting messages with a unique feature of this app called the Snapchat Story which is a living narrative where each Snap lives for 24 hours until it disappears, making room for the new.
Pros
Offer a variety of filters for photos.
Can share streaks of every moment.
Cons
It can be addictive.
Information stays longer as it is assumed to have vanished.
Part 2. What is the Best App for Messaging?
There are several things parents can do to ensure which messaging app is best for their child. We've put together these three fundamental tips when selecting a messaging app for kids!
It should be free to install and easy to use.
It should allow using the web as well so that to track record.
Location sharing feature should be there to keep track of kids.
WhatsApp is the best app for messaging as it is easy to use. It allows users to communicate with one another in a variety of ways, including sending text messages, audio messages, videos, and photos.
No stranger can contact your teens randomly unless they have your cell phone number. As the chance of getting in touch with strangers are minimal.
You can use WhatsApp web on your PC. So it is very helpful in tracing your kids' chats.
The location-sharing feature is also available. Above all, it is free to use and very easy to operate. CHEER UP!
Part 3. Why Parents Should Be Concerned About These Apps?
Parents should familiarize themselves with the apps their children have on their mobile devices because not all messaging services are good for kids. They may be harmful in some way.
Contact with strangers: It is a high possibility that teens come in contact with strangers and share their personal information with strangers.
Inappropriate content: They can come across inappropriate content (sexting and nudes etc.)
Cyberbullying: They can get bullied online or may indulge in cyberbullying.
Part 4. Tips: How to Monitor These Popular Messaging Apps?
To prevent kids from online dangers of messaging apps, parents are advised to take precautions.
Spy on teen chat apps with KidsGuard Pro
Kids may get involved in inappropriate content as they become friends with strangers, parents need to spy on their chat to make sure their kids are safe. KidsGuard pro is a spying app that eases you job of spying on someone's phone.
KidsGuard Pro allows you apps tracking on any cell phone. You can monitor popular social media applications. With KidsGuard Pro you can track all incoming and outgoing messages and calls, getting the contact names and approximate timestamps of when the text or call was made and a summary of how long the conversation went on.
Using Steps of KidsGuard Pro
KidsGuard pro is available for both Android and iOS devices. Here is the step-by-step process of it.
Step 1: Register for KidsGuard Pro
Click Monitor Now button below and skip to KidsGuard Pro's website. By using your valid email, create your account. Selecting a plan to activate the product.
Step 2: Install the app on the Target Device:
Now go to My Products page and click on Setup Guide button, follow the instruction to finish download and install KidsGuard Pro for Android/iOS. This step only needs to take 3-5 minutes.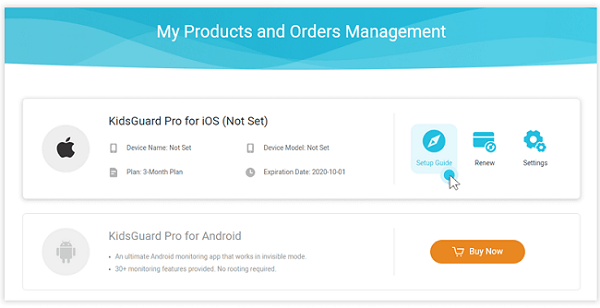 Step 3: Start Monitoring Remotely:
After successful installation, you can monitor your target phone activities from the web dashboard control panel.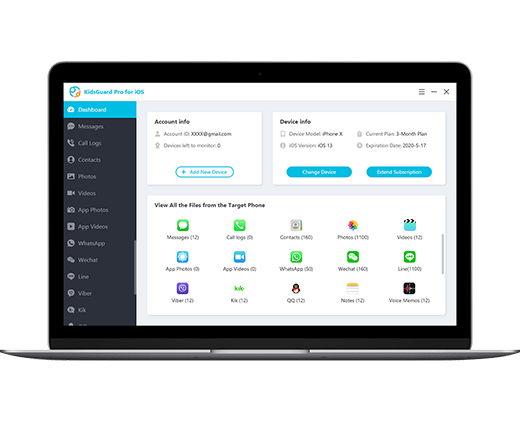 Part 5. Final Words
As messaging applications are the need of today's modern world, at the same time parents must keep eye on their kids as these teen chat apps are prone to potential risks. Ask your kids if they are using messaging apps, and if so, which ones have tickled their fancy. Be aware of how your kids are using these apps and as always, monitor what takes place through a line of communication that is open.
KidsGuard Pro will always be your eye on your teens in case they are getting in online danger. With one tab, you will get all the hidden details of your teen's phone, and in that way, you can secure them and guide them.