A Snapchat post is designed to get erased after a certain time. This is a policy the company came up with for privacy reasons. And this actually, makes things complicated, especially for worried parents like below.
Question:
How can I get into my daughter Snapchat without a verification code? I do believe kids have unlimited rights to their privacy; they should be able to enjoy time looking above their shoulders. But as a parent, I also have a responsibility to protect our children from dangerous situations. So, can someone help?
If you also think so, then you have come to the right place. We have found the most exciting app that allows parents to monitor Snapchat without verification code or being discovered.
Table of Contents
Are There Any Apps for Parents to Monitor Snapchat?
So, you may ask, is there an app that I can use to see what my daughter is doing on Snapchat?
Yes, there is, and it is called KidsGuard Pro. It is a state of the art monitoring app with cutting edge features. There are over 30 different monitoring options which made KidsGuard strengthen its roots in the parental monitoring market. It effectively monitors all the aspects of Snapchat, including the posts that get erased after a few moments, snaps your child saved, etc.
Note: KidsGuard Pro Snapchat monitoring features are only available on Android devices.
Feature 1: Monitor Snapchat Messages
Snapchat is a versatile platform. It has several functions. Sending and receiving messages is very common for Snapchat users, and you will be able to monitor them all effectively with KidsGuard Pro. The image shows how KidsGuard Pro can view Snapchat history.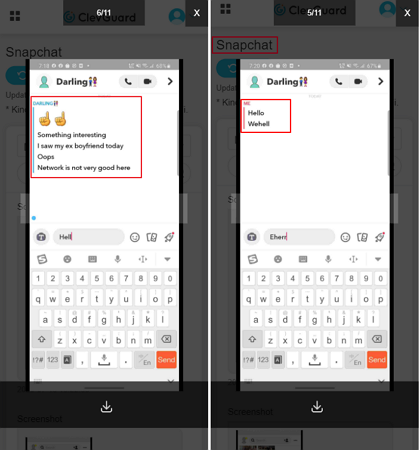 Feature 2: Monitor Snaps
The photos or videos shared via Snapchat are called snaps. KidsGuard Pro will also record all the snaps sent by your kid and received by your kid.
Feature 3: Monitor Snapchat Stories
The Snapchat stories are the themes; the stories get deleted after 24 hours. But you don't have to worry. Even if you were not able to check within 24 hours, the data will be recorded, and you will be able to view it later.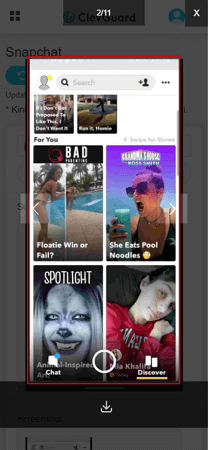 Feature 4: Monitor Snapchat Followers & Following
The followers and the following are a big part of any social media platform, including Snapchat. You will know who are the people following your kid and also the people who are followed by your kid. This will get you an insight into what they like on the internet and what kind of circle your kid is hanging out.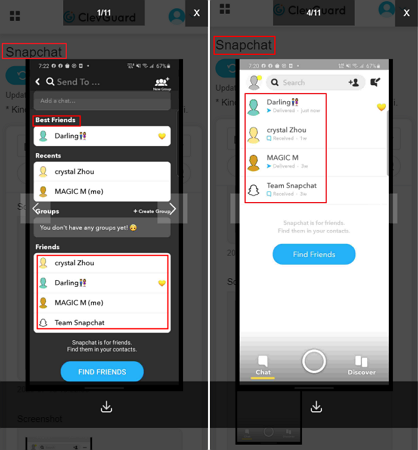 Feature 5: Never been found out
Last but not least, one of the most essential features. The capability of doing all these works without giving even a subtle hint about its presence. The app was designed to work stealthily, which makes all the difference.
All these functions make KidsGuard Pro the ultimate answer for Snapchat monitoring. But the questions you may ask, how can I check my daughter's Snapchat?
Well, you have to learn the operation of the software which you will find in the following part of this article.
Ultimate Guide to Monitor Child's Snapchat
KidsGuard Pro is equipped with a few cutting edge feature which makes it the most capable application for Snapchat monitoring for parents. All these features are quite convenient. Now, without further ado, check out how can a parent monitor Snapchat using KidsGuard Pro.
Step 1: Create an account with KidsGuard Pro and complete the purchase via online payment.
Step 2: After making the purchase, you will be directed to the "My Products & Order Management" page. Click on the "Setup Guide" to find the app download link and detailed installation guide.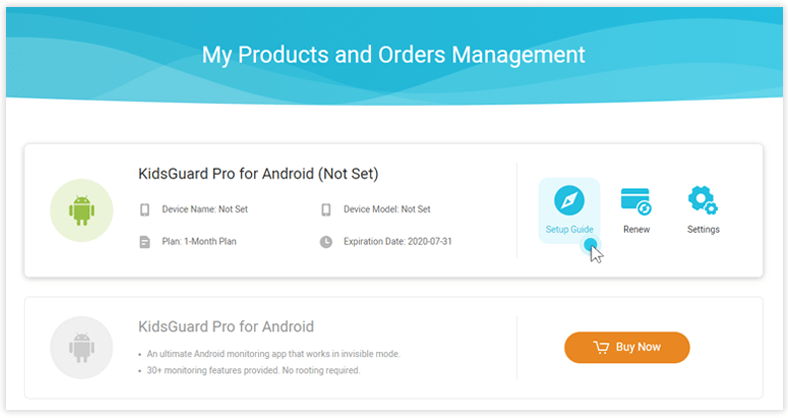 Step 3: Now, it is time to install KidsGuard Pro on your child's Android phone.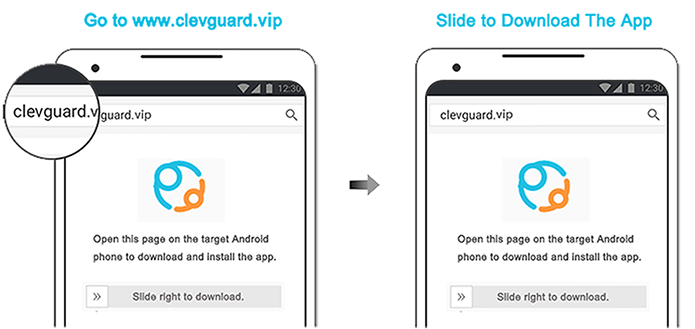 Step 4: After the installation is finished, the app will be hidden on the target device and carry monitoring tasks. To view the files, you need to go back KidsGuard Pro website and verify the setup. After that, you will be navigated to the online dashboard, locate Snapchat under Social Apps and feel free to find out the truth.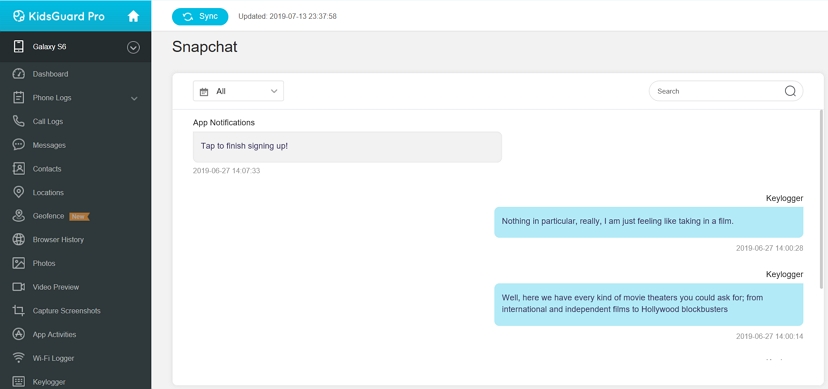 Snapchat notifications, screenshots of Snapchat, Snapchat messages, etc are checked from Social Apps – Snapchat.

Saved images are check from Phone Files – Photos – Snapchat folder.

Screenshoots of Snapchat will only upload over WiFi network.

KidsGuard Pro online dashboard can be visited on any devices, like your computer or smartphone.
Now you should be aware of how does KidsGuard Pro works to monitor Snapchat, and beyond that, KidsGuard Pro also allows you to check Facebook, WhatsApp, call logs, browser history and so much more. It's powerful, invisible and secure. No wonder it is considered the best app for parental monitoring Snapchat. If you want to experience this product, you can try its free demo first, which is exactly the same as the real product.
Also, Tips on Snapchat Monitoring for Parents
Here are a few tips for the parents regarding Snapchat. It will help you to understand the app more, which will give you an insight into what your kids are doing on the app.
Try to learn about the app.

Get a tour of Snapchat, create an account if possible

Figure out how the following and the follower work

Lay down some rules about using social media.
Write in the End
It is very important to know what the kids are doing on the internet. At a young age, they are not able to grasp the gravity of what a misstep can do to their lives. So, it is essential!
But when it comes to monitoring Snapchat, parents find it difficult to monitor. Due to the apps privacy features. So, we recommend parents to learn more about the app's operation. Then, go straight for KidsGuard Pro. You don't have to worry about anything. You will get all the details.