In today's digital age, Hulu has become one of the primary sources of entertainment for many families, so it's essential to set parental control on Hulu to ensure that our children are not exposed to inappropriate content.
With Hulu parental control, parents can set restrictions on the content their children can access based on ratings, genre, and even specific titles. This allows them to create a safe and age-appropriate viewing environment for their kids. In this article, we'll take a closer look at how Hulu parental control works, its features, and how to set it up, so you can enjoy worry-free streaming with your family.
Part 1: Does Hulu Restrict Content Based on Age?
Yes, Hulu restricts content based on age using a rating system similar to what is used in movies and television. Hulu uses both the TV Parental Guidelines and the Motion Picture Association (MPA) rating systems to rate its content. These ratings range from G (General Audience) to NC-17 (No one 17 and under admitted).
Hulu's parental control feature allows parents to set restrictions based on these ratings. For example, parents can choose to block content rated TV-MA (Mature Audiences) from being accessed by their children's profiles. Additionally, Hulu's parental control allows parents to restrict access to specific TV shows or movies, regardless of their rating.
Part 2: Can You Set Parental Controls on Hulu?
Yes, Hulu offers parental control features that allow parents or guardians to restrict access to certain types of content or even specific TV shows and movies, depending on their rating or content. In this part, we will show you 4 ways on how to set up parental control on Hulu.
1. Create Kids Profiles on Web/Mobile
To set up parental controls on Hulu, you can create a profile for your child and enable the Kids Mode feature. Kids Mode ensures that only age-appropriate content is accessible to children by restricting access to mature or adult-oriented content. It also limits the interface to only show content that is suitable for children under the age of 12.
Log in to your Hulu account and go to your account settings.
Click on the "Profiles" tab at the top of the page.
Click on the "Add Profile" button.

Select "Kids" as the profile type.
Enter the name of the child for whom you are creating the profile.
Choose a profile picture for the child, or upload your own.
Toggle on the "Kids Mode" switch to restrict access to only age-appropriate content.

Click on "Create Profile" to save the profile.
2. Turn on Parental Control on Hulu
With the parental control feature turned on, parents can choose between the following ratings: TV-Y, TV-Y7, TV-G, TV-PG, TV-14, and TV-MA. They can also block specific movies or TV shows from being watched by their children.
To set up Parental Controls on Hulu, follow these steps:
Log in to your Hulu account and go to your profile settings.
Select the profile for which you want to enable parental controls.
Scroll down to the Parental Controls section and click on "On".
Choose the appropriate rating level that you want to restrict.
Block specific movies or TV shows by entering their titles in the "Blocked Shows" section.
By setting up parental controls on Hulu, you can create a safer and more secure streaming experience for your children.
3. Enable PIN Protection
Once you've enabled PIN protection, anyone who tries to access the profile will be prompted to enter the four-digit PIN that you created. This helps to prevent unauthorized access to the profile and ensures that your children are only watching content that is appropriate for their age.
Log in to your Hulu account and go to your account settings.
Click on the "Privacy and Settings" tab at the top of the page.
Scroll down to the "Profile Lock" section and click on "Set Up PIN" next to the profile you want to protect.
Enter a four-digit PIN that you will use to protect the profile.

Confirm the PIN by entering it again.
Choose the level of restriction you want to apply to the profile. You can choose to restrict content based on its rating, or you can block specific movies or TV shows.
Click on "Save Changes" to enable PIN protection.
It's important to note that PIN protection is only available for adult profiles. Kids profiles are automatically restricted to age-appropriate content, and PIN protection is not necessary.
4. Use Parental Control Software -- KidsGuard
Hulu's parental control feature is not foolproof. While Hulu does its best to ensure that its content is appropriately rated, some content may still be inappropriate for younger viewers. Therefore, it's essential for parents to monitor their children with professional parental control tools and ensure the safety of children's online activities.
KidsGuard is one of the best tools that provide you with Parental Controls features. Parents can use KidsGuard to follow their children's where in real-time and detect harmful content. Using a simple dashboard, you can monitor your child's streaming activity on Hulu and enforce the restrictions you've set.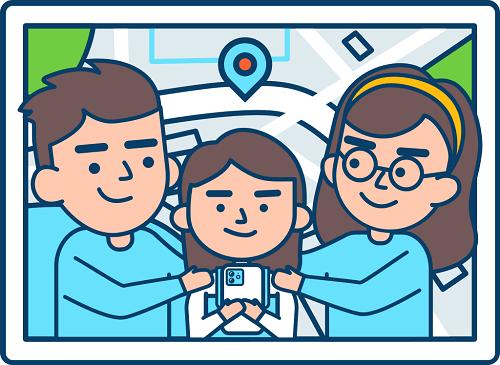 Web Block: Block the inappropriate games and websites to allow your children to access child-friendly websites while blocking them from accessing potentially hazardous ones.
App Block: Keep track of your children's app usage. To avoid unwanted distribution or to limit the use of obsessive apps, block improper social or gaming apps.
Lock Screen: Monitor your child's device screen to see what they're up to; you can also lock the screen when they're on vacation, allowing them to focus more on learning, exercise, and other activities.
Real-time GPS: Monitor your children in real time and see their position history, as well as get quick notifications when they enter or leave the location.
Activity Report: On the dashboard, you can get detailed routine reports of your child's internet activity including on Hulu.
How to Use KidsGuard to Set up Parental Control on Hulu?
Step 1. Download and install the KidsGuard app on the devices of the parents. 
The first step is to download the KidsGuard app on the device of the parents. Click the button below to download KidsGuard to your phone and use a valid email address to register an account.
Step 2. Log into Account on Parents' Phones. 
Once you have logged into your account, click on the "Bind Now" button, scan the QR code with your child's mobile phone.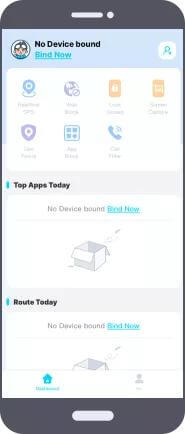 Step 3. Download and install the KidsGuard app on your children's phones.
Note: On the kids' side, we currently only enable Android devices.
Scan the code, then download KidsGuard Jr on his/her phone.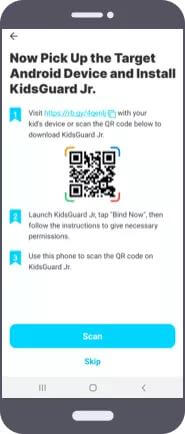 Step 4. Monitor your Target Device. 
You are ready to monitor your target device. To protect and monitor your child remotely via online dashboard.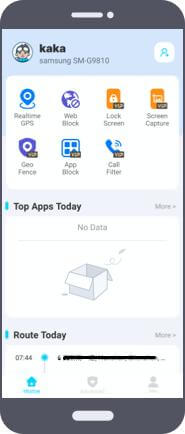 On the target device, the app is hidden and also not visible on the home screen.
Part 3: FAQs About Hulu Parental Control
Does Hulu show R-rated movies?
Mature content is immediately prohibited based on the user's Hulu profile's age. Children as young as 13 will be unable to access any R-rated movie or TV series from their personal profile.
How do I turn off parental controls on Hulu?
Select the pen icon beside the profile on your Hulu account management page. Under Kids, change the toggle switch to the Off position.
Conclusion
The parental controls on Hulu are simple to use. Because video streaming services have large media libraries with movies and series of various ratings, it's critical that they have good parental controls.
Children are still not supposed to be able to access many of them. As a result, KidsGuard is one of the most effective and strong parental control tools for teaching children good behaviors.