Snapchat se ha convertido en una plataforma social muy famosa y próspera desde su lanzamiento. Una de las mejores características de Snapchat es que cuando ves un snap o lees un mensaje en Snapchat, los remitentes verían la etiqueta "abierto". Sin embargo, puede ser estresante porque puede que no tengas tiempo de responder al instante.
Así que ha habido gente que se ha hecho la misma pregunta: ¿Cómo abrir un Snapchat sin que la persona lo sepa? Por lo tanto, aquí hay algunos trucos que pueden ayudarte y una forma segura de abrir el Snapchat de alguien sin que lo sepa.
3 formas de abrir Snaps sin saberlo
Camino 1: Abrir el Snapchat de alguien sin saberlo con la herramienta
"¿Puedo comprobar un Snapchat sin que lo sepan?"
Todos sabemos que es difícil evitar la restricción de Snapchat. Hemos comprobado dos y tres veces todos los Caminos y encontrar el 100% eficaz es por 3 ª aplicaciones.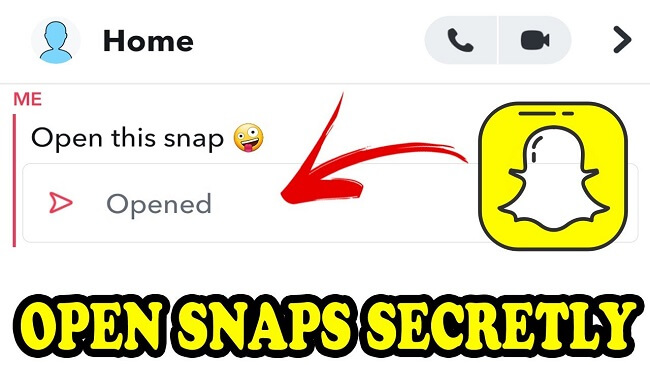 Viabilidad: 98%
Recomendación:
Aquí estoy para contarte que un programa llamado KidsGuard Pro para Android te permite ver toda la actividad de Snapchat en el teléfono de otra persona en secreto. Una vez instalado, esta aplicación no deja ningún icono en la pantalla del teléfono y funciona en modo sigiloso sin que se note. Puede ayudarte en el siguiente Camino si quieres ver el Snapchat de alguien.
Lee los mensajes de Snapchat, tanto los salientes como los entrantes.

Ver las imágenes y vidoes que se comparten y guardan a través de Snapchat.

Haz capturas de pantalla en Snapchat sin que lo sepan.

Recibe todas las notificaciones de Snapchat.

Acceda a la información de contacto así como a la marca de tiempo.
Gran bonificación: ¡Consigue un 30% de descuento de regalo para abrir Snapchat sin que lo sepan!
Pasos para utilizar la supervisión de KidsGuard Pro en Snapchat:
Es muy sencillo instalar y utilizar la aplicación KidsGuard Pro en un dispositivo Android. Siguiendo tres sencillos pasos, puedes ver fácilmente los Snapchats sin abrirlos.
Paso 1: Visit KidsGuard Pro official website to create an account by signing up using your email ID and purchasing a pricing plan. Then download the application on the target device.
Paso 2: Log in to the app and follow the on-screen setup wizard to allow all necessary permissions on the target device. Once the app is installed successfully, the app icon will disappear and it means KidsGuard Pro is now working in stealth mode.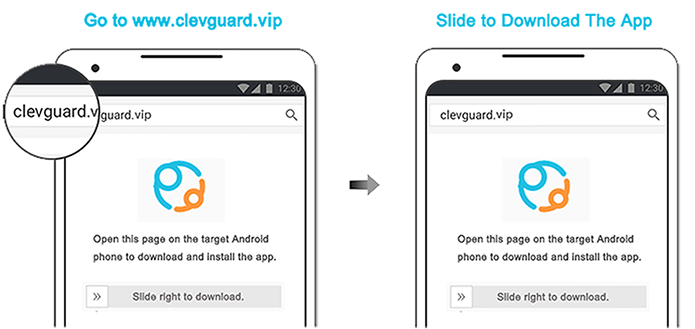 Paso 3: Then you can use any device to log in to KidsGuard Pro website and start to monitor someone's Snapchat by accessing the online dashboard. Just tap on "Social Apps" and select the option "Snapchat" to view all activity on target phone.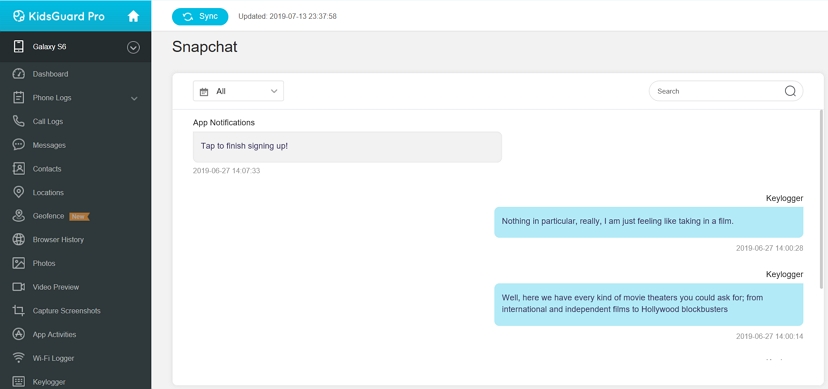 This is how to open a Snapchat without it saying opened in 2022 with KidsGuard Pro. Quite simple, does it? Anyone can complete the setup with only a few clicks.
Advantages of choosing KidsGuard Pro for Snapchat monitoring:
It will not let the target device user know that you are viewing on their Snapchat.

It won't ask you the details of the target device user's Snapchat account login details to start monitoring.

It allows you to monitor someone's Snapchat remotely without having to access the target device.

The data collected by this application is uploaded on the online dashboard in real-time.
Camino 2: Half Open Snapchat without Them Knowing
Viabilidad: 80%
Recomendación:
Basically, Snapchat will notify the senders if their snaps are fully opened. So if you only slide it close to the 3/4th of the screen, it is possible to read Snapchat message without the person knowing. You can follow the following Pasos to know how to see a Snapchat without opening it.
Paso 1: Launch the Snapchat app on your phone and swipe right to the chats page. Look for a New Snap label (if it is a snap), or a New Chat label (if it is a chat message) beneath your friends' name in their conversation tab.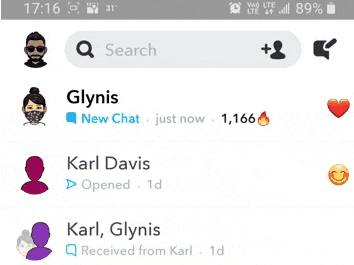 Paso 2: Swipe right on the conversation you want to view slowly and hold your finger on the screen taking care that you do not swipe all the Camino right. Just be warned that do not release the finger when you are reading the message.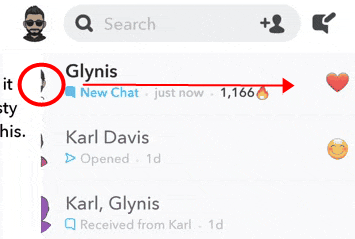 Paso 3: As soon as you can see some part of the message, continue swiping gradually while holding below until a small border appears at the right side of the screen. You would be able to read this part of the conversation only.
If you're done with it, just swipe the conversation left. The message you read stays unopened so your friend will never found out the truth.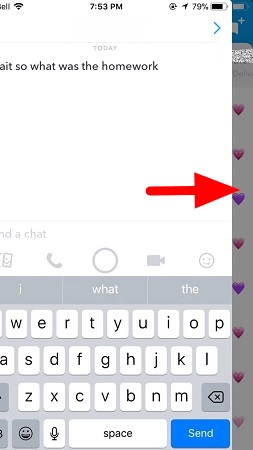 This is how to open a Snapchat without them knowing. It is helpful if you want to read a Snap but don't have the time to reply or you need time to think about a certain reply to someone.
Limitaciones:
Though most of the Snap is visible, you have to guess the very beginning part. I have to say that, it is a little tricky. If you accidentally slide too close to the end, the person will be notified. As long as you're careful enough, this method is basically foolproof.
Camino 3: Open Snapchat Messages under Airplane Mode
Viabilidad: 10%
Recomendación: No
If you Googled "How to open a Snap without them knowing in 2021", you must have seen this Camino of turning on Airplane mode and clearing your cache, then someone can't receive the notification and won't know you have opened it.
We did a lot of tests and finally figuring out it does not work. It seems that Snapchat has fixed this bug. The wrong Pasos involved are shown like below, so remember not to follow them.
Paso 1: Open Snapchat app and log in to your account. Swipe right to enter the conversation page.
Paso 2: Don't click on the snap you want to see. Make sure it is fully loaded until it is labeled New Chat or New Snap.
Paso 3: Swipe down from the top of the screen and put your phone on Airplane mode. Turn off your WiFi, Bluetooth, cellular data and everything to disconnect your phone.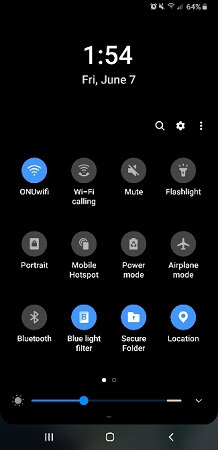 Paso 4: Go back to your Snapchat and tap on the Snap which you wish to view.
Paso 5: Once you have seen the Snap, tap your profile icon at the top left of your screen. Open Settings, then scroll down to find Clear Cache and choose Clear All. Snapchat will restart though.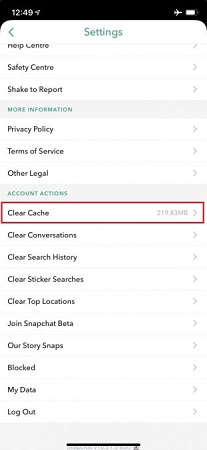 Paso 6: You can now turn off Airplane mode.
Limitaciones:
Por desgracia, podrán ver que has abierto el Snap una vez que desactives el modo avión. Este método sólo retrasa la notificación pero no puede engañar a Snapchat.
Hay muchos trucos similares a este, por ejemplo, reinstalar Snapchat o reiniciar el móvil después de leer los mensajes en Snapchat en modo avión. Probamos todos ellos y la otra persona sigue recibiendo notificaciones.
Conclusión
En general, Snapchat es una plataforma que puede mejorar tu experiencia de comunicación con tu familia y amigos. Sin embargo, es posible que quieras abrir la historia de Snapchat sin que ellos lo sepan por algunas razones, los Caminos mencionados anteriormente pueden ser útiles.
Además, si deseas ver las actividades y mensajes de Snapchat en el teléfono de otra persona, puedes utilizar la aplicación KidsGuard Pro. Es una aplicación muy fiable que te permite monitorizar el Snapchat de cualquier otra persona sin que el usuario del teléfono objetivo lo sepa.