WhatsApp is one of the most successful social networks around the world, and for a good reason — users can share profile pictures, videos, audios, status and more with any contacts. If you think WhatsApp is a safe heaven, you are wrong. And this brings us to some questions. Who is spying on my WhatsApp? How to know who viewed my WhatsApp profile picture and status? Does WhatsApp let me see who viewed my profile?
The fact is that WhatsApp doesn't have an in-built feature to let you see who has viewed your profile picture, but it's pretty easy to figure out who viewed your regular status if read receipt is enabled. So are there any third-party apps you could use to see who viewed your WhatsApp dp? Yes, there are an absolute ton of apps, both for Android and iPhone.
Part 1: How to Know Who Viewed My WhatsApp Profile Picture on Android
If you have an Android device and you want to find out who has viewed your WhatsApp profile in the last 24 hours, you can simply look in some apps like WhatsApp-Who Viewed Me let you find out who is checking out your profiles, who is interested in you and who may have a crush on you. It has a simple interface, and there are no charges for its useage. The installation only takes a few minutes, you don't need to get register on it, and it claims to offer all the information you need to know who viewed my WhatsApp profile picture.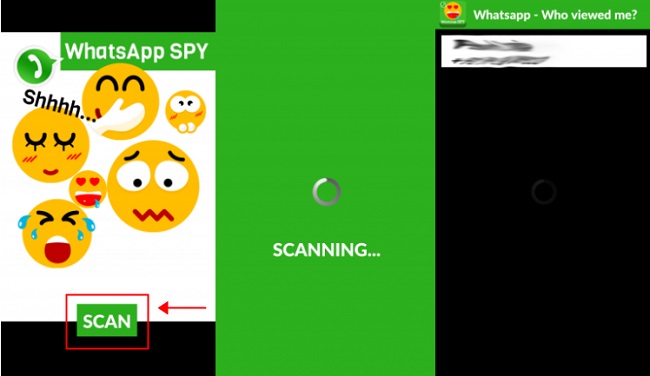 Whether it is real or not you cannot make sure. But I have tried this WhatsApp profile picture viewer on my own Android phone and it did show me some funny results. Here's a detailed guide of how I tested WhatsApp-Who Viewed Me app below.
Step 1: Download the app on an Android phone. Be noted that the app is not available in Google Play Store. So search in Google and download the apk manually instead.

Step 2: Then install the application and open it. To use the app, it asks for permissions for phone calls, contacts and location. Although I doubt that it needs to access my phone calls and see where I live, I approved all the requests to make it work.

Step 3: After that, I tapped on the Scan button which is available in the home screen itself.

Step 4: At last, it takes a while to load the data and when it is done, it shows a list of the contacts in my phone. But I'm not sure whether all of them have visited my WhatsApp account or not.
Does WhatsApp-Who Viewed Me 100% work?
I have seen a lot of comments about this WhatsApp profile pic viewer online. Some are saying that it only picks up random names from your contacts, because sometimes those contacts do not have WhatsApp account. So, it becomes quite impossible to believe in its results. But you can prank or mock your friends through the results if you don't take it so seriously.
Part 2: How to Know Who Viewed My WhatsApp Profile Picture on iPhone
IF you are iOS user than there is a good news for you. WRevealer is a whatsapp dp viewer which allows you to find out who viewed your WhatsApp profile picture. It is available on iOS 8, 9 or later. But it is a Cydia tweak, meaning that you will have to jailbreak your iOS device to know who's stalking on WhatsApp. So, you need a little knowledge to use this tweak, and if you have a jailbroken device you can get it right away from the Cydia app. Of course, we have provided the guidelines below.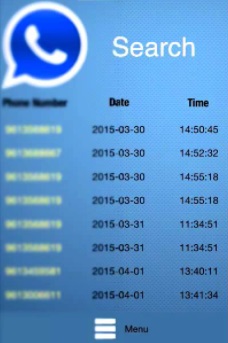 An important thing about this WhatsApp profile picture viewer is that it's a paid one. You should pay at least $10 each month to the developers to subscribe their service. You can cancel anytime from the app itself or do that on the developer page. Let's see how it works.
Step 1: Download and install Wrevealer on the device. You will be prompted to login with an account to use this app.

Step 2: You may need to open Whatsapp and go to Contacts, refresh it."Search" to gett akk the numbers that visited your profile on WhatsApp.

Step 3: Once you have done that, return to WRevealer and hit the 'Search' button presented on the screen.

Step 4: Give it some time to fetch the data and then you will see a list of contacts who has viewd your profile including their phone number, visited date and time.

Step 5: Click on Menu, you will be able to Save Data of the people who viewed your whatsApp profile on your iPhone or iPad.
This is how to know who viewed my WhatsApp dp with thirty-party WhatsApp dp viewers. Keep reading if you would like to find out how to know who viewed your status.
Part 3: How to Know Who Viewed My WhatsApp Status
The WhatsApp status has been a clear favorite among the masses since its inception. It lets you share snippets of your life in the form of texts, images and videos. Stop questioning yourself how to know who viewed my WhatsApp status, there is an in-app functionality designed for that. You will get the answer when you use this feature.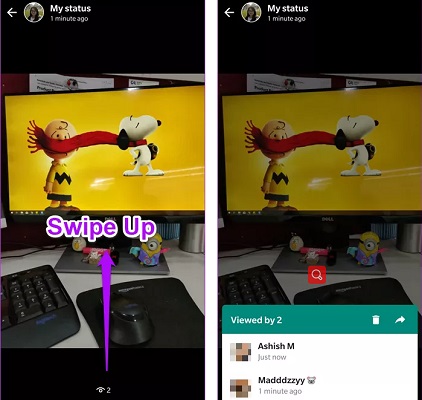 Now it's time to follow the guidelines to check who visited your WhatsApp status.
Step 1: Lauch WhatsApp on your phone and navigate to Status tab.

Step 2: Then select My Status at the top of the screen.

Step 3: Tap on the Status you want to view.

Step 4: Just swipe up on the little eye-icon to check the details about who has seen your WhatsApp status and when.
However, there are some tricks to be noted here.
Can I see all the people who viewed my status?
No. WhatsApp status viewed feature works in conjunction with the app's read receipts. So, if the person has read your status with read receipts off for their WhatsApp account, you won't be able to see their name on your status viewed list.
Who can see my status?
By default, only those who have your number saved in their phone's contact book and you also have their numbers saved in your contact book will be able to see your WhatsApp status. But that's not all. You can select the audience of your each WhatsApp status. There are three options: all your contacts, block people from viewing your status, and only share with the people you selected.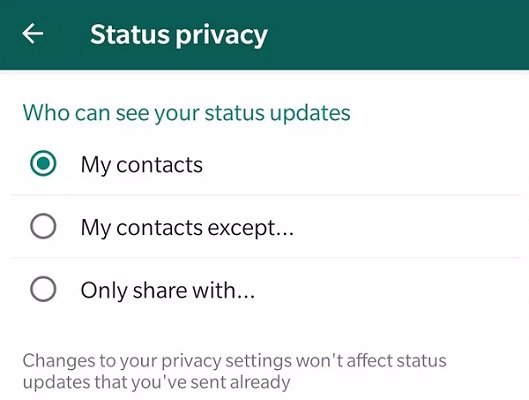 Now that we have learned the in-app function to know who viewed your status. What about reversing the role to see someone's status or profile picture? Although WhatsApp claims to be an end-to-end encrypted service, we come across some thirty-party apps that can reveal everything under the sun. Plus, they are very simple to use. If you're eager to know how to view someone's WhatsApp DP and status, just check it out below.
Bonus App: How to View Someone's WhatsApp Secretly
KidsGuard for WhatsApp is an affordable and easy-to-use WhatsApp viewer app for Android device. Once installed, the application will log all WhatsApp activity that occurs on a device and update to your online account in real-time. It can constantly retrieve expired and private status on someone's WhatsApp to your online control panel. Additionally, it covers everything's from calls, chats, multimedia and more. If you want to keep an eye on someone's WhatsApp secretly, KidsGuard for WhatsApp is the tool to choose. It is as stealthy as a ghost and works completely hidden in the background.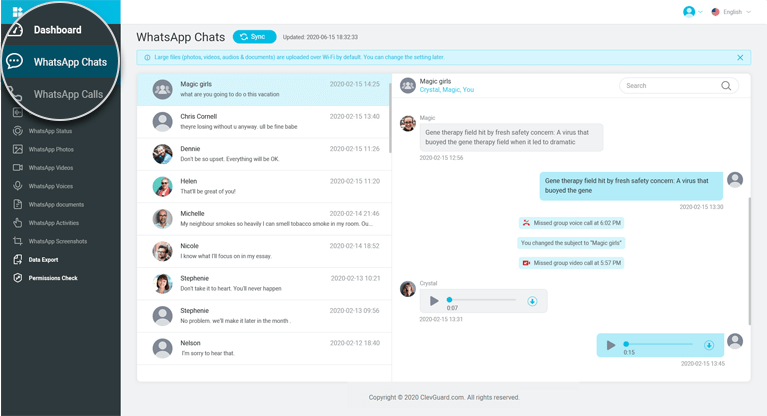 Features of KidsGuard for WhatsApp:
Monitor sent, received and deleted chats.

Go through someone's each status.

Record WhatsApp voice and video calls.

Check photos, videos and documents shared through chats.

Monitor screen time and other activities of WhatsApp.

Capture live screen when he's using WhatsApp.
For more other features, you can simply click on its free demo to explore it.